The emergence of cornrows was more than two millenniums ago. They were plaited for different reasons, and the style mostly depicted ones status quo. Amongst the Africans, especially the Ethiopians, kings and warriors would be recognized through their different cornrows hairstyles.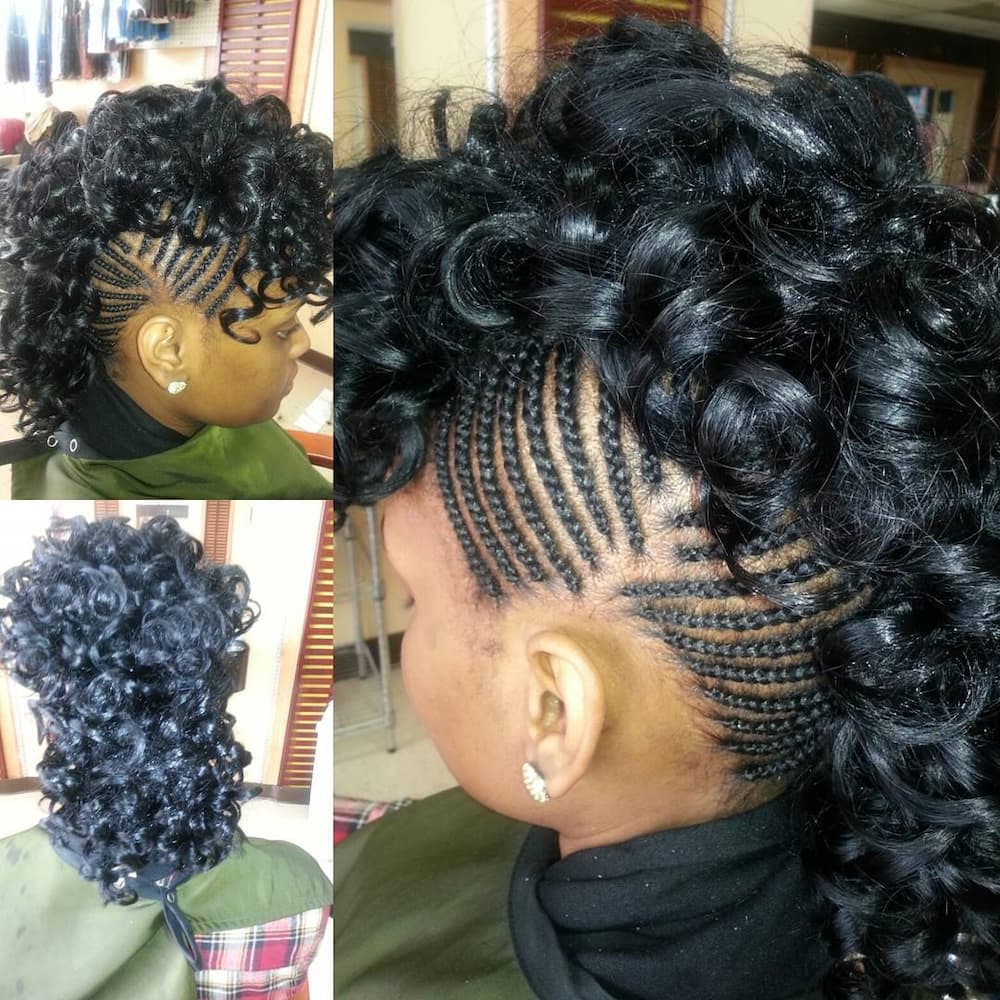 Now, these styles have been widely embraced by almost all ethnic groups. The style is preferred by many because it acts as good protection while also giving a good sense of style.
Cornrows hairstyles
1. Banana hairstyles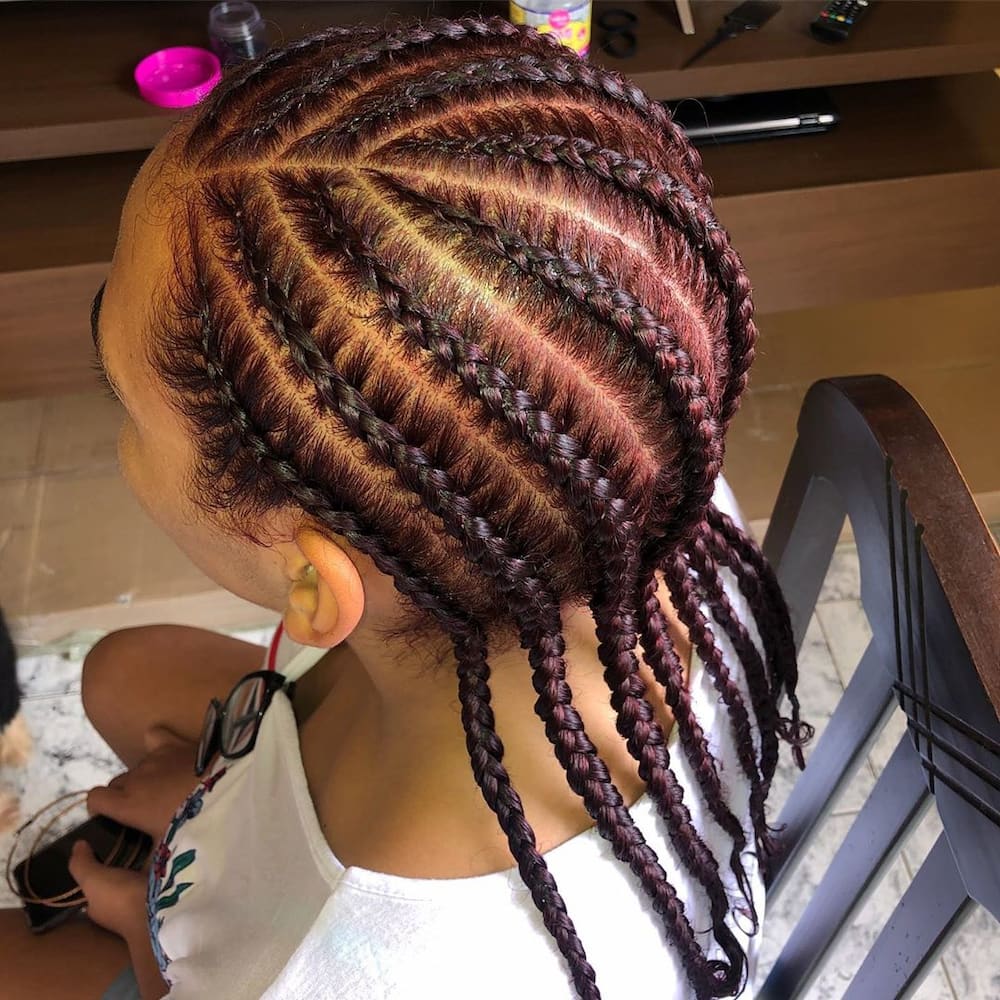 It is a style where the plaited lines look slightly curved, and all come from one particular side, which is commonly from the centre of the face.
2. Natural hairstyles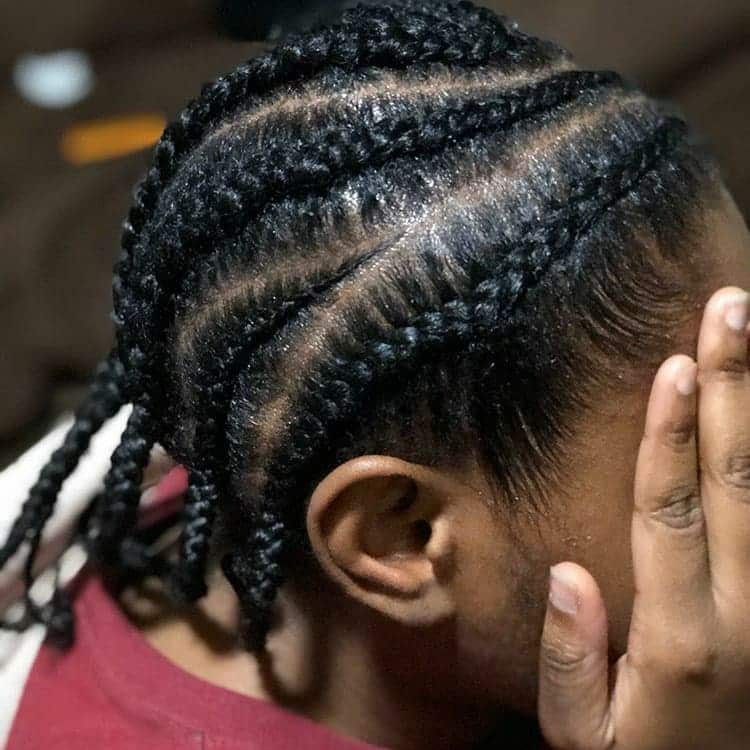 Braiding your natural hair can be very inexpensive. You do not require any braids, and you can also do it at home.
3. Half done cornrows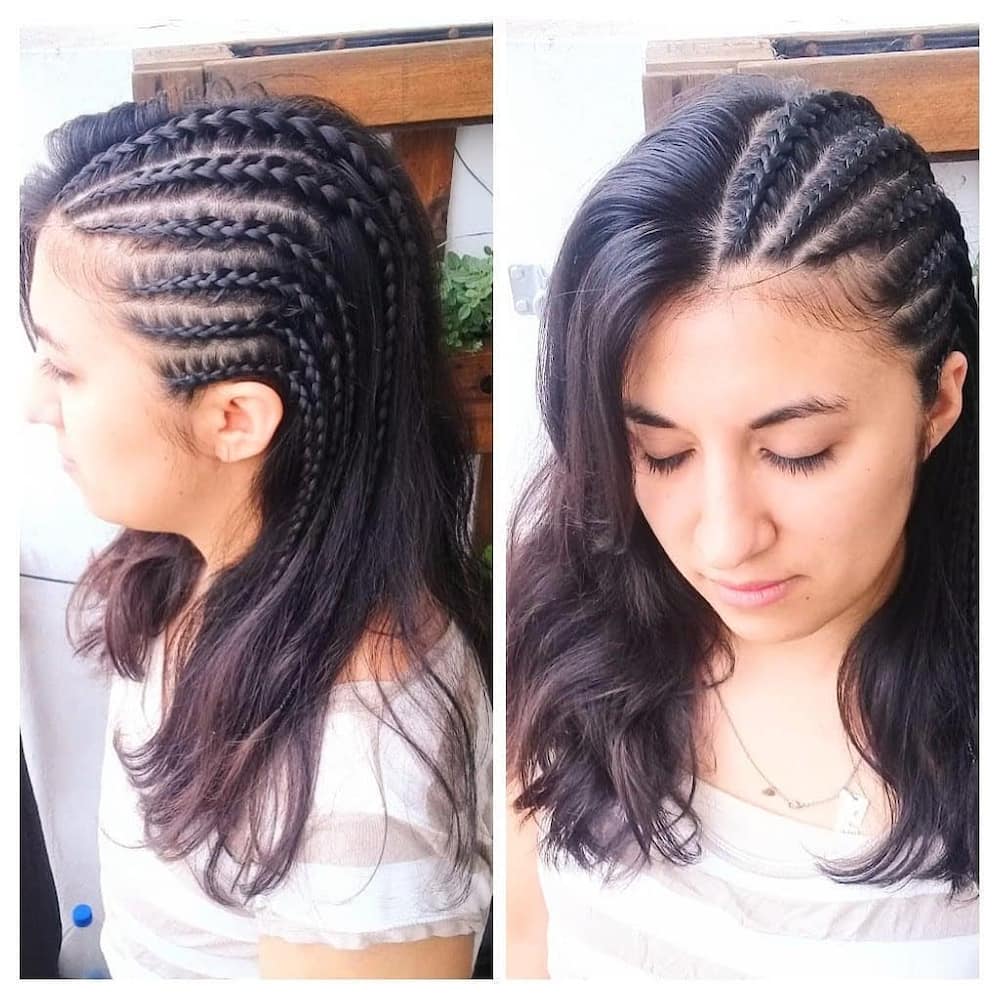 Half-cornrows can be plaited on any hair. It may be more difficult when plaiting bone straight hair than it is with curly hair. However, the results of either type of hair are always beautiful.
4. Pigtails with extensions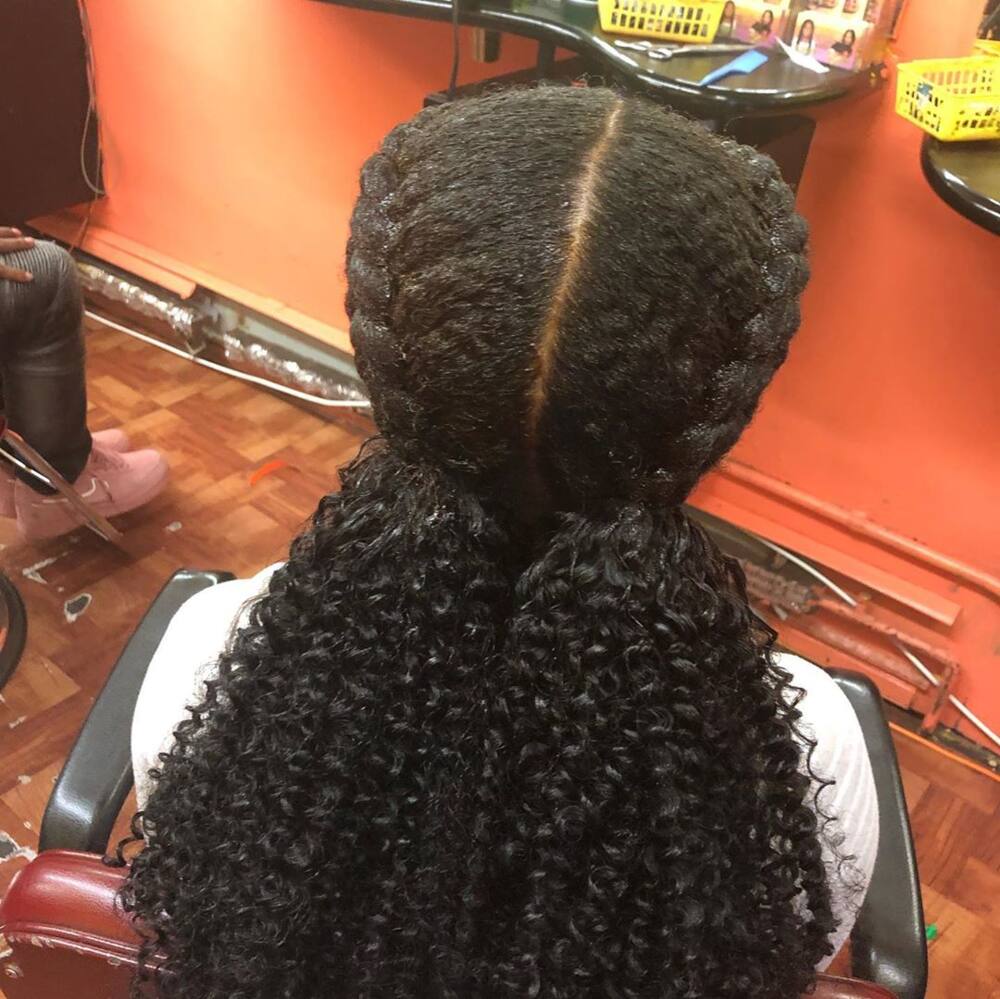 The pigtail extensions add more details to the hair. You can choose to tie the extensions in a low bun or leave it to flow downwards.
5. Curved cornrows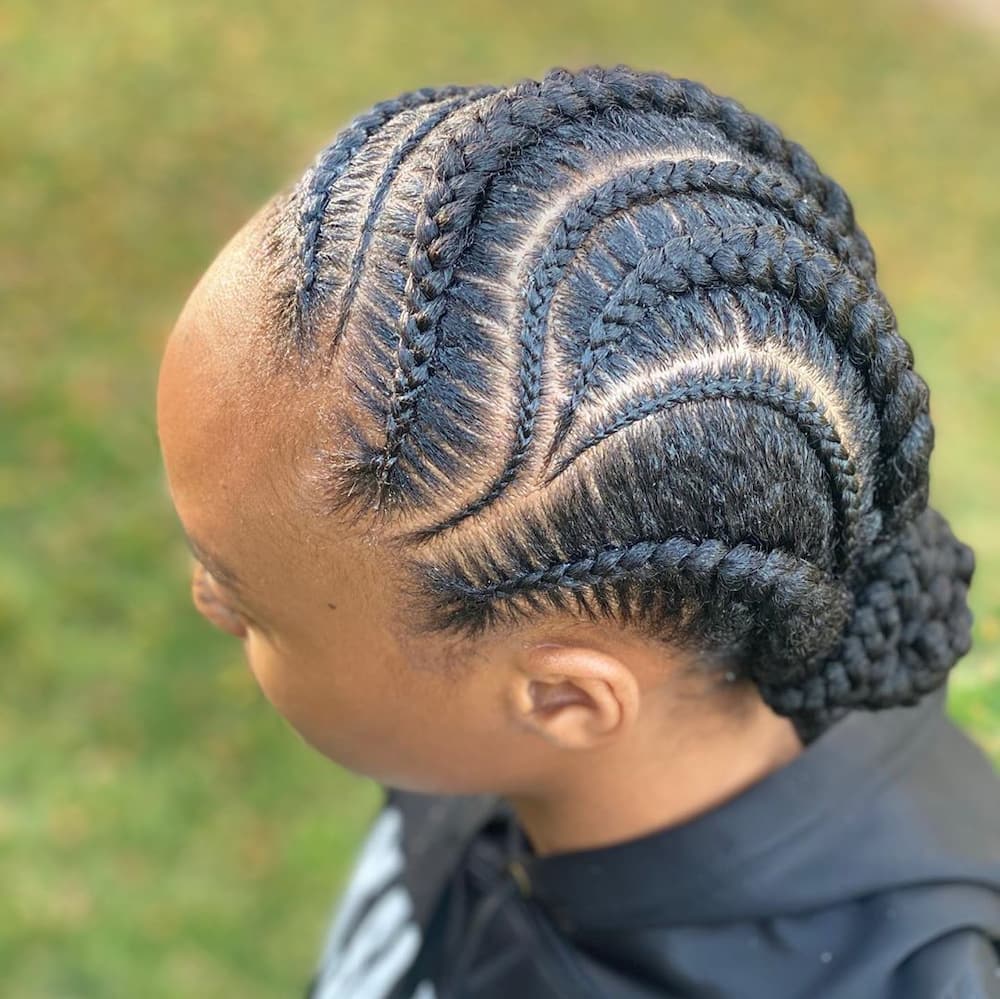 This hair-do is very simple, and it gives off a classy cornrow hairstyle with a fun vibe.
Which are beautiful cornrows for kids?
6. Heart-shaped hairstyle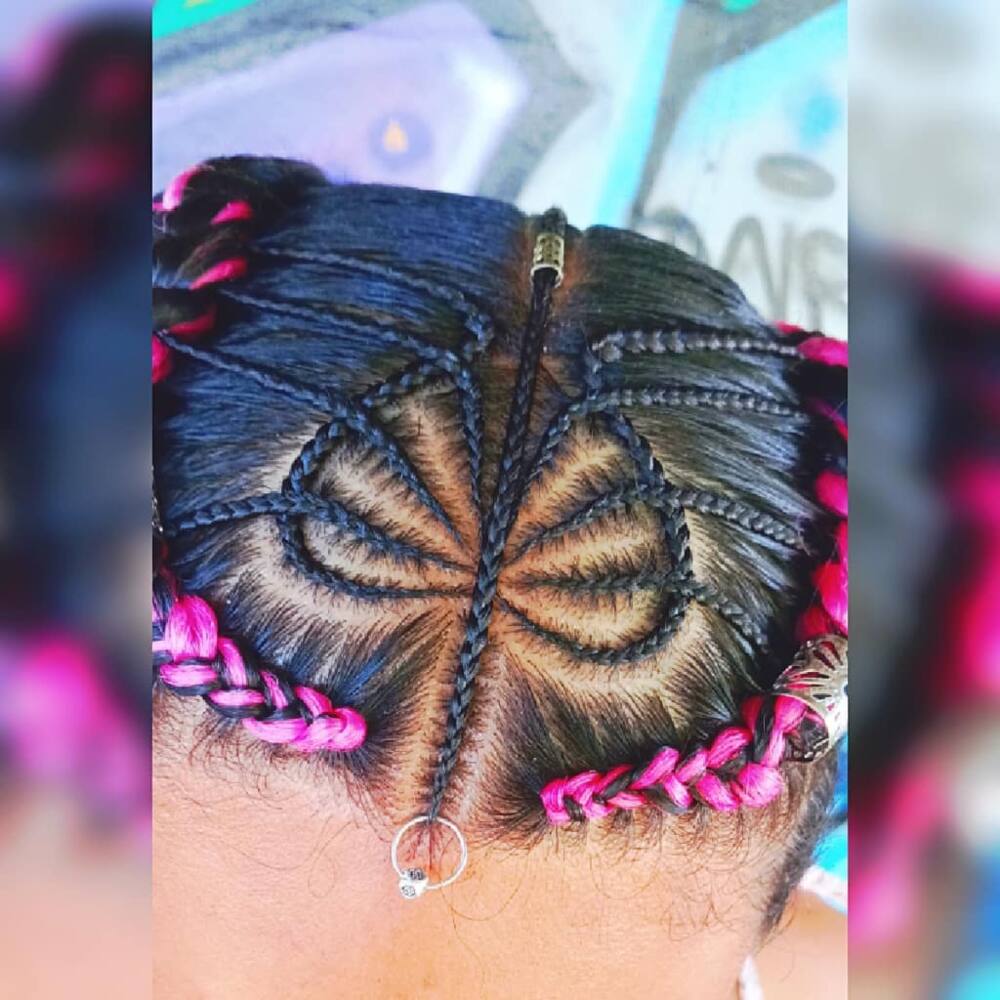 Braiding kids' hair with heart-shaped patterns is probably the most adorable thing ever. You can accessorize the style with beads and also add a little coloured braid into the mix.
7. Side style with beads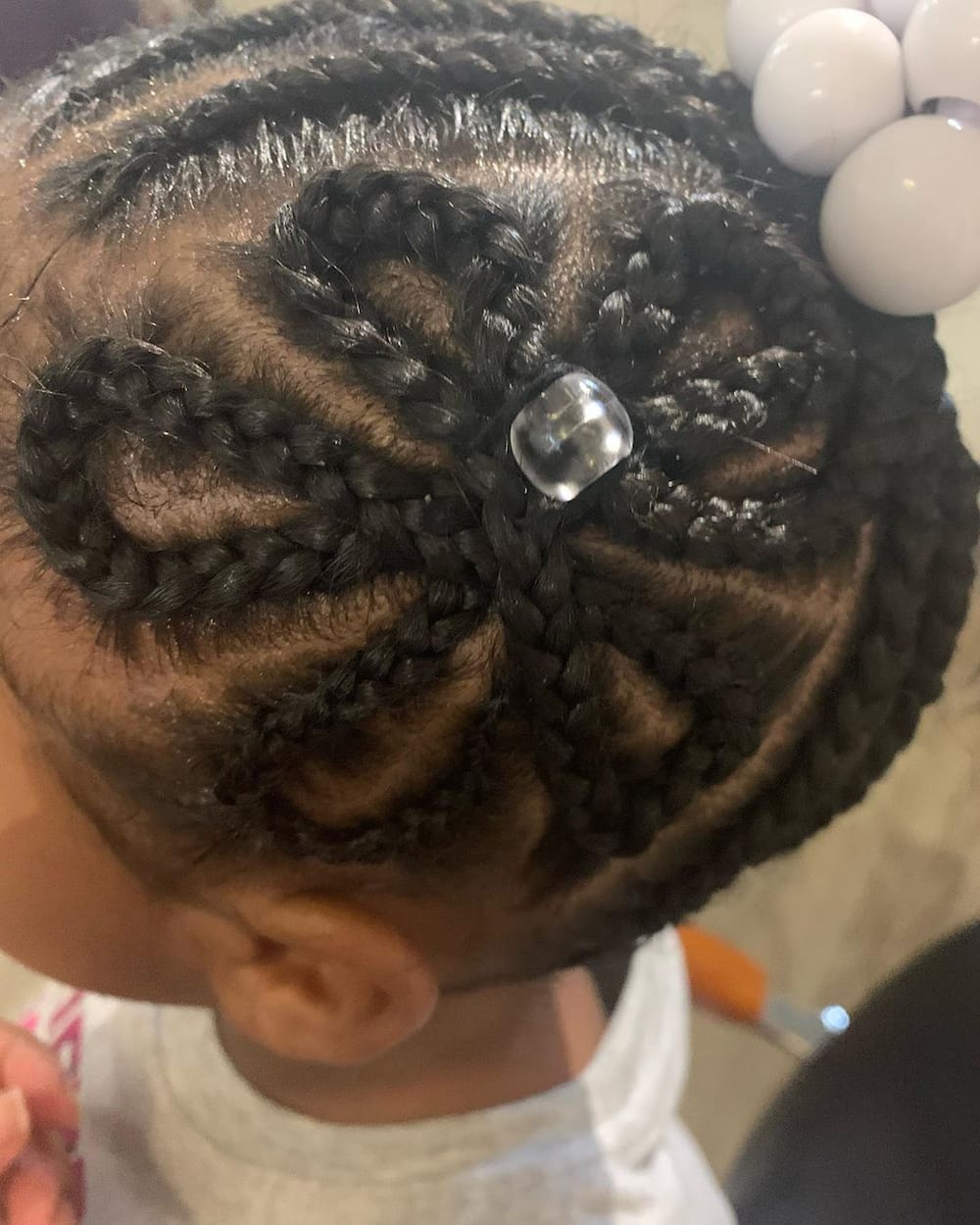 The style above is perfect for kids, especially the small ones that are very active. It prevents them from pulling on their hair since they would not be able to reach the beads.
8. Side-swept hairstyle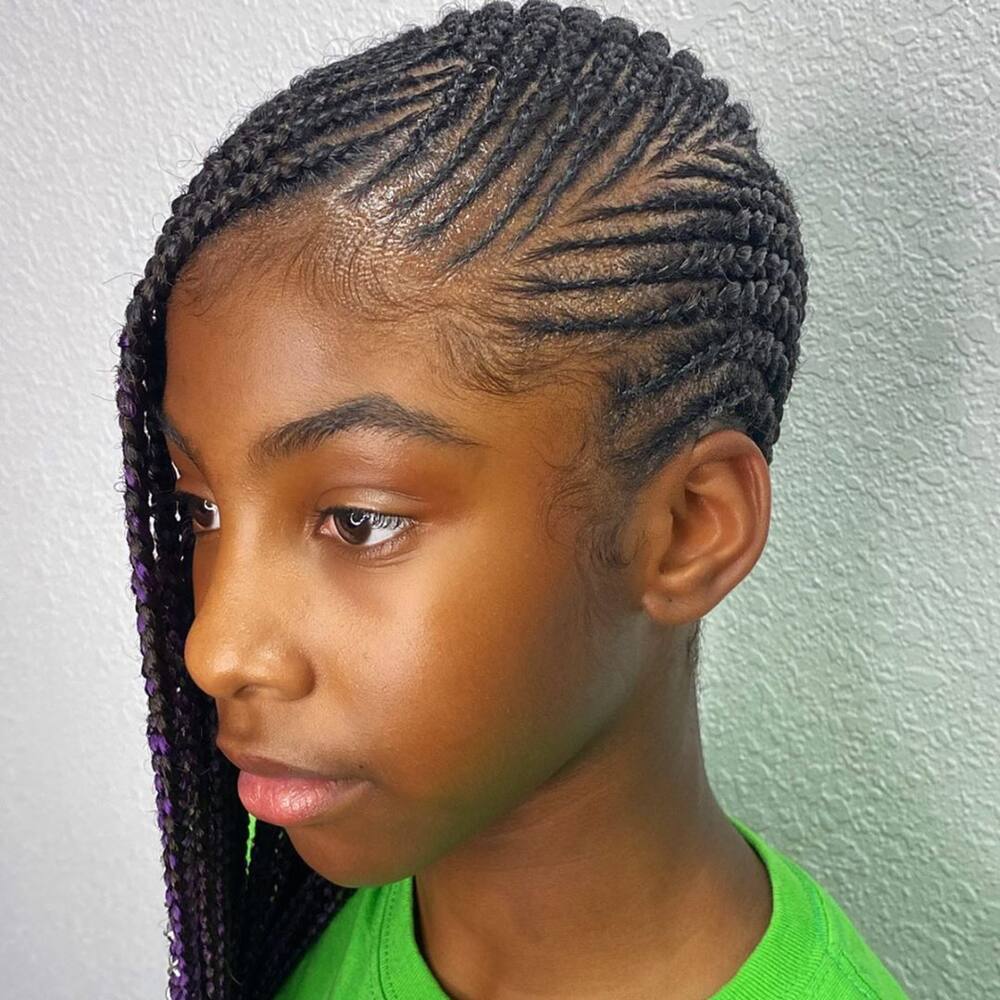 The usual straight back cornrows can be swept to the side to spice up your everyday look.
9. Twin bun hairstyle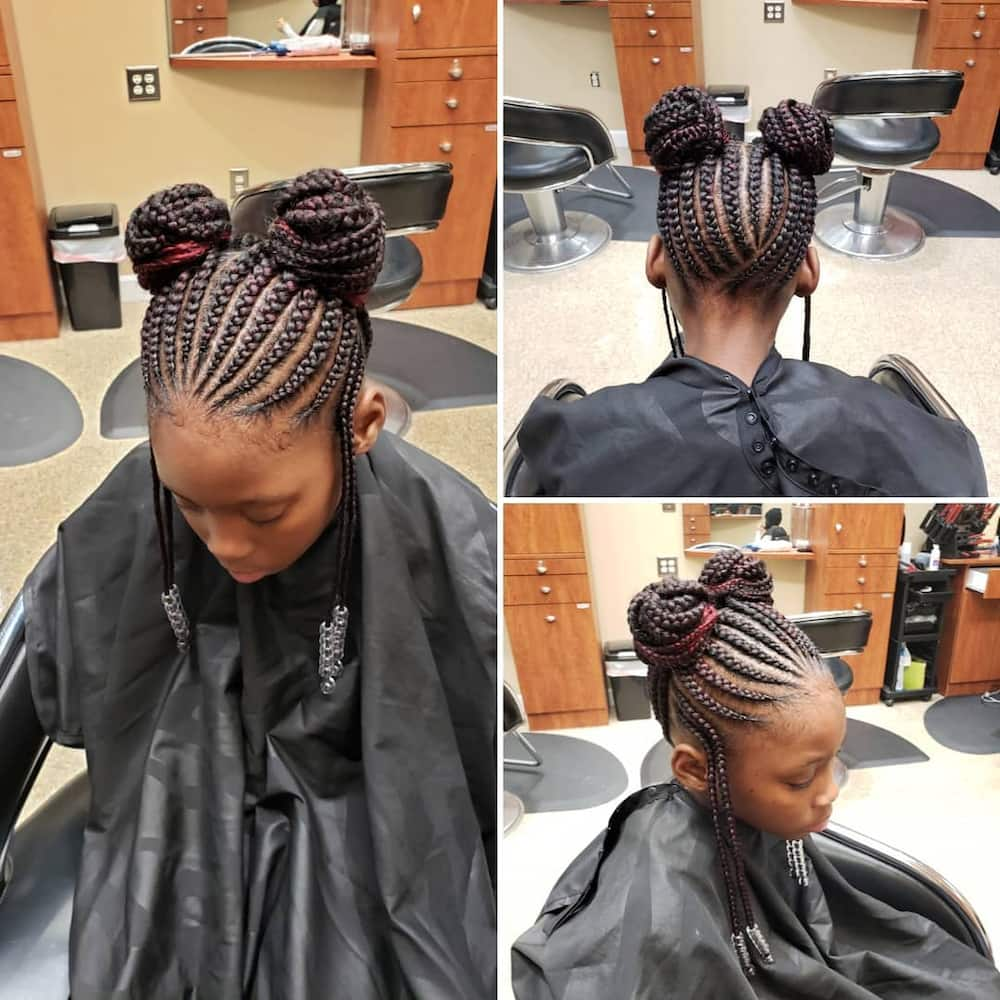 Twin buns or as others call them, pussycat buns are a cute hairstyle for kids. It has become a prevalent hairstyle for flower girls at weddings. However, it can also be worn every other day.
10. Side plaits with beads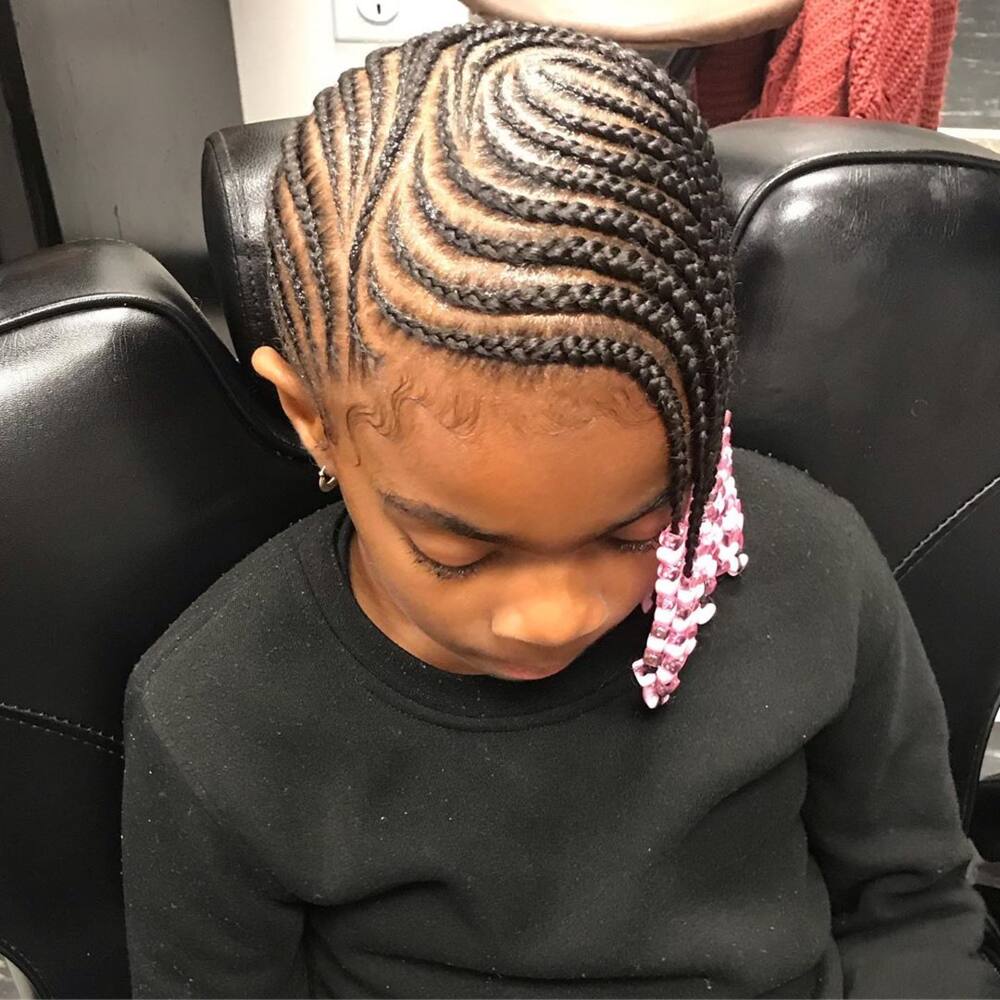 Beads are beautiful accessories for both the young and old. You can do this for your kids to add more spice to the side cornrows, especially if there is an event you are planning on attending.
READ ALSO: 30 best African braids hairstyles 2020 (with pictures)
11. Straight up hairstyle for kids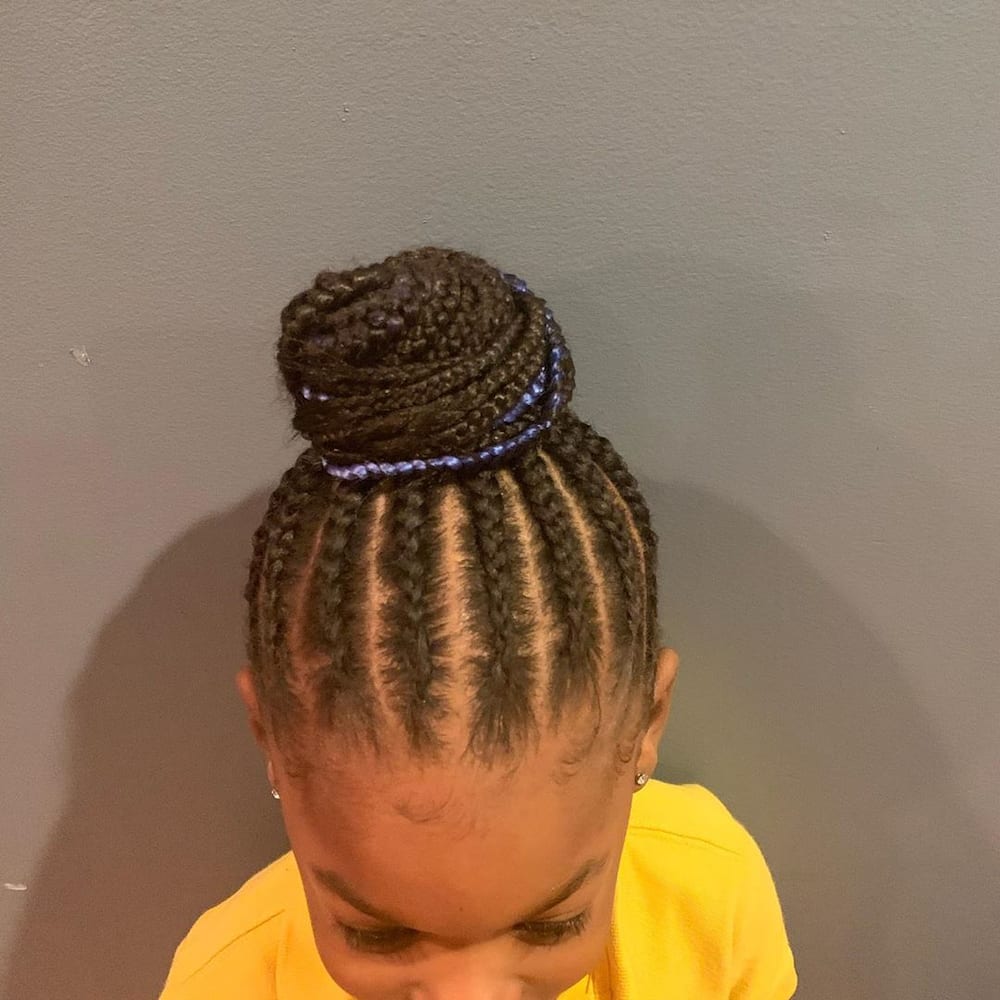 A simple straight up hairstyle can go a long way for your kids. There is less handling, and it does not distract them while they are playing.
Cornrows braid hairstyles
12. Cornrows with a lower side bun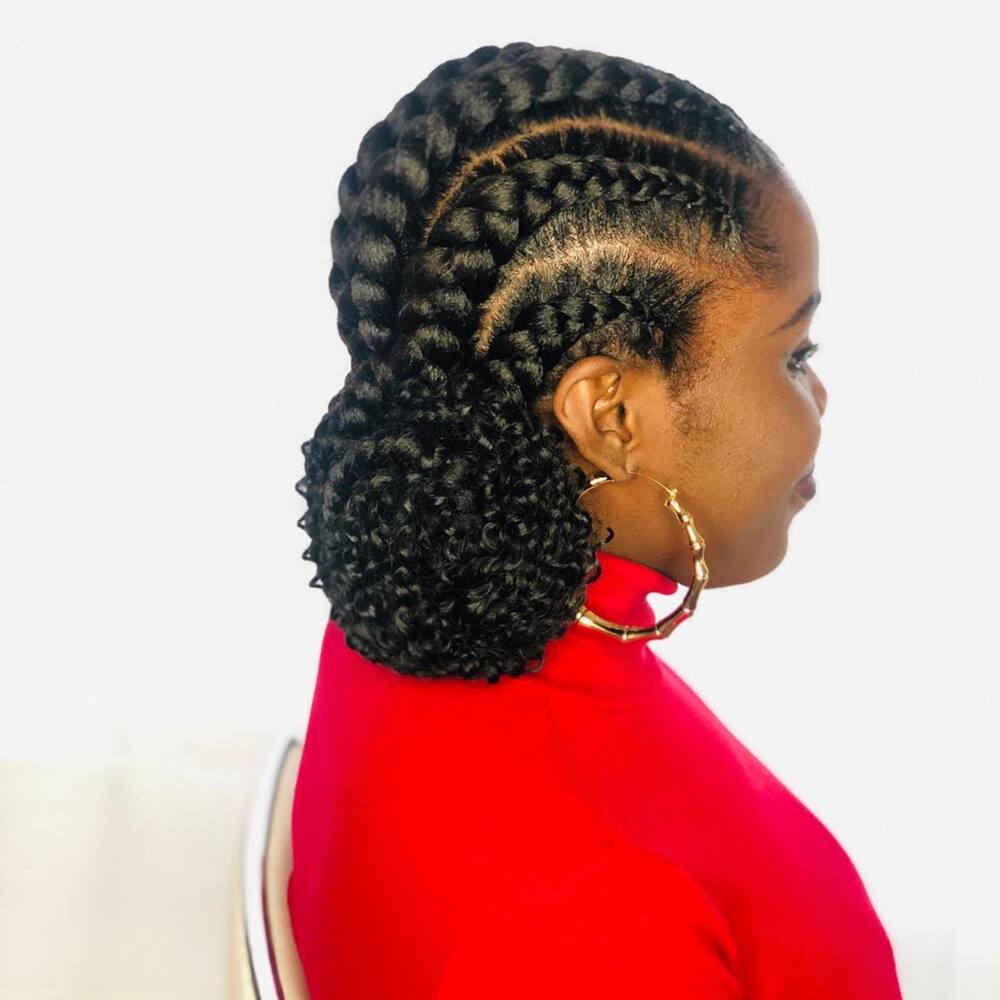 Styling your hair into a lower side bun can break the monotony of straight up braids bun. It is unique and also pretty at the same time.
13. Mohawk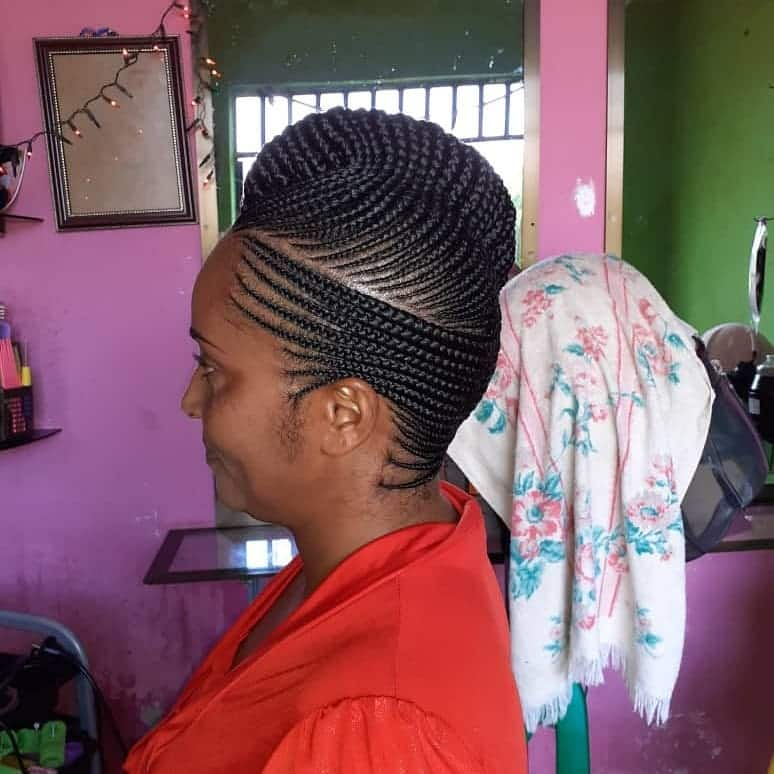 Mohawk is a style that was quickly embraced after it became a trendy style. It was also fashionable in the cornrows 2019. You can style it as desired, whether the hair is tied down or not.
14. Cornrow braid hairstyles with singles in the back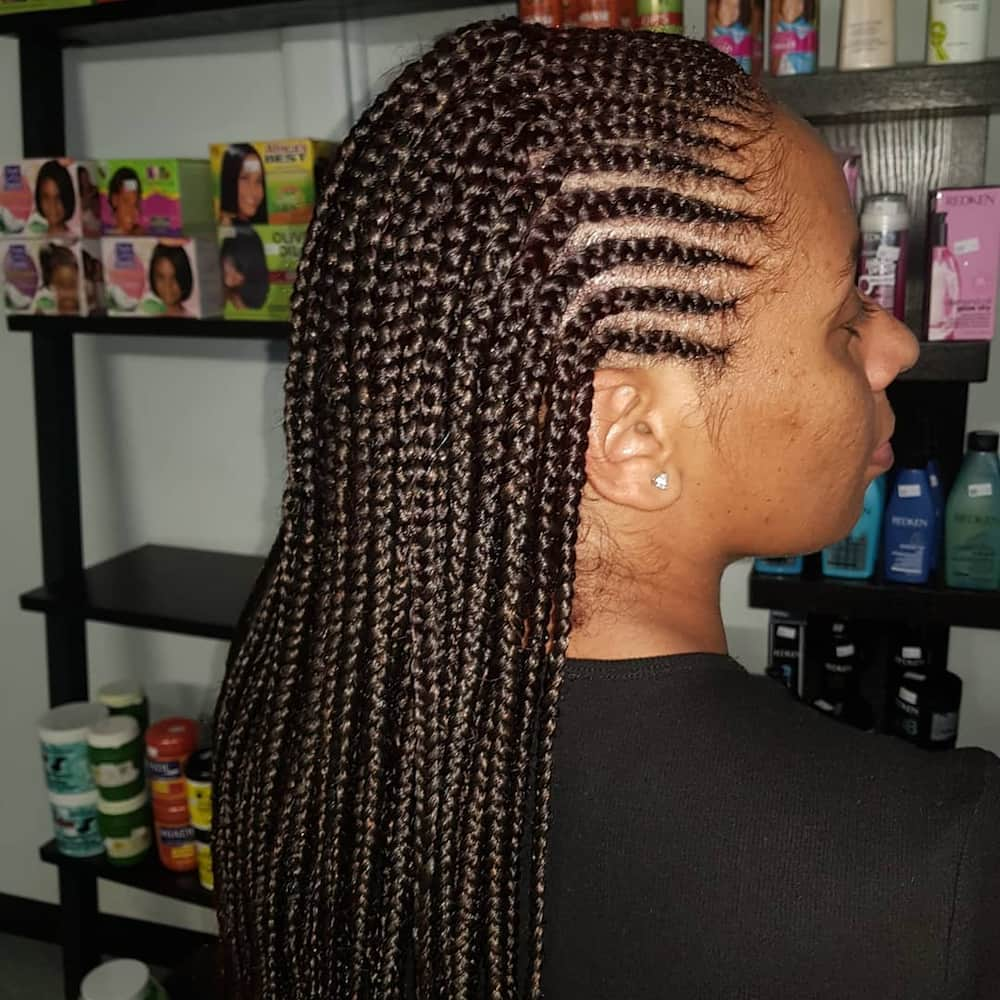 Half cornrows and single braids together are perfect for breaking the monotony of one style. You can choose to have box braids at the back and Ghanian cornrows at the front.
15. Thick and thin alternation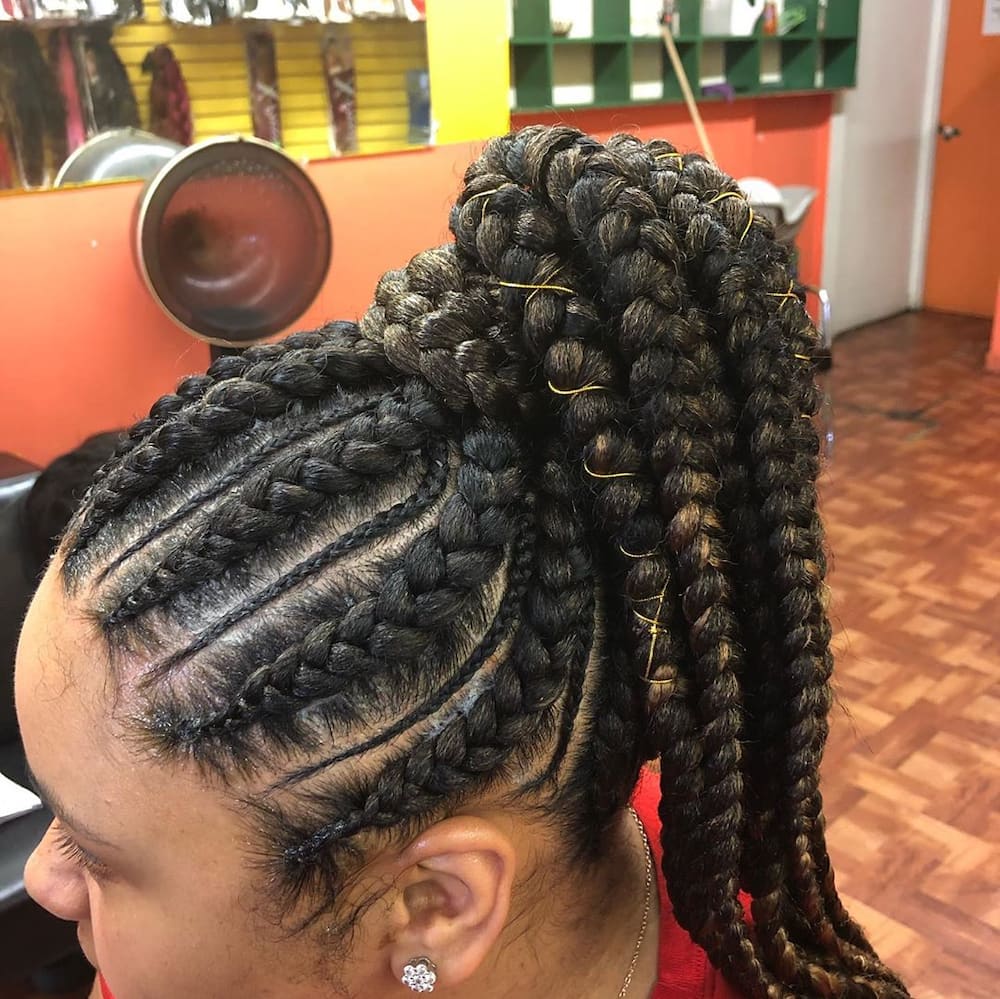 Alternating thick and thin lines have become quite the trend. Some add two thin lines then a thick one while others opt for the one to one alternating.
READ ALSO: 45 Best straight up hairstyles with braids pictures 2020
16. Upstyle cornrows with goddess braids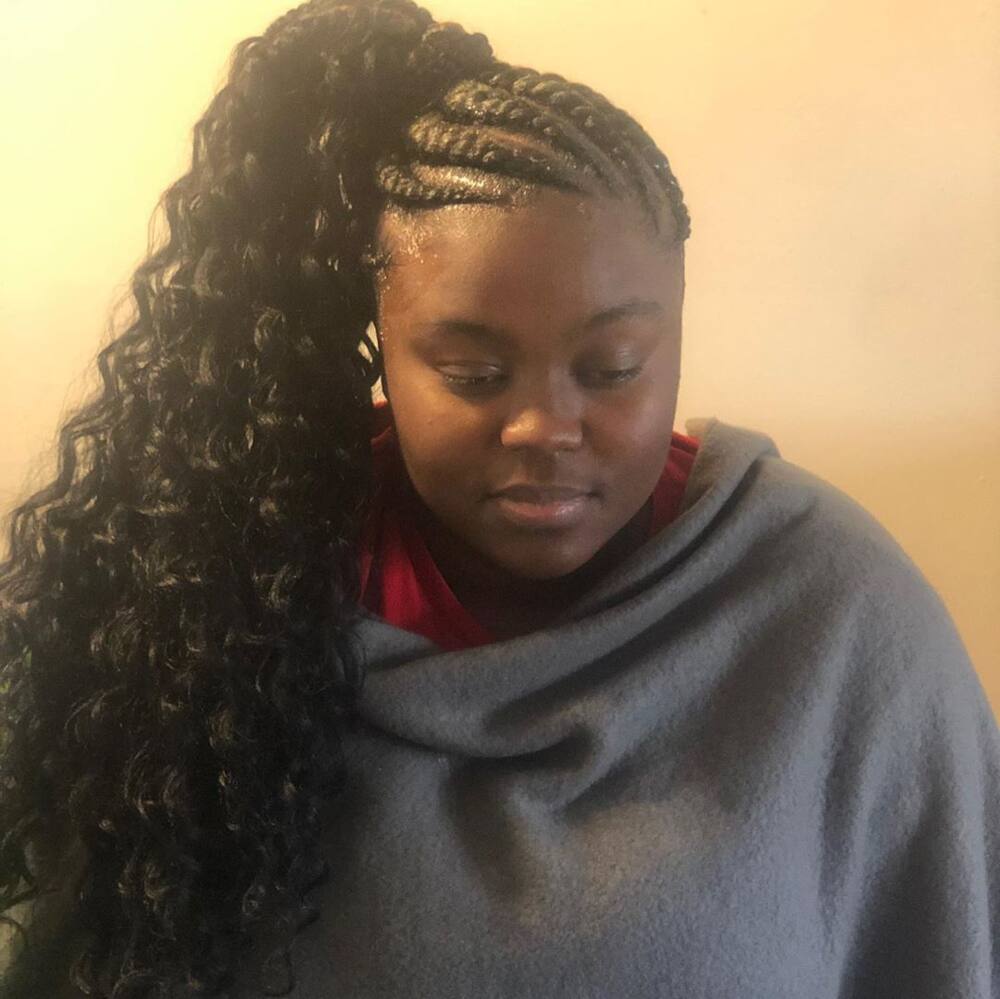 If you have an updo, you can choose to add extensions, whether a weave or extra braid strips. It gives the style a more dramatic effect by getting rid of the norm.
17. Coloured pigtails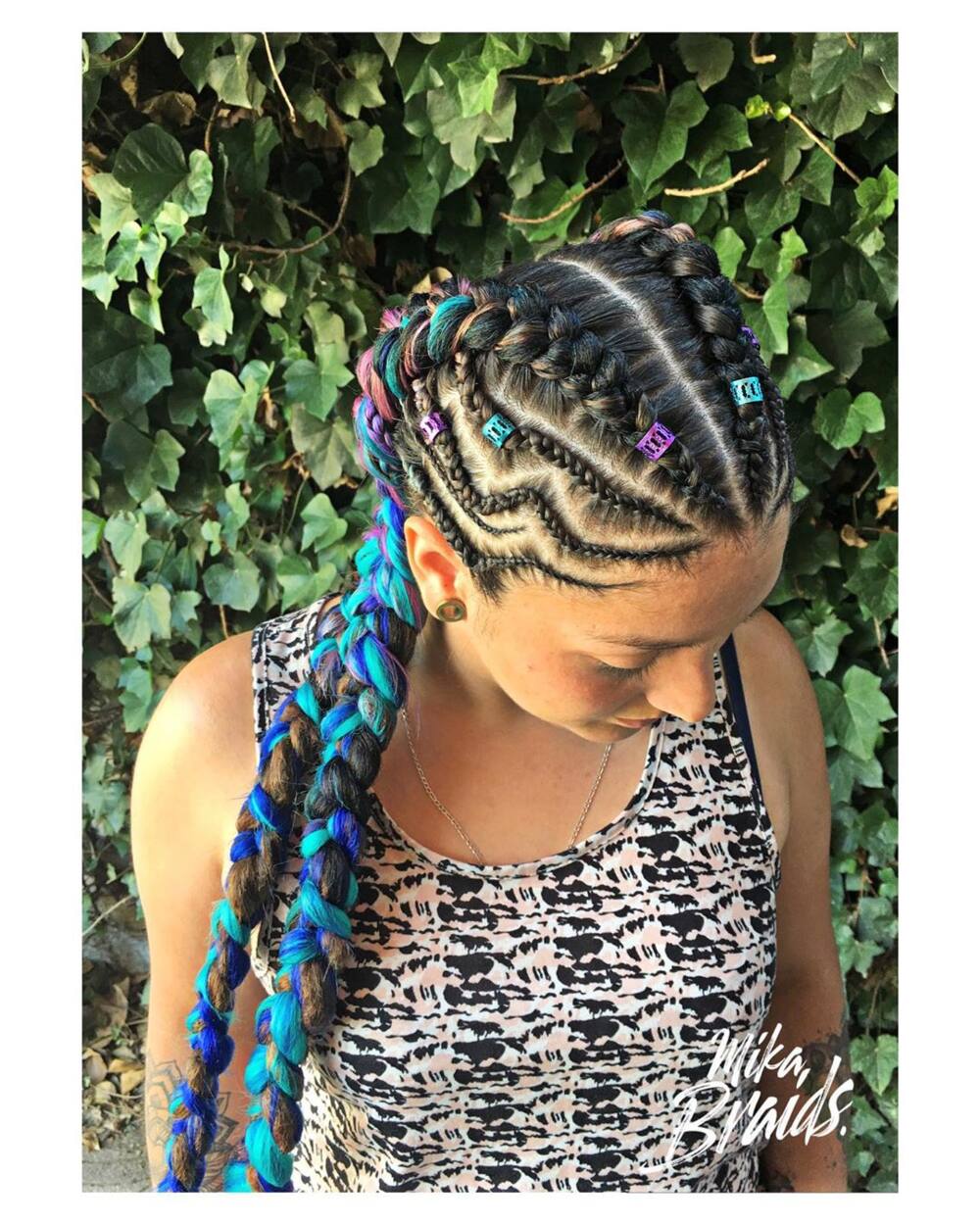 If you love wild colours, then this hair-do will provide you with a wide variety of styles to experiment with. Every braid in the market offers a wide array of colours you can choose from to suit your style.
18. Straight back hairstyle cornrows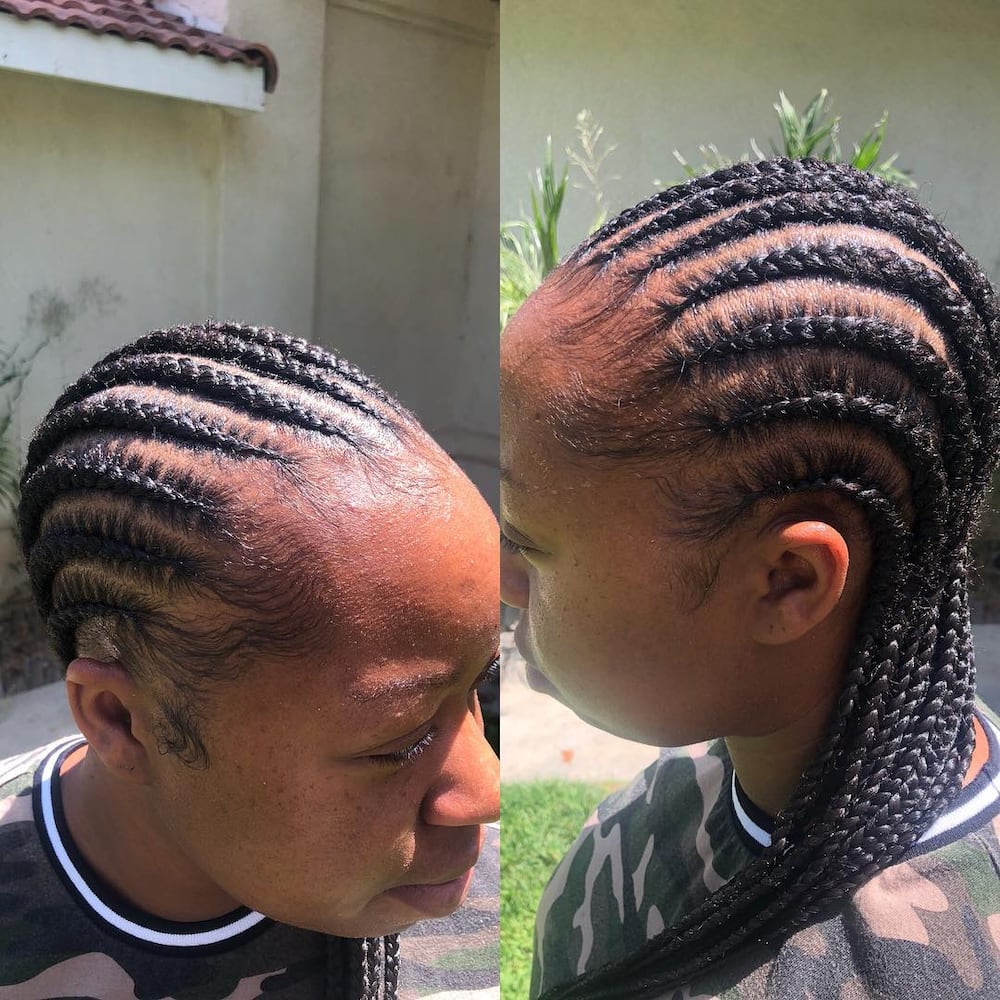 It is a simple style that can be done in different ways, such as braiding micro or very thick cornrows depending on one's taste.
19. Feed-in cornrows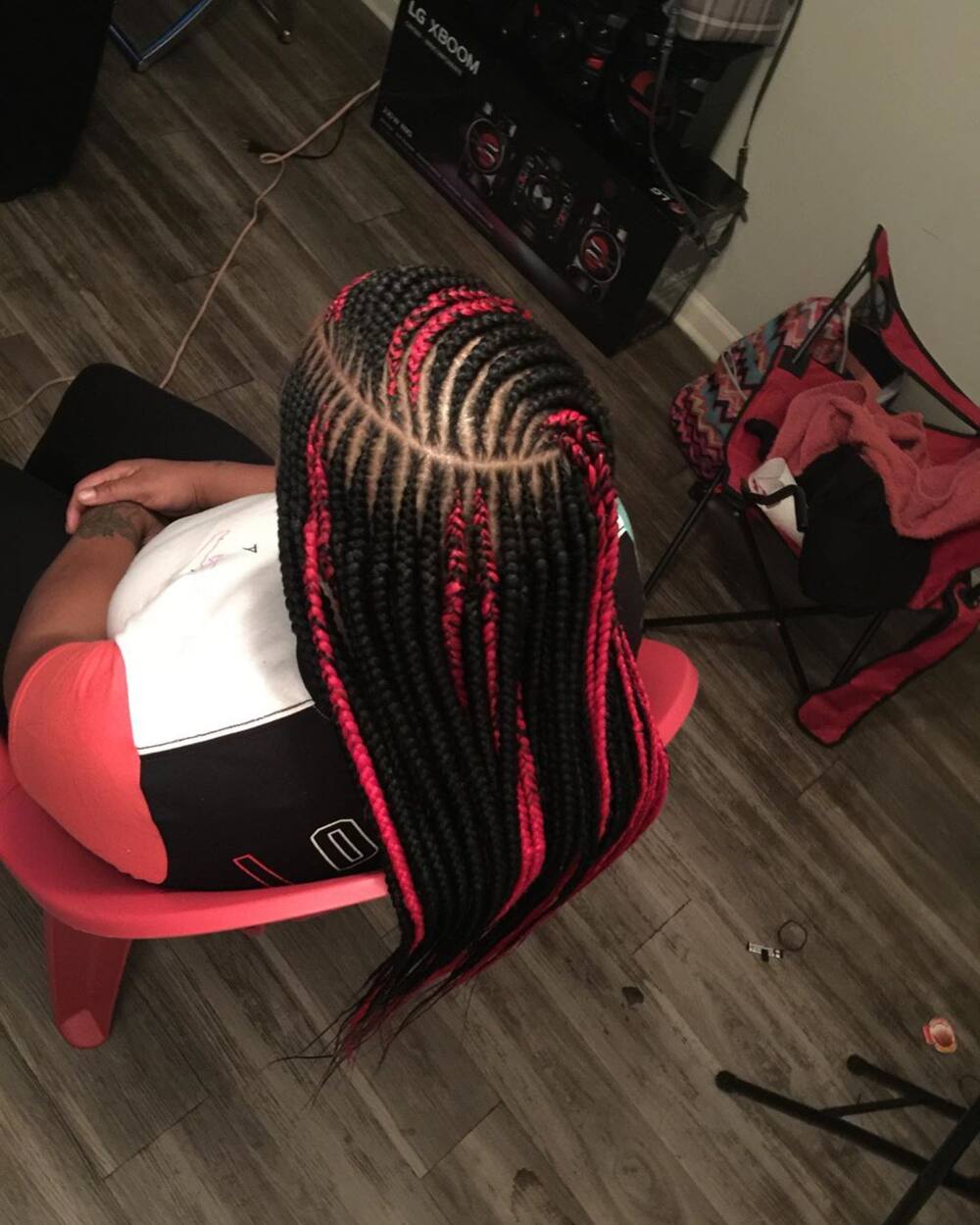 These are the type of cornrows where the hairdresser continues to add small strips of hair as he plaits each cornrow.
20. Fishbone hairstyle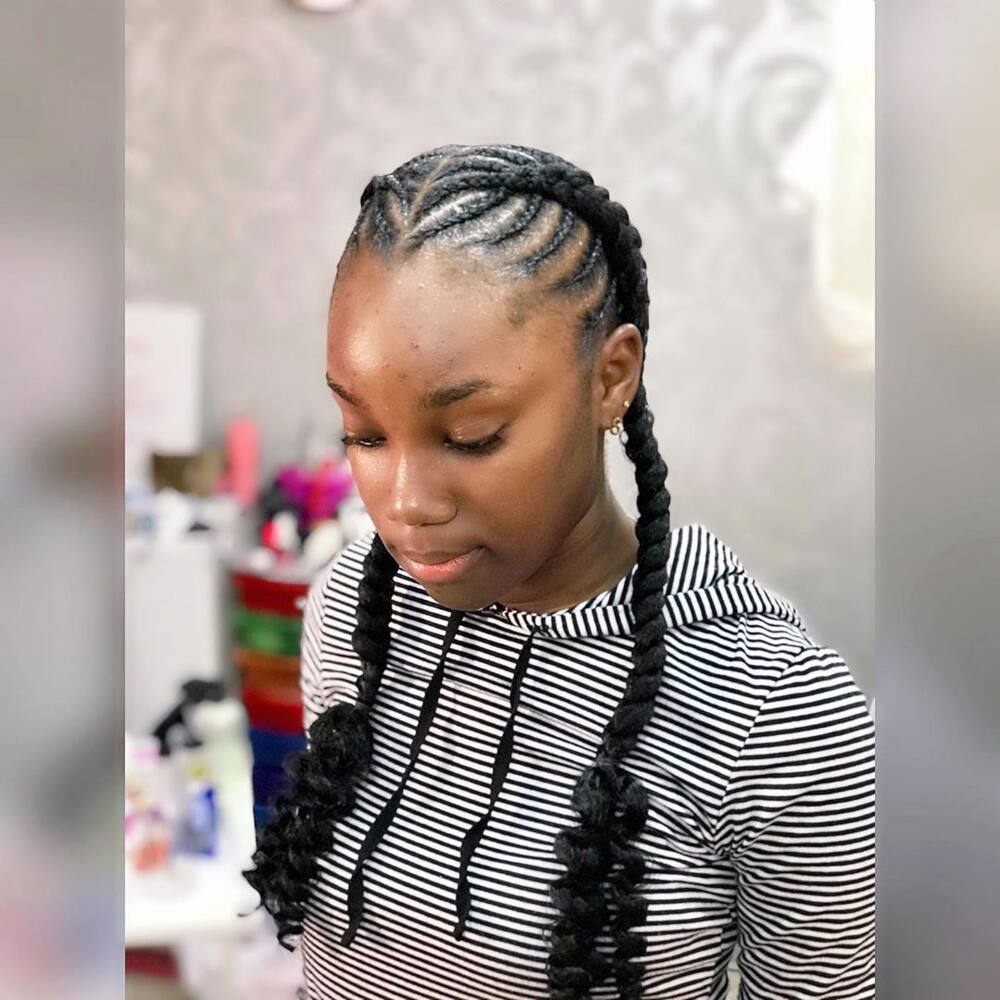 The younger generations have more preference for the fishbone style in comparison to older people. However, it does not mean that it is only limited to them.
READ ALSO: 40 latest dreadlock hairstyles for different hair types
21. Layer cornrows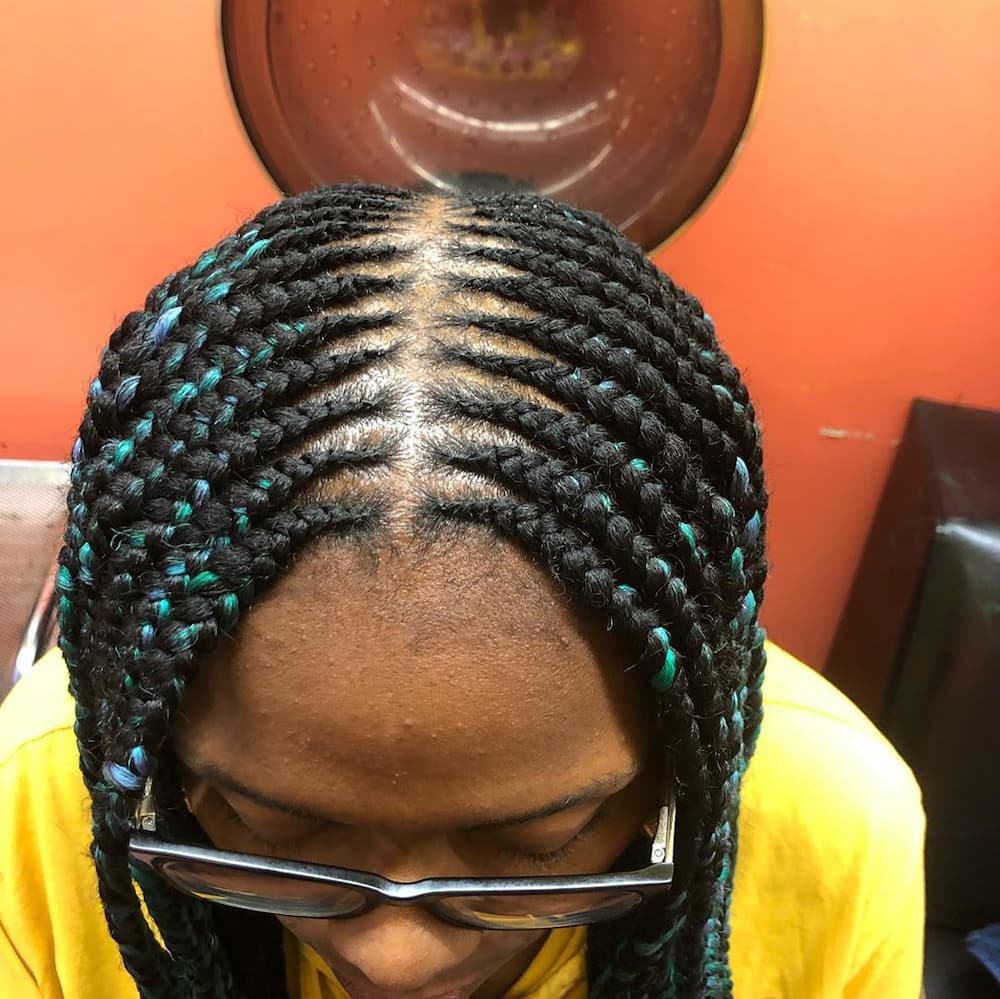 These plaits have a part in the middle of the head, and the cornrows tend to fall on opposite sides of the head.
22. African cornrows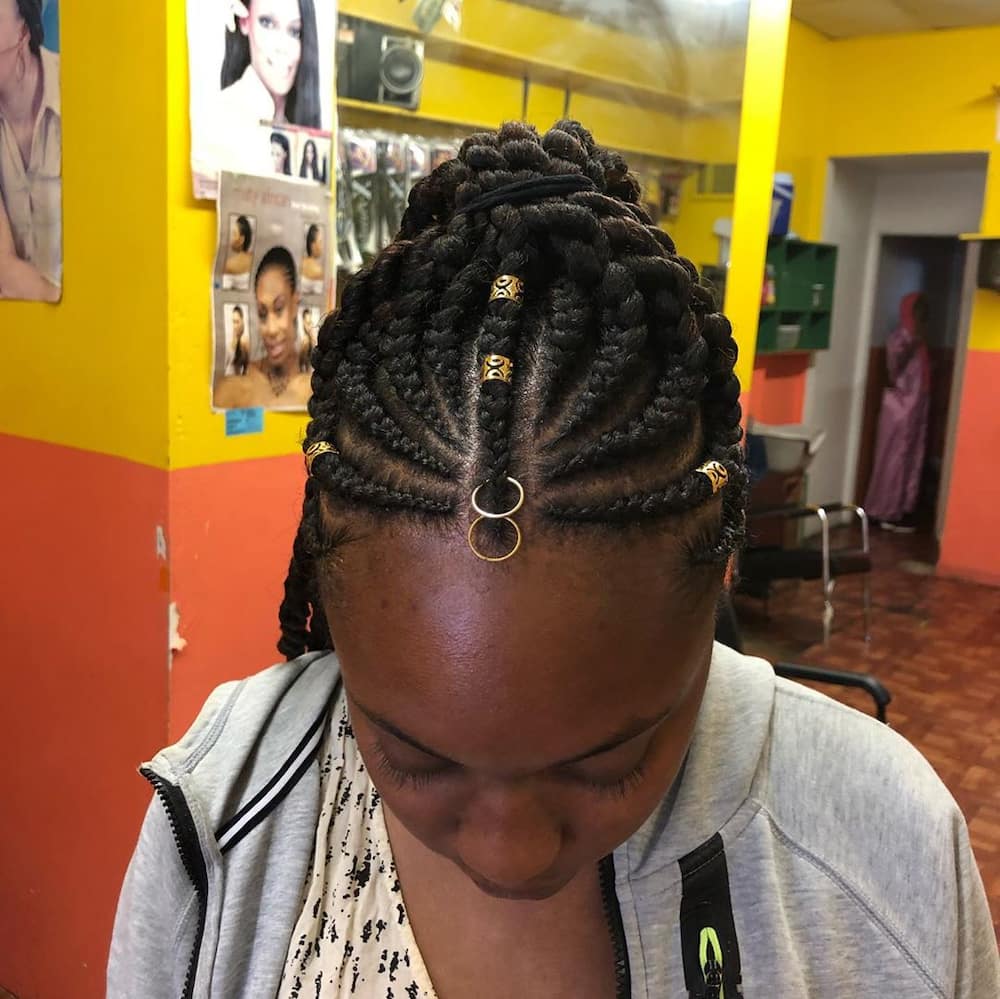 It resembles the Ghanian braids, and many refer to it that way. It goes well with head jewellery and pins.
23. Swoon cornrows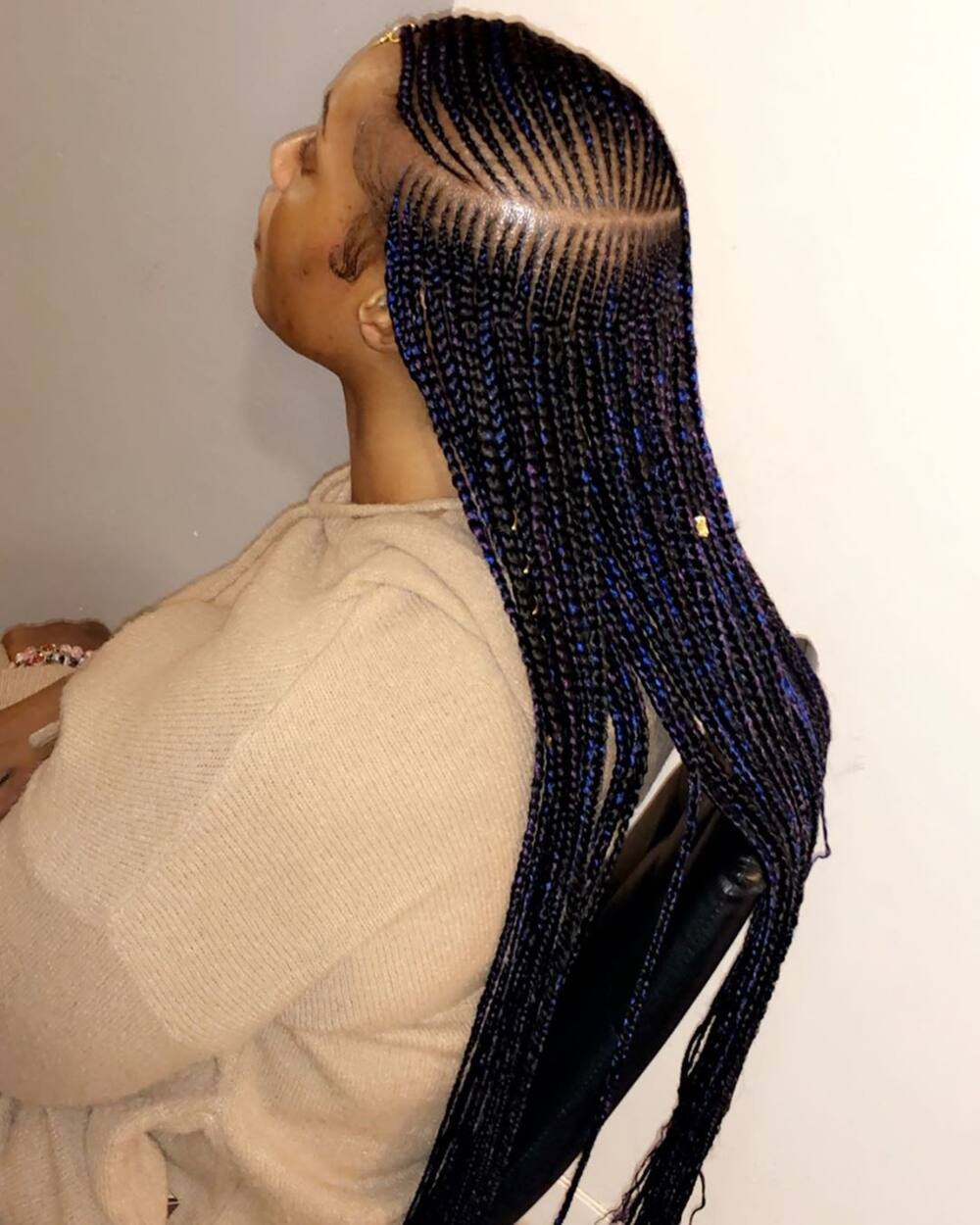 A swoon is a combination of straight back and side cornrows but with a long part that cuts in between. The style is gorgeous.
Cornrows for men
24. High top man bun hairstyles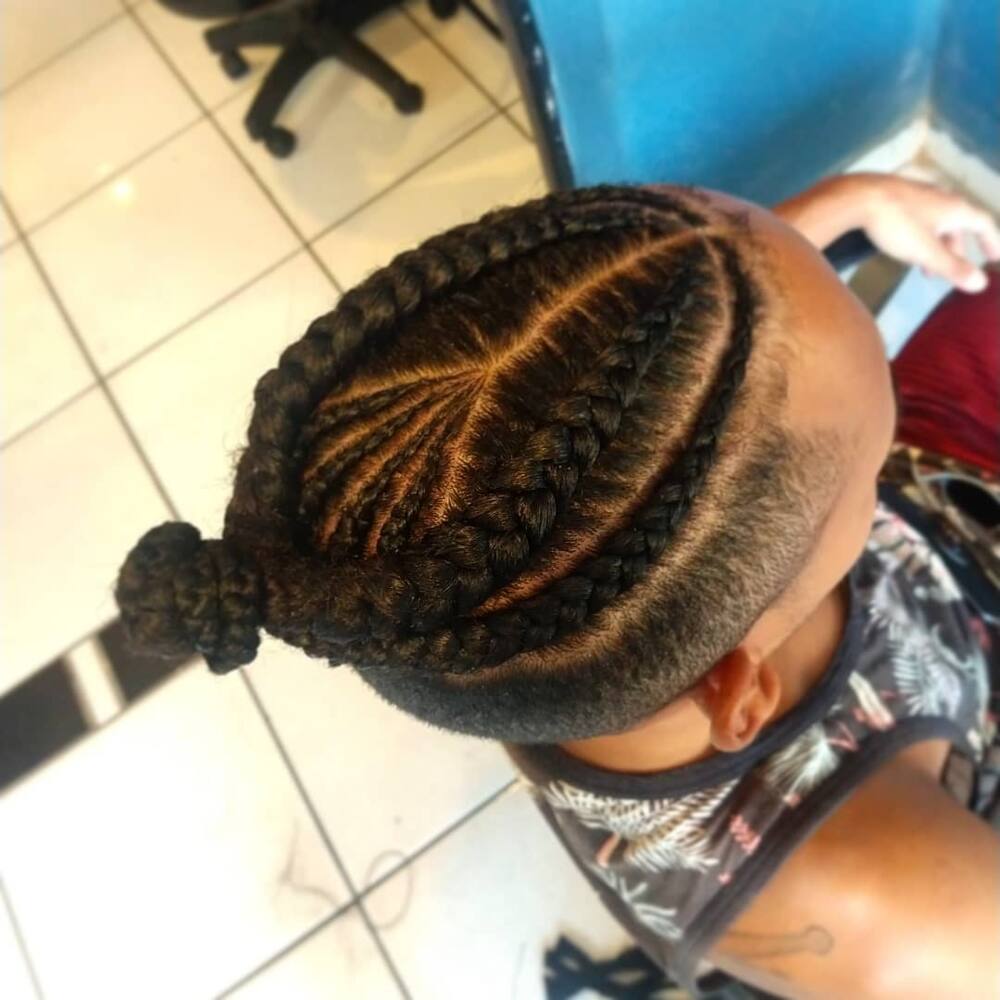 This is a simple and very trendy hairstyle for men. Each individual has the liberty to choose the pattern that would suit their taste. The fading haircut makes the hair stand out.
25. Dreadlocks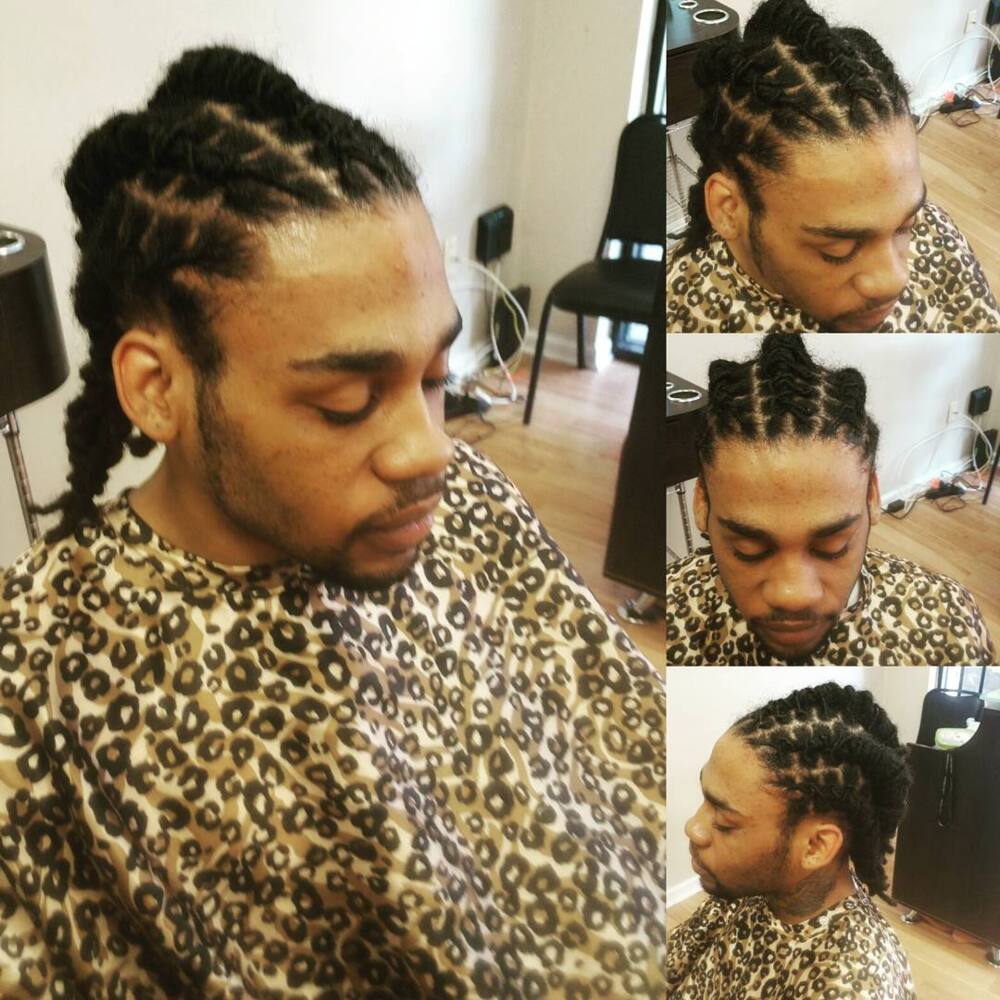 Dreadlocks should not limit you from expressing yourself through different freehand cornrows. These simple straight back cornrows are a good style for both men and women
Properly braided cornrows equal to an excellent sense of style and healthy hair. But do not forget that the cornrows hairstyles should be properly maintained as you take care of the scalp.
READ ALSO: