The legendary retired American wrestler, Ric Flair, has millions of supporters globally. Nature Boy, as he is famously known, has won many titles on WCW, TNA, AWA, and NWA. His trademark was the way he shouted, "Woooo!" to provoke his rivals. Ric is the father of the daring and gorgeous WWE superstar, Charlotte. He has appeared on many brand advertisements. He was the face of the National Wrestling Alliance (NWA) in 1981.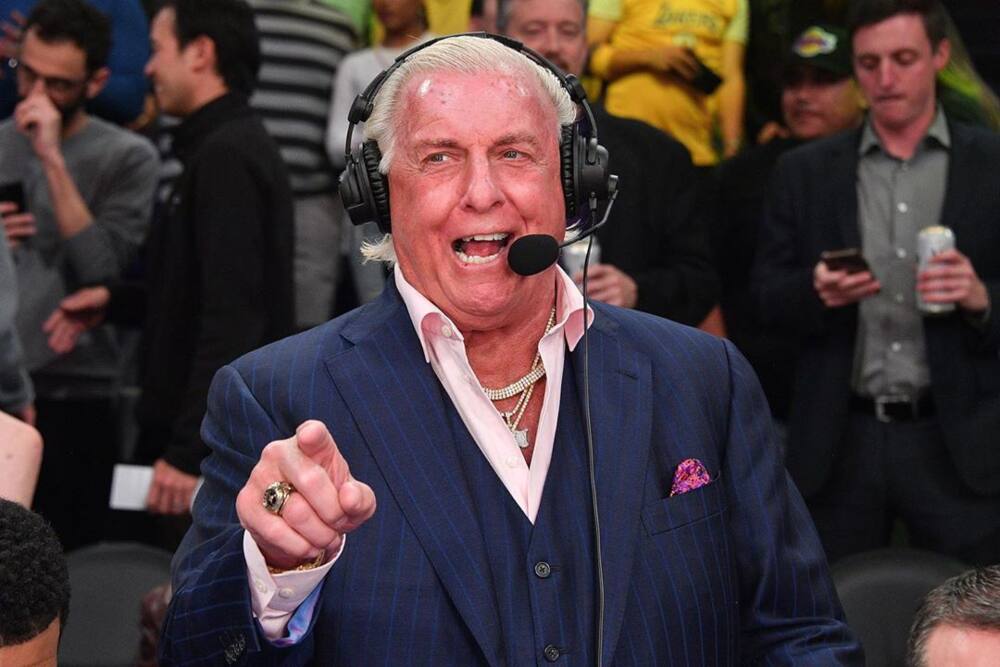 His career has had ups and downs. Aside from losing some matches, he was involved in a plane crash in 1975 and sustained a critical back injury that almost ended his career. He also lost his 25-year-old son, Reid. However, Ric has also lived an exciting love life. He has had five spouses because he is known as an alcoholic and a ladies' man that lives extravagantly.
Ric Flair profile summary
Full name: Richard Reid Fliehr
Other names: Fred Phillips
AKA: The Nature Boy, King of Drip, and Founder of Swag
Date of birth: 25th February 1949
Age: 71 years
Occupation: Retired professional wrestler, wrestling manager
Nationality: American
Ric Flair biography
Born in Memphis, Tennessee, to Luther and Olive Phillips, Ric Flair birthday is 25th February 1949. His real name is Fred Phillips, but he is known as The Nature Boy by the majority of wrestling fans. The two other common Ric Flair nicknames, King of Drip and The Founder of Swag, are also his trademarks. He also describes himself as the limo-riding, jet-flying, wheeling and dealing, kiss stealing, and son of a gun. Ric Flair age is 71 years.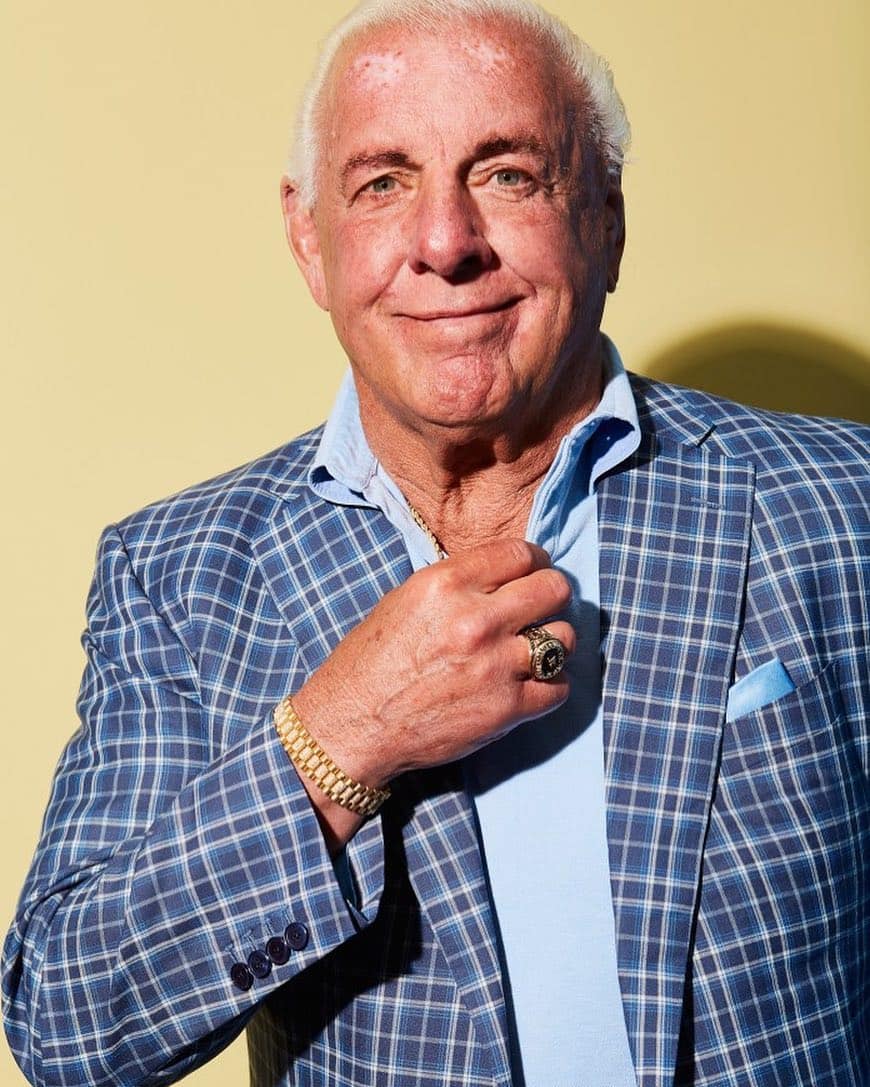 Later, Kathleen Virginia Kinsmiller (actress) and Richard Reid Fliehr (physician) adopted him from Tennessee Children's Home Society and named him Richard Morgan Fliehr. They moved with him to Edina, Minnesota, and sent him to Wayland Academy, where he discovered his passion for wrestling and football. He got into the University of Minnesota on a football scholarship but dropped out. He served at a club as a bouncer.
At the club, he met Ken Patera, a prominent Olympic weightlifter, who introduced him to Verne Gagne, an American Wrestling Association (AWA) promoter. Gagne enrolled Flair into his wrestling camp outside Minneapolis in 1971. Ric Flair net worth 2020 is around $ 6 million. Today, he lives in Lawrenceville, Georgia, USA.
Who is Ric Flair wife?
He revealed that he had slept with around 10,000 women when he was a wrestler. This was during a shoot of an ESPN documentary called 30 for 30.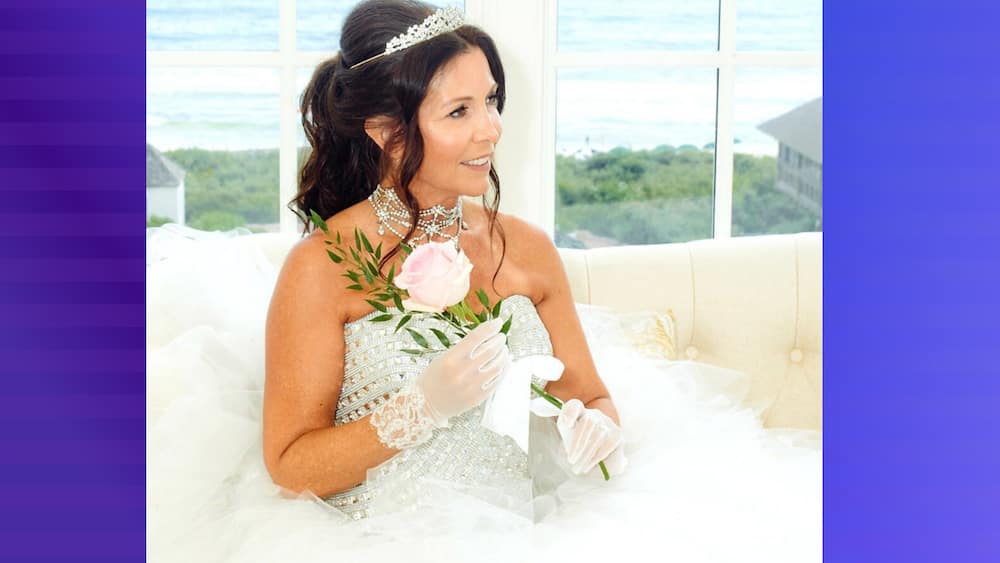 He has married five times. Ric married his first wife, Leslie Goodman, on 25th August 1971. They had Megan and David and then divorced in 1983. On 27th August 1983, he tied the knots with Elizabeth Harrell, who bore to him Ashley and Reid. They parted ways in 2006.
He went on to marry Tiffany VanDemark on 27th May 2006. The marriage was annulled in 2009. On 11th November 2009, Ric married Jacqueline Beems, but in 2014, they separated. He got engaged to Wendy Barlow in July 2016 and married her in September 2018. They are still together to date.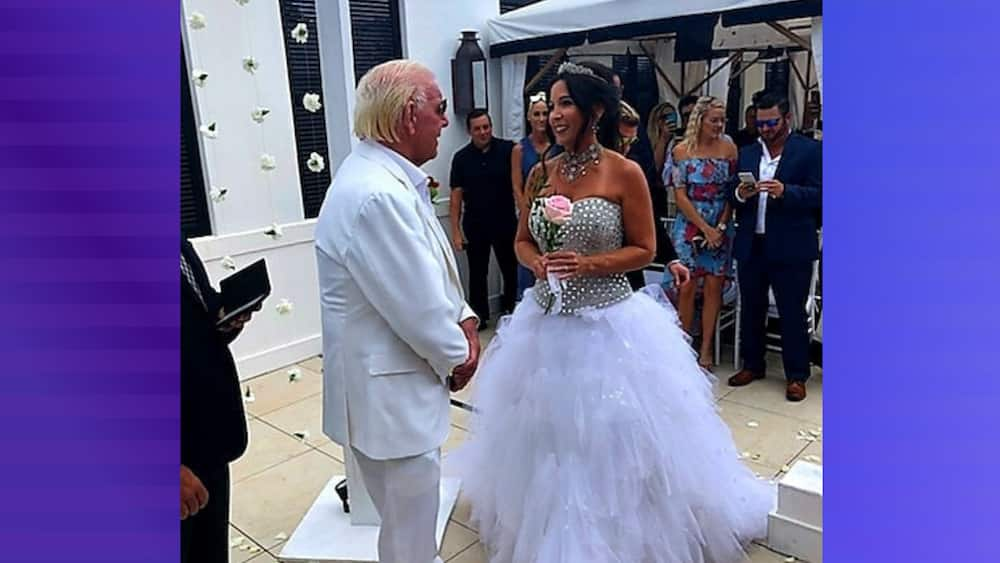 What should you know about Ric Flair children?
His children are all wrestlers except for Megan. Ashley AKA Charlotte has won the WWE women's champion title eight times. Reid was also a professional wrestler, and he died in 2013 due to a drug overdose. David is a retired fighter.
Ric Flair pictures with some of his family members
Here are the pictures:
Ric and his wife, Wendy Barlow, at a game in Cleveland.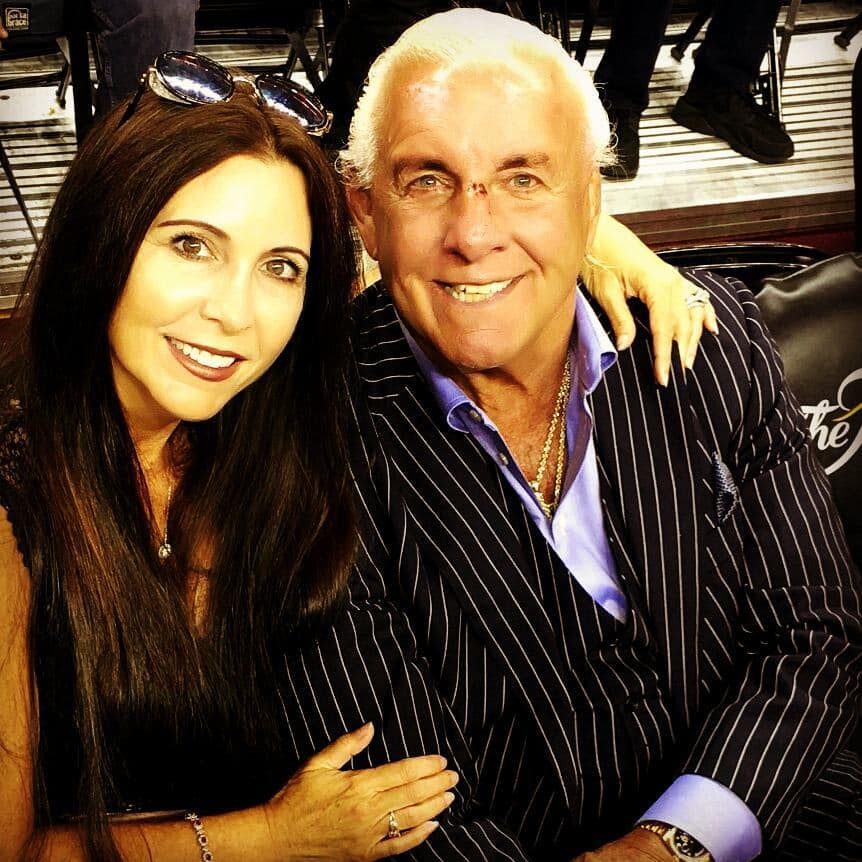 The star was supporting his daughter, Ashley AKA Charlotte, in the WWE ring.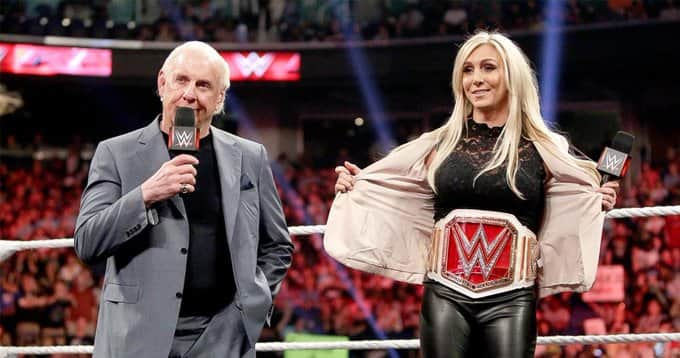 David Flair with his belt.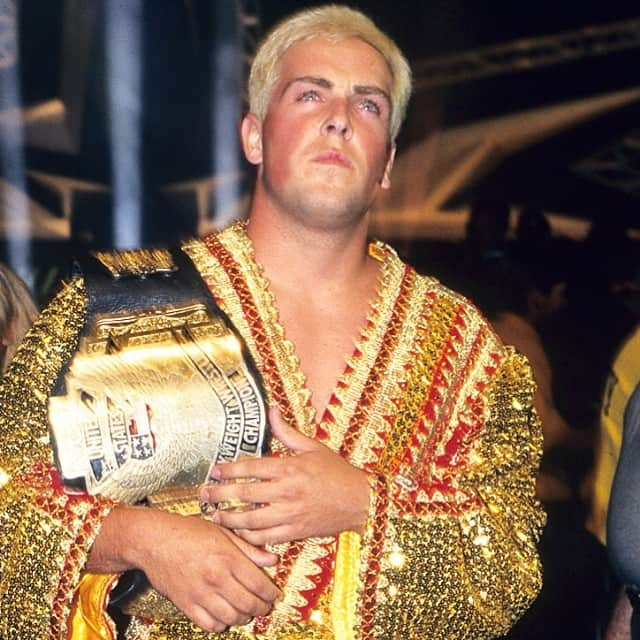 The late Reid Flair was all smiles with his father.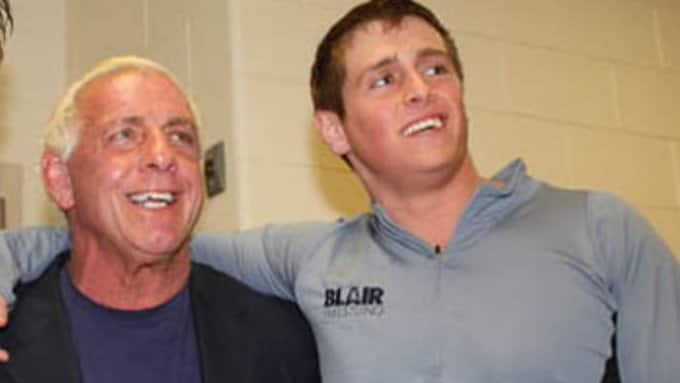 READ ALSO: John Cena is featuring Sho Madjozi's hit track in his upcoming flick
Ric Flair career
He has been in the wrestling career for over four decades. He was among the most influential wrestlers in the World Championship Wrestling (WCW) and National Wrestling Alliance (NWA). In addition, he set a record for holding the World Championship title sixteen times.
1971: He joined the Gagne training camp. Gagne was a promoter of an American Wrestling Association (AWA).
1974: He left AWA and was signed up for NWA.
1975: He obtained his first single title during the NWA Mid-Atlantic TV Championship. In October, he got into a plane crash that hurt his back.
1976: He returned to wrestling in February.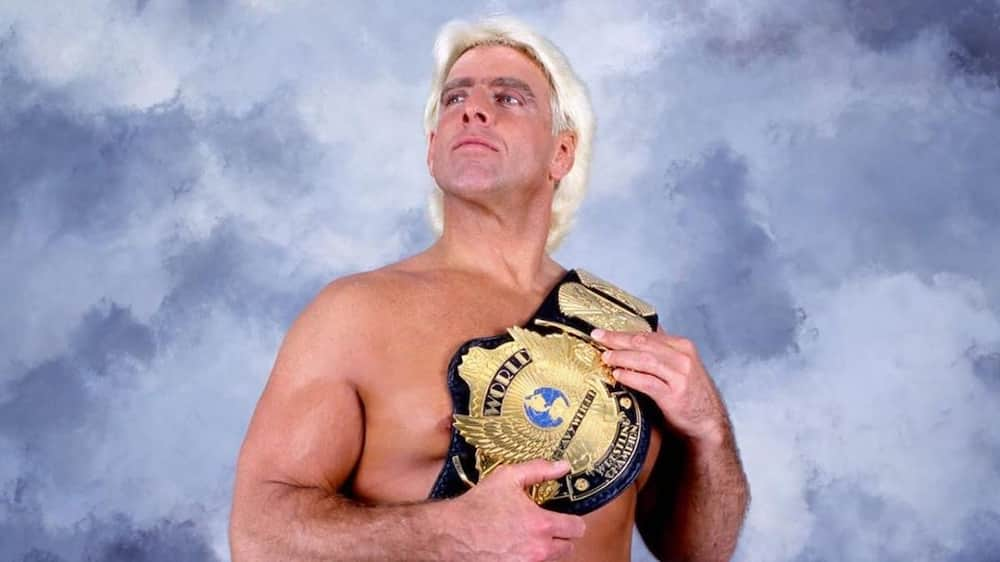 READ ALSO: The Rock is proud of daughter, Simone, after she signs WWE contract
1978: He defeated the original Nature Boy Buddy Rodgers; hence, he baptized himself Nature Boy.
1981: The star clinched his first NWA World Heavyweight Championship title.
1985: He teamed up with Ole Anderson, Arn Anderson, and Tully Blanchard to form the Four Horsemen.
1991: Jim Herd, the WCW president, gave Flair the name Spartacus, but he was adamant about adopting it; hence, he was fired. In August, Ric joined the World Wrestling Federation (WWF).
1992: Nature Boy crushed 29 WWF stars to secure his first WWF Championship belt, but he lost it the same year on October 12th.
1993: The fighter returned to WCW as the brand's new face.
1994: Ric was the unified WCW International World Heavyweight and the WCW World Champion.
1996: The idol was the flag bearer of the New World Order.
2001: He needed a short break from wrestling. His return to WWF in November 2001 was enthusiastically welcomed by his supporters. He bought shares in WWF from Shane and Stephanie and became the on-camera co-owner of the company. He lost his on-camera ownership to Vince McMachon.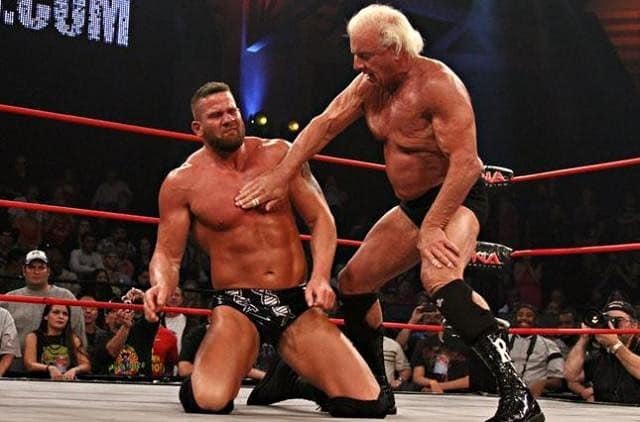 READ ALSO: AKA flexes WWE fan level: Drake ain't got nothing on Supa Mega
2003: The wrestler joined the Evolution, a move the compromised several WWE superstars. In 2003 and 2004, Flair won the World Tag Team Championship.
2008: He was the first active wrestler to be recruited into the WWE Hall Of Fame on 29th March 2008. After retiring on 30th March 2008, he proceeded to fight for Total Nonstop Action Wrestling (TNA).
What is Ric Flair latest news?
There are unresolved issues between him and WWE over his trademark. He has been following up on the issue for several years without success. He said;
Everyone has become aware in the last couple of years of how important it is to trademark and own your own name. They prepare themselves for the future because, as we all know, it can last two years, ten months or in my case 47 years. The key is to be able to walk away at the end of it, and if you've been successful, then have some control of your name through trademarks.
The retired and famous wrestler, Ric Flair, is the master of his life. His attitude and approach to life have enabled him to overcome obstacles and be the man he is today. He draws love from the masses because he is a real person who never pretends to please anyone.
READ ALSO: