Grace Mugabe bio: age, children, Robert Mugabe, education, wealth, where is she now?
Grace Mugabe was the first lady of Zimbabwe from 1996 to November 2017 when her husband's regime came to an end. Robert Mugabe was forced to hand over power after ruling for 37 years. Both of them had spouses when they started their romance. Grace has been banned from travelling to Europe and the USA because she is known for abusing human rights and corruption.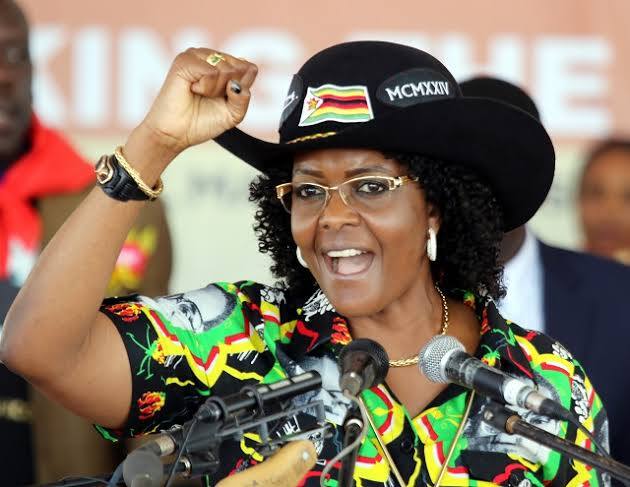 Robert Mugabe net worth was $20 million when he died. The 95-year-old passed away in September 2019 and left $10 million cash in the bank without a will. Lawyer Terrence Hussein revealed to BBC that none of his assets was in his name. Bona Mugabe was appointed by the court to identify her father's assets.
Grace Mugabe profile summary
Full name: Grace Ntombizodwa Mugabe (nee Marufu)
Date of birth: 23rd July 1965
Age: 54 years
Career: Entrepreneur and politician
Nationality: Zimbabwean
Grace Mugabe biography
How old is Grace Mugabe? She was born in Benoni, Johannesburg, South Africa, on 23rd July 1965. Grace Mugabe age is 54 years old now. She was born into a family of five children. When she turned five, her father remained in South Africa to provide for the family while the rest of the family relocated to Chivhu in Zimbabwe.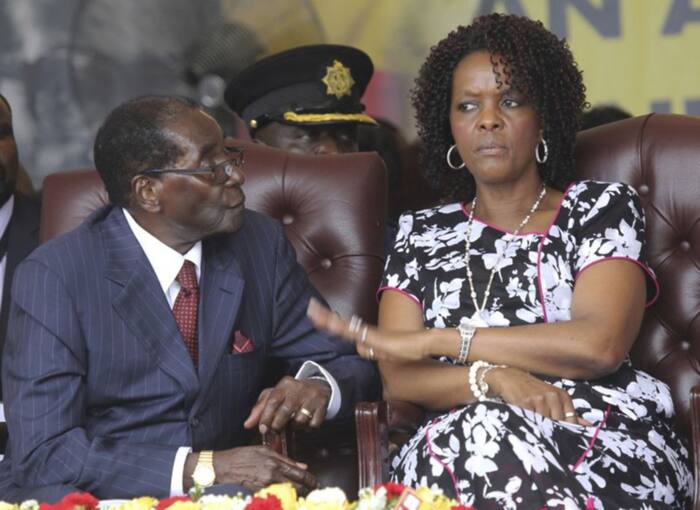 Robert Mugabe and Grace's love story
In the mid-1980s, she completed a secretarial course in college and landed a job in the Office of the President and Cabinet. She married to Stanley Goreraza, an air force officer in Zimbabwe, and they had a child who they named Rusell Goreraza.
Her romance with Robert Mugabe began while she was still Rusell's wife. Mugabe was also married to Sally (a Ghanian lady), and they had a son named Michael Nhamodzenyika. Sally died in 1992 because of kidney failure. Nhamodzenyika passed away in Ghana because of malaria.
Grace divorced his husband and married Robert. Their wedding ceremony was held on 17th and 18th August 1996 at Kutama College in Zvimba (Mugabe's rural home). Robert's children with Grace are Bona (1990), Robert Peter Mugabe Jr. (1992), and Chatunga Bellarmine (1997).
Educational background
Grace was sent to a primary school in Chivhu and joined Kriste Mabo High School in Rusape, Manicaland. She never graduated from the University of London after enrolling for a bachelor of arts (English) in 1996. She was deregistered in 2004 for not completing the degree within the stipulated time. Later, she earned a degree in the Chinese language from the University in China.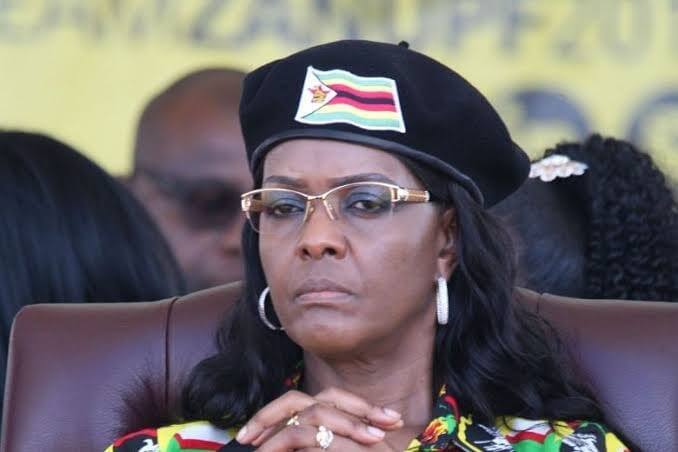 She also graduated from the University of Zimbabwe in 2014 with a PhD in sociology. People slammed her for using fishy means to acquire the PhD because Robert Mugabe was the chancellor of all state universities in Zimbabwe at the time.
Grace Mugabe's political career
She went into politics in 2014 when she was nominated to head Zanu-PF Women's League. Upon her election as the leader of the party, she held a national Meet the People tour. During the tour, she accused Joice Mujuru of bewitching the president's family. Mugabe also laid corruption allegations against Mujuru and claimed that she attempted to assassinate him. The allegations forced the government to expel Mujuru.
In a 2015 interview with Sunday Mail, she denied claims that she was aspiring for the presidential office. She unveiled vice president Emmerson Mnangagwa's plot to overthrow the president; hence he was ousted from office on 6th November 2017. Grace got endorsements from Zanu-PF Youth League and other parties to fill the position. Zanu-PF expelled her and her allies from the party in November 2017.
Was Mugabe asked to trade his wife for power?
Grace Mugabe divorce threats shocked many. Mugabe was offered the option to send her into exile to keep the presidential seat. She threatened to file for a divorce if he traded her for power.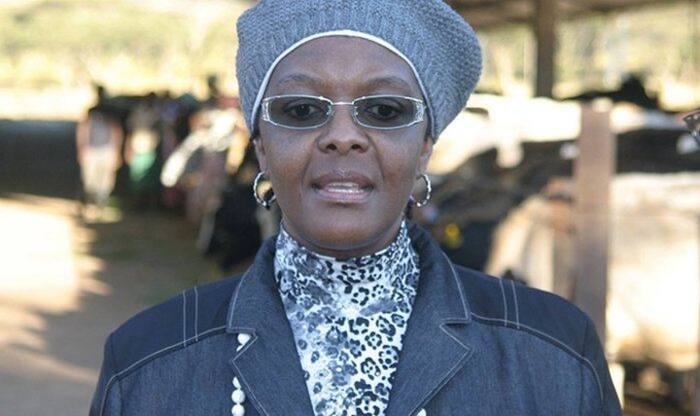 What does Mugabe's family own?
She tops the list of land grabbers in Zimbabwe. In a 2015 controversial land reform program, she evicted over two hundred families from Spenenken and Arnold farms (Manzou Estate). The land was set aside for a private wildlife sanctuary, a high school, a hospital, and Robert Mugabe University.
Grace has earned millions of dollars from trading in blood diamonds. She also owns Gushungo Holdings (Pvt) Ltd. The company owns 10,601 hectares of land in Zimbabwe. Its subsidiaries are Alpha Omega Dairy (a multi-million-dollar project), Amai Grace Mugabe Junior School, a high school in Mazowe, and Mazowe Children Home.
In 2011, she grabbed the Mazowe dam, thus taking away the main source of income (fishing) of the locals. It is the sixth-largest dam in the country. The government repossessed it in 2017. It also plans to repossess all assets that the Mugabe family stole from the public.
Have you seen the $10 million Blue Roof Mugabe mansion?
Located in Borrowdale Brooke, Blue Roof Mugabe mansion is a 25-bedroom house worth over $10 million. The house is erected on a 44-acre piece of land and secured by multimillion-pound security systems. It has marble floors, a modern swimming pool, and expensive chandeliers.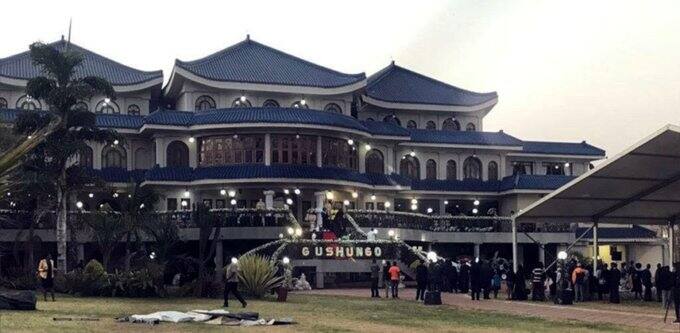 Here is how the mansion looks inside: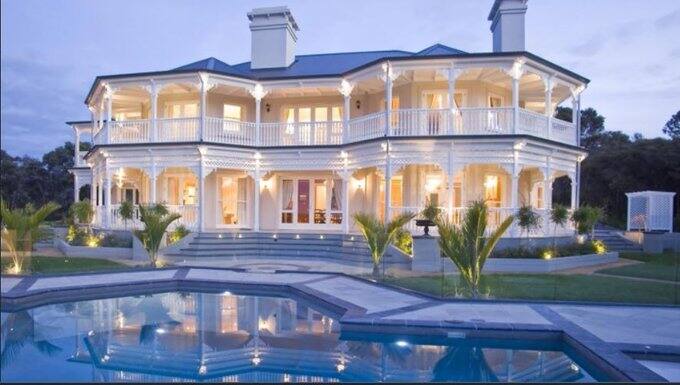 READ ALSO: Know your history: List of all Presidents of South Africa
Grace Mugabe children
In 2014, Grace and his family were accused of using public resources for financing their extravagant lifestyle. Media houses call her Gucci. Their son, Bellarmine Chatunga, flossed on Instagram his $60,000 wristwatch because "his father owned the whole country."
In 2018, she admitted to buying a mansion in South Africa. Her husband also confessed that in preparation for his daughter, Bona Chikore, to study at the University of Hong Kong in 2009, he bought a HK$40-million house for her in Hong Kong.
While Robert Jr was a scholar in Dubai, he rented for him a house where he paid $500,000 annually. One of his sons was all smiles on Snapchat while pouring champagne over an expensive watch.
Mugabe's sons cohabited with the same woman
A 20-year-old South African model, Gabriella Engels, cohabited with her sons, Robert Jr and Chatunga Bellarmine. The infuriated Grace assaulted the model in August 2017 at Sandton hotel in South Africa. She was never prosecuted because the government of Zimbabwe protected her.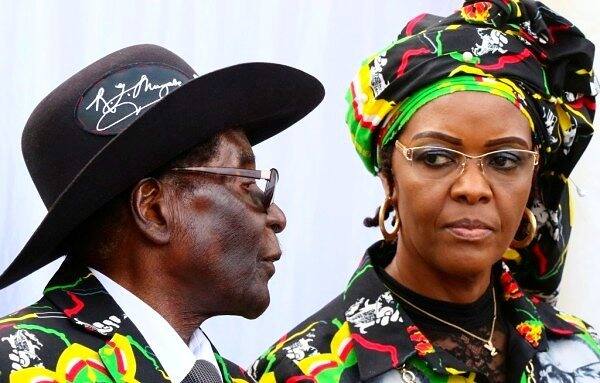 READ ALSO: Who is the richest president in Africa?
What is trending in Mugabe latest news?
In the latest news on Grace Mugabe, she might lose most of her illegally acquired assets.
She moved out of the Blue Roof Mansion to stay in Zvimba. She needs to manage the transformation of her husband's grave into a tourist attraction centre. Villagers have to relocate their cattle kraals to create room for the project.
The UK suspended the order to freeze her assets until the Brexit transition period expires at the end of 2020. The British government disagrees with the EU's decision. It plans to review the decision when the period ends and re-impose the sanctions.
The Mazowe gold miner, Langton Chapungu, might repossess the farm and equipment she grabbed while her husband was in power if he wins the case.
Frequently asked questions (FAQs)
Here are the most common questions.
What happened to Grace Mugabe?
She fled to Windhoek with her children in 2017 because her husband and the military were fighting for power.
Who is the first wife of Robert Mugabe?
His first wife, Sally, died of kidney failure.
When did Grace Mugabe get married?
She married Robert Mugabe in August 1996 at Kutama College in Zvimba.
How old is Grace Mugabe now?
She is 54 years old.
At the mention of Grace Mugabe in some parts of Zimbabwe, sadness fills the atmosphere because her name brings back sad memories that people are trying hard to forget.
READ ALSO:
Meet world's youngest prime minister, 34, raised by the same-sex family
Tokyo Sexwale bio: age, children, ex wife, new wife, cars, house, net worth, profile
Tulsi Gabbard bio: husband, age, policies, net worth, latest news
Source: Briefly.co.za