As a child, most girls dream of becoming princesses. However, what they do not realize is that the title comes with responsibilities and that being royalty is not about ruling the subjects, but it is about serving the people. Charlene Wittstock is one of the chosen few to become a princess joining the likes of Megan Markle and Kendra Spears.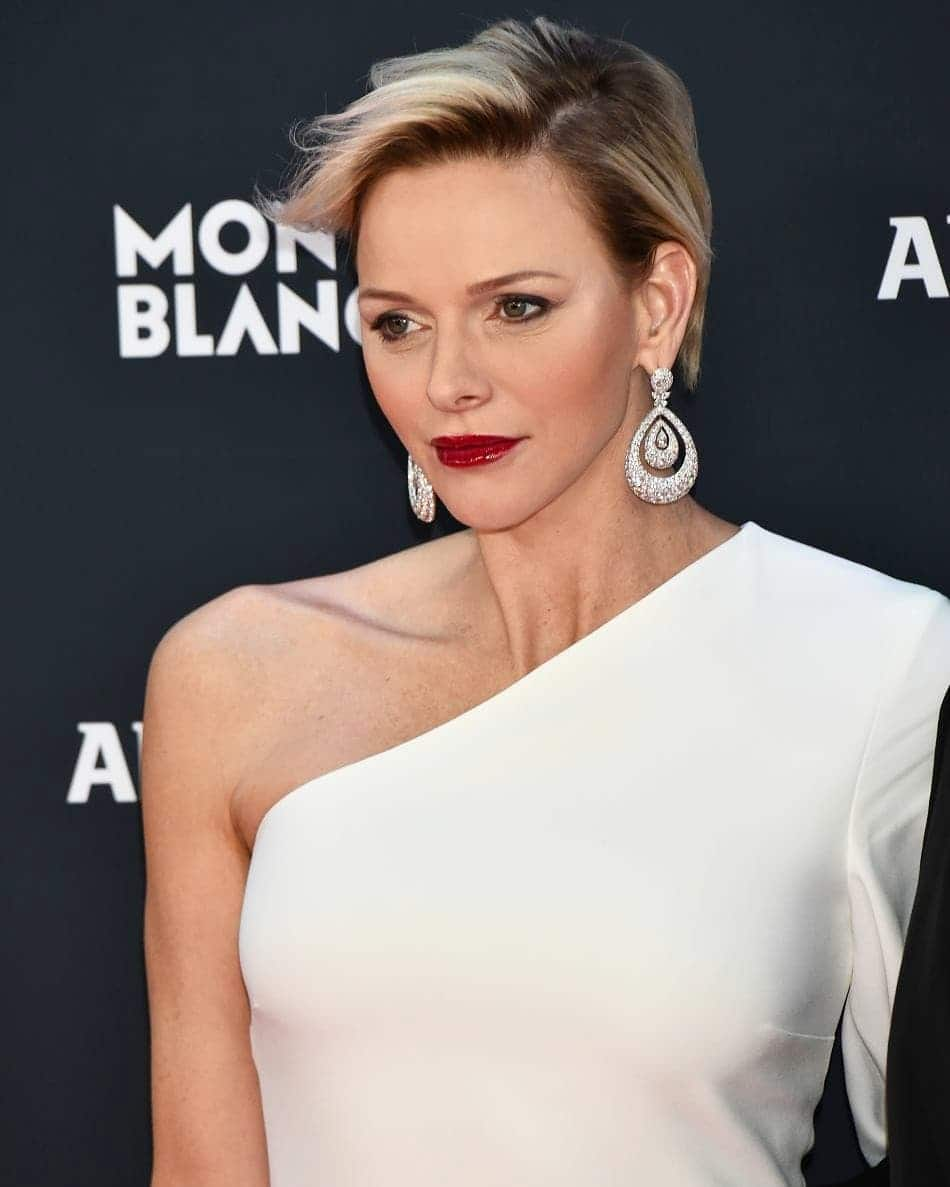 She is popularly known as the wife of the current Sovereign Monaco Prince, Albert II, but she was formerly a professional Olympic swimmer.
Profile Summary
Date of birth: January 25, 1978
Charlene Wittstock age: 42
Zodiac sign: Aquarius
Charlene Wittstock height: 5' 9" (1.77m)
Charlene Wittstock Instagram: @charleneofmonaco
Charlene Wittstock net worth: $150 million
Biography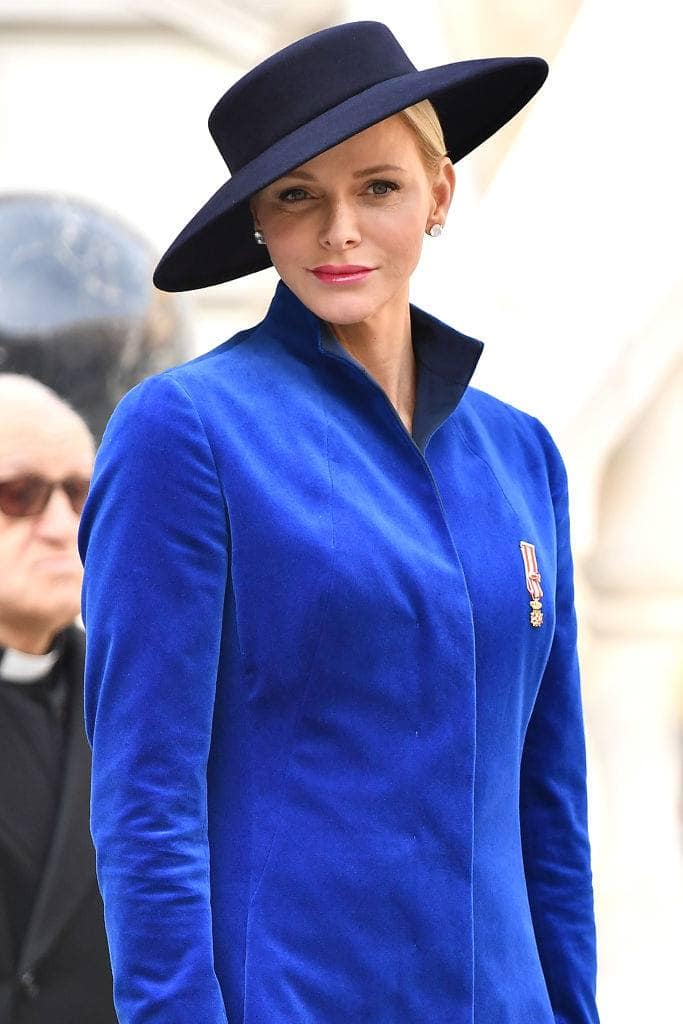 She was born in Bulawayo, Rhodesia (currently Zimbabwe) to Michael Kenneth Wittstock (born 1946), a sales manager, and Lynette Wittstock (born 1957), formerly a competitive director and swimming coach. She has two brothers; Gareth (born 1980), an entrepreneur based in Monaco, and Sean (born 1983), a South Africa based promotions and events businessman. She hails from a German background since her great grandparents moved to South Africa in 1861 from the Pomeranian Village of Zerrenthin in Northern Germany to escape hardship.
When she was 11, in 1980, her family moved to the east rand town of Benoni, South Africa. For three years, she went to Tom Newby Primary School in Benoni. In 2011, her father announced that his family would be moving to Monaco due to the increased crime rate in Benoni.
READ ALSO: Prince Harry, Meghan and Archie reportedly using Tyler Perry's LA home
Charlene Wittstock Swimming
The gorgeous Princess has had many achievements in her life, and swimming is one of them. Her mother, being a swimming coach, influenced her interest to participate in the sport from a very tender age. When she was 15, she had already made her mark in the sport by winning the National Junior title.
In 1997, she was the winner of the 100 and 200 backstroke events at the South African Championships held in Germiston, and she also received the Best Female swimmer of the Tournament award. In 2000, she was the gold medal winner at the Marenostrum international swimming meeting in Monaco. This is where she first laid her eyes on Prince Albert II, who presided over the event.
She represented South Africa at the 2000 Olympics as part of the country's 4x 100m women's' medley, which finished fifth. She also represented SA at the 1998 and 2002 Commonwealth Games as well as the FINA Short Course World Championship, where she placed sixth.
READ ALSO: Khuli Chana bio: age, full name, children, partner, songs, Instagram
She later had a shoulder injury, which prevented her from participating in the 2008 Olympics. She moved to Durban to pursue her swimming career fulltime under the direction of Coach Graham Hill at the Seagulls Swimming Club. She later moved from the Seagulls to the Tuks Swimming Club at the University of Pretoria.
Charlene Wittstock swimming photos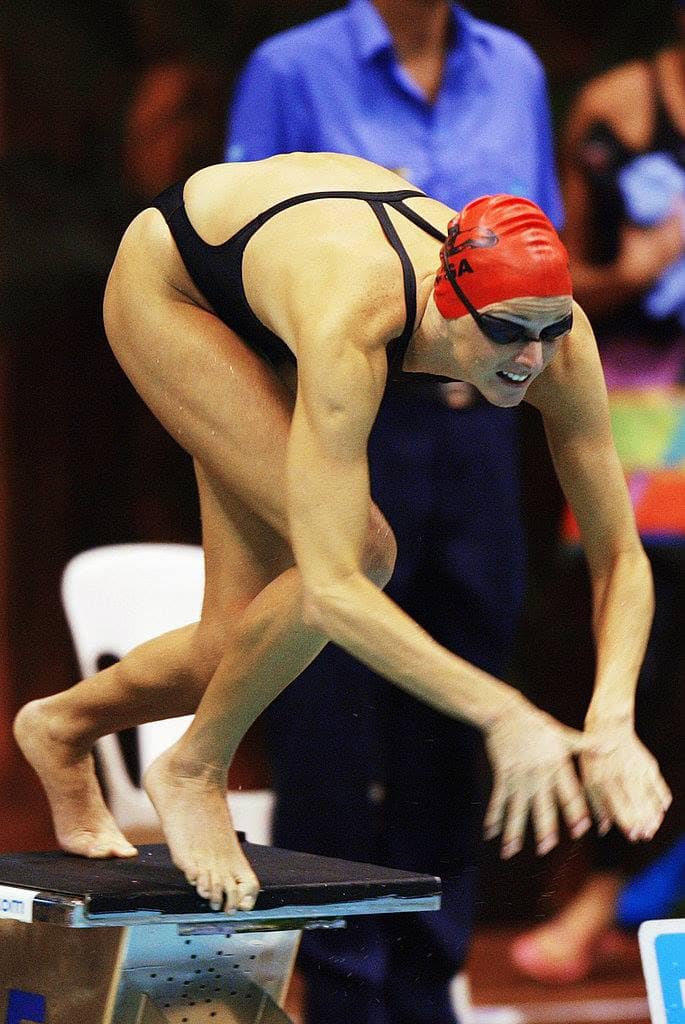 Some of the records she has set during her swimming career include:
50 m backstroke in 29:18 and 28:00 in the long and short courses, respectively
100 m backstroke in 1:00:16 minutes, a short course in the 2001-2002 World Cup
200 m backstroke for 2:08:72 minutes short course in 2002
Charlene Wittstock wedding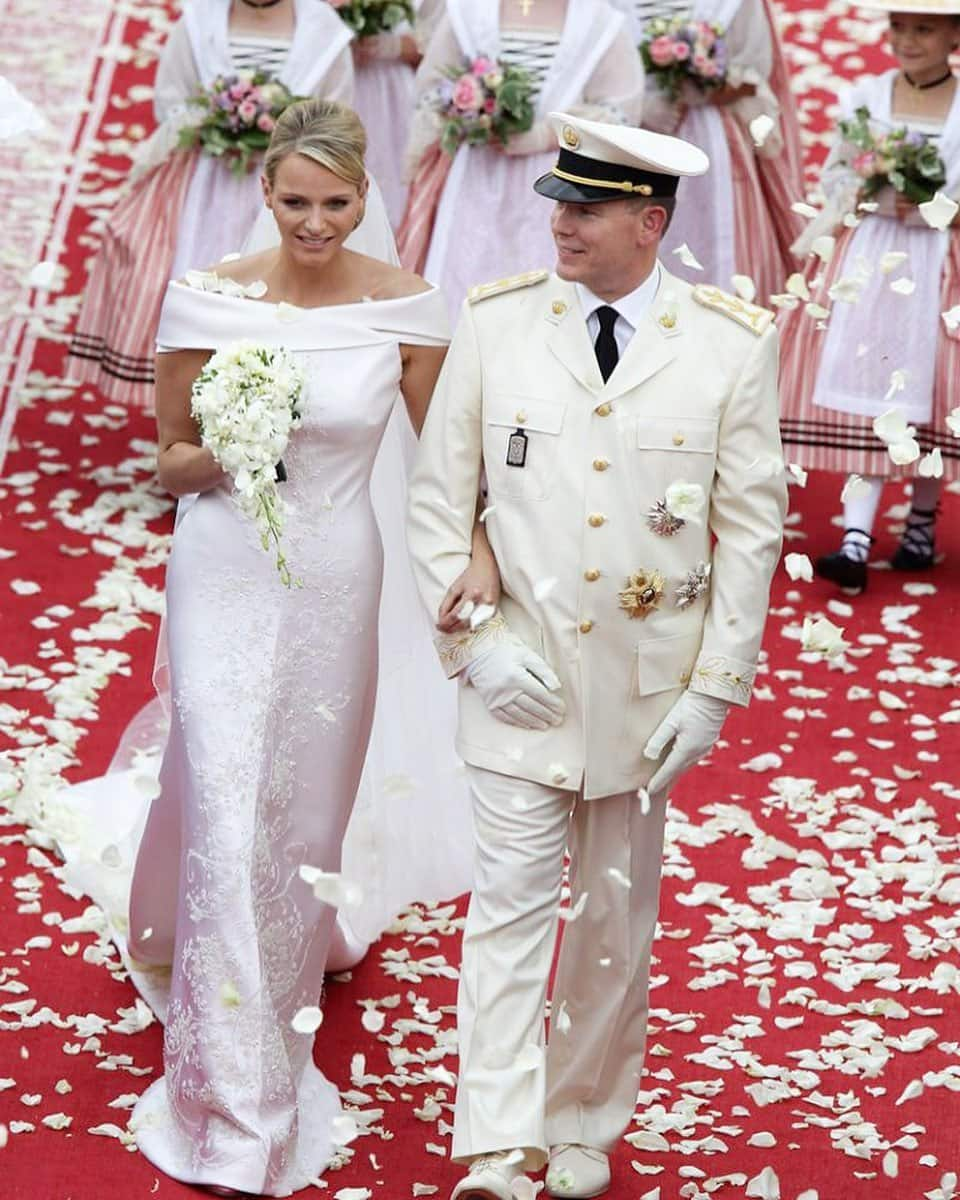 The wedding between the Prince of Monaco, Albert II, and Charlene Wittstock occurred on July 1 and 2, 2011, at the Prince's Palace of Monaco. The ceremony was described as the "biggest party in 55 years" after the wedding of Albert's parents, Rainier III and Grace Kelly.
The couple was first seen in public in 2006 and officially announced their engagement on June 23, 2010. The wedding took place on July 1 and 2, 2010, at the Prince's Palace of Monaco. A two-day public holiday for the celebration was declared. The best man was cousin to the Groom, Christopher Levine, and the maid of honor was Donatella Knecht de Massy. The ceremony is said to have costed approximately $55 million.
Charlene Wittstock Wedding Dress
The Bride wore an exquisite and stylish dress designed by Giorgio Armani. The gown was a cream silk Duchesse with two trains, decorated with mother-of-pearl and Swarovski crystals.
Charlene Wittstock wedding crying
During the ceremony, as the Bride walked down the aisle, reports say that she seemed to be sad as she cried throughout the service. Before the wedding, allegedly, she had tried to flee three times after discovering that Albert, who is 20 years older than her, had already had illegitimate children.
Charlene Wittstock children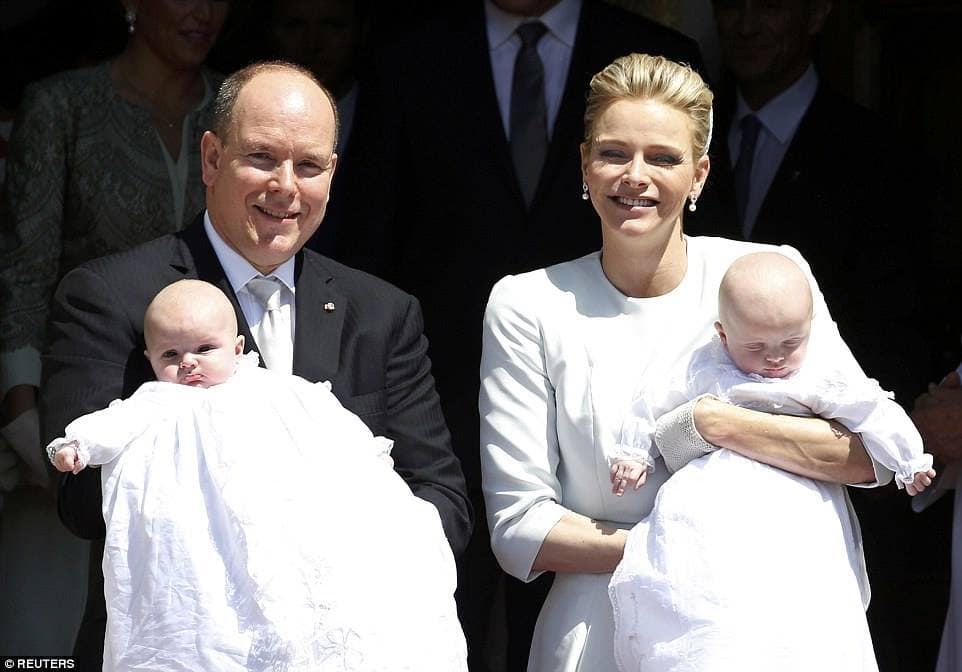 The couple shares two children: Princess Gabriella and Prince Jacques.
Charlene Wittstock unhappy
Even though she is living the royal life, it is speculated that Monaco's Princess is unhappy since she has to live with her sisters-in-law, Caroline and Stephanie, who allegedly despise her. They are rarely seen together in public places. The South African Belle also has very few friends in Monaco.
Q & A
Here are the most asked questions about the Princess.
Why did Charlene Wittstock cry at her wedding?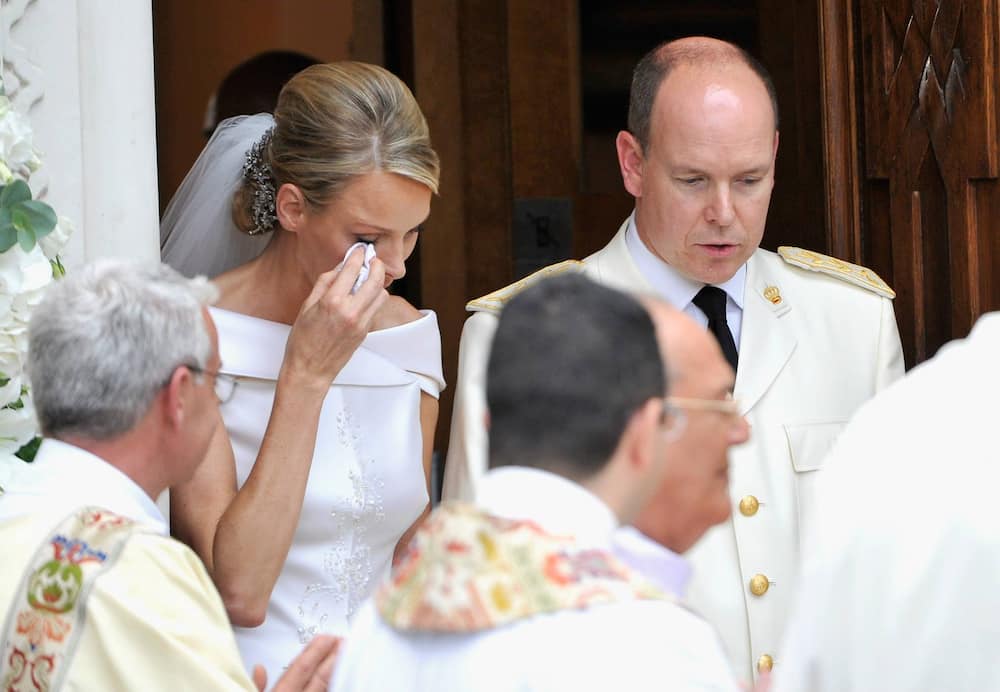 Rumor has it that she was not happy with marrying the Prince of Monaco after she discovered that her husband had already had three illegitimate children. She was seen crying during the ceremony and even recoiled when Albert tried to kiss her.
Did Charlene run away?
Yes, she did try to escape Monace but was not successful in all her three attempts.
Are Prince Albert and Charlene still married?
The royal couple is still together and has even had twins.
Does Charlene of Monaco speak French?
Initially, she only spoke English and Afrikaans but had to learn French in 2000 after she met Albert since it is Monaco's official language.
Charlene Wittstock is genuinely a princess not only by title but by character. She has shown her charity by starting the Princess Charlene of Monaco Foundation in South Africa to encourage sporting activities among the Mzansi people.
READ ALSO:
Prince Harry and Meghan step back as 'senior' members of Royal Family
Mbali Nkosi bio: age, boyfriend, siblings, parents, big brother, career, profile
Zahara bio: age, full name, siblings, debt, addiction, songs, albums, profile