List of most expensive sneakers in the world
If you love sneakers, there are possibilities that you would have constantly found yourself wondering about the most expensive sneakers in the world. This could come after you won a big lottery, successfully executed a contract, and when you want to give yourself the widest treat you could ever think of, among others.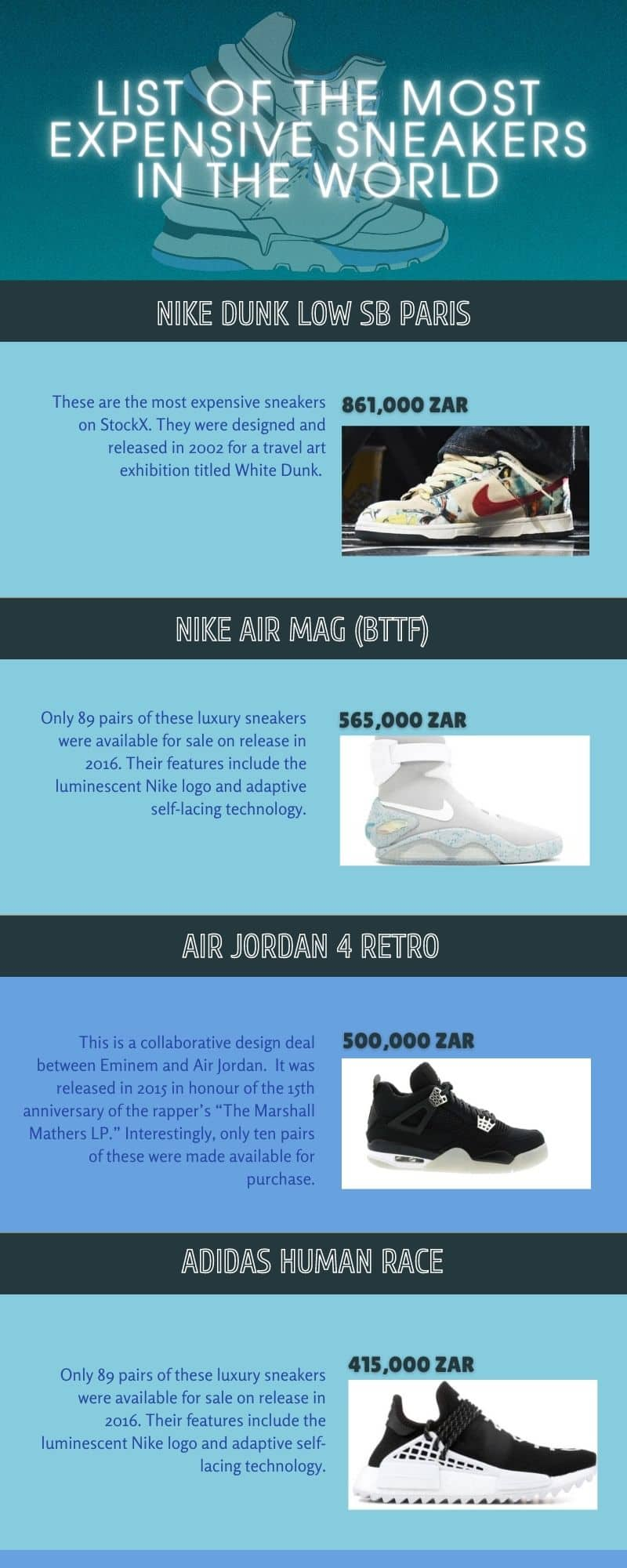 Buying sneakers today, for some people, is more than just a hobby but an addiction. Especially considering many designs and colourways out there, the temptation to get a pair of designer shoes and go for another is always there. Although there are several beautiful shoes with fair prices out there, some are so expensive not just because of the designers but because of the materials they are made with and the few numbers of pairs produced.
What are the most expensive sneaker shoes?
The likes of Nike, Adidas AG, Converse, and Puma are some of the best shoe manufacturers in the world, no doubt. Nevertheless, some special sneakers have been produced in the world that costs anyone who desires to have a pair of them a fortune. Below is a list of some of the most expensive sneakers ever.
10. Nike Dunk SB low yellow lobster - 258,000 ZAR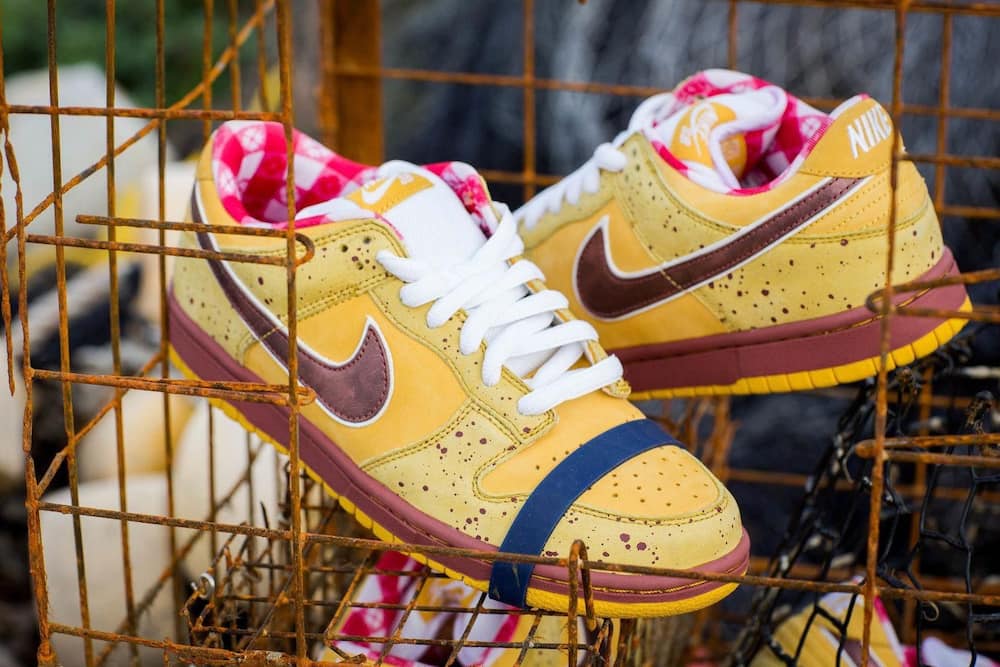 The yellow-coloured lobster is a kind of sea animal that is so rare; you can only find one among a collection of 40 million lobsters. Hence, you will be able to understand how rare this collection of Nike sneakers is. At the time of its production, only a meagre 34 pairs of these sneakers were released but never sold to the general public. It was given as a souvenir to friends of the Nike SB brand. It will cost a whopping 258,000 ZAR to see this pair of shoes on your feet.
9. Air Jordan 4 retro (undefeated 2018) - 265,000 ZAR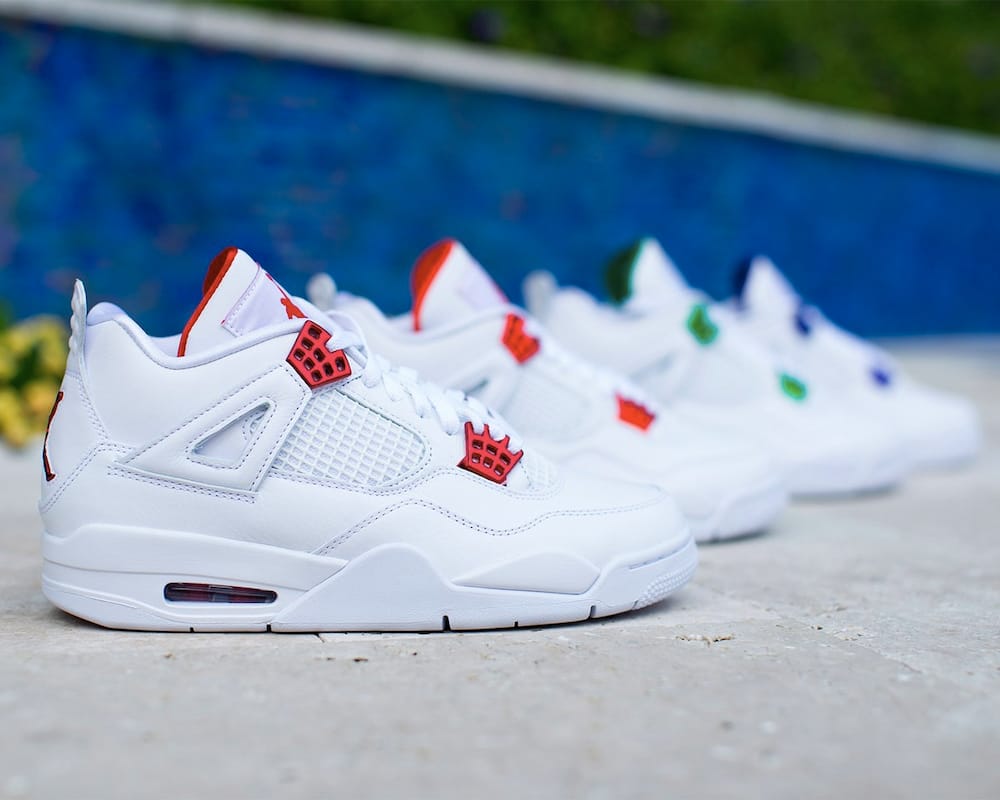 Unsurprisingly, Air Jordan made it to this list as the brand is known for producing celeb-worthy sneakers. This pair appeared in 2005 but was not made available for sale. It turned out only 72 pairs were produced and distributed as gifts to family and friends of a third-party partnership with the Jordan brand. The sneakers would cost you not less than 265,000 ZAR if you want it recreated.
8. Nike Air BTTF - 282,000 ZAR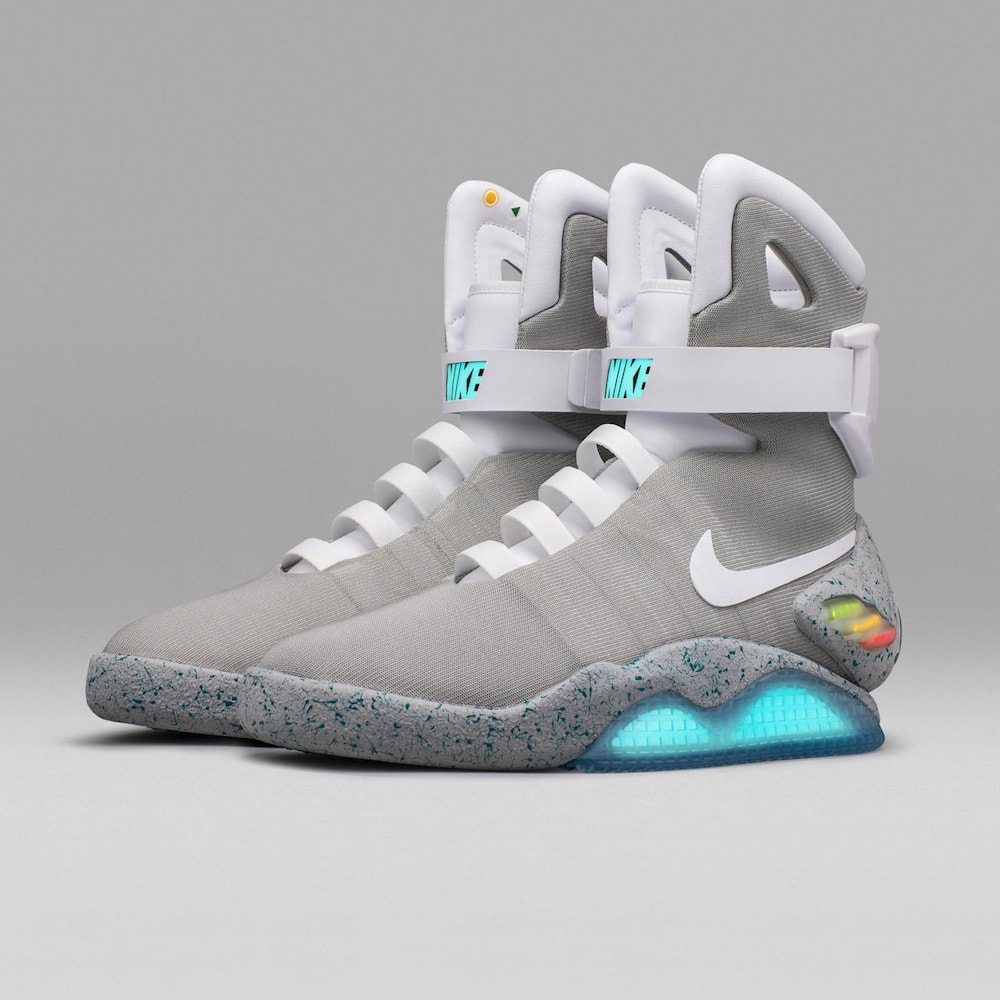 This is one of the earliest versions of the Back To The Future Nike sneakers series. Only 1,500 pairs of this beautiful variety were released to the market in 2011. One of these sneakers' outstanding features is the possession of a Nike logo that shines in the dark. It sells for as high as 282,000 ZAR.
7. Air Jordan 11 Retro (Derek Jeter) - 303,000 ZAR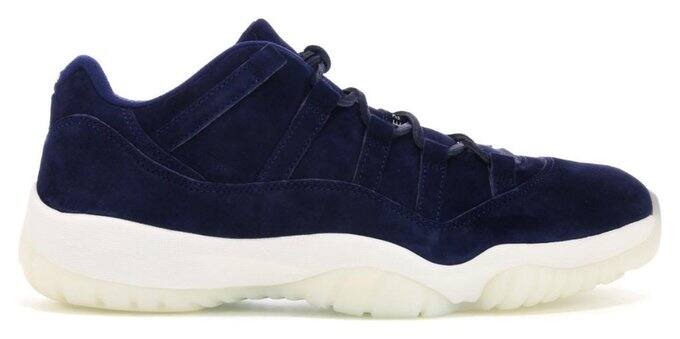 These rare Air Jordan sneakers will wow you. It is a product of creative collaboration between former baseball player Derek Jeter and Air Jordan. It is obvious with Derek's jersey number's engravement during his playing days on the shoes' heels. Selling for about 303,000 ZAR, the shoe has a suede Yankee blue colour on top of a white sole.
6. Air Jordan 4 Retro (Eminem Encore 2017) - 349,000 ZAR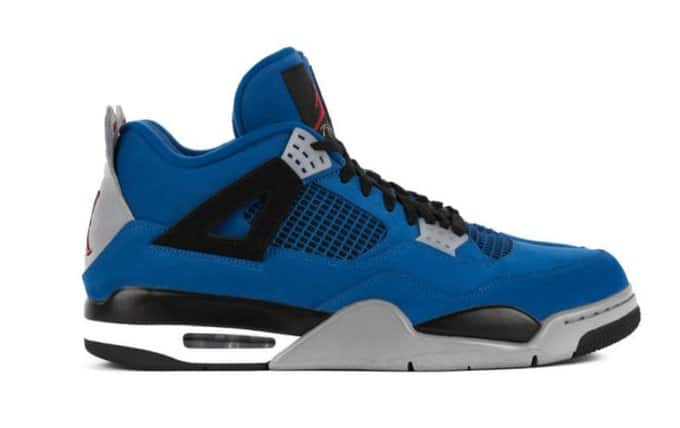 Eminem teamed up with Air Jordan to produce this masterful sneaker design. The aesthetics include a covering of blue suede as well as details of grey, black and red, which makes them unique as well as some of Jordan most expensive sneakers. It was created in honour of the rapper's Encore album, which was released in 2004. A pair of these sneakers sell for about 349,000 ZAR.
5. Nike Air Yeezy 2 - 385,000 ZAR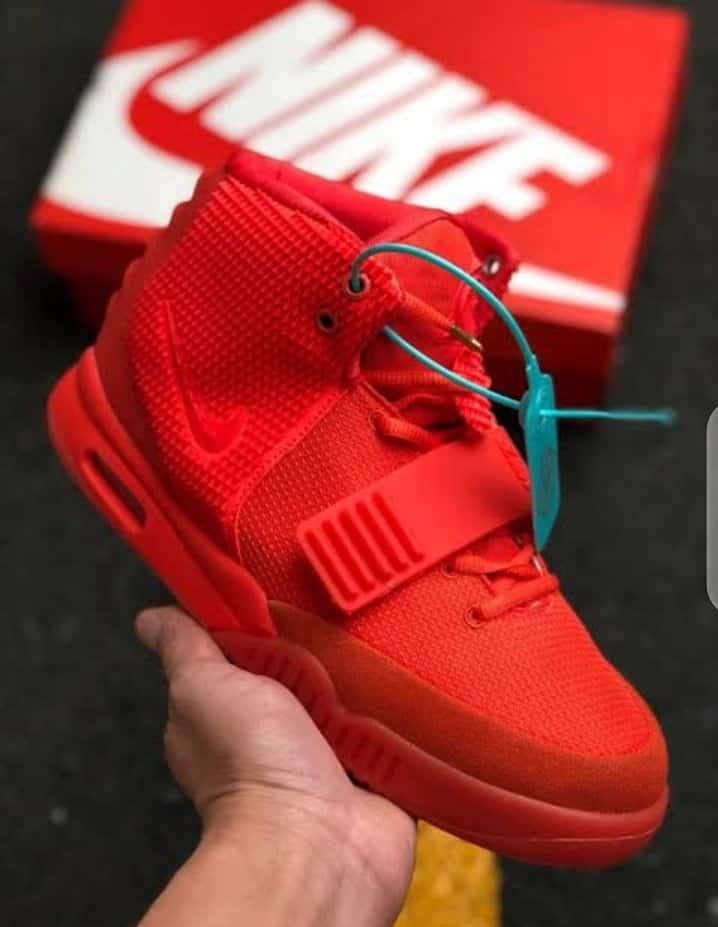 This pair of sneakers was released after the collaborative designing effort between Kanye West and Nike in 2009. It is a bright red Air Yeezy collection commonly referred to as Red October. To own a pair, an individual must be willing and able to path with some 385,000 ZAR.
4. Adidas Human Race (Pharell x Chanel) - 415,000 ZAR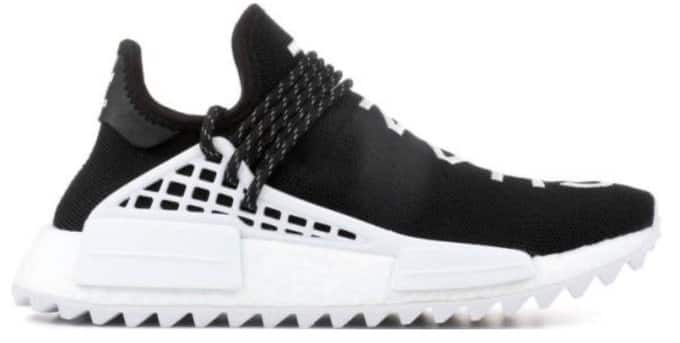 These sneakers feature the personality and typography of Chanel and Pharrell. Only 500 pairs of these Adidas most expensive sneakers were released in 2017. It presently sells for as high as 415,000 ZAR.
3. Air Jordan 4 Retro (Eminem Carhatt 2015) - 500,000 ZAR
Again, this is a collaborative design deal between Eminem and Air Jordan. This brand has some of the most expensive sneakers in the market, and they cost about 500,000 ZAR. It was released in 2015 in honour of the 15th anniversary of the rapper's "The Marshall Mathers LP." Interestingly, only ten pairs of these were made available for purchase.
2. Nike Air Mag (BTTF) - 565,000 ZAR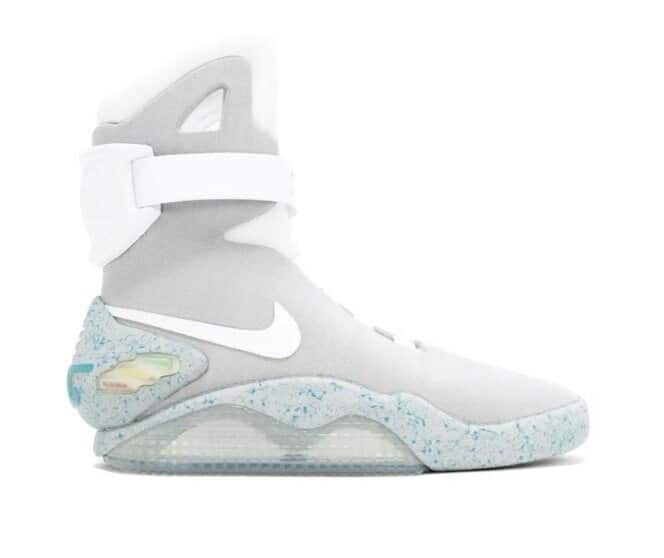 Only 89 pairs of these luxury sneakers were available for sale on release in 2016. Their features include the luminescent Nike logo and adaptive self-lacing technology. You must be quite a big spender to acquire them because they cost about 565,000 ZAR.
1. Nike Dunk Low SB Paris - 861,000 ZAR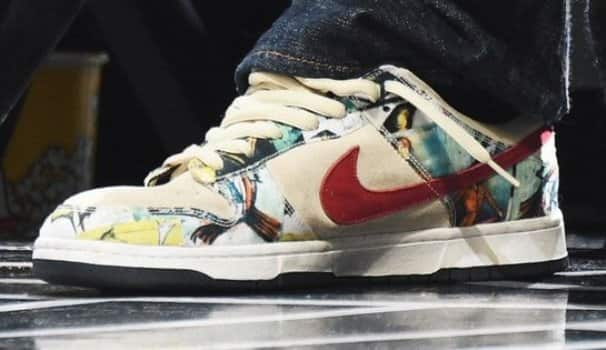 These are the most expensive sneakers on StockX. They were designed and released in 2002 for a travel art exhibition titled White Dunk. It is a colourful pair of sneakers with the painting of Benard Buffet infused in the design. This is probably the answer to what is the highest price of Nike shoes? It was last sold for as high as 861,000 ZAR.
What is the rarest sneaker?
A list of the most expensive sneakers brands would include Nike, Air Jordan and Adidas, among others. However, the rarest sneakers are the Solid Gold OVO x Air Jordan. It was made specially and owned by Canadian rapper Drake. Anyone who wants to slide their feet into these for a golden walk may have to beg Drake for it or be willing to pay as much as 31,000,000 ZAR to have the replica.
What are the most expensive sneakers sold at auction?
The Nike Moon shoes were sold for a price that may be considered outrageous for a shoe made for the qualifiers of the 1972 Olympics. At an auction by Miles Nadal in 2019, which held in Sotheby, the surviving pair of these sneakers were sold for about 6,780,000 ZAR. This pair is considered to be not just the most expensive sneakers ever sold but the most expensive sneakers of 2020.
Buying one of the most expensive sneakers in the world for some people is more of an achievement. From the list shared above, you can also see why these shoes are costly. Nevertheless, any buyer can also be assured of the quality and the feel of possessing one can be so fulfilling.
READ ALSO: 15 rarest dog breeds in the world and their price
Dogs are an acclaimed friend of humans. While there are many breeds of this animal, Briefly.co.za recently published detailed information on some of the rarest ones in the world.
Do you know that dogs like Finnish spitz and Azawakh are some types that you will hardly come across when searching for a dog to buy? If you are considering why some of these breeds have been banned, where they are banned and how much they cost to get any of them, you will find the article informative enough.
Source: Briefly News