Editor's Note: The SABC, like the vast majority of SA's state-owned entities, is struggling to stay afloat. Lwazi Nongauza weighs in with his views on what the nation can expect moving forward.
PAY ATTENTION: Join Briefly News' Telegram channel! Never miss important updates!
Thanks to SABC management, 2021 is likely going to be one of the most difficult years as the majority of South Africans will soon get used to sub-standard service (despite constantly paying millions of rands in form of tax and TV licences) as the 400-employee planned retrenchment is still very much on the cards.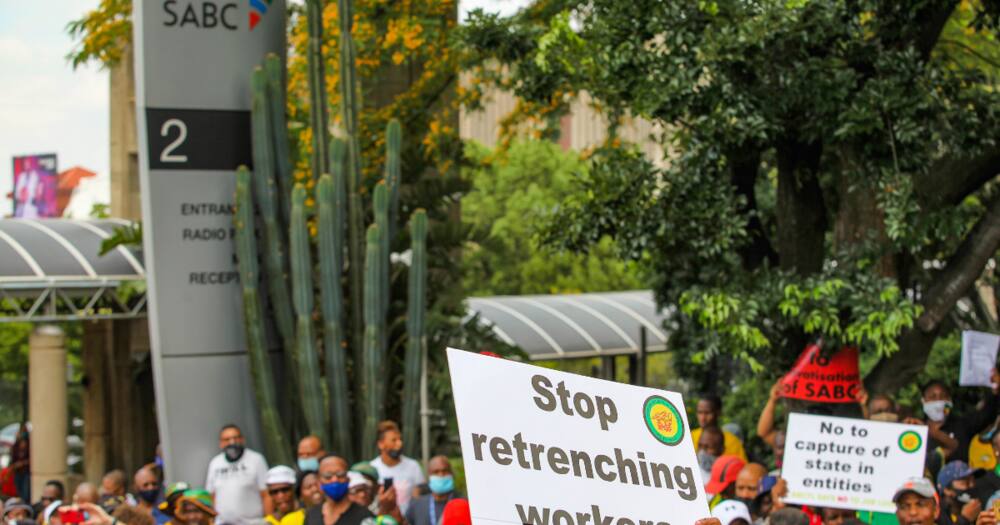 That bleak future for South African taxpayers, the affected SABC employees, viewers, and listeners starts today, as the SABC management will be locking horns with Broadcasting, Electronic, Media and Allied Workers' Union and Communication Workers' Union.
This will take place in a closed meeting with the independent facilitator.
Tell No Lies And Claim Easy Victories
The SABC management is on record saying most of its work is being done by mostly professional broadcasters and highly skilled staff.
The entry-level salaries of the most important segment of the workforce by whom, according to the SABC, most of the work is done, are more or less the same as what the average South African earned three years ago.
Any attempt to blame employees for the financial situation the SABC finds itself in is simply a repeat of distortion of facts. Therefore, SABC management must stop using employees as scapegoats but instead take responsibility for the chaos SABC is in.
Let Logic, Basic Economics Prevail
According to the SABC, some money-making radio and TV shows will no longer be on air.
Lesedi FM's weekly current affairs programme, Imatlafatse, is one of those which will be not be affected despite generating approximately R1 million per month for the SABC. In basic economic terms, if the proposed retrenchment goes ahead, SABC will lose Imatlafatse's loyal audience and R12 million. Imatlafatse is just but one of many examples that defy logic.
At what point is depriving your audience news content and losing R12 million a year a good thing to do? How is adding more numbers to South Africa's unemployment statistics and dropping some reliable income revenues the best idea ever?
Prioritise Permanent Workers
It is actually not true that the 400-employee planned retrenchments is intended to put SABC in a financially sustainable position.
Consultants, freelancers and senior top management are actually top earners, not the affected permanent workers. Therefore, if indeed huge salaries were a problem, there was no need to retrench some employees.
Overpaid consultants and freelancers (who by the way have other jobs outside of SABC) should be the ones who have to be released from their contracts.
About the author:
Lwazi Nongauza is a seasoned media practitioner, public relations specialist and aspiring entrepreneur. Through this article, he shares his observation of the SABC massive planned retrenchments.
Nongauza also highlights the implications of the SABC planned retrenchments to all South Africans who rely on the national broadcasters content and unintended consequences to the economy in 2021 and beyond. He also shares his opinion on what he believes should happen to SABC board and executive officials.
Disclaimer: The views and opinions expressed here are those of the author and do not necessarily reflect the official policy or position of Briefly.co.za.
Earlier, Briefly.co.za reported that the SABC is struggling financially and to make matters worse, one of its largest defaulters is the government.
The government owes a whopping R57 million to the SABC for TV licence fees and adverts. Communications and Digital Technologies Minister Stella Ndabeni-Abrahams revealed this during a parliamentary questions session with DA MP Phumzile van Damme.
Van Damme wanted to know exactly how much the government owed the broadcaster and how it plans on paying the money back.
Enjoyed reading our story? Download BRIEFLY's news app on Google Play now and stay up-to-date with major South African news!