- The Economic Freedom Fighters shared some snaps of Julius Malema's highly anticipated tea party with Jacob Zuma
- It is not clear what they spoke about but people speculate that it has something to do with the Zondo commission
- South Africans reacted to the snaps uploaded to Twitter and shared their reactions to the post
PAY ATTENTION: Join Briefly News' Telegram channel! Never miss important updates!
It was probably the most anticipated tea party in South African history. Julius Malema had offered to have tea with Zuma to discuss recent development regarding the Zondo commission.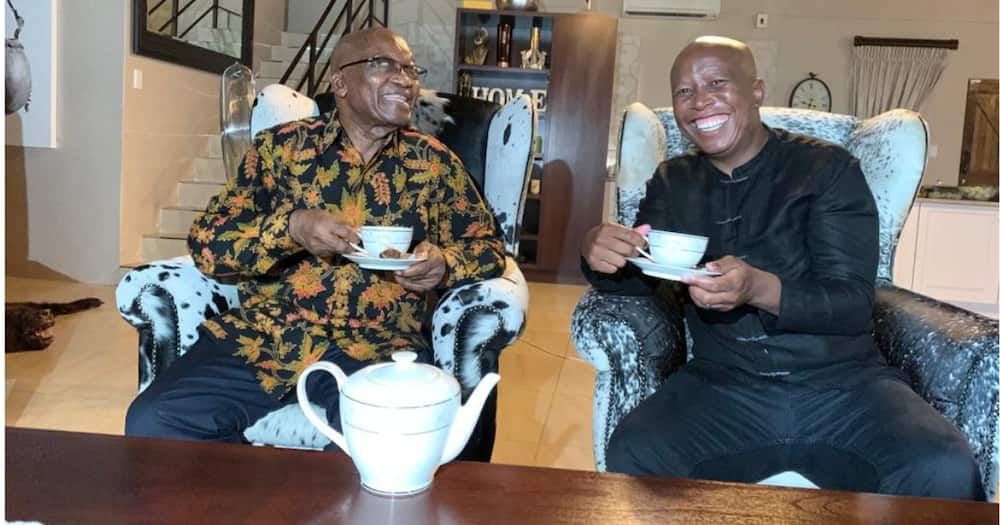 It was the last thing Mzansi was expecting and many people doubted that it would ever actually happen but today, Malema visited Zuma at his home in Nkandla and they had tea.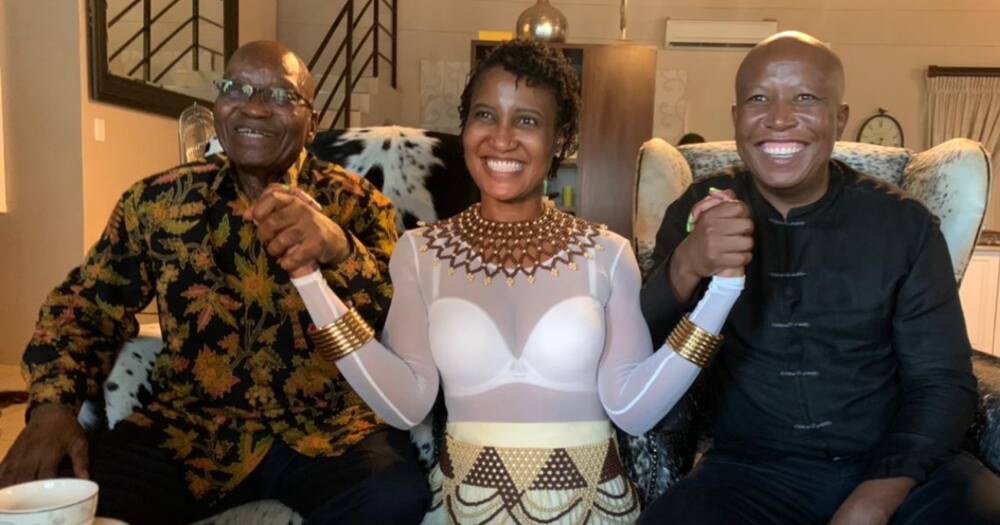 The Economic Freedom Fighters shared the pics of the "tea party" with South African and Mzansi reacted to the snaps.
It is still not clear yet what they are discused but many have speculated that they'll discuss Zuma's recent defiance of the Constitutional Court order compelling him to appear at the Zondo Commission into State Capture.
Malema hit Zuma up on Twitter after news broke that he has refused to appear before Deputy Chief Justice Raymond Zondo. Zuma then agreed to meet Malema over tea at his homestead in Nkandla, KZN.
EFF national spokesperson Vuyani Pambo gave some insight into the event in a press briefing. He did not reveal any details but said that the tea was "nice, sweet and very hot" according to Times Live.
Here are some reactions to the snaps shared online by the EFF:
@ArinaoMurozvi:
"I must say it. Mr Zuma is way too much a good man compared to many of us. With all the insults and body shaming from Malema all these years and today, he welcomes him with a smile. .. uBaba is a man."
@nontembekoGuda:
"I'm just remembering the red overalls singing "Zuma must fall" and "Bring back the money " politics are not for babies ndiyakuxelela."
@fundi_brown:
"I'm honestly so happy, I've waited many years for this moment when Malema and Zuma reunited again ♥ the true leaders of South Africa, this gives me hope."
Earlier, Briefly.co.za reported that Economic Freedom Fighters (EFF) leader Julius Malema has clapped back at former Wits University vice-chancellor Prof Adam Habib after he compared his tea date with Jacob Zuma to a Nazi meeting.
Specifically, Habib made reference to 1939 alliance between foreign minister of Nazi Germany, Joachim von Ribbentrop, and his Soviet counterpart, Vyacheslav Molotov (known as the Molotov-Ribbentrop, Hitler-Stalin or Nazi-Soviet pact). Habib added that the meeting was a 'devil's pact'.
Malema wasted no time in responding, referring to President Cyril Ramaphosa when he said 'your favourite':
"The pact happened at Mangaung when your favourite became his deputy, or you conveniently forgot about it because it is working for you?"
Enjoyed reading our story? Download BRIEFLY's news app on Google Play now and stay up-to-date with major South African news!