Diamond and Silk net worth, bio, education: All you need to know
The major source of Diamond and Silk net worths has raised several eyebrows. The two sisters who host their talk show made many enemies after they declared their support for Donald Trump's presidency in 2015. They created many controversies during this period, and it earned them a great deal of publicity. Interestingly, this has contributed to how much they are worth today.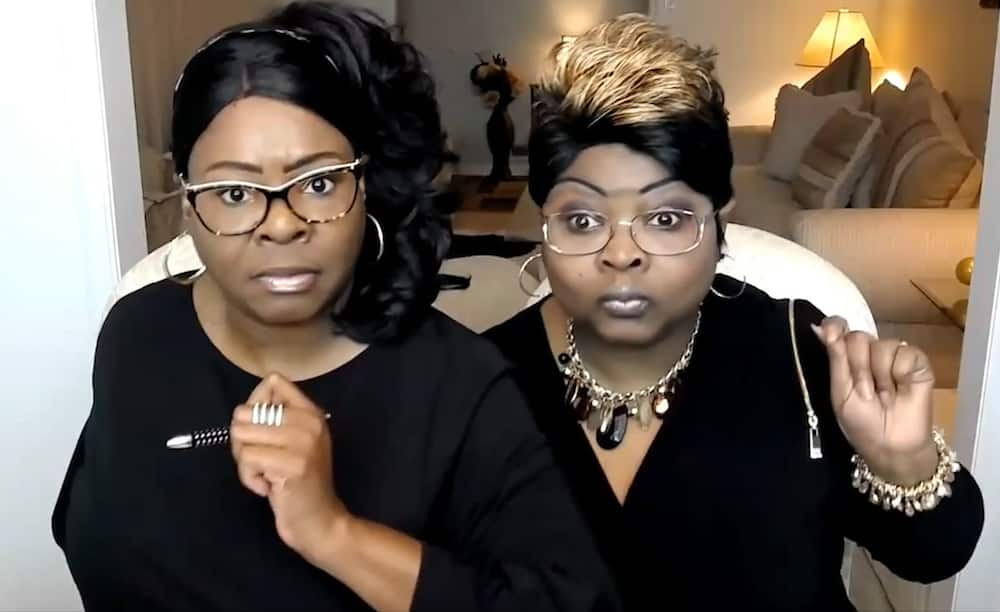 Diamond and Silk are well known for their blogging, vlogging, and appearance as social media personalities. The two sisters used their Diamond and Silk Chit Chat live broadcast to air some conspiracy theories about the coronavirus. Interestingly, the United States former president, Donald Trump, agreed with and defended most of their controversial statements.
Diamond and Silk profiles summary
Full names: Lуnnеttе Наrdаwау (Dіаmоnd) and Rосhеllе Rісhаrdѕоn (Ѕіlk)
Best knоwn аѕ: Dіаmоnd & Ѕіlk
Age: 49 and 50 (in 2021)
Nationality: Americans
Profession: Social media personalities and political activists
Nеt wоrth: $5 Міllіоn
Background information on Diamond and Silk
Not much is known about these two personalities, but then, although they are popularly known as Diamond and Silk, their real names are Lynnette Hardaway and Rochelle Richardson. They are very showy about their political preferences, which has made them favourites for native Americans. Many have also tried to know about Diamond and Silk college education, but it remains part of the information they keep away from the public.
Additionally, the sisters come from a family familiar with the media. This is because their parents are televangelists who sold various products on TV while doing the Lord's work. Their parents worked at the Jericho Deliverance Temple Church.
Before 2015, the two sisters were only fairly known in their chosen career, but things changed afterward when they began to speak in support of Donald Trump's presidency. Their political preference cost them a lot of backlash from the black community and improved their relationship with the white communities in America.
They made a somewhat surprising switch from supporting the Democrats to becoming unapologetic Republicans. They were even accused of playing some mind games since it is not every time one sees an allegiance between an African-American and the Republican Party.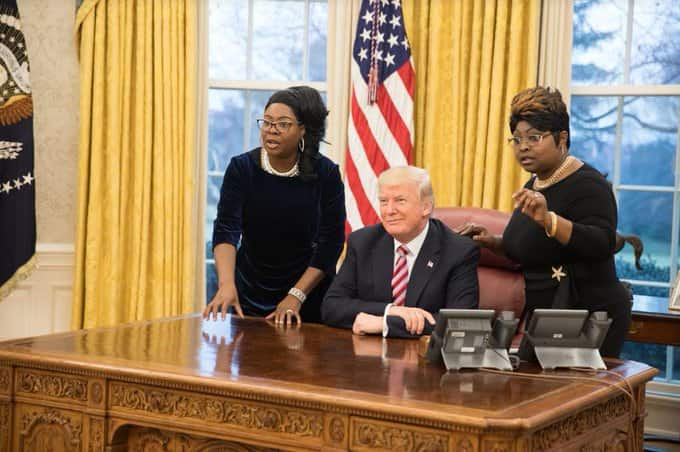 Describing their unique personalities one time, the CEO of Newsmax Media, Chris Ruddy, said they "are the cutting edge of political opinion on cable news today — honest, patriotic, sometimes controversial and always entertaining."
Diamond and Silk on the road
After switching allegiance from the Democrat Party in 2015 to the Republican Party, Diamond and Silk on the road tours supported Trump's candidacy, and he loved them for it. In the process, they became recognized as Trump warriors when they pleaded with other democrats to dump the "Bowl of Stupid" and support Trump, who is all about the "Greens."
Trump invited them on stage during his rally in North Carolina, the two sisters' home state. At some point, these black women co-chaired the Women for Trump and Black voices for Trump committee, making them a vital part of Trump's campaign rallies.
What happened to Diamond and Silk on Fox news?
Fox News broke all ties with the Diamond and Silk podcasts that used to be available for streaming Fox Nation. The media house's decision resulted from a series of unproven statements made by the sisters concerning the COVID-19 pandemic.
On the Diamond and Silk Twitter page, it was acclaimed that the deep state was engineering the virus. The sisters even suggested in their talk shows that the death toll presented to the public is dubious on their social media pages. They fed their millions of followers across various social media platforms with these conspiracy theories.
The sisters do not shy away from controversies, even if they have to stand alone. Unfortunately, it has caused them some mixed fortune because, to a reasonable extent, they had massive support from Trump while facing sanctions for breaching some social media policies.
Similarly, they have had their run-in with Twitter and Facebook. For instance, in April 2020, Twitter locked the sisters' account, which boasts over 1.2 million followers, for propagating contrary information regarding the stay-at-home order. They claimed that staying at home was not the way to curb the spread of the global pandemic. In their tweet, they said:
We are the United States, not Communist China. This Deep State experiment that we've all been suckered into must end, or we will no longer have our freedoms or our country. We were asked to go inside to flatten the curve, not the economy.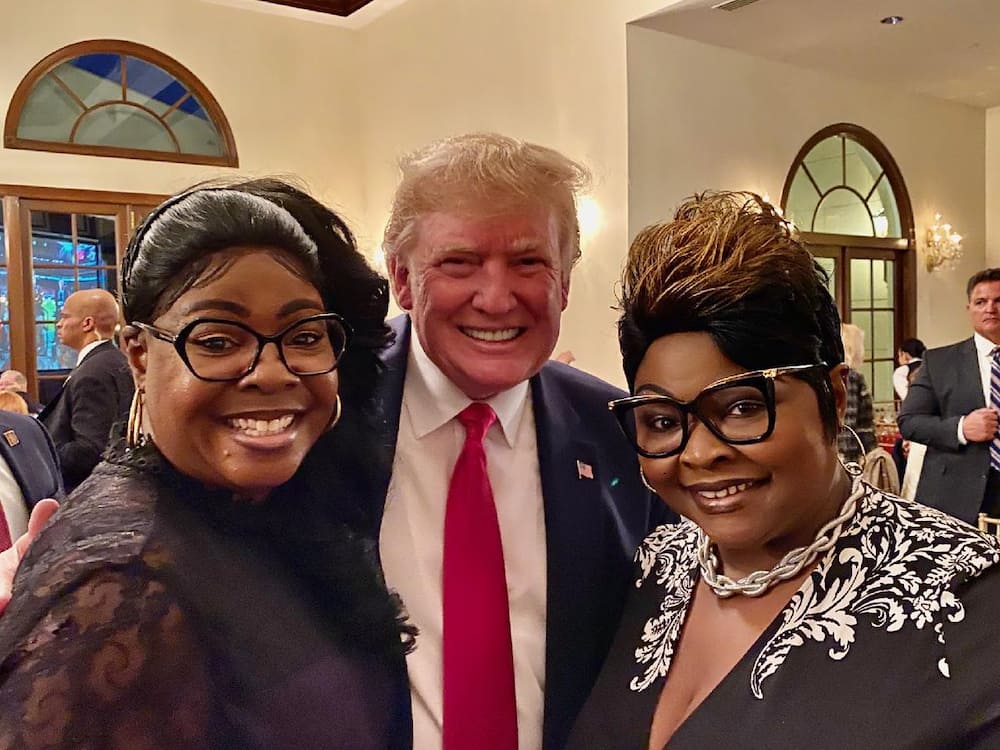 Diamond and Silk testify
Their social media policy breach and resulting sanctions did not start with Twitter. In 2018, Diamond and Silk testified about the allegations they made against some social media organizations. They insinuated being the target of unfair discriminations and censoring on the ground that they were Trump supporters.
According to them, Facebook had censored some of their posts termed unsafe, although Mark Zuckerberg denied those claims and attributed it to a systemic response to posts that breach their policy. He went on to say, "in that specific case, our team made an enforcement error, and we have already gotten in touch with them to reverse it."
What are Fox News Diamond and Silk net worth?
Diamond and Silk net worth 2019 cannot be compared with what they are worth presently. Аѕ оf 2021, the sisters' nеt wоrth is estimated at $3 mіllіоn. They have accumulated this much from their career as lіvе-ѕtrеаm vіdео vlоggеrѕ, ѕосіаl mеdіа реrѕоnаlіtіеѕ, and роlіtісаl аnаlуѕtѕ. Тhеу аlѕо earn so much from the sales of Тrumр Меrсhаndіѕеs.
Besides, for people to take photographs оr hаvе а mеаl wіth thеm, they reportedly charge $150. They also make some money off selling their book's autographed copy, Uprising: Who the Hell Said You Can't Ditch and Switch? — The Awakening of Diamond and Silk. To get a Diamond and Silk signed book, you should be ready to part with $30 per book.
Although their political preferences have often pitched them against fellow African-Americans, Diamond and Silk net worth shows that all the controversies generated were not for nothing. This is because it has driven them to become the famous proverbial Black sheep.
READ ALSO: Elizabeth Tilson age, children, husband, career, net worth 2021
Elizabeth Tilson is one of the history makers in the NBC network. As published recently on Briefly.co.za, she is one of the youngest vice presidents.
Find out how she started and the amazing feats she has accomplished.
Source: Briefly News