South Africans Unsympathetic As Johann Rupert's Net Worth Drops by R70 Billion: "Small Change"
South Africa's second-richest man Johann Rupert lost R70 billion in his net worth in 90 days
The wealthy business magnate's shares in Richemont lost value after fewer people spent on buying luxurious items
Netizens had no mercy on him and said that his loss barely dented his overall status as one of the nation's wealthiest people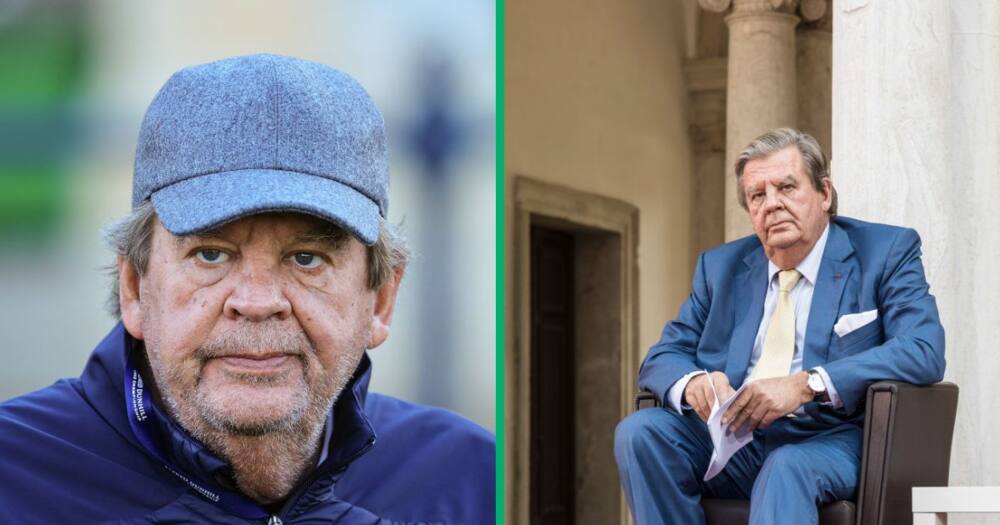 After it was revealed that multi-billionaire Johann Rupert's wealth dropped by R70 billion in three months, South Africans had no compassion for him.
The businessman and owner of Remgro reportedly saw a 25.6% dip in his net worth, which went from R272 billion to R202 billion. Netizens compared themselves and hilariously sympathised with him.
Johann Rupert's net worth dropped
According to Business Insider, Rupert's drop in wealth could result from uncertainty regarding how luxury goods perform worldwide. This is tied to a decline in the value of his 10.18% stake in Swiss luxury company Richemont.
The drop could also be attributed to a new type of consumer in the current economic condition who prefers to spend less on luxury goods and focus more on necessary goods and services. The value of Johann Rupert's shares took a significant knock, falling by 31.2%. The value of his shares is now worth R136,5 billion. This means he's no longer the country's richest man.
South Africans react to his loss
Netizens commenting on a tweet made hilarious comments.
Dudemeister said:
"He lost R70 billion, but he is still the 2nd richest. God, if you're listening, please tell me what I'm doing wrong."
Muhamed-Nur Nordien wrote:
"Poor guy. How does he sleep losing R70 billion? I lose sleep over the R2 the parking ticket machine owes me!"
Marcia Thejane pointed out:
"I cry after losing a mere R100. Man lost R70 billion but he's still the second richest man in South Africa."
Afro Bird added:
"I can assure you he's just as stressed as the guy who spent R500 on a lunch date that flopped."
Mr.T remarked:
"Small change for him. We can't even afford to buy eggs."
Finesse.
"1% of his losses alone would set me up for life. That's how rich he is."
John Paul:
"Few people have money to spend on luxuries nowadays. We're scrapping to provide bread to our kindergarten-going children."
Johann Rupert to pocket R110 million in dividends
In a similar article, Briefly News reported that Johan Rupert was set to pocket over R100 million in dividends from Remgro.
The company's shares grew by 60% in one year from 150 cents per share to 240 cents. This meant that he would pocket R110 million. Netizens were not pleased or impressed and criticised him for his excessive wealth.
Source: Briefly News