Rundown of Top 4 Impressive Cars Emtee Has Been Spotted In, From R2m Lamborghini to R100K Tazz
Emtee has been in the industry for just over 10 years and has seen a lot of success in his career
The rapper's first hit single, Roll Up, put him on everyone's radar and made him the star we know today
We did a rundown of all the cars the hitmaker has been spotted in, from the pocket-friendly Toyota Tazz to a flashy Lamborghini Gallardo
PAY ATTENTION: Watch the hottest celebrity stories on our YouTube channel 'Briefly TV'. Subscribe now!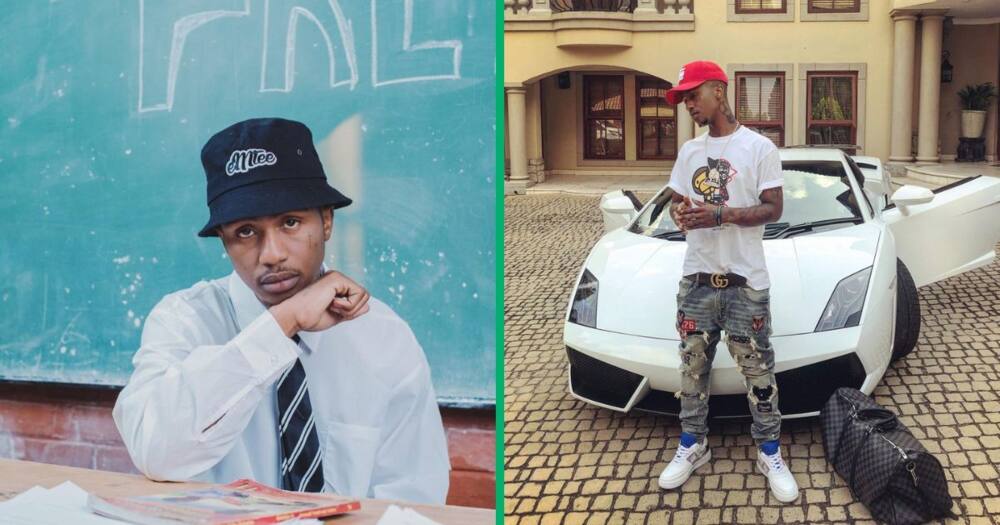 Emtee's successful career in the music industry has seen an equal number of highs and lows but he has always made sure to roll up on a high in some of the finest whips. The rapper has been seen in some very impressive rides, seldom posting on his social media pages captioned with subtle flexes.
We got the exclusive lowdown on the costs for some of the cars Big Hustle has been spotted in and some cost a pretty penny.
1. Toyota Tazz
The most affordable of the bunch is the reliable South African favourite Toyota Tazz which retails from as little as R70 018 according to AutoTrader with an average mileage of 174 291 km.
PAY ATTENTION: Have you recorded a funny video or filmed the moment of fame, cool dance, or something bizarre? Inbox your personal video on our Facebook page!
2. Mercedes-Benz AMG A45
Moving up by a few hundred thousand rands, we have the classy Mercedes-Benz AMG A45.
Mercedes-Benz is said to be one of the most popular used car brands in the country according to AutoTrader CEO, George Mienie, allowing middle-class citizens to cruise in luxury at a relatively cheaper price:
"The used car market can often offer South Africans an affordable entry point to buying a luxury car."
The car is listed for an average price of R899 398 while the mileage goes up to an average of 40 470 km.
3. Porsche Panamera
Taking it up a notch is the luxurious Porsche Panamera that Big Hustle has been seen sporting. The car retails on AutoTrader for an average price of R1 114 451, with an average mileage of 73 150 km.
4. Lamborghini Gallardo
Last but certainly not least is the flashy Lamborghini Gallardo. Big Hustle sure knows how to pick the best and this beast surely doesn't come cheap.
This pricey ride goes for an average price of R2 606 094 on AutoTrader with an average mileage of 27 274 km.
SA celebs flaunt flashy cars
In a recent report, Briefly News shared a list of local celebrities and their pricey rides including the late AKA's flashy BMW i8 eDrive.
South African celebrities are known to ball out on some of the finer things in life, from vacations to designer threads although artists like DJ Sbu see no need to cruise around in flashy vehicles.
The Remember When It Rained hitmaker recently downgraded to a Nissan van and left social media puzzled over his financial standing.
PAY ATTENTION: Сheck out news that is picked exactly for YOU ➡️ click on "Recommended for you" and enjoy!
Source: Briefly News