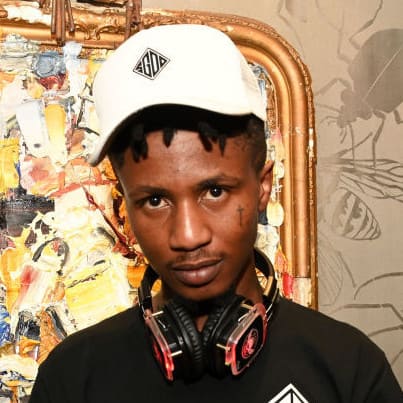 Emtee
Birth name: Mthembeni Ndevu
Born: 17 September 1992
Place of birth: Matatiele, Eastern Cape, South Africa
Nationality: South African
Main activity: Rapper, record producer, singer-songwriter
Musical genre: Hip-hop, trap
Career
Emtee began his career when he was 17 and became famous with his single "Roll Up" in 2015. He joined Ambitiouz Entertainment and made his first album Avery (2015), which got a platinum certification from RISA. He named his second studio album Manando (2017) after his brother who died and motivated him to follow music. He had a legal problem with his old label Ambitiouz Entertainment after he made his third album DIY 2 (2018), which he finally quit in 2020. He started his own record label Emtee Records with African Trap Movement and hired artists like Lolli Native and Flash iKumkani. He made his fourth album Logan (2021) which was number one in South Africa and he gave it to his son Logan. He plans to make his fifth album DIY 3 in 2023, which will be the third part of his DIY series.
Children
Emtee has two sons: Avery (born 2015) and Logan (born 2018). He named his first and fourth albums after his sons.
Family
Emtee was born to Elias and Anna Ndevu in Matatiele, Eastern Cape, South Africa. He grew up in Rockville, Soweto, where he was involved in talent shows. He has a late brother named Manando, who encouraged him to pursue music and taught him how to rap.
Awards
Emtee has won several awards for his music, including:
Three South African Music Awards (SAMA) in 2016 for Best Rap Album (Avery), Best Male Artist and Record of the Year.
Two Metro FM Music Awards (MMA) in 2016 for Best Hip Hop Album (Avery) and Best Remix ("Roll Up" featuring Wizkid and AKA).
One MTV Africa Music Award (MAMA) in 2016 for Best Hip Hop in association with MTN.
Dating timeline
Emtee has been with Nicole Chinsamy since 2012 and they are engaged as of 2021. They met through a mutual friend and have been together ever since. They have faced some challenges in their relationship, such as cheating allegations, financial issues and family disputes.
Discography
Emtee has released several singles and albums in his career. His singles include:
"Roll Up" (2015)
"Pearl Thusi" (2015)
"Roll Up (Re-Up)" featuring Wizkid and AKA (2015)
"We Up" (2016)
"Ngeke" featuring Fifi Cooper (2016)
"Ghetto Hero" (2017)
"Corner Store" (2017)
"Me and You" featuring Tiwa Savage (2017)
"Manando" (2017)
"Plug" (2017)
"Thank You" (2018)
"Abantu" featuring S'Villa and Snymaan (2018)
"Smogolo" featuring Snymaan (2019)
"Wave" (2020)
"Brand New Day" featuring Lolli Native (2020)
"Johustleburg" (2020)
"iThemba" (2021)
"Laqhasha" featuring Lolli Native and Flash iKumkani (2021)
"Uzoyimela" featuring Gwamba (2021)
His albums include:
Avery (2015)
Manando (2017)
DIY 2 (2018)
Logan (2021)