Tamia and Hubby Andile Mpisane Share Arrival of 2nd Daughter Named After Grandmother Shauwn Mpisane
Andile Mpisane and Tamia Mpisane announced the arrival of their second daughter together
The couple shared why they named their daughter after Shauwn Mkhize, her grandmother
Their secondborn arrived in September, and in their joint statement, they shared that it was a surprise arrival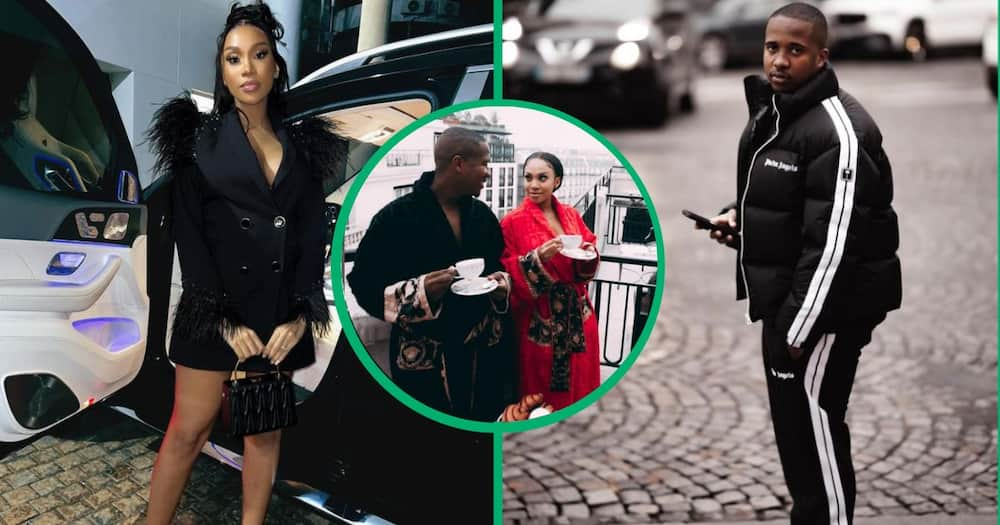 The Mpisanes have welcomed their second baby into the world. The couple announced their daughter made a special arrival almost two months ago.
Tamia and Andile welcomed baby in September
Celebrity couple Andile Mpisane and Tamia Mpisane shared a joint statement where they announced the birth of their daughter.
Their secondborn arrived on 20 September, and in their joint statement, they shared that her birth was a surprise. They also revealed her name and the meaning behind each name.
"It is with immense joy and gratitude that we announce the arrival of a precious blessing in our lives, Messiah Shauwn Junior Mpisane, who made a surprise arrival on the 20th of September 2023."
They shared a cute video on Instagram, which garnered a lot of likes from their followers.
Messiah is named after granny Shauwn
The couple mentioned why they named their daughter after Shauwn Mkhize, her grandmother.
"She is named after her incredible grandmother Shauwn. Encapsulating qualities that we admire and wish to pass on to our little one. Shauwn is a symbol of resilience, drive and determination."
This is the couple's second daughter, as they welcomed Miaandy a year ago.
Mzansi reacts to Messiah's arrival
Reacting to a post shared by @MDNnewss, Mzansi pointed out how this is Andile Mpisane's fourth daughter. Many also poked fun at his age.
@Ihhashi_Turkei noted:
"Congratulations to the couple, Andile is now a father of 4 under 4."
@abutibusiness said:
"Content we love and appreciate. Blessings to them."
@Silwane_KwaZulu laughed:
"'Footballer', ayi congratulations to him."
@Unathi____ asked:
"I wonder how many children will he have when he turns 25?"
@_scorpiohead joked:
"Yoh, the way I'd cry getting girls back to back."
Baby Flo gets treated with a themed birthday
In a previous report from Briefly News, Social media was filled with heartwarming birthday tributes for Andile Mpisane and Sithelo Shozi's daughter Flo's third birthday.
Shauwn Mkhize, Andile, Tamia Mpisane and Sithelo Shozi posted sweet birthday messages to the cutie.
Her parents, Andile and Sithelo, shared similar pictures showing baby Flo's beautiful Baby Shark-themed cake.
Source: Briefly News