Kamo Mphela and Toss' Dance Clip Goes Viral, SA Gives Dancer Her Flowers: "No One Can Outdance Kamo"
Amapiano artists Kamo Mphela and Toss broke the internet with their viral dance clip
The video garnered many positive reactions from netizens, but some are not feeling it
Kamo has been dubbed the girl with many faces because people think she looks different every time they see her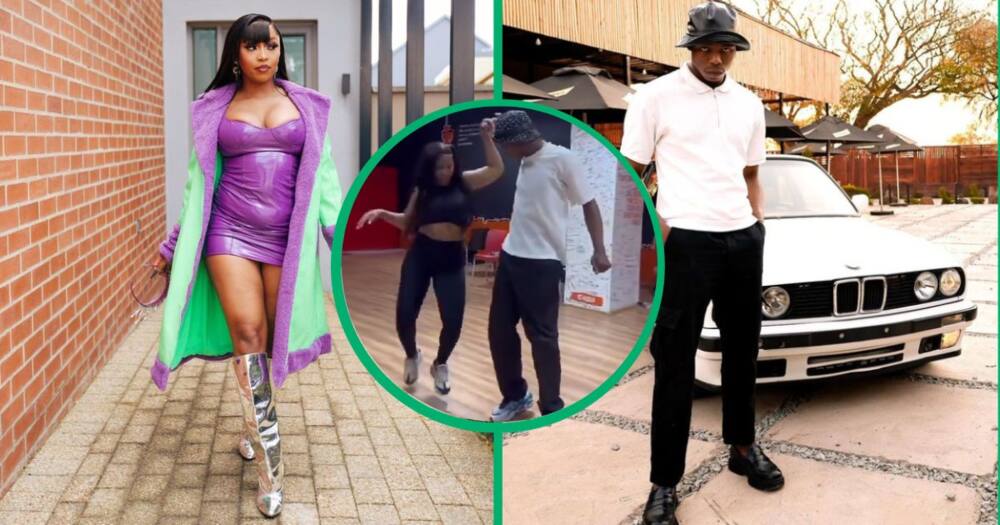 When two of Amapiano's finest dancers get together for a dance video, magic will happen. This was the outcome of Kamo Mphela and Toss' recent viral video, where they broke it down on the dance floor.
Kamo and Toss break the internet
Singers Kamo Mphela and Toss broke the internet with their viral dance clip. They shared a choreographed dance to Kamo's hit song Dalie.
The video was originally shared on Toss' Instagram stories and was re-shared on X by blog @MDNnewss.
Watch it below:
Mzansi has mixed reactions to the dance
The video received numerous positive responses from online users, yet dissenting opinions exist.
Kamo was dubbed the girl with many faces because people think she looks different whenever they see her. Just like in the video:
@IbongweNtinde said:
"Kamo and her 1 million faces."
@nicholas_masuku mentioned:
"RIP to Killer Kau, I remember Kamo and Killer rocking the last part of the routine at Vaal tech."
@UrbanStreetZA mentioned:
"No one can outperform Kamo mphela when it comes to dancing in this universe."
@ZeeRight joked:
"This is what 2 faced thinks they're doing on stage."
@maryjanexplored asked:
"How many faces does Kamo have?"
@Thee_Kid777
"Why does Kamo Mphela look different? She changes her face like that one Kardashian."
@VanDerMohammed mentioned:
"It's been over 5 years and Kamo Mphela still looks different every time she comes out in public, she has over 100 faces."
@boniswaaaa said:
"I'd pay to watch them."
Women nail dance moves to Dalie
In a previous report from Briefly News, in an epic TikTok showdown, two talented women have set the platform on fire with their Dalie dance move battle.
Their video has achieved an astonishing 3.4 million views, highlighting their extraordinary dance skills and electrifying performance.
The video captures the exciting dance-off between the duo as they flawlessly execute intricate moves to the tune of the hit song Dalie.
Source: Briefly News