Bajaj Qute price in South Africa in 2024: Everything you need to know
Investing in a Bajaj car in South Africa may be your best option if you are looking for an affordable, reliable vehicle as either a first car or a long-term investment. Small and compact, the vehicle is best for those without big families or looking to get from one point to another without hassles and hefty petrol fees. This article discusses the current Bajaj Qute price in South Africa in 2024 and other useful information.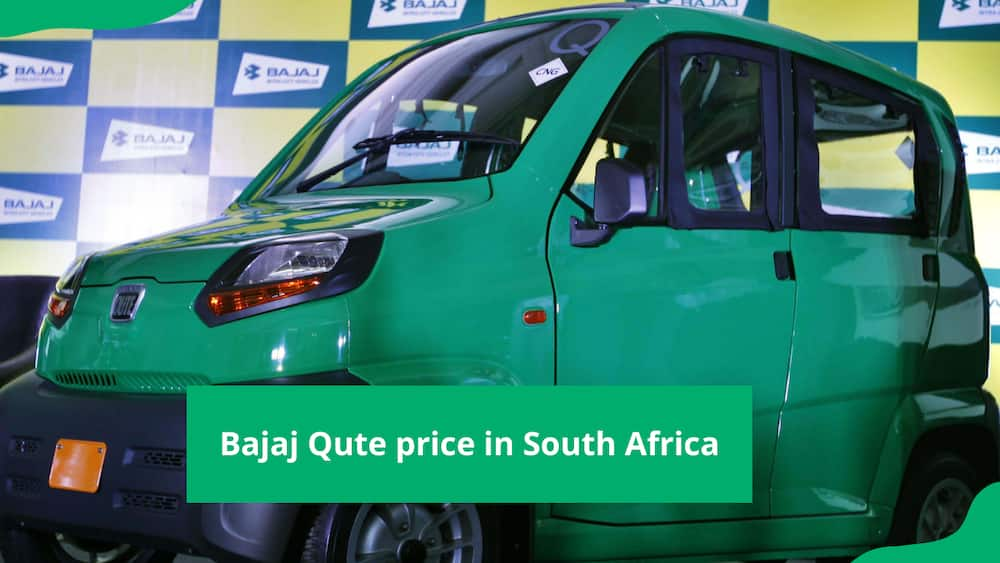 Knowing all the details surrounding the Bajaj car in South Africa can help you make a more informed decision on whether or not it is the best choice for you.
The car is considered one of the cheapest cars you can purchase currently. It was first unveiled by the company that makes it, Bajaj Auto, in 2012 and was available for purchase the following year. Once the Bajaj car was available for sale, it became increasingly popular in India and the rest of the world.
Is the Bajaj Qute available in South Africa?
First, can you get your hands on one of these vehicles in the country? Thankfully, the car is available in various countries, including South Africa.
What is the Bajaj Qute price in South Africa?
When purchased from a company here, the Bajaj RE60 price in South Africa equates to R94,800 in cash. Or, you can choose to pay it differently.
How much is the Bajaj Qute in South Africa per month?
The Bajaj car price in South Africa may still be high for some. If you cannot front a full payment in one go, you can pay in monthly installments.
The Bajaj Qute price for the South African monthly installment is anything from R1 500 to R2 000 before any finance options.
The value of the deposit will determine how much you will pay monthly. For reference, the more you put down upfront, the less you will have to pay for your vehicle monthly. You should confirm with your local dealership exactly how much it will be.
Where can I get Bajaj Qute in South Africa?
If you are looking for a quality Bajaj Qute for sale, both new and second-hand, you want to find a reputable car dealer first. Here is a list of places where you can look:
Bajaj South Africa - TransRev RSA Pty Ltd.
Address: 37 Ohm St, Industrial Park, Randburg, Gauteng 2162
Contact details: 083 242 7940
Puzey Motor Corporation
Address: 1 Aureole Avenue, Northriding, Johannesburg
Contact details: 011 795 4075
Big Boy Dealership
Address: Shop 23&24 Super Spar Building, 37 Fitzsimons St, Vanderbijlpark S. E. 6, Vanderbijlpark, 1911
Contact details: 016 982 5522
Big Boy Gezina
Address: Cnr Flower and Steve Biko Rd, Capital Park, Pretoria, 0084
Contact details: 012 329 0965
Jonway Motorcycles
Address: 62 Florence Nzama St, South Beach, Durban, 4001
Contact details: 031 368 1455
LML Scooters South Africa
Address: 2 Mount Rd, Muizenberg, Cape Town, 7945
Contact details: 021 788 9450
Is Bajaj Qute allowed in South Africa?
Bajaj Qute are eligible to run on South African roads. The National Regulator for Compulsory Specifications (NRCS) approved it in 2017.
How fast does the Bajaj Qute go?
It can go for a maximum speed of 70 kilometers per hour. This vehicle is best suited for urban environments and possibly small, rural areas. Propelled by a four-stroke, single-cylinder engine boasting a capacity of just 217 cc, the petrol models deliver an output of up to 9.9 kW and 19.6 Nm of torque.
Knowing the Bajaj Qute price in South Africa can help you decide whether it is the car for you and can help you make comparisons with other cars.
Briefly.co.za recently published an article about the interest rate on car finance in South Africa. Most South African households now feel that having a car is essential, especially for those who live in cities.
Car financing, or looking for financing to buy a car, has become the new standard all around the world. Different companies have different interest rates when it comes to auto financing. Selecting the choice with the lowest interest rate is always a smart move.
Source: Briefly News