Snakes, Lions, Hyenas and Gorgeous Ladies: 4 Times Courageous Women Handled Wild Animals
Some women have no fear, even when it comes to snakes, lions and hungry hyenas
Seeing these ladies walk with lions, hold giant snakes and stroll past hyenas left people tripping
People made it clear that this was not their idea of fun and would never risk their lives like this
There is no denying that women are courageous. These ladies proved that when they casually walked with lions, handled giant snakes and even strolled by hyenas!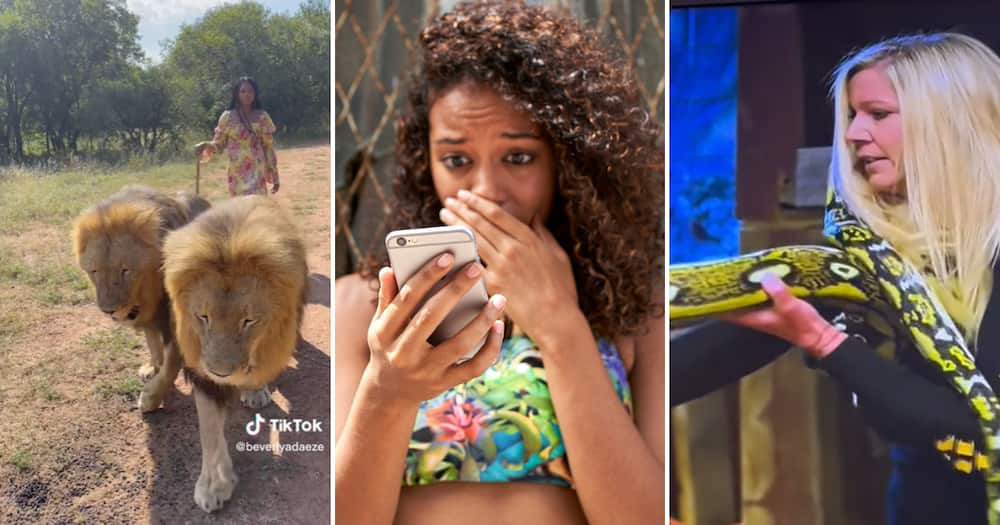 Briefly News has been covering stories showing videos of ladies getting up close and personal with some of the most feared animals in the world. You need some guts to walk with lions that are twice the size you are.
Here are just four storied that were covered on women who showed no fear when crossing over to the wild side. Enjoy!
African woman strolls by a pack of hyenas, TikTok of wild animals looking scared of her go viral with 9.2m views
Hyenas are known to be fearless, not caring what or who you are, only if you'll provide a meal for them. This woman went viral when a clip of her fearlessly walking by a pack of hyenas was dropped online.
PAY ATTENTION: Follow Briefly News on Twitter and never miss the hottest topics! Find us at @brieflyza!
The thing that got people the most was that this all went down at night! Take a look:
Woman in South Africa walks 2 big lions in as if they are dogs in TikTok video with 1.7m views
Strolling, looking like she was born for this, a woman walked with two beasts. Her video went viral on TikTok with thousands of people wondering why she would find this fun.
The level of chill on the lady's face had people questioning her sanity. Walking with lions, even in a controlled environment, is risky business!
Massive snake wraps itself around woman in TikTok video, people left terrified: "There's a lesson in this"
Getting yourself entangled with a snake that constricts its prey is not a position you want to be in. This female snake handler had a bit of a panic when her stage friend started to give her a hug that was tighter than she liked.
People made it clear that there is no way they'd even chance that snake getting anywhere near them, let alone around their necks.
Beautiful woman walks with 2 big lions in TikTok video, Mzansi people are not ready to risk their lives
Lions, ja, nee, this is not an animal that even the people of Mzansi are prepared to mess with. One lady paid money to walk with lions and some thought she was cray.
While there were game rangers close by, walking out in the open with massive male lions is playing with your life. People claimed this is 'tourist stuff' and not something our people should be playing with, lol.
Mzansi screams at TikTok video of dog's reaction to seeing a lion: "Lost the dawg in him"
In related news, Briefly News reported that dogs might chase cats, but clearly, there is a size limit. Someone took their dog on a game drive and video recorded their reaction to seeing a lion. It is safe to say they were not about to chase that kitty!
Animal content makes for some of the funniest posts on social media. They are generally innocent, relatable and hella funny, just like this one.
Widely followed Twitter page @DailyLoud shared the video showing the dog holding back its bark when seeing a lion. Nature works in mysterious ways because the dog instinctively knew that this kitty was far superior.
PAY ATTENTION: Сheck out news that is picked exactly for YOU ➡️ click on "Recommended for you" and enjoy!
Source: Briefly News