R311k Payslip Gives SA Chest Pains As Professional Is Declared Winner of TikTok Salary Challenge
A TikTokker makes videos about how much people earn after different employees submit their payslips
People thoroughly enjoy the clips as they are inspiring for many who want different career options
The payslip posted by the creator was one of the highest she has ever received to share with her audience
A person who earns well over R200 000 per month had the internet in disbelief. The TikTokker could not believe the payslip she was presenting.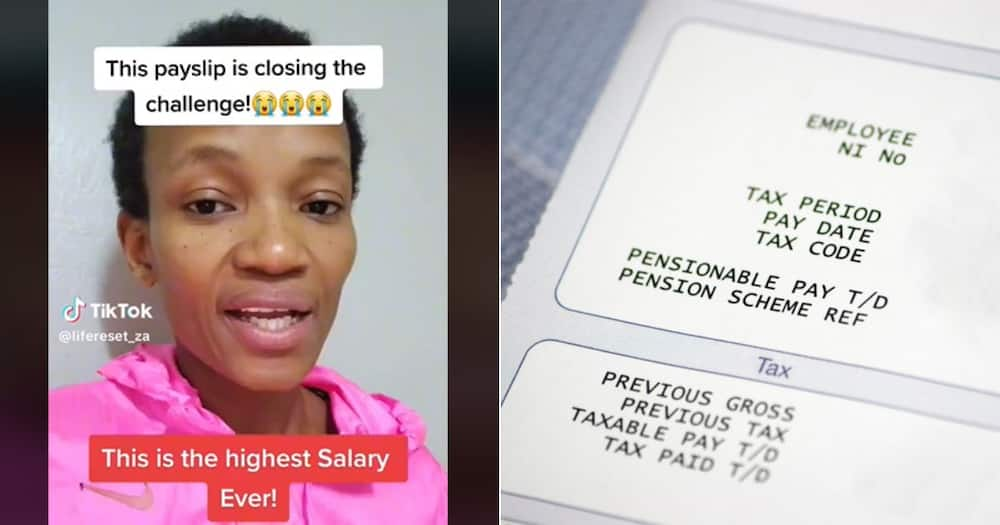 This video of the high-paying individual's salary had people's jaws dropping. People commented on the post to express their amazement.
TikTokker shares highest paid professional's payslip submitted to challenge
A woman on TikTok @lifereset_za shared that she got a payslip where someone earns R311 000 before deductions. Watch the video of the salary below:
Highly paid person's payslip is all the rage among South Africans
People love seeing payslips of different professions. Many were not ready for the latest payslip and tried to guess which industry the person works in.
Reuben Burger commented:
"What job is this, I am young enough to change career's."
kg_duduh commented:
"I hate the saying "sikhaphe abantu emhlabeni" but now I'm gonna use it . Indeed we are potatoes of this world!"
user224547214548 commented:
"The medical aid, that's my salary there. oh nkosiyami."
North Mamacita commented:
"This is probably a Snr Solution Architect or Cybersecurity Engineer maybe?"
Elmadre42 commented:
"Tech- enterprise architect maybe."
"Tax in SA is kinda wild": Supply chain manager's payslip surprises online users
Briefly News previously reported that a TikTok creator specialises in showing people the earning potential of different professions. In one of her latest videos, the lady revealed what a Supply Chain Manager earns.
The detailed payslip left many amazed by the deductions. Online users also shared their thoughts about how much the Supply Chain Manager earned.
People love seeing detailed payslips. The Supply Chain Manager's pay had some in the same profession commenting on how lucky the employee was. Many admitted that they don't get paid even half. This salary in the video is above average, as Payscale reports that supply chain managers earn R487 000 per annum on average.
Source: Briefly News