TikTok Video of SA Woman's Woolworths vs Mr Price Slides With R190 Difference Have Mzansi Debating Quality
A lady wanted summer shoes from Woolworths, but they were a bit out of her budget
The lady made her way too Mr Price, where she found similar-looking shoes for way cheaper
People loved the TikTok of the stunner sharing details about the Woolworths dupes she snagged
One lady was not about to spend over R300 on a pair of slides. The shopper was happy when she found shoes at Mr Price that looked similar to Woolworths'.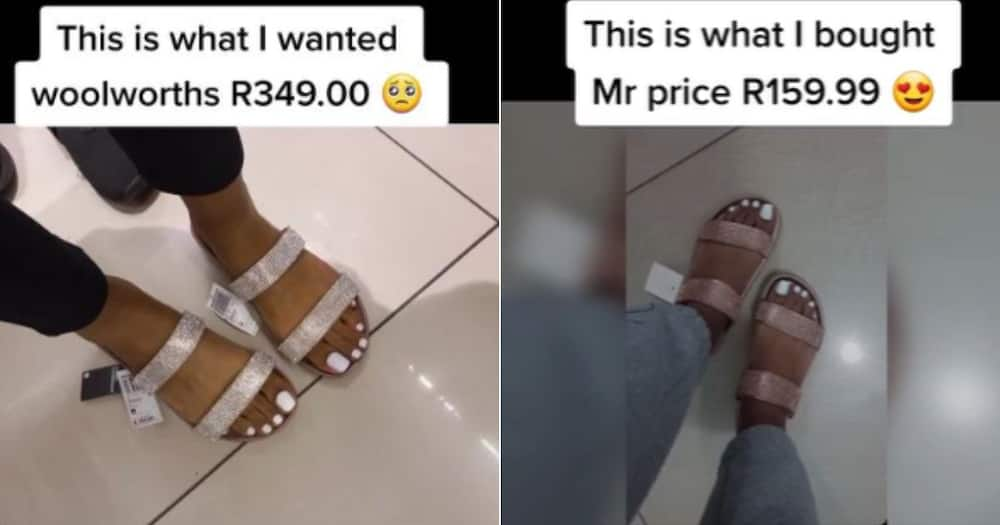 Many people love to compare competing stores. Others were not convinced about the price difference and argued that they would still choose Woolworths.
Woman compares cost of similar looking Woolworths and Mr Price slides
A TikTok creator, @mahlatsedipela, posted that she spent R149 instead of R349 on a pair of slides from Woolworths. The lady found the cheaper version from Mr Price.
See the video below:
South Africans debate price difference between Woolworths and Mr Price
Many people love a good bargain in local shops. This lady sparked a discussion about the difference between Woolworths and Mr Price shoes. Some argued that the cheaper version would start making sounds, but many said theirs have been fine.
Ntokozo Princess wrote:
"As for the comments about breathing. I bought mine in Feb, and I never experienced any breathing lol."
sesla300 added:
"Very comfortable, I love them."
Jennifer agreed:
"My fav. Had them since Feb. Think mine are dead. Dololo breathing."
MamiMpho argued:
"I stopped wearing mine, yooo @mrpricefashion the prrrrffprfffff sound these shoes make."
mahlatsedipela, the creator, replied:
'Lol Bathong, I hope mine never get to that stage "
Taps said:
"Legit have these too."
Belinda bragged:
"I have the same pair, I sometimes feel like a walking doll."
"The difference is quality, sis": Woman sparks debate over Jet and Woolies shoes
Briefly News previously reported that a woman went to Jet and Woolworths to compare the prices of slip-on shoes from each outlet.
TikTok user @userindianah took to social media and posted a video of her discovery of items. The astute shopper shared her findings, showcasing the same style of slip-on shoes available at Woolworths and Jet.
While the designs were strikingly similar, the price tags differed significantly, with Woolworths charging R130 more than its competitor.
Source: Briefly News