5 Metre Snake in Australian Suburb Gets 31M Views in TikTok Video, Peeps Scared of Size
A TikTok video of an unbelievably huge snake in Australia moving over someone's roof, trying to get away
The carpet snake left many people on the internet up in arms after seeing its huge size and how it moved past a tree
Netizens commented on the viral video, and many expressed how terrifying the sight of the serpent was
A giant snake in a video left the internet disturbed. The video shows a species of snake from Australia on someone's roof.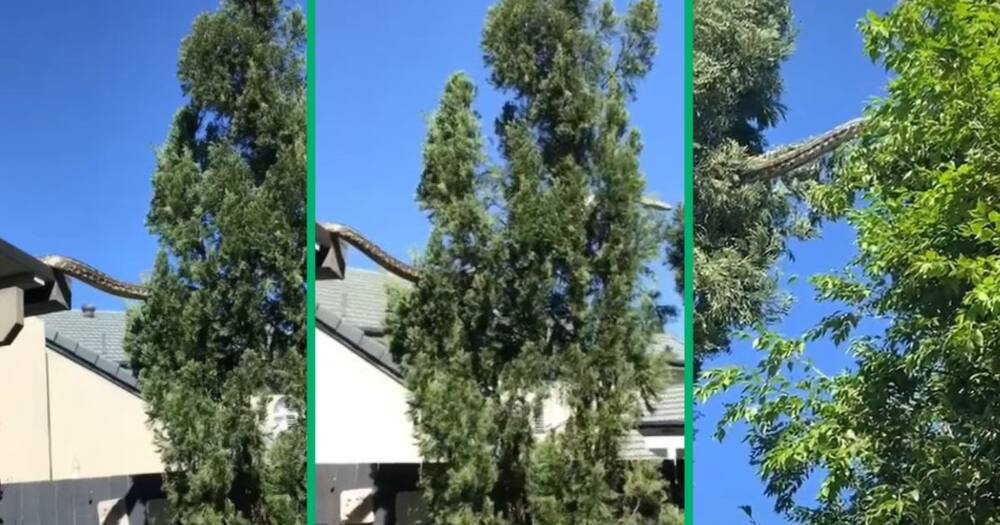 The video of the huge snake received 1.9 million likes. There were thousands of comments from mortified peeps.
Australian carpet snake terrifies the internet
A TikTok video by @iamiandyi shows a family watching a carpet snake that is 5 meters long. In the video, it was making its way from the roof into trees.
Watch the terrifying clip below:
Online users floored by a giant snake
Many people commented that the snake looked more like an anaconda. Netizens also complain that Australia seems like something out of a wildlife movie.
WilburRoni said:
"I did NOT need to know that this was possible."
Cat Wilson commented:
"He's quite beautiful innhe?'No."
Pr1zejar wondered:
"How does anyone make it to adulthood in Australia? I am not strong enough to survive this continent."
Ivy wrote:
"'Only in Australia'. I've literally never seen a wild snake before and I've lived in Australia my whole life."
Krvstn joked:
"Carpet SNAKE? Ma'am that is a DINOSAUR."
Its_jessie doubted the snake species:
"Carpet snake? Is that not an an anaconda?"
Snakes terrify TikTokkers
Many people are often scared by snake sightings. One snake went viral after it jumped off a roof.
People were also fascinated to see a giant anaconda swimming.
"Going to collect money for someone": SA jokes about python spotted in Zimbali
Briefly News previously reported that a video of a massive snake crossing the road at the fancy Zimbali Estate, Durban, left Mzansi netizens feeling unsettled.
A video posted on TikTok shows the snake, suspected to be a python, slowly slithering across the road as a car waits for it to pass. Zimbali is in a tropical coastal setting on the north coast of KwaZulu-Natal, which makes it ideal for several species of snakes.
According to KZN Snake rescuer Nick Evans, who spoke to Briefly News, the north coast is quite an ideal habitat for pythons.
Source: Briefly News