Squirrel Caught Playing Dead in Twitter Video With 8M Views, Netizens In Disbelief: "Squirrel is Dramatic"
A video of a flying squirrel was a hit on the internet as it displayed some entertaining behaviour
The animal thought that it was in danger and decided to play dead in a viral video
Online users were in disbelief over how convincing the squirrel was, as it did the most to look dead
A cute animal took over the socials with its behaviour. The video shows how much the squirrel tried to look like it was not alive.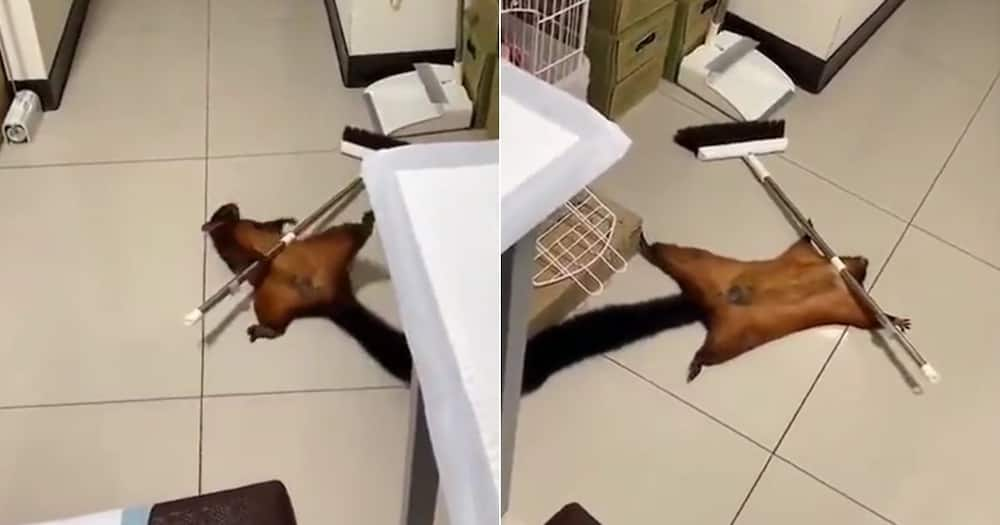 Online users were in stitches when the flying squirrel even used a prop to look realistically dead. The Twitter post of the funny animal had many people laughing.
Flying squirrel in Twitter video gets creative by playing dead
A flying squirrel posted on Twitter by @kkMrRay was determined not to get caught by the owner of the house it was rummaging. In the video, the squirrel played dead by using a broom to make it look like it was squashed underneath.
Watch the video below to see the squirrel's convincing stunt:
Twitter users can't get enough of flying squirrel's performance
Online users love to see the unique things animals do. This one was hilarious because it showed that animals are incredibly smart, especially ones that can play dead. Read people's reactions below:
@chel_c_cam
"I've never seen a squirrel stage a crime scene."
@texanhombre
"Drama squirrel is dramatic."
@BlondeTechCEO
"Look at THIS dramatic ️squirrel reenact something out of Shakespeare."
@TheAuthorGuy
"Drama squirrel."
@JohnPaul_HI
"Killing me."
Mzansi people in awe of monstrous Eland inside a tannie's home
Briefly News previously reported that living in Africa, we sometimes forget its great beauty when so much wrong is happening. This woman's video showing a giant Eland in her home reminded people of the blessings around us.
While we don't all have the Big Five in our back gardens, being able to have open land, trees and incredible wildlife at our fingertips is something we, as Africans, often undervalue.
This video had a lot of people taking a moment to appreciate the beauty of our beloved county. A few people came forward to let the woman know that it is a blessing to have an Eland in your home and how lucky she is to live the life that she does.
Source: Briefly News