Emtee, he is a South African rapper who gained recognition after his single "roll up." If you are a fan of Emtee music, then his personal life maybe of your interest. Some of his fans could be wondering who is Emtee girlfriend and how old is she. If you are among the curious fans, do not look further since this content has all the reliable information on Emtee girlfriend and child and their family in general.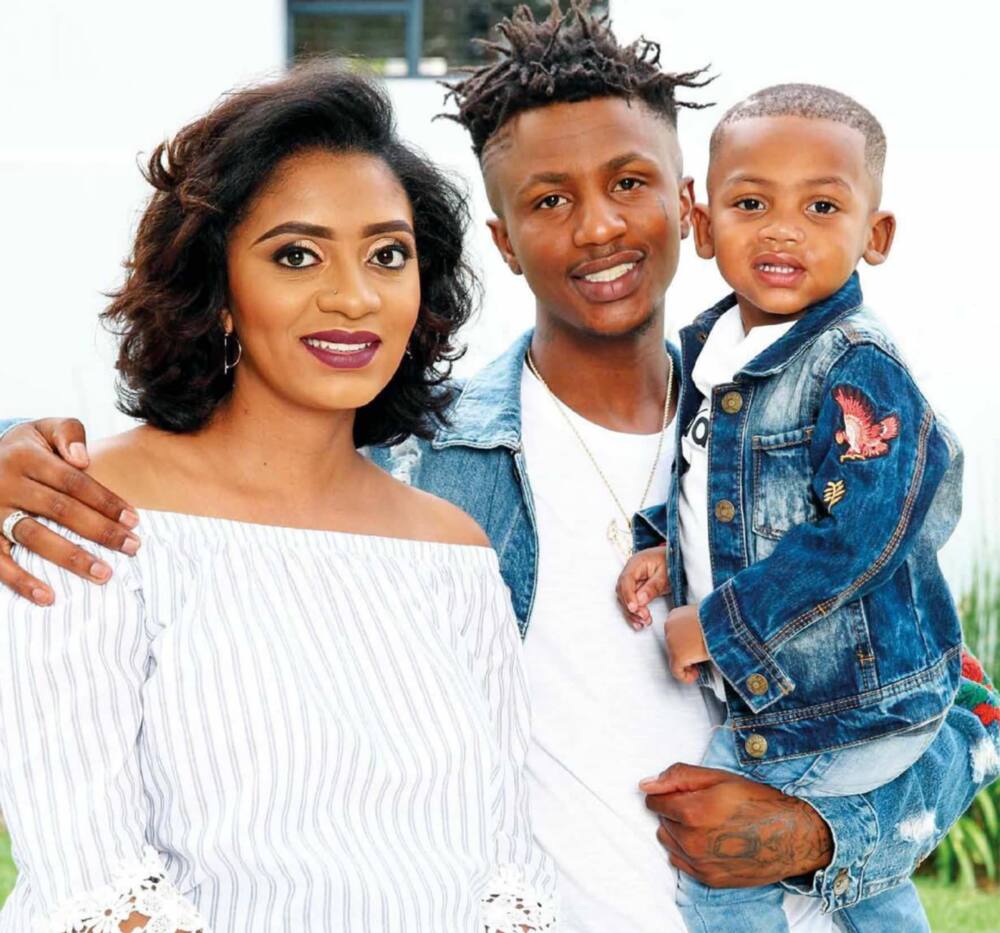 Keep scrolling through this article and be on the know about Emtee girlfriend Kendall Chinsamy.
Who is Emtee girlfriend?
It is in the public domain that Emtee's girlfriend is Kendall Chinsany. The pair has been living together even before Emtee became famous. They describe their relationship as, "Love at first sight." If you are still wondering, how old is Emtee? He is only 26-years-old.
Emtee girlfriend age
A thread motion emerged on Twitter on how old is Emtee girlfriend? Kendall Chimsay is 22 years old. The argument rose when Emtee welcomed his followers to read his full story that is published by the Drum Magazine. Some of them expressed their feelings that according to Nicole's looks on photos posted on Twitter, she was not 22 years as said earlier by Emtee. The fans argued this in regards to the information released about how old is Emtee. However, they together ignored the allegations and insults. His fans reacted towards Nicole's photo arguing that she was not 22 years as the magazine stated. Below are some of the reactions where neither Nicole nor Emtee replied on the responses.
@Tshegoo; is this Emtee mom or?
@MissReeleBoo; how old is emtee's fiancé 22??
@Zanele2; Good example, Emtees wife looks 35
@itsAll_petse; Emtee's Hun isn't 22. Try another lie
@Philani_Dladla; No this woman look way too old than Emtee. She is not 22 ayi ngeke
It was petty to bother about the actual age of the Emtee girlfriend Kendall Chinsany since they are compatible hence the happy life; "age is just but a number." Her support towards Emtee, ambition, and perseverance has managed to keep him to herself for the past six years. Besides being Emtee girlfriend, she deserves the title; Emtee's wife. She must be firm to tame a celebrity. Emtee mama to his babies told the Drum Magazine that her second pregnancy wasn't planned as she was still undertaking a fashion design course at the Sew Africa. On the contrary, Emtee expressed his joy towards holding his second son when he told the same magazine that he was fully prepared to father the second child unlike the first one. He also revealed that he would walk down the aisle with Nicole immediately she completes her course and starts a business.
Does Emtee have a child?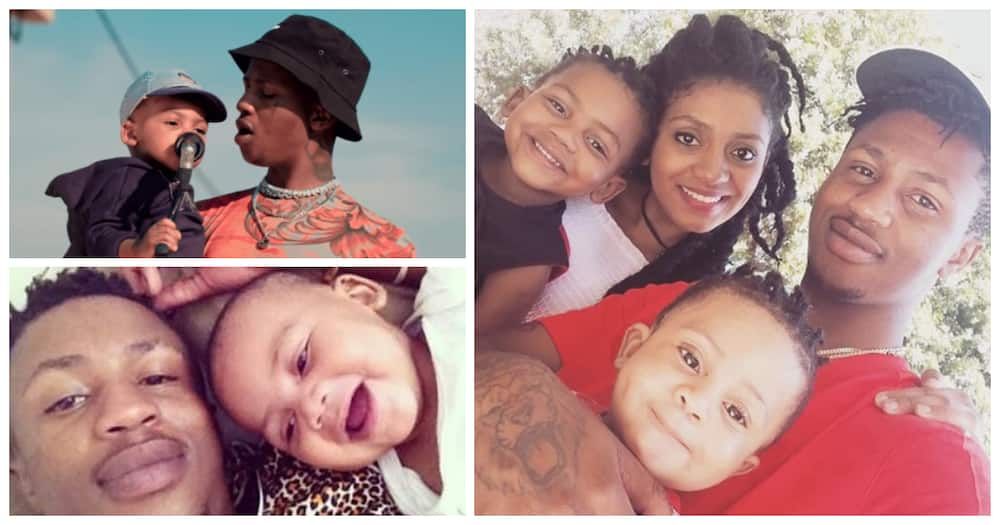 The rapper has two children. The first son was born in 2015 and the second one in January 2018. Emtee and his crew were very excited on the coming of the second born to the extent of announcing it on his Twitter account which attracted a lot of criticism from his fans. Avery and Logan are the names of Emtee's children.
READ ALSO: Emtee absolutely loves his special 'drank,' but it's ruining his teeth
Emtee biography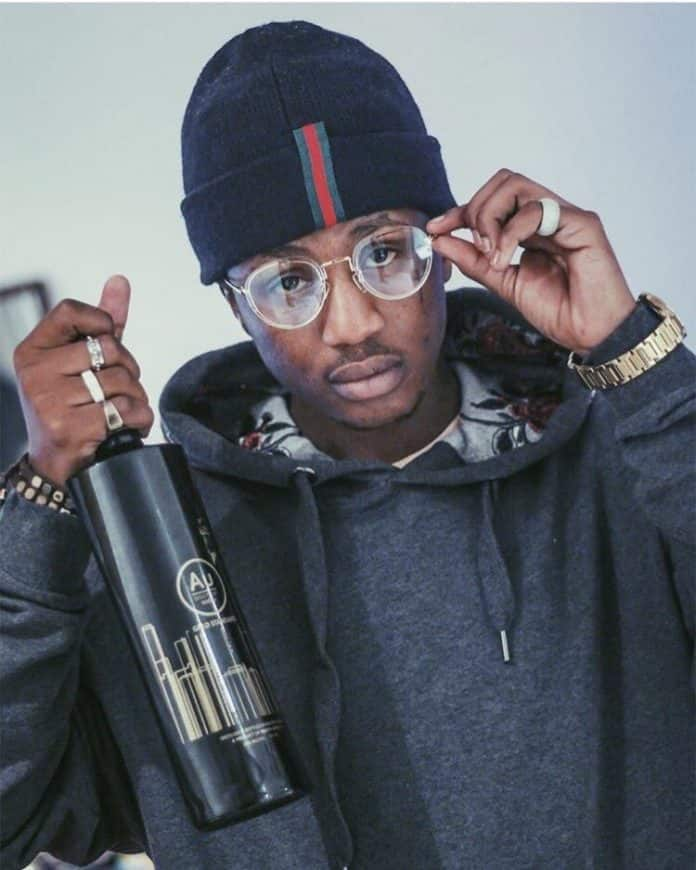 Mthembeni Ndevu aka Emtee Da Hustler was born on the 17th of September, 1992 in a medium Eastern Cape Town (Matialale) but grew up in Soweto (a town in Gauteng province). Mthembeni claimed in an interview with the South African channel ANN7 that since a toddler, his wish was to become a musician.
To back up his claims; he first appeared on stage at Yeoville primary school talent show at the age of 9 years. His aggressiveness has contributed to a lot to his fame, and when he was 17-years- old, he began earning money from music. He also was the youngest choirmaster at Barnato Park High school. Finally, while schooling, Emtee won several musical competitions under the Marimba band membership.
Since he did not make it to the National Universities, he concentrated on his career. Sooner or later, Emtee landed a collabo with Maraza (South African Rapper) on a song "in it to win it" where they appeared on the HeadRush show at Channel O.
In 2015, producer Ruff (Emtee's friend) produced his first single which gained Emtee fame (Roll up) after featuring Wiz kid and AKA. The song was appreciated wholeheartedly to the extent of becoming an everyday player in the local radio stations and appeared top on the YFM hip-hop schedule (with DJ Speedsta.)
The single, Roll Up, was the song of the year, best music video, and best remix on at the 2015 South African Hip-hop awards. He immediately took advantage of the nomination where the following day, he released his Debut album "Avery" to the local music retailers and on iTunes. So far, he has released around 19 singles, three studio albums, one extended play album, and 13 awards.
Emtee 2018 controversy
Talking of controversies, Emtee has not been left out. Posting a photo while smoking on Instagram attracted some negative replies from his critics for example;
A Twitter user @AdvBarryRoux alleged that the rapper happily smoked weed in the presence of a group of kids'. Later on, he informed the TshisaLIVE that, he smokes but not in front of children and explained the full scenario. There were many negative responses from his fans who did not like what Emtee did.
READ ALSO: