How to get free education in South Africa? Tuition and aid scheme
South Africa is the most developed of all the African countries. Naturally, we enjoy better educational resources than the rest of the continent, and our higher learning institutions are ranked among the best. Also, we offer free education in South Africa. However, quality always comes at a cost. There has been a tenacious upward drift in the cost of higher education, and with the rate of unemployment being at an all-time high, students who take loans to cover their educational costs end up suffering a lot to repay the debt.
PAY ATTENTION: Click "See First" under the "Following" tab to see Briefly News on your News Feed!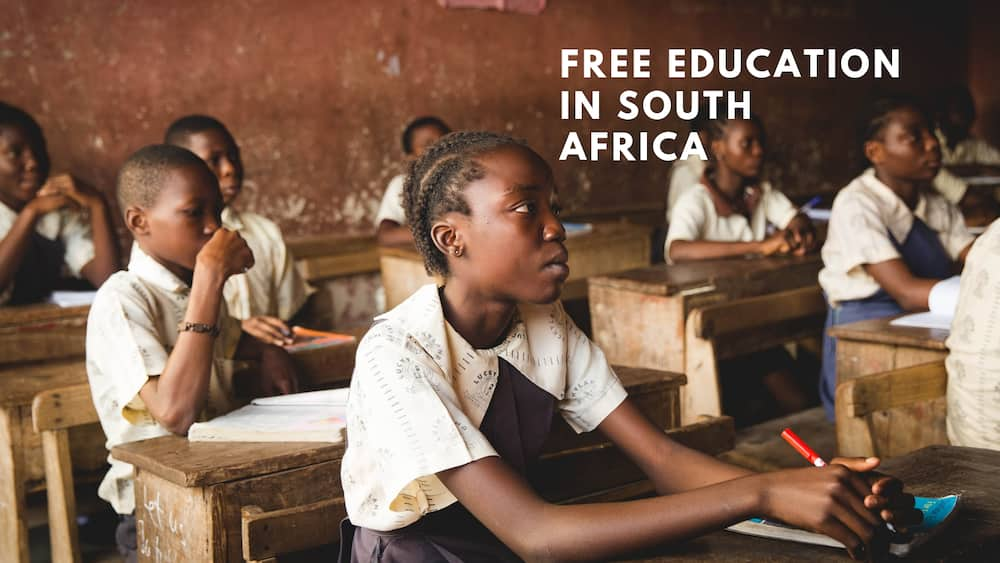 It is, however, interesting to note that not many students think about how they can access higher education at no cost. The few, who think about bursaries, either do not know how to go about it or cannot fulfil the minimum requirements to get the financial help they need. If you are stuck in a financial rut because you want to pursue more education locally but do not have the means, you need to do a lot of research on the free higher education in South Africa options available so that you can make an informed decision. This is a high starting point of your research on how to get free education in South Africa.
The state of higher education in South Africa
Our country has hundreds of universities, both public and privately owned. However, among the hundreds of universities and colleges, there is a couple of dozens considered and ranked as the best both locally and internationally. It is every South African student's dream to get in one of these:
The University of Cape Town
The University of Witwatersrand
The University of Kwa Zulu Natal
Stellenbosch University
University of Johannesburg
University of Pretoria
North-West University
University of Western Cape
Rhodes University
University of South Africa
PAY ATTENTION: Never miss breaking news – join Briefly News' Telegram channel!
There are a few other blue-cluster institutions of higher learning which focus primarily on technical training. The top among these include:
Vaal University of Technology
Central University of Technology
Walter Sisulu University
Mangosuthu University of Technology
Cape Peninsula University of technology
The list above does not in any way mean that if you are not eyeing one of these institutions, there is no hope for you in higher education. The truth is that these universities can only accommodate a fraction of the students pursuing higher education, and some do not even offer the specialized training that some students want to pursue. This list here offers a more comprehensive review of all top colleges and institutions of higher learning in the country, depending on the area of specialization.
Getting a bursary from a college in South Africa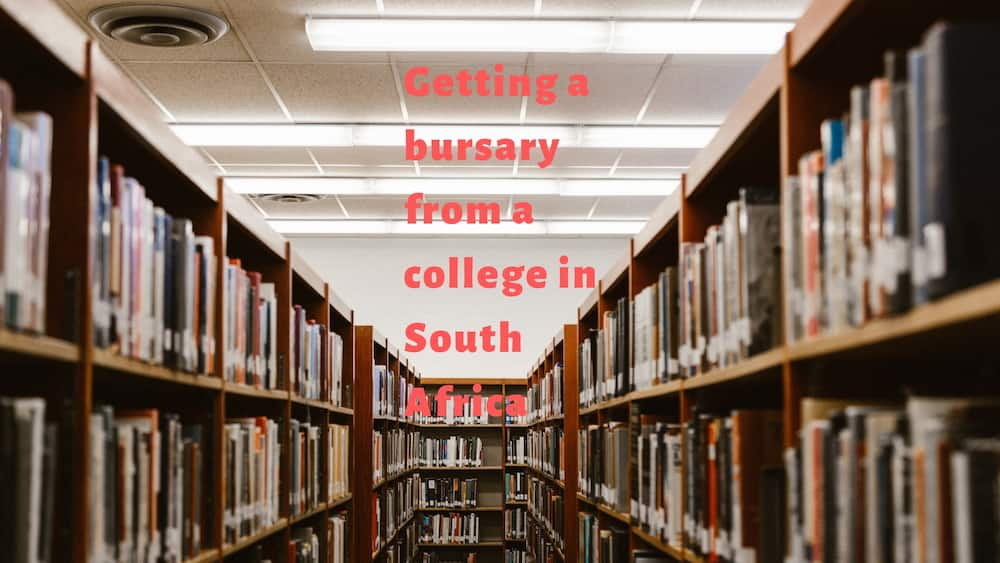 Once you have an institution in mind, and you know their entry requirements, the next natural step is to try and meet these requirements. The two main requirements that most institutions offer bursaries are:
Work back bursaries where you are expected to work or help out in some way as repayment for your school fees waiver.
Academic performance-related: here, the institution will only train you when you are among the best in your study area, and they want to either absorb you into their faculties or increase research in the study area.
Find out which of the two options can work for you. When you have the right option in mind, they will tell you what the bursary covers for free education. Typically, financial aid covers:
Tuition fees
Examination fees
Prescribed books and other study material
Meals and accommodation
Travel allowance and sometimes a laptop
National Student Financial Aid Scheme
This is one of the first places where students look when searching for a bursary. The NSFAS funding is used to cater for costs such as books, tuition fees, accommodation, and travel allowances. NSFAS loans must be fully repaid when you complete your studies. The good thing is that the body will only need you to repay the money once you are gainfully employed with a salary of at least R30, 000 per annum. If you are a TVET college student, you will not be needed to pay back the bursary that you get from the government.
Getting NSFAS funding as a student scholar
To apply for the NSFAS scheme, you have to meet the following requirements:
You have to be a South African Citizen
You must come from a household that earns less than R350,000 per year
You must have passed grades 9 and 10 to get funding to a TVET college
You must have passed Matric if you want university funding
Students who do not surpass the above requirements are not eligible to receive funding. Additionally, those who have previously applied for and received funding need not apply for a second time. Also, anyone that has received college education previously will not be granted the bursary.
There are three ways in which a person can apply for this bursary:
Visit any NYDA center close to you and follow the registration process they will give.
Apply online on the NSFAS website
Visit any financial aid center on campus
The new bursary scheme which was rolled out in 2018 makes sure that all students, and not only those in TVET institutions, can apply for and receive university education funding. NSFAs are still implementing the scheme, and the first batch of beneficiaries joined this year. For more info on the bursaries and scholarships available, you can have a look at this website.
The vital thing is to do your due diligence and look for the scholarships and bursaries that will cover your education so that you can enjoy free education in South Africa that can help you deal with the tuition fee quagmire.
Source: Briefly News