30 uplifting happy birthday Bible verses for your friends and family
Life is a precious gift from the Almighty God. It is a blessing to wake up each day, and each year, everyone marks their birthday either quietly or through a celebration. Birthdays are an enjoyable experience for children because they get gifts and cakes. Among the adult population, birthdays are a reminder that one needs to be grateful for another year of life. There is nothing better than sharing birthday Bible verses to remind Christians about God's love.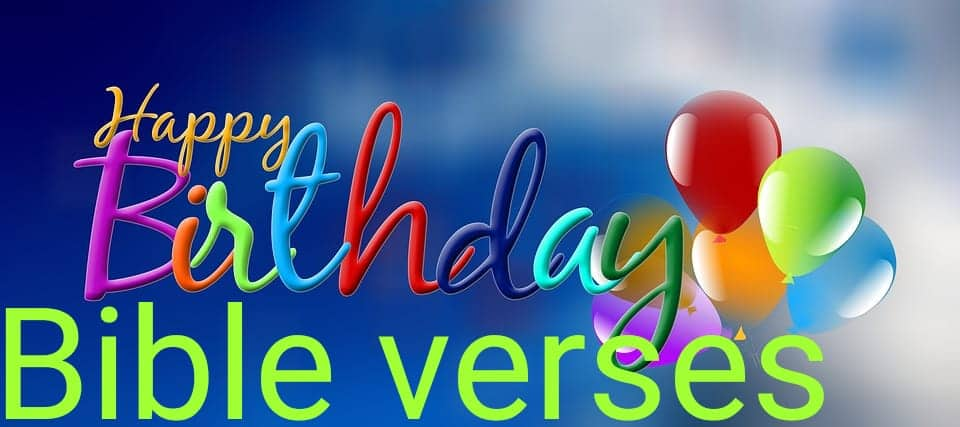 Birthday Bible verses add a special touch to any birthday celebration. Appropriate Bible verses for birthdays remind everyone that God gives life and that everyone is special in the eyes of the creator. Adults get a moment to meditate and appreciate what God has done in their life. Happy birthday Christian messages also offer a chance for parents to teach their children more about God.
READ ALSO: 20 inspiring and loving Bible verses for birthday woman
Blessings on birthday from Bible
These bible verses for birthdays blessings are excellent birthday verses for friends. They are also suitable for happy birthday bible verses for both men and women. They inspire, motivate, and bring one closer to God.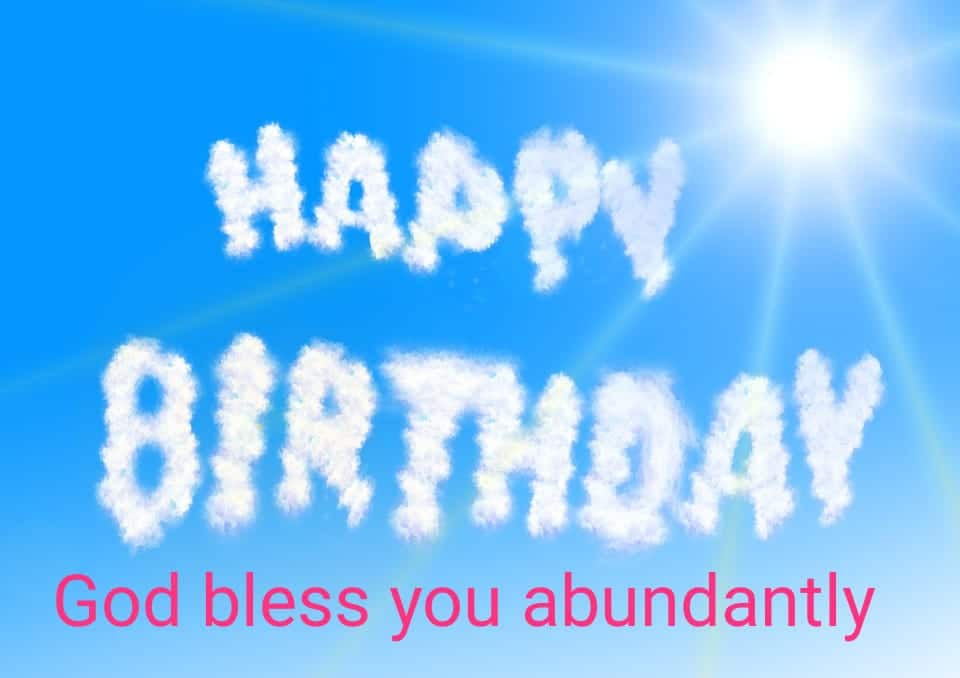 "May God give you heaven's dew and earth's richness— an abundance of grain and new wine. May nations serve you and peoples bow down to you. Be lord over your brothers, and may the sons of your mother bow down to you. May those who curse you be cursed and those who bless you be blessed." - Genesis 27:28-29 (NIV)
"And God is able to bless you abundantly, so that in all things at all times, having all that you need, you will abound in every good work." - 2 Corinthians 9:8 (NIV)
"Blessed is the one who does not walk in step with the wicked or stand in the way that sinners take or sit in the company of mockers, but whose delight is in the law of the LORD, and who meditates on his law day and night. That person is like a tree planted by streams of water, which yields its fruit in season and whose leaf does not wither— whatever they do prospers." - Psalm 1:1-3 (NIV)
"Every good gift and every perfect gift is from above, and cometh down from the Father of lights, with whom is no variableness, neither shadow of turning." - James 1:17 (JKV)
"The Lord bless you and keep you; the Lord make his face shine on you and be gracious to you; the Lord turn his face toward you and give you peace." Numbers 6:24-26 (NIV)
Happy Bible verses for birthdays
These Christian birthday messages teach all Christians to celebrate and be happy in the Lord every day.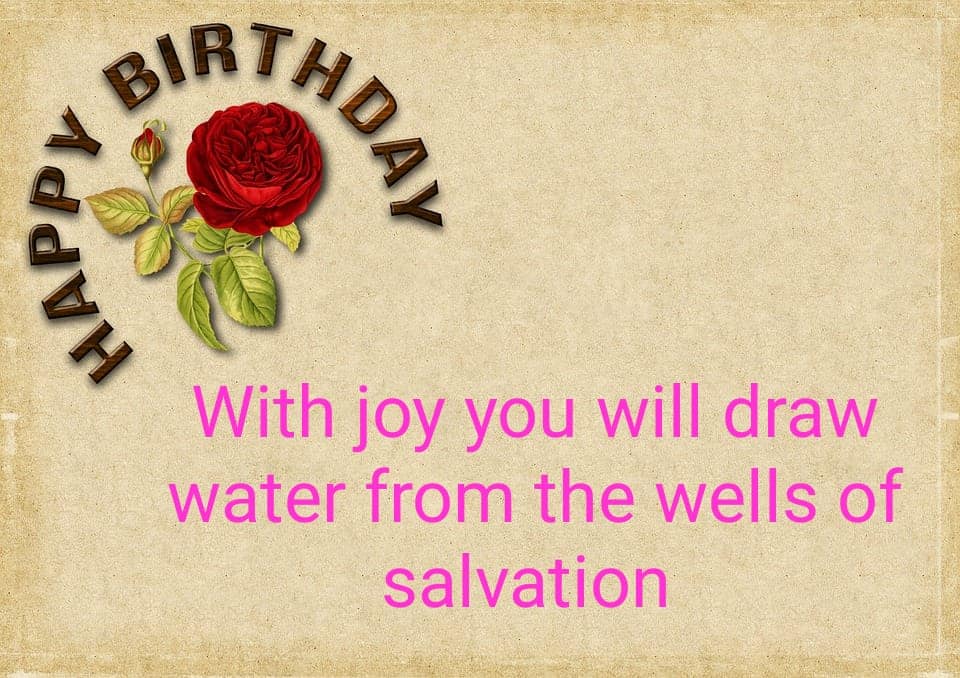 "Trust in the Lord, and do good; dwell in the land and befriend faithfulness. Delight yourself in the Lord, and he will give you the desires of your heart." - Psalm 37:3–4 (ESV)
"Then our mouth was filled with laughter, And our tongue with singing. Then they said among the nations, "The Lord has done great things for them." - Psalm 126:2 (NKJV)
"Through Him we have also obtained access by faith into this grace in which we stand, and we rejoice in hope of the glory of God." - Romans 5:2 (ESV)
"But rejoice in as much as you participate in the sufferings of Christ, so that you may be overjoyed when his glory is revealed." - 1 Peter 4:13 (NIV)
"With joy you will draw water from the wells of salvation." - Isaiah 12:3 (ESV)
Inspirational bible quotes for birthdays
These Christian happy birthday messages inspire one to reconnect with God and to appreciate being alive each day.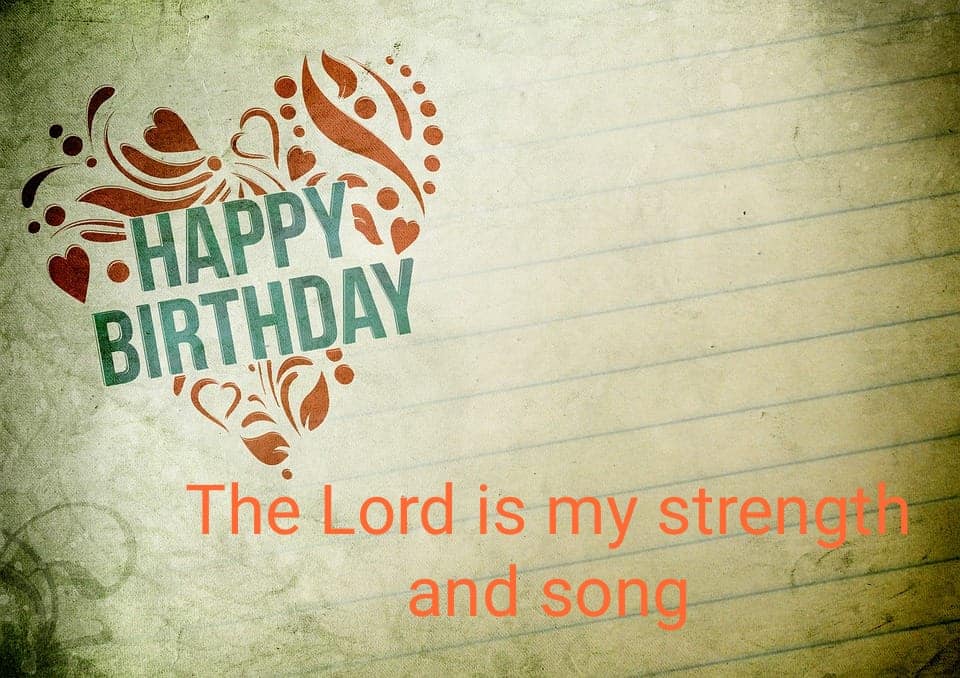 "Show me, Lord, my life's end and the number of my days; let me know how fleeting my life is. You have made my days a mere handbreadth; the span of my years is as nothing before you. Everyone is but a breath, even those who seem secure." - Psalm 39:4-5 (NIV)
"Teach us to number our days, that we may gain a heart of wisdom." - Psalm 90:12 (NIV)
"For you created my inmost being; you knit me together in my mother's womb. I praise you because I am fearfully and wonderfully made; your works are wonderful, I know that full well. My frame was not hidden from you when I was made in the secret place, when I was woven together in the depths of the earth. Your eyes saw my unformed body; all the days ordained for me were written in your book before one of them came to be." - Psalm 139:13-16
"Even though I walk through the valley of the shadow of death, I will fear no evil, for you are with me; your rod and your staff, they comfort me." - Psalm 23:4 (ESV)
"The LORD is my strength and my song; he has become my salvation. Glad songs of salvation are in the tents of the righteous: The right hand of the LORD does valiantly, the right hand of the LORD exalts, the right hand of the LORD does valiantly!" - Psalm 118:14-16 (ESV)
Encouraging birthday blessings from the Bible
What Bible verses help with anxiety? Birthday verses that offer words of encouragement give birthday blessings from the Bible, relieve anxiety, and encourage one to remain strong in their faith. These birthday scriptures include: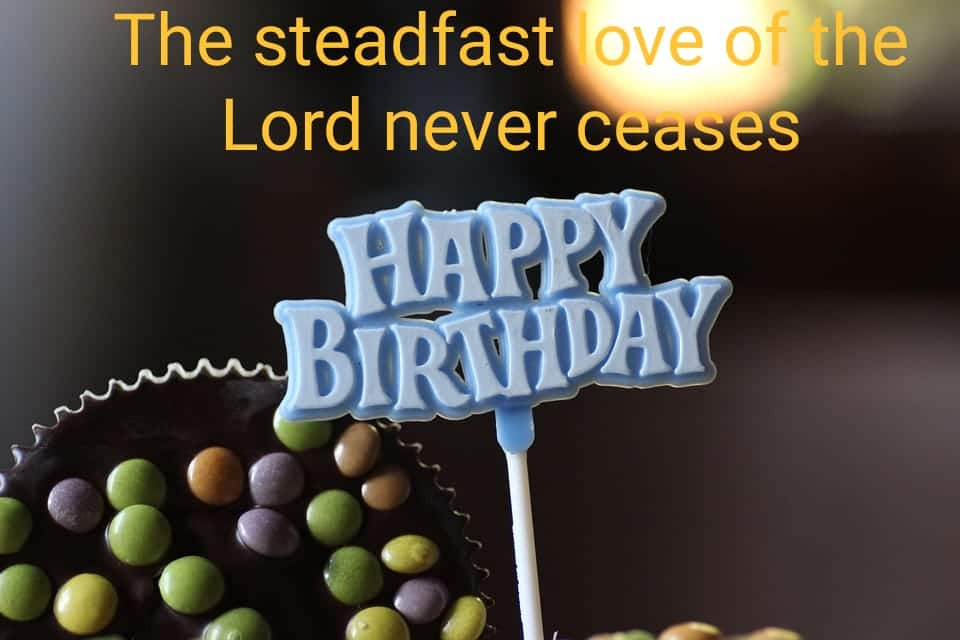 "The steadfast love of the LORD never ceases; his mercies never come to an end; they are new every morning; great is your faithfulness."- Lamentations 3:22-23 (ESV)
"Trust in the LORD with all thine heart; and lean not unto thine own understanding. In all thy ways acknowledge him, and he shall direct thy paths." - Proverbs 3:5-6 (KJV)
"The name of the LORD is a fortified tower; the righteous run to it and are safe." - Proverbs 18:10 (NIV)
"For You formed my inward parts; You covered me in my mother's womb. I will praise You, for I am fearfully and wonderfully made; Marvelous are Your works, And that my soul knows very well. My frame was not hidden from You, when I was made in secret, And skillfully wrought in the lowest parts of the earth." - Psalm 139:13-15 (NKJV)
"Have I not commanded you? Be strong and courageous. Do not be afraid; do not be discouraged, for the Lord your God will be with you wherever you go." - Joshua 1:9 (NIV)
Uplifting Bible birthday wishes for every Christian
When looking for the best bible verse for birthday, it is essential to make sure that it gives hope for a better future. Well-selected Christian birthday wishes can revive one's soul and give them the motivation to conquer all challenges in their new year of life.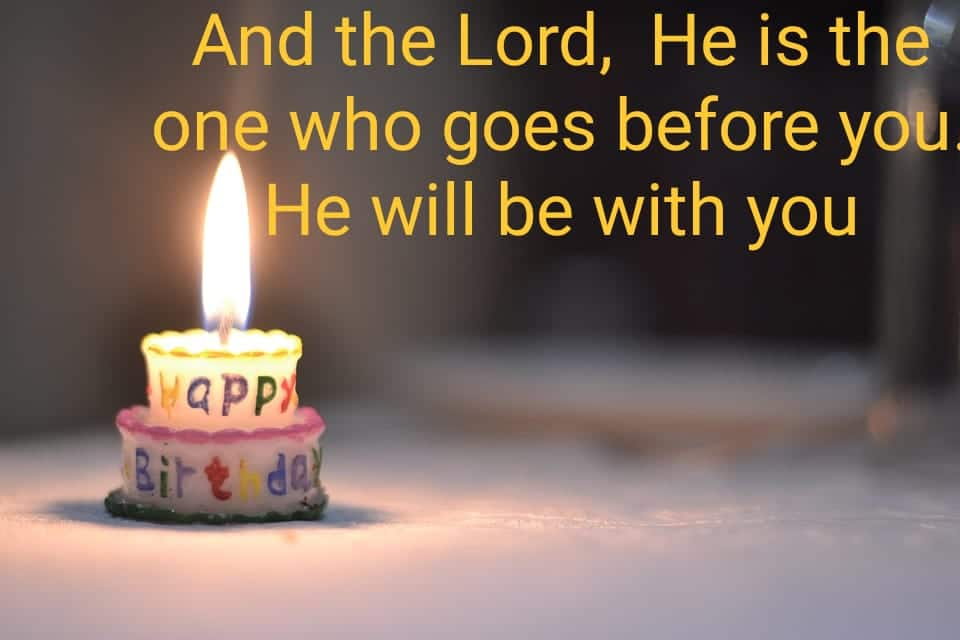 "The Lord your God is in your midst, a mighty one who will save; He will rejoice over you with gladness; He will quiet you by His love; He will exult over you with loud singing." - Zephaniah 3:17 (ESV)
"Cast your cares on the Lord and he will sustain you; he will never let the righteous be shaken." - Psalm 55:22 (NIV)
"And the Lord, He is the One who goes before you. He will be with you, He will not leave you nor forsake you; do not fear nor be dismayed." - Deuteronomy 31:8 (NKJV)
"Sing for joy, O heavens, and exult, O earth; break forth, O mountains, into singing! For the Lord has comforted his people and will have compassion on his afflicted." - Isaiah 49:13 (ESV)
"Do not be anxious about anything, but in everything by prayer and supplication with thanksgiving let your requests be made known to God. And the peace of God, which surpasses all understanding, will guard your hearts and your minds in Christ Jesus." – Philippians 4:6-7 (ESV)
Religious birthday messages with wise counsel
Each birthday offers a chance for the birthday boy or girl to be given words of wisdom. These words can be drawn from the Bible. Bible verses that offer wise counsel include: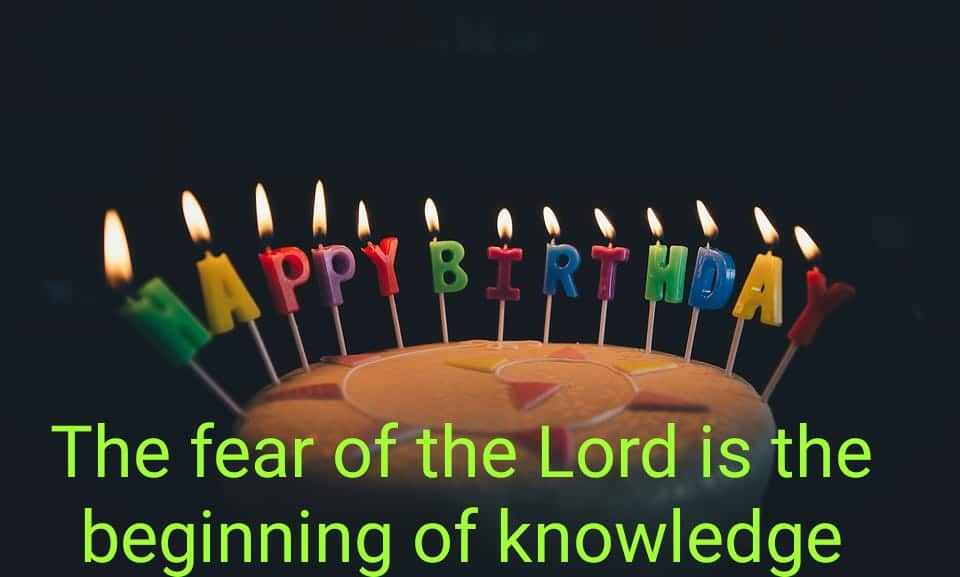 "Where no counsel is, the people fall: but in the multitude of counsellers there is safety."- Proverbs 11:14 (KJV)
"Whoever heeds life-giving correction will be at home among the wise. Those who disregard discipline despise themselves, but the one who heeds correction gains understanding. Wisdom's instruction is to fear the Lord, and humility comes before honor." - Proverbs 15:31-33 (NIV)
"Listen to advice and accept instruction, that you may gain wisdom in the future. Many are the plans in the mind of a man, but it is the purpose of the Lord that will stand." - Proverbs 19:20-21 (ESV)
"Hear, my son, and accept my words, that the years of your life may be many. I have taught you the way of wisdom; I have led you in the paths of uprightness. When you walk, your step will not be hampered, and if you run, you will not stumble. Keep hold of instruction; do not let go; guard her, for she is your life." - Proverbs 4:10-13 (ESV)
"The fear of the Lord is the beginning of knowledge; fools despise wisdom and instruction." - Proverbs 1:7 (ESV)
Each birthday is a chance to appreciate life. What is a good Bible verse for encouragement? It is one that offers hope, inspiration, cheer, and wise counsel. Getting a suitable birthday Bible verse is essential among Christians. It reminds them that life is God-given. Choose one of these birthday Bible verses to share with your loved ones on their special days!
READ ALSO:
50 best birthday wishes and quotes for 2019
50 best happy birthday messages with pictures 2019
Source: Briefly News