Mia Callista, popularly known as Mia Khalifa, is one of the personalities whose participation in the adult film production has earned her the top ranks in Pornhub. She is a twenty-six-year-old Lebanese star that is making the headlines for most media stations for her revelations about the business. The latter caught most people by surprise after she stated that she had made $12000 during all the time that she had been in the venture. You might be interested in finding out more about her experience.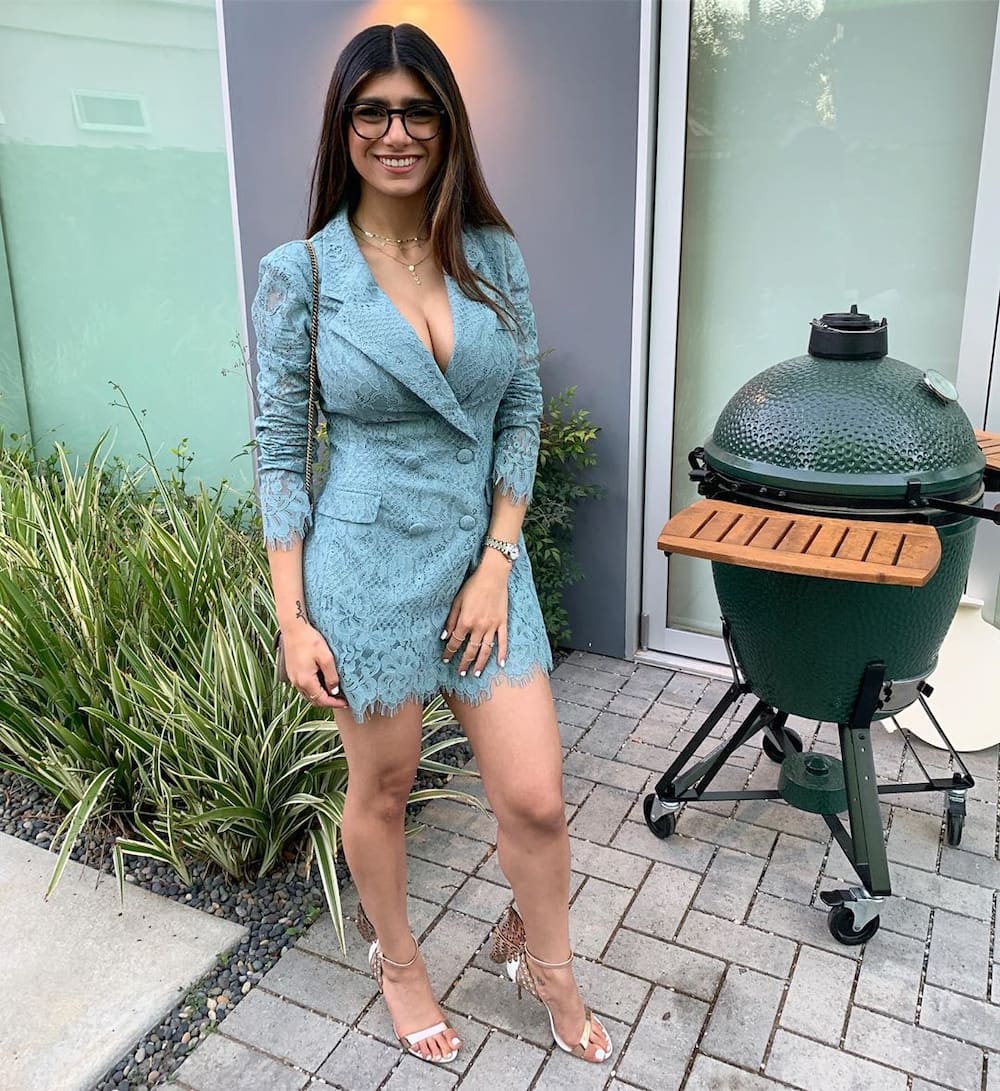 Mia Khalifa was born in Lebanon, and then her family relocated to the United States of America when she was seven years old. She got into the porn business in 2014 where she worked for three months before she quit. The working conditions in the business became unbearable after she started receiving death threats for appearing in one of her clips wearing a hijab. A terrorist group by the name ISIS sent her execution threats. These threats caused her to quit her career. She recently came out to narrate how her experience was during and after quitting the business. You would not believe her experience.
Mia Khalifa pornstar
Mia started her pornstar career in 2014. She only stayed in the business for three months after which she stopped being a porn star. By the time she was leaving the career, Mia.Khalifa had already become a brand on Pornhub, and most of Mia Khalifa pics were among the top searched in the website. So were Mia Khalifa hot videos.
READ ALSO: Man (40) sues parents for throwing away X-rated tapes worth thousands
Even though she quit the career five years ago, she is still among the top-ranked adult film actors whose content is searched the most.
Mia Khalifa salary wiki
The latter recently came out to narrate how her experience was while in the business. She also narrated how the business does not influence her current salary. She went further to say that for the time that she was in the business, she earned a total of $12000. She quit the business and is currently focused on growing her career.
Mia Khalifa recent news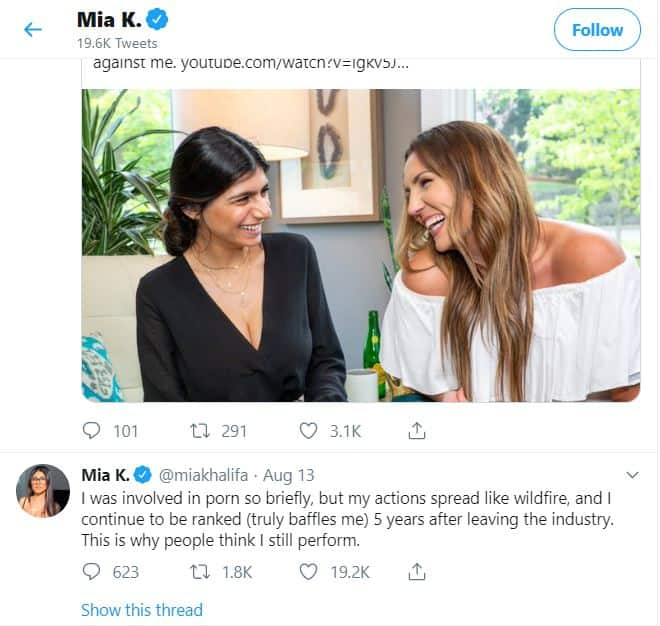 Mia Khalifa is one of the icons that would be termed as brave for coming out to speak about her career in the controversial adult film industry. The latter caught everyone by surprise when she shared an interview that she had done on the 12th of August 2019. The most shocking part of the interview is the revelation that she made about making a total of $12000 and not making any other penny for the time that she was in the industry. You might want to keep your records updated on the gist about her experience.
Mia Khalifa porn career
The latter shocked most people when she came out to share her experience after she chose to venture into the adult movie industry. During an interview that Megan Abbott, one of Mia's friends, made with her, she came out to give details about her experience in the business. The twenty-six-year-old Lebanese lady went further to state how exploitative the industry is. She made the following remarks about the adult film companies:
"trap women legally in to contracts when they're vulnerable".
Working for three months
Mia Kalifa joined the industry and worked for three months after which she quit. Despite the short time that she was in the business, she still ranks among the icons who have the highest ranks on Pornhub. Mia Khalifa videos were among those that were most searched in 2018.
In the interview which Mia Khalif shared on her Twitter account, the latter gave details about how most people thought that she was earning the most from the business. She stated:
People think I'm racking in millions from porn. Completely untrue. I made a TOTAL of around $12,000 in the industry and never saw a penny again after that. Difficulty finding a normal job after quitting porn was... scary.
This statement sparked a lot of controversy on Mia Khalifa Twitter as her followers tried to understand how the icon who was ranking so well earned such a low amount.
In her defence, she came out to state that when she joined the industry, she did not expect and was not promised to make millions. Neither did she expect that Mia Khalifa porn videos would earn the fame that she has as of date.
To her uttermost surprise, Mia Khalifa porn videos still rank so well despite her departure from the industry five years ago. She went further to state that this is the reason why most people still think that she is still in the business.
Mia Khalifa porn consequences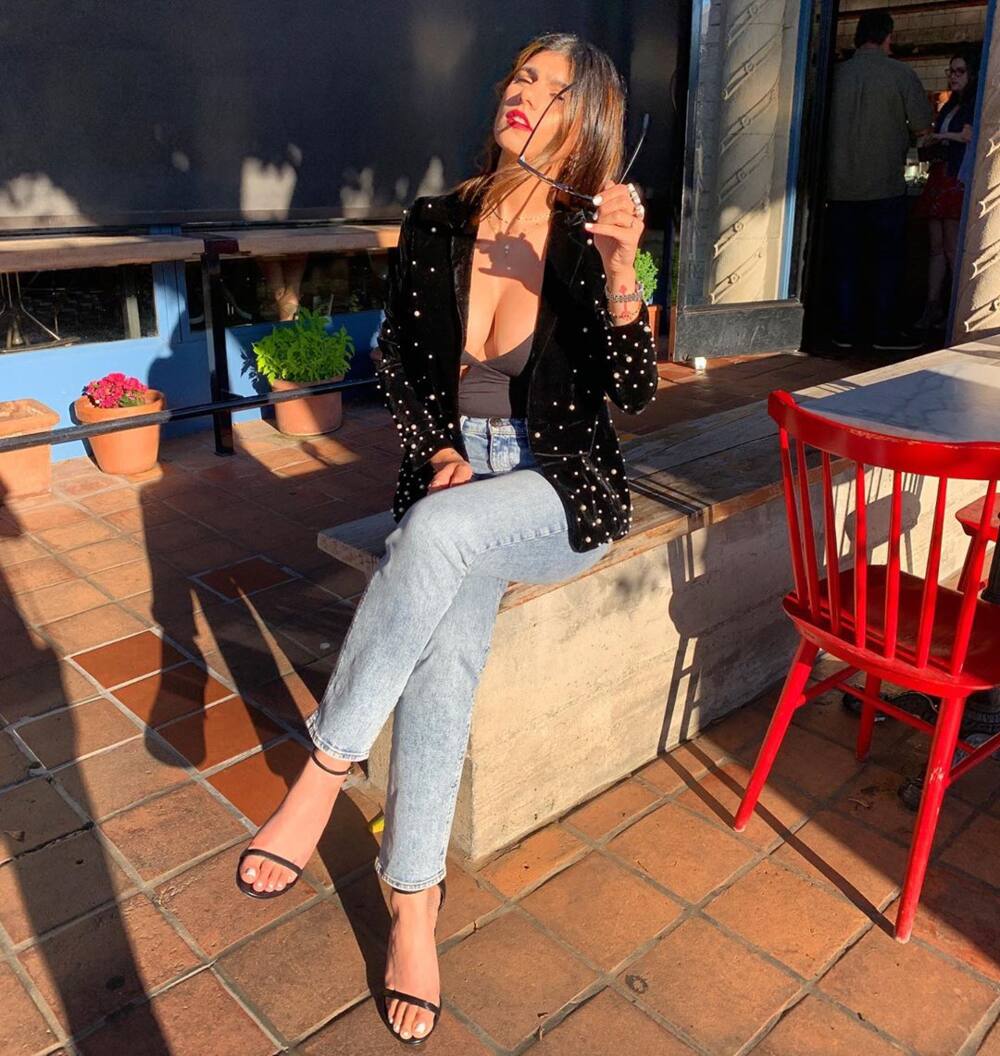 In the interview, the latter goes further to explain how life was for her dealing with the fame of being in the controversial business. According to her, the fame had consequences that escalated so fast, and by the time she was trying to cope up with the pressure of being famous, she was already receiving death threats. She went further to state:
My friends from home started to find out because somebody found the first scene and they sent it to everybody. I was already about to film the one with the hijab that basically went viral and global. It was going to happen that week, so I was like, well, you know, I can't back out. So, I guess, this next one, people are starting to find out. After that one came out the following week, it was beyond repair.
The pressure began to get out of hand, and with no time, Mia Khalifa began to feel ashamed of herself. She began to be cautious about how people would feel about her.
The clip that she did with a hijab on was not any better as it also drew attention just like the first one. The popularity of this clip escalated so fast that she started receiving threats about it. She was also threatened by terrorists from the ISIS.
Commenting on being threatened by terrorists, she stated:
They Photoshopped a picture of me on a beheaded body holding my head that was Photoshopped on there saying 'You'll be next, you Muslim disgrace.' I'm, like, Catholic, dude . . . I've got catholic guilt. You think that you can affect me? No.
In the interview, the latter narrates how much transformation she has gone through and how ready she is to learn. She is also going through a rough time accepting her past and her involvement in the porn business. Mia Khalifa does not regret any of the things that happened in her past. She is, however, making peace with it and trying to bring a better version of herself.
READ ALSO: