South African traditional shirts for men for different occasions
Whether you are looking for everyday functional shirts or those suited for special occasions, these traditional shirts for men have you covered. Traditionally, different types of shirts were worn to suit the occasion. They served specific functions. Today, most of these cultures have given way to modernization. This too has been reflected in the traditional wear. Traditional men shirts, in particular, have been re-designed to be worn to the office as well as to be used as ceremonial attire.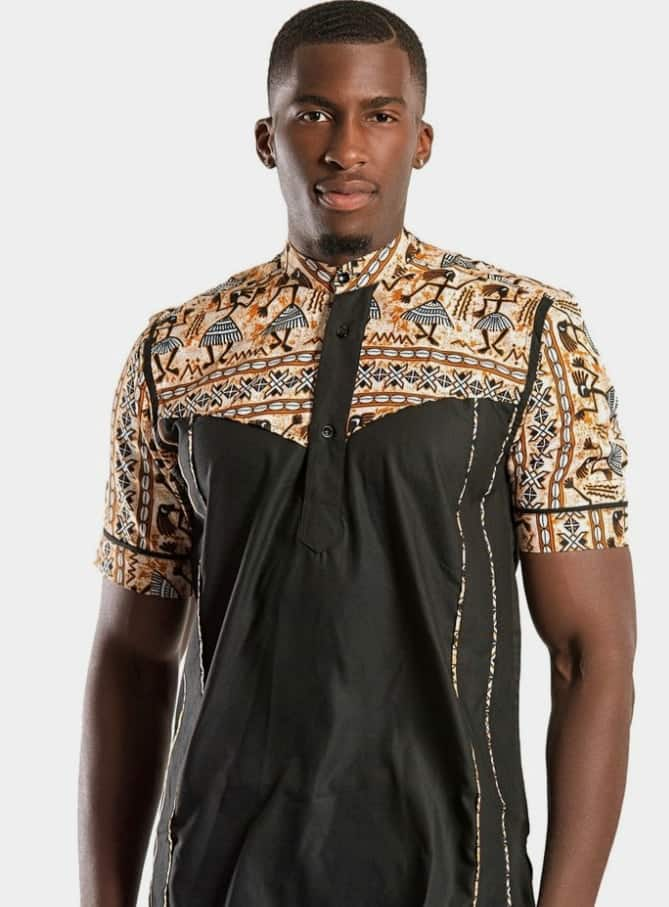 What is the traditional clothing in South Africa? These African upper garments come in different shapes and designs. Some of these upper garments are designed according to the Zulu traditions while others have been designed according to the Xhosa traditional attire designs. One thing though, they will all look good on you, any day. Here are some of the best men's traditional shirts.
READ ALSO: 20 Xhosa traditional attire for men
What is the meaning of traditional wear?
The Encyclopedia describes traditional wear as:
The ensemble of garments, jewellery, and accessories rooted in the past that is worn by an identifiable group of people. Though slight changes over time in colour, form, and material are acknowledged, the assemblage seems to be handed down unchanged from the past.
This means that mens traditional shirts in the market today might not be exactly the same as the indigenous upper garments worn a couple of years ago by traditional South Africans, but they have great similarities with the original traditional shirts. Most of these similarities are projected in design, colour, and the specific indigenous group identified with the upper garment.
1. White Xhosa shirt with dropping pattern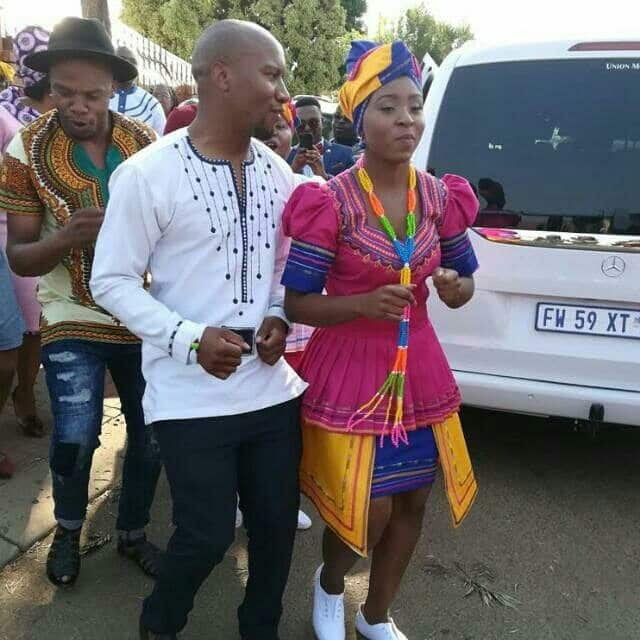 Xhosa shirts have a special place in people's hearts. They are simple and classy. This one, in particular, has a unique style that is distinctively different from other Xhosa shirts available in the market. This is because most Xhosa traditional shirts have closely spaced stripes that run from the neck downwards until slightly below the lower levels of the chest. This one, however, has droplets attached to stripes that are spaced slightly apart from each other. This pattern also runs down to the stomach.
This upper garment can be worn as a ceremonial or a formal cloth. When paired with a well straightened, black pair of trousers, it can be worn to the office as official wear.
2. Brightly coloured mens traditional shirts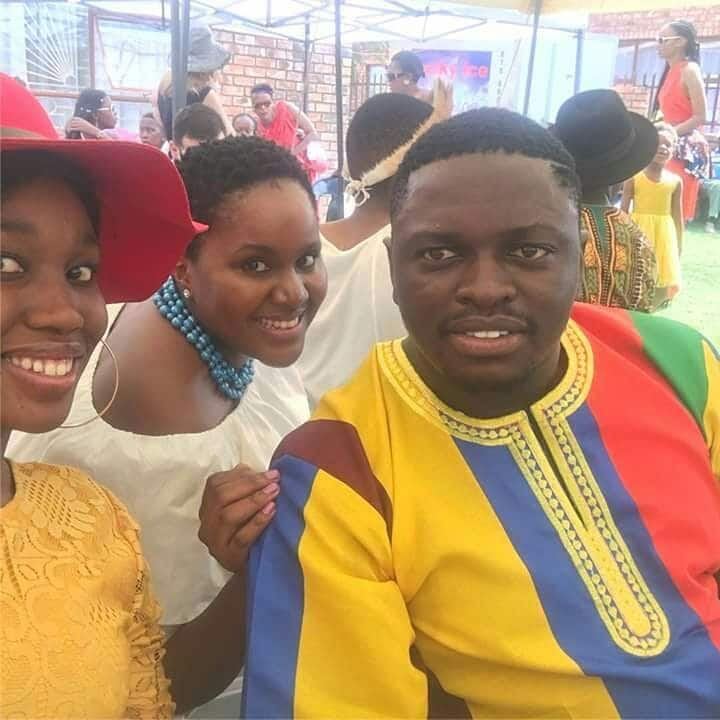 This upper garment should be worn for celebrations. However, not everyone can wear it comfortably for an obvious reason, as it has a very bright colour pattern. The shirt's design is good with an embroidered Y-neck pattern that extends all the way to the back of the neck. The colour combination is great, with royal blue and brown toning down the other bright colours.
This upper garment should be worn to ceremonies like weddings and any other happy social gatherings. Anything short of that will make you look out of place.
3. Chinese collar traditional wedding shirts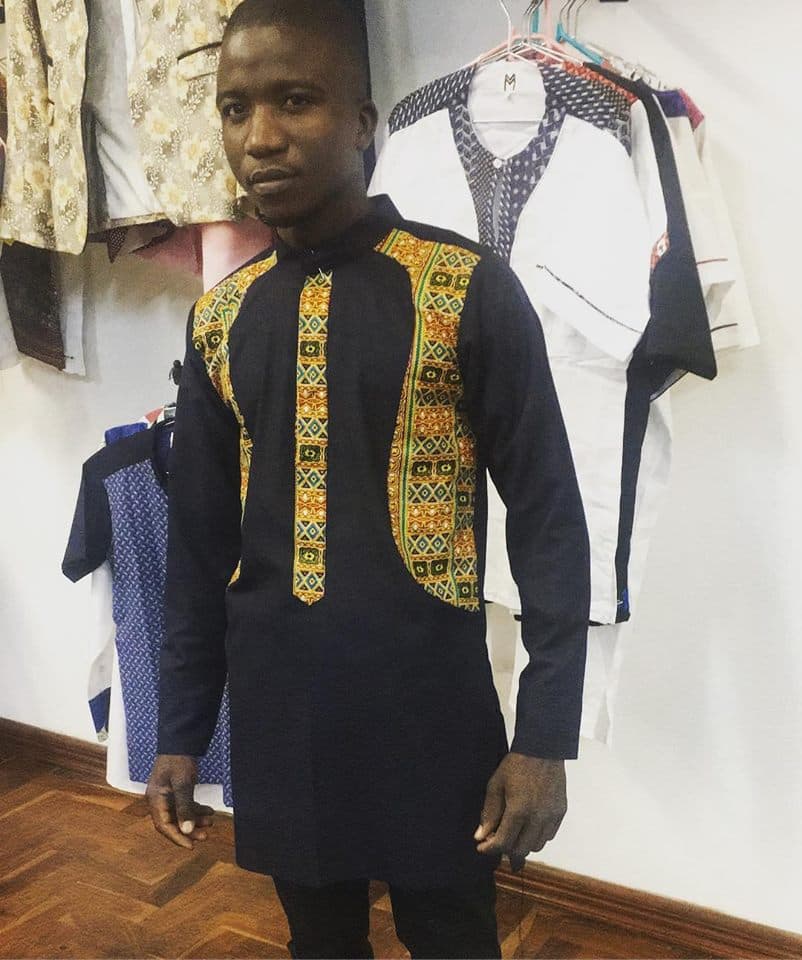 Chinese collar has been a thing for quite some time now. This upper garment extends significantly below the waist. The black fabric has been decorated with unique African print that mimics a coat. In the middle of the shirt, the same African print has been sewn from the neck down to the waist, making this cloth more sophisticated.
This cloth can be worn with its pants as an indigenous suit or paired with another pair of pants to create a whole new look. It can be worn to official gatherings and celebrations. In the modern office set up, this look will not appear out of place.
4. Green and white V-neck traditional attire for men
Green and white never looked so good together as they do on these clothes. The Xhosa inspired design has been curated to suit everyone's taste. In spite of their common colour coding, these collarless shirts are different in their own unique respect.
These are casual clothes that can be worn to parties and other casual events.
READ ALSO: 20 Xhosa traditional attire for women
5. Black and orange traditional shirt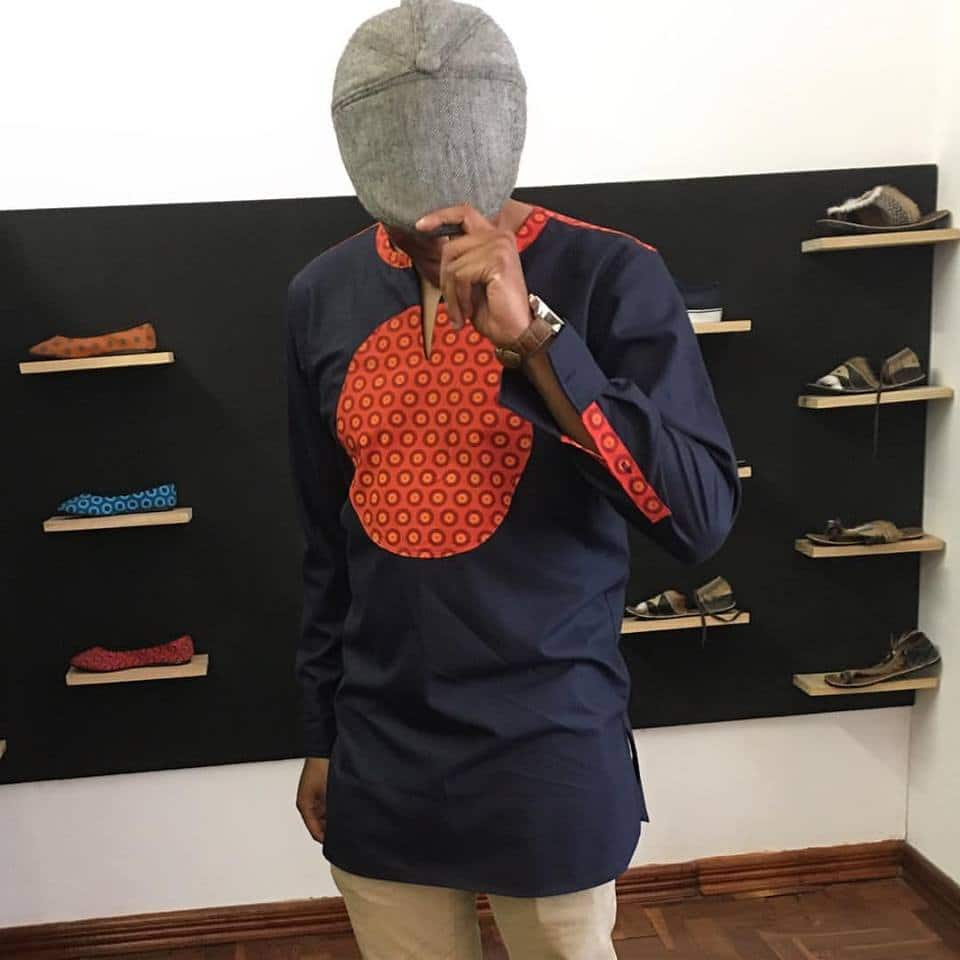 This is one of the casual, indigenous upper garment designs that can be worn to celebrations and outdoor parties. You can also wear it as casual clothing in warm weather because of its V-neck.
6. Wedding cloth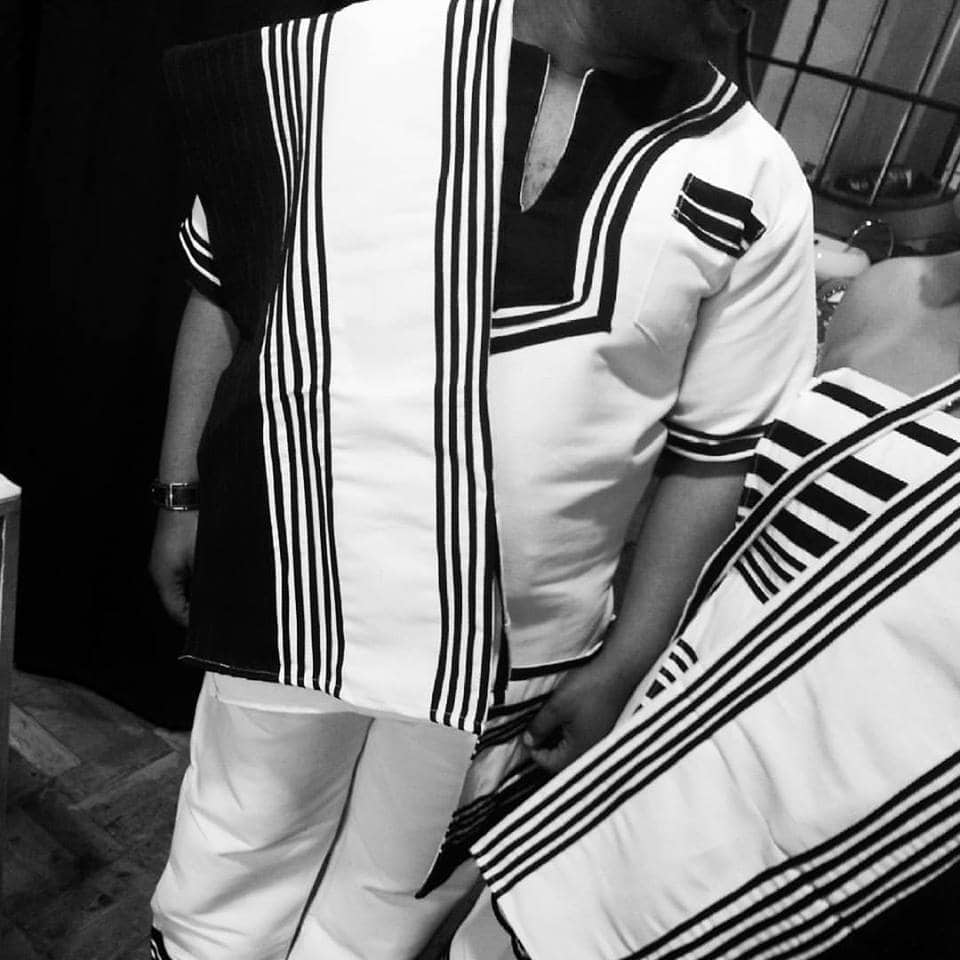 In case you were wondering what to wear on the D-day, worry not because this cloth will get you sorted. This is one of the South African traditional mens shirts that are well suited for weddings. The simplicity of the design and sophistication on the concept behind the colour combination makes it look like a bridge between indigenous attire and western clothes. Its rich black and cotton-white colour makes it so appealing to the eye.
7. Cool traditional mens Shweshwe shirts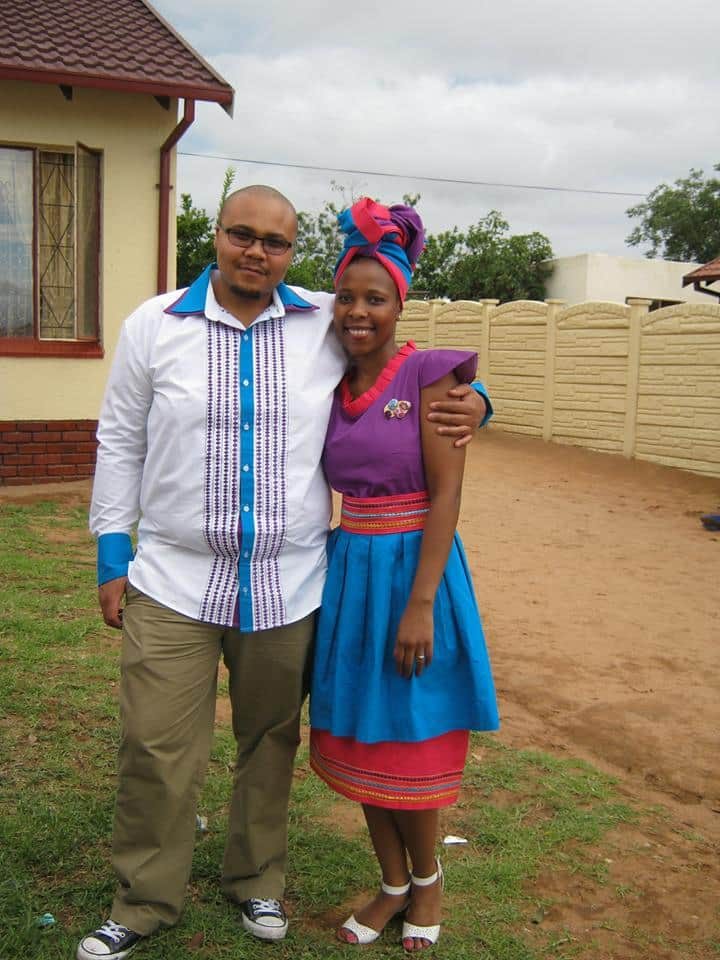 Men's Shweshwe shirts are adored by most people in South Africa. The printed geometric patterns on the cloth give it a unique appearance that can only be found in these upper garments. These shirts can be worn as official cloths. However, you have to be very careful with the pair of trousers and shoes that accompany this shirt.
8. Swazi traditional shirt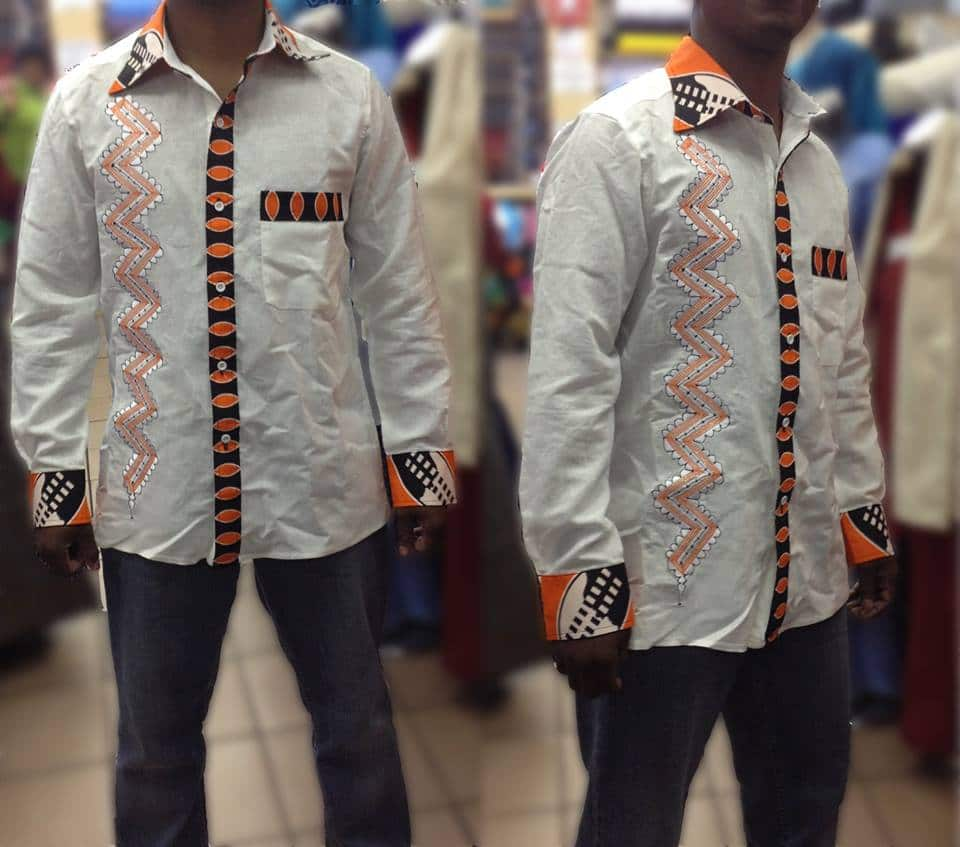 The Swazi traditional shirt is another reminder that you can use conventional concepts to design a sophisticated upper garment for men that can be worn to the office and any other formal occasion. This grey cloth has detailed orange and black patterns that add the aesthetic value to the rather plain grey fabric. The colour and the end of the sleeves have been designed using African print. The pocket and mid-section have also been decorated with great African print.
This upper garment can be worn to the office and any other formal event. Complement it with a good shoe and a pair of pants.
9. Xhosa traditional shirt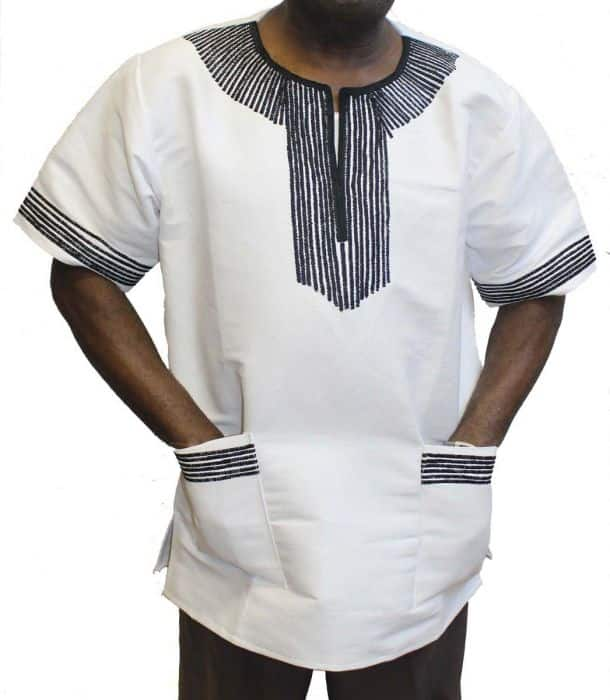 This upper garment is simple yet beautiful. It has detailed stripes on the front half of the neck that extends downwards through the mid-chest and ends at the lower of the chest. The black stripes are also embroidered in the cloth at the end of each sleeve and at the top of each pocket. This makes the cloth more visible and trendy. This exotic cloth can be worn for different occasions, including a graduation party, church, weddings, and on a date. All you need to do to rock this cloth is to match it with a nice trouser and a classy pair of shoe.
This upper garment also has a distinct Y-shape at the neck that reveals a little bit of the under skin. This makes it ideal for warm weather.
READ ALSO: Beautiful pics of traditional wedding warm hearts of SA tweeps
10. Mid-button Xhosa traditional shirt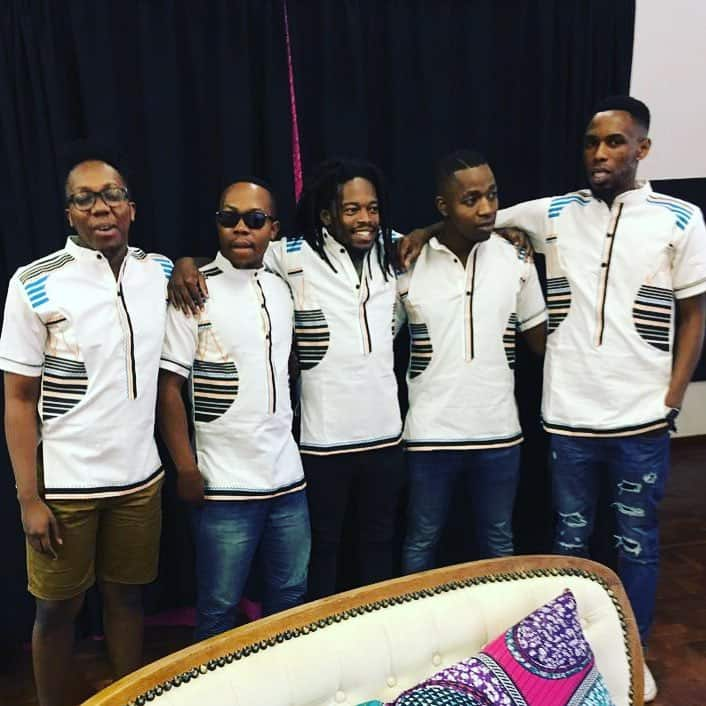 This is a trendy cloth that is best suited for informal events. It is good casual wear that can be worn with a trendy pair of jeans and cool shoes. Its mid-button design than runs from the collar to the mid of the body allows one to open the cloth up in case of excess heat. In addition, the shirt has a Chinese collar that makes it more appealing to the eye.
This cloth also has unique stripeson both sides of the body and the shoulders that add a little detail to it. These stripes water down the dominance of the white colour of the main cloth used to create this cloth. With all the details in this cloth, it will be surprising for anyone to lack good traditional shirts for men to wear to his next big event.
What traditional clothes do Zulus wear?
Zulu is one of South Africa's prominent ethnic groups. The Zulus are known for their rich traditions and ability to stay true to it. One such tradition is their indigenous dress code. Both Zulu woman and men have a unique dress code that is purely dependent on the stages of life where either of the two is at. This is especially so for women. For men, feathers and animal skins make up a larger percentage of their indigenous dress code. They wore a front and back apron to cover their nether regions. On the arms and legs, men wear tufts of cow's tails.
What is traditional African clothing called? Well, there is no definite answer to this question. Most of these dresses are unique to a specific ethnic group, and even then, they are classified according to different classes of people wearing them. This, therefore, means that all the indigenous clothes worn for different occasions come with their unique names depending on the function they serve and the people who wear it.
By and large, traditional attire for men still rocks. Men have found ways to combine traditional shirts for men with jeans and official trousers to suit different occasions. Some designers have gone ahead to create traditional shirts for men that can be used as casual clothes and worn to parties and informal events. To South Africans and Africans in general, this is a good way to preserve culture in a time when everything seems to change so fast.
READ ALSO:
Tsonga culture, people, language, music, food and traditional attire
Tswana culture, people, food, language, traditions, ceremony, dance and traditional attire
Dashiki meaning, history and evolved styles for men and women
Source: Briefly News