David Tlale biography: age, place of birth, partner, marriage, mother, designs and net worth
If you are into the fashion world, David Tlale is one of the names that you could have missed because the later is one of the best South African designers who are setting the pace in the industry. He has set a commendable record of being in the field for more than fifteen years and coming up with the most inimitable designs.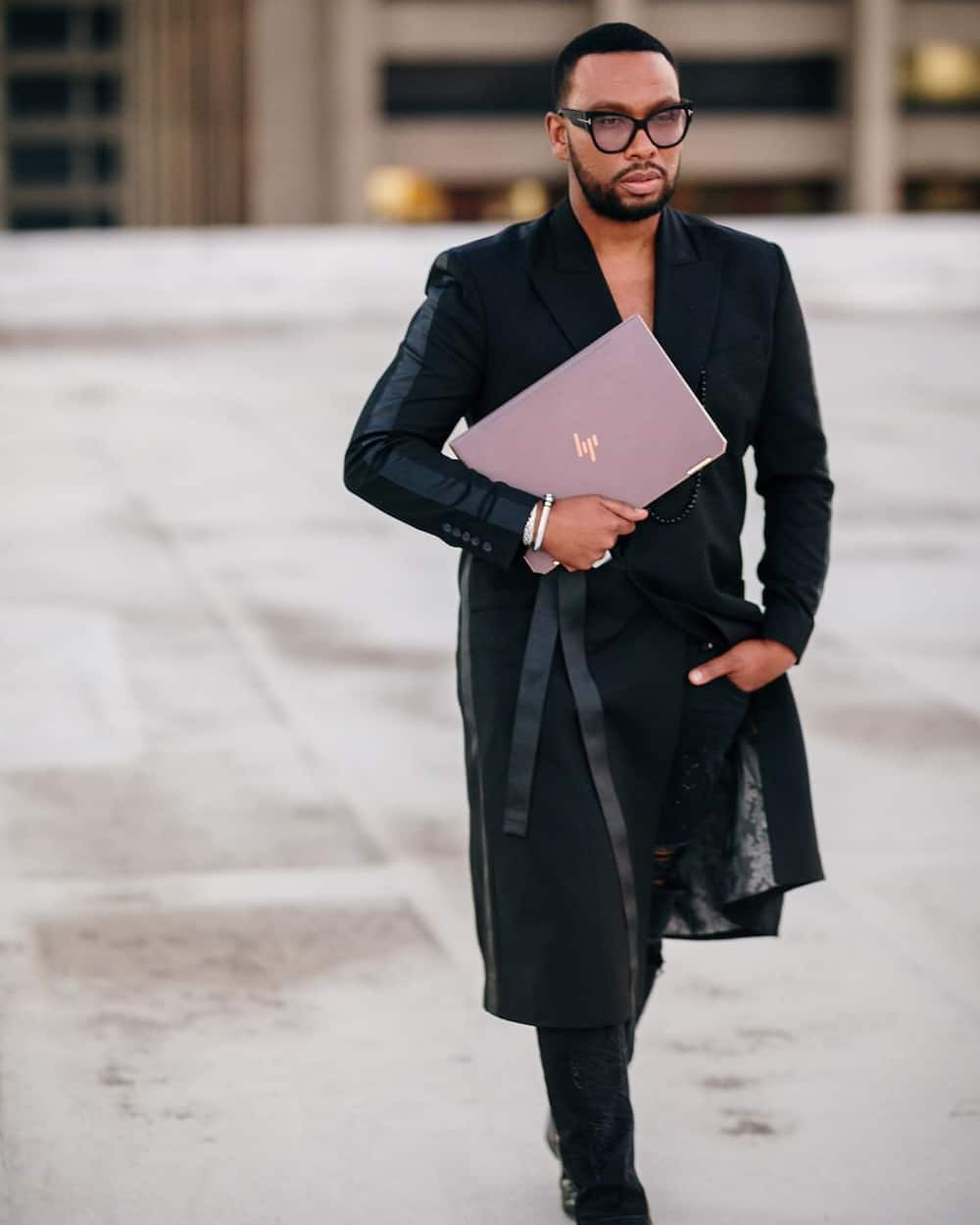 In a world where westernisation has taken a toll on other cultures and is the reason why some are fading off, bright minds like David Tlale have taken it upon themselves to bring the focus back to Africa. The latter is among the most coveted South African designers who are giving their best in coming up with the best collections that have returned the glory of fashion to Africa. Best believe that Tlale has showcased his work in international platforms and won awards!
David Tlale biography
David Tlale age
The coveted skilled and talented fashion designer was born on 29th January 1975. As of date, he is forty-four years old.
READ ALSO: Fashion designer, David Tlale, is laying his mother to rest on Friday
David Tlale mother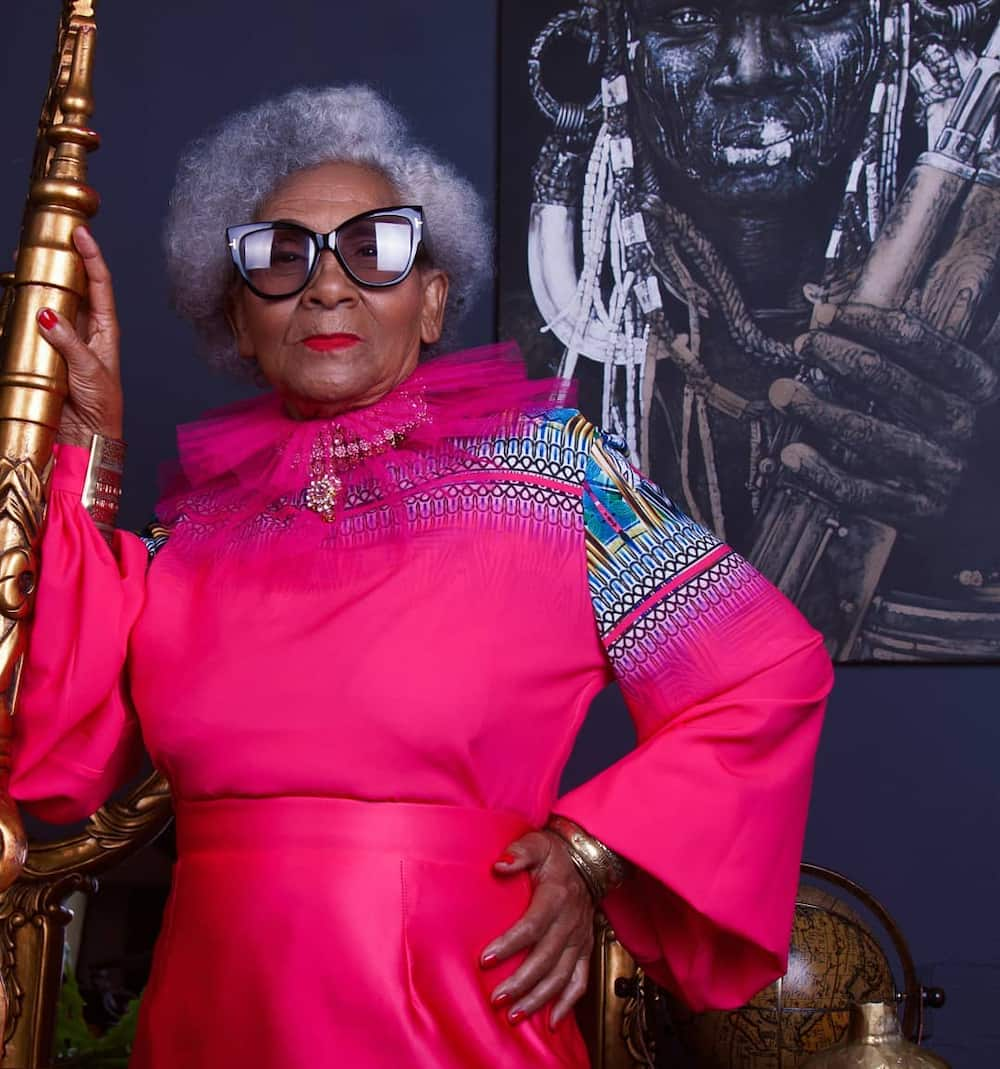 On 18th August 2019, David Tlale was hit by a dark storm after his mother, Joyce Tlale, passed on after a short illness. Her death greatly affected David as he always looked up to her and would always refer to her as his biggest supporter and muse. Most of the celebrities came up to share their condolence messages even though David seemed to have been crushed by the occasion. This was demonstrated by the caption of a picture that he posted on David Tlale Instagram page.
Is David Tlale married?
It is not clear whether the latter is married even though he is proud of his sexual orientation as he is in the list of South African gay celebrities. He, however, does not disclose details of David Tlale's boyfriend.
David Tlale place of birth and early life
The latter was born in Vosloorus even though he was brought up by his mother. He grew up not knowing who his father was. As a young boy, he depicted success in most of the things that he was engaged in. He was a member of the church choir and also took part in dancing where he always emerged the champion. He was also a leader in his township's scout group.
When he got to his adolescence stage, he started depicting feminine tendencies that saw most children in the neighbourhood ridicule him. He admits that he found it easy to make female friends as compared to boys. That ate him up especially since he had no one to talk to. That is one of the reasons that led him to his first girlfriend when he was eighteen years old.
The birth of David Tlale's career in fashion design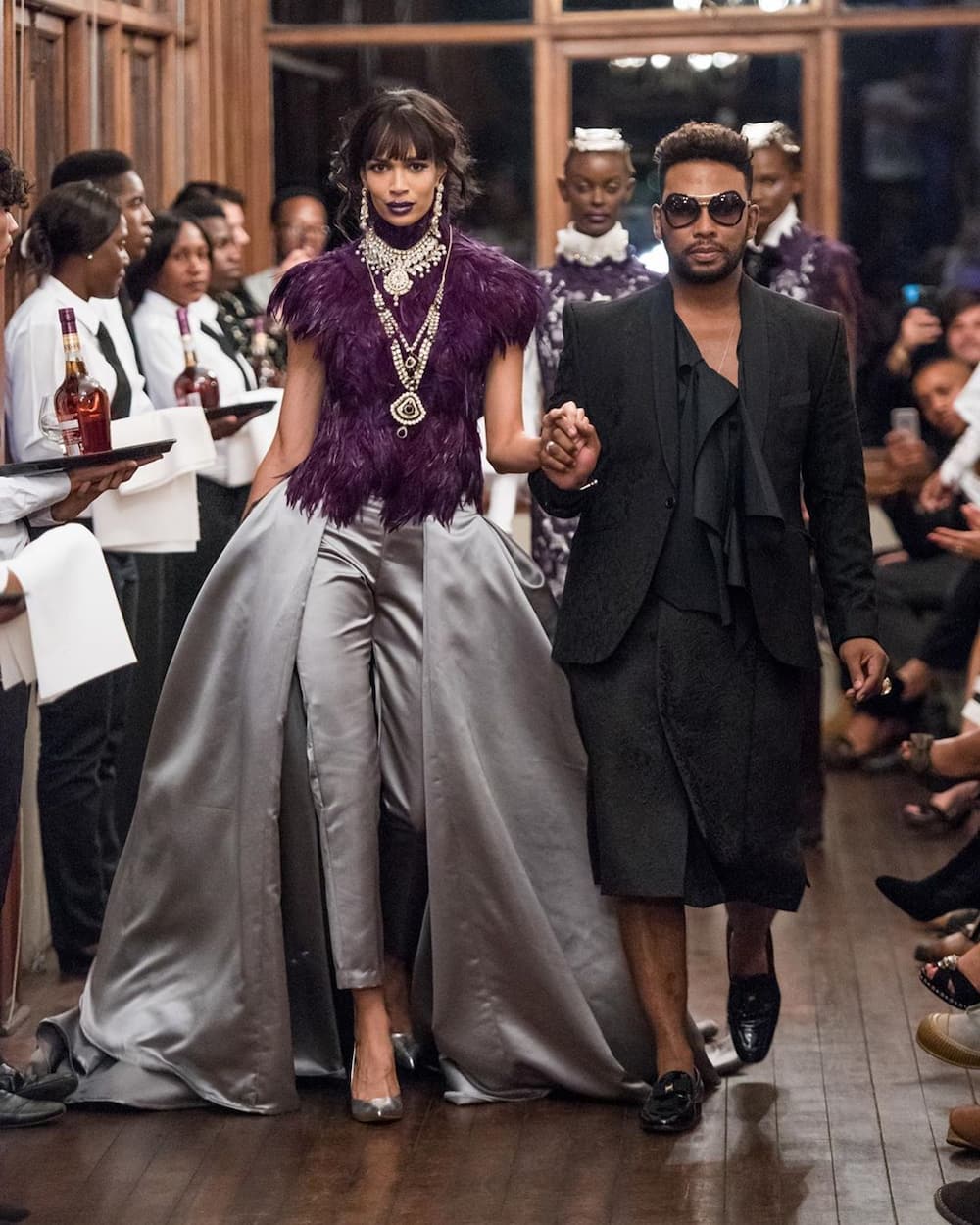 After clearing high school he went up to his mother and told her that he wanted to pursue auditing. His mother was super excited that her son would become an accountant. To her surprise, in 1993, when David returned home for his school holidays, he opened up about quitting his course ad his changing in career. This was the first time that he opened up about his passion for fashion design. This did not sound so well to his mother. She was furious because she had taken up loans to fund his studies.
To prove that he was serious about his dream, David enrolled at The Vaal University of Technology to pursue fashion design. He took up a job as a hairdresser in a nearby salon to raise money for his school fees. After a few months of learning the skill in hairdressing, he opened a salon in his room. Even though he enjoyed doing his hairdressing business, he was more in love with fashion design. For the last three years that he was in campus, he set a record of being the best student.
After completing his studies, he started a fashion design business that he used to run from home. This impressed his mother and as a result, she appreciated and supported him. He graduated in 1998 and because he had posted good results, the university offered him a job as a lecturer. He gave in and worked until 2002 when he opted to quit even after the university had offered him a better deal to convince him to stay. He insisted that he was on a mission to fulfil his purpose and that being a lecture was not part of his calling.
The road to success
After quitting his job as a lecturer, he focused his energy on building his career in fashion design. He went to enrol as one of the designers in SA fashion week. The organisers of the event requested that he submitted his collection the following day. He went back home and spent the whole night working on the pieces. To prove his resilience, he submitted the pieces on time but then he was called and told that he did not qualify. The day that followed, he received a call from the organisers who told him that they had given him a chance.
He took part in SA fashion week that was held in 2003. Luckily, he was declared the winner! He, later on, opened a studio in Johannesburg and Cape Town.
David Tlale designs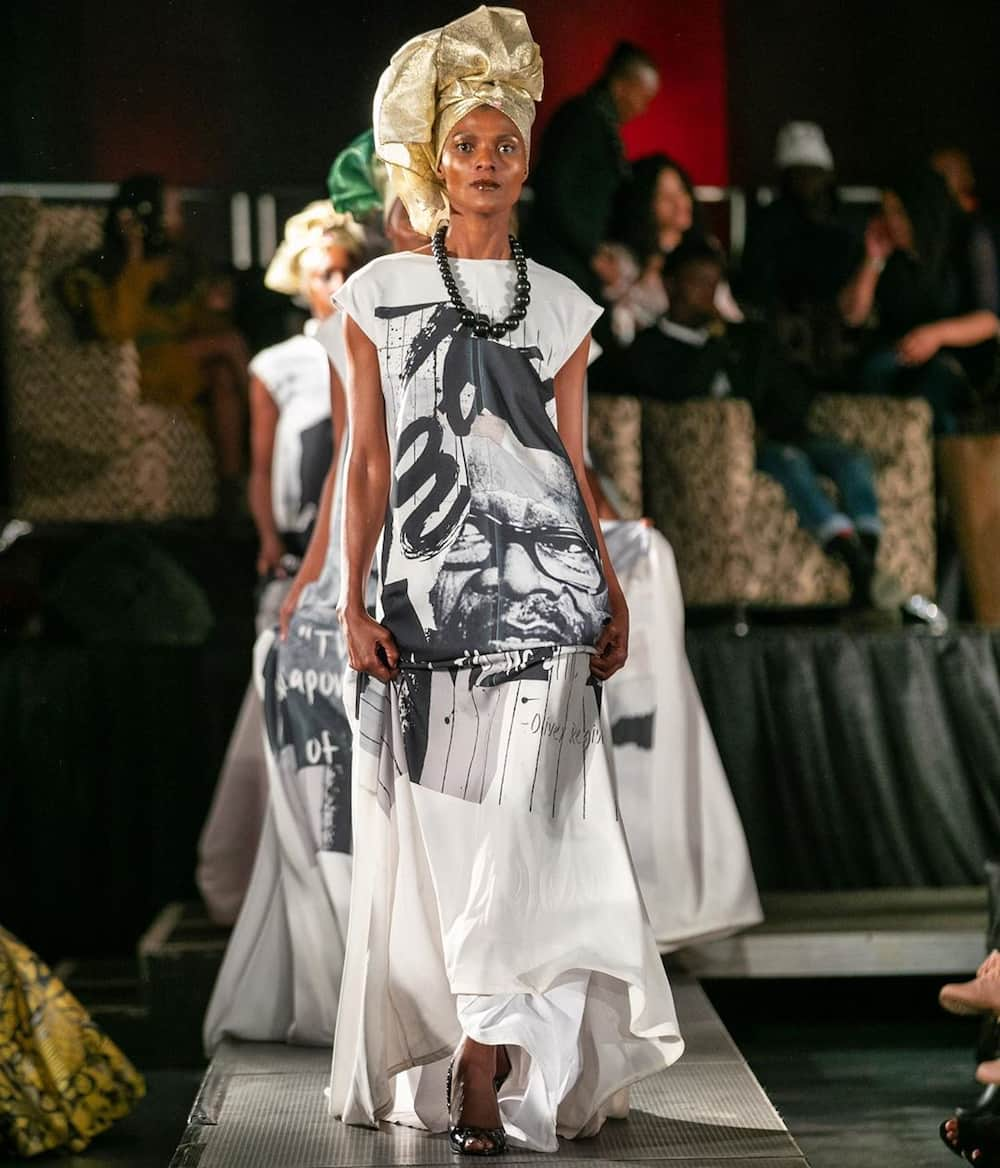 The latter has been in the industry for more than fifteen years and has always showcased some of the most inimitable designs that have made him etch a mark in the industry. That has had a big role in making him stand among the top South African fashion designers who have represented the country in several platforms. Some of the highlights of his career include:
The Fashion Designer of the year award that he bagged during the Africa Fashion Awards held in Johannesburg.
The African Icon of Hope Award during the African Fashion and Design Week in 2014.
He has also showcased a couple of collections that comprised David Tlale dresses in coveted platforms like Mercedes- Benz fashion week New York. David Tlale traditional dresses have been the highlight of the growth of the brand which intends to defy conventions of fashion.
David Tlale The Intern
Besides his accomplished brand, the latter is determined to be one of the icons who are working towards elevating the industry by challenging those in the industry. The Intern is one of the shows that are aimed towards achieving that.
David Tlale The Intern is a thirteen-week challenge that involves twelve interns who are willing to go through the challenge to become David's intern. All those who qualify to become David's interns are trained on the different aspects of the business like fabric sourcing, quality control, design, marketing and retail and range development and production. After the training, the interns are offered an opportunity to showcase their work on international platforms. What a way to nurture talent and skill!
David Tlale partner
In July 2018, David Tlale and his partner: Nemakula, topped the headlines after it emerged that the two had not paid rent for a building that housed the studio for their company, 129 DT, a business where the two were co-directors. According to the plaintiff, the two were expected to pay at least R31000 per month for the space that they had rented, something that they had not done for six months.
David Tlale net worth
For the fifteen years that the latter has been in the business, he has built a brand that pays him off so well. He has had the chance to showcase in some of the most coveted international platforms and even bagged a couple of awards. His current net worth is still under review even though he keeps on setting the trend for his competitors and those that look up to him.
David Tlale is an icon who chose to pursue what he loved despite his humbling background. He had his eyes fixed on the prize and has never looked back. That is one of the reasons as to why his brand is deeply rooted in the country and beyond.
READ ALSO:
David Tlale's mom passes on: Celebs share prayers and condolences
Richest South African celebrities currently
4 Mzansi celebs that prove being humble and real gets you places
Source: Briefly News