27 short bob hairstyles for black women trending in 2020
The new year is here, and what better way to usher in the new beginning than with a unique hairdo that will leave all eyes fixated on you? Ladies, here are some fantastic short bob hairstyles for black women that you will love to rock this year.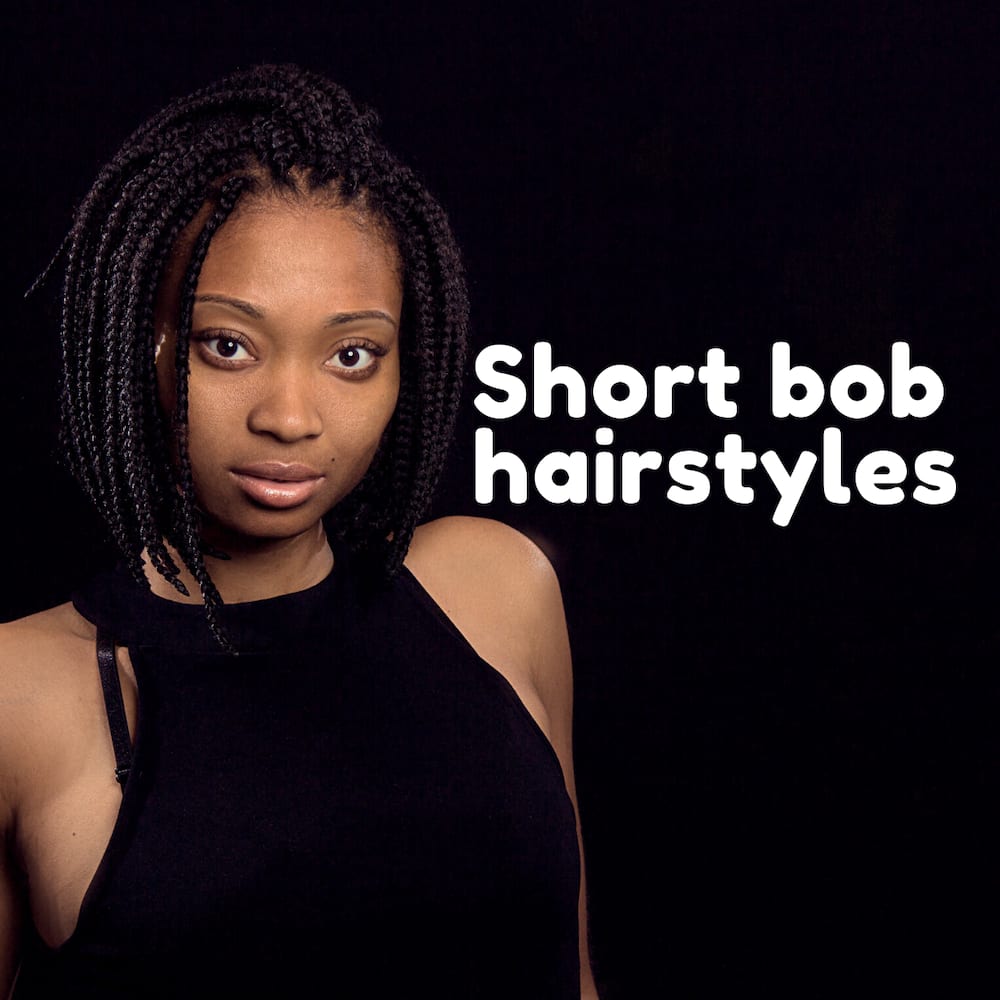 There is something about bob hairdos that stands out - they never go out of style. Years after the style's inception, many people still rock its varieties, looking as superb as ever. Do not be left behind, take a look at these short bob hairstyles for black women pictures and pick one that tickles your fancy the most.
Amazing short bob hairstyles for black women
There are so many variations of the style. Check them out below.
1. Faux locs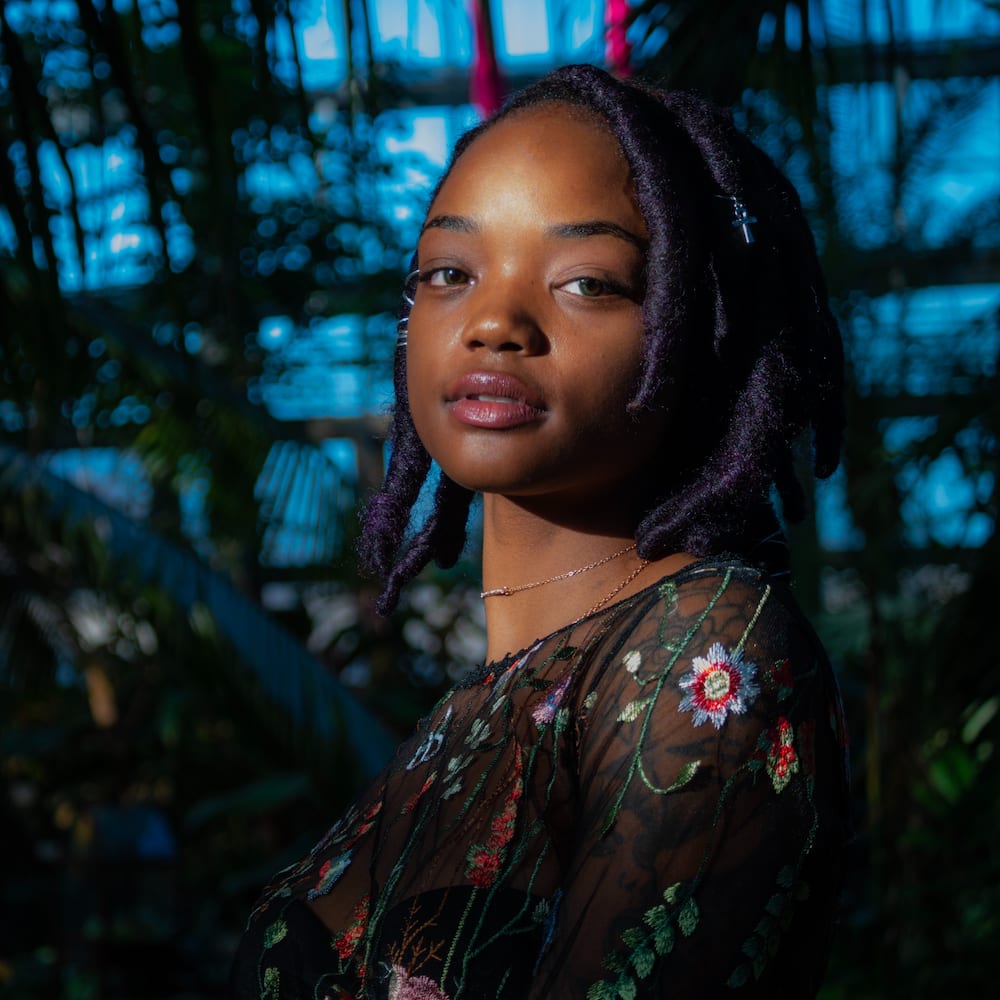 Hairdos like this faux locs style are loved due to their longevity. You can have this style on for weeks, yet they will not look unkempt.
2. Very short weave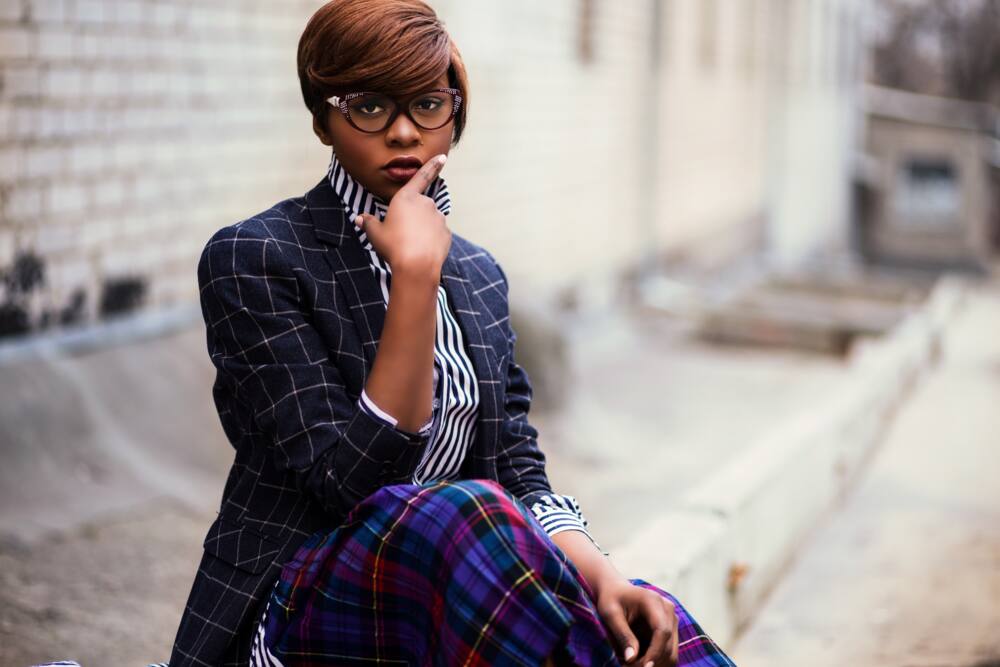 Short hairdos are also a favourite among many because they are easy to style and maintain. You can opt for such a hairdo if you want to take a break from styling your hair every morning.
3. Curly hairdo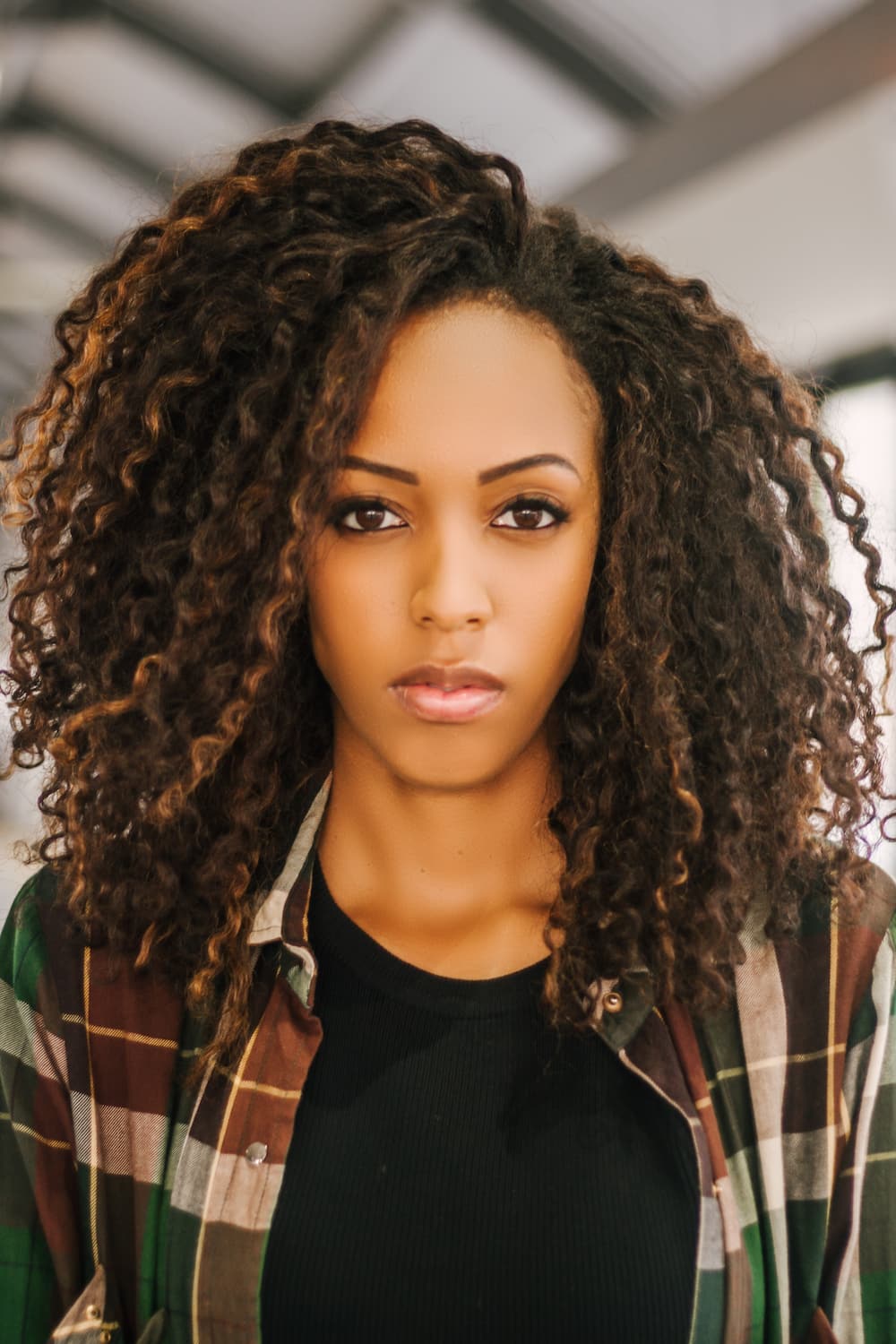 This is one of the best short curly bob hairstyles for black women that you can opt for if your hair is not texturized. Let your curls pop with this amazing style.
4. Blue-white box braids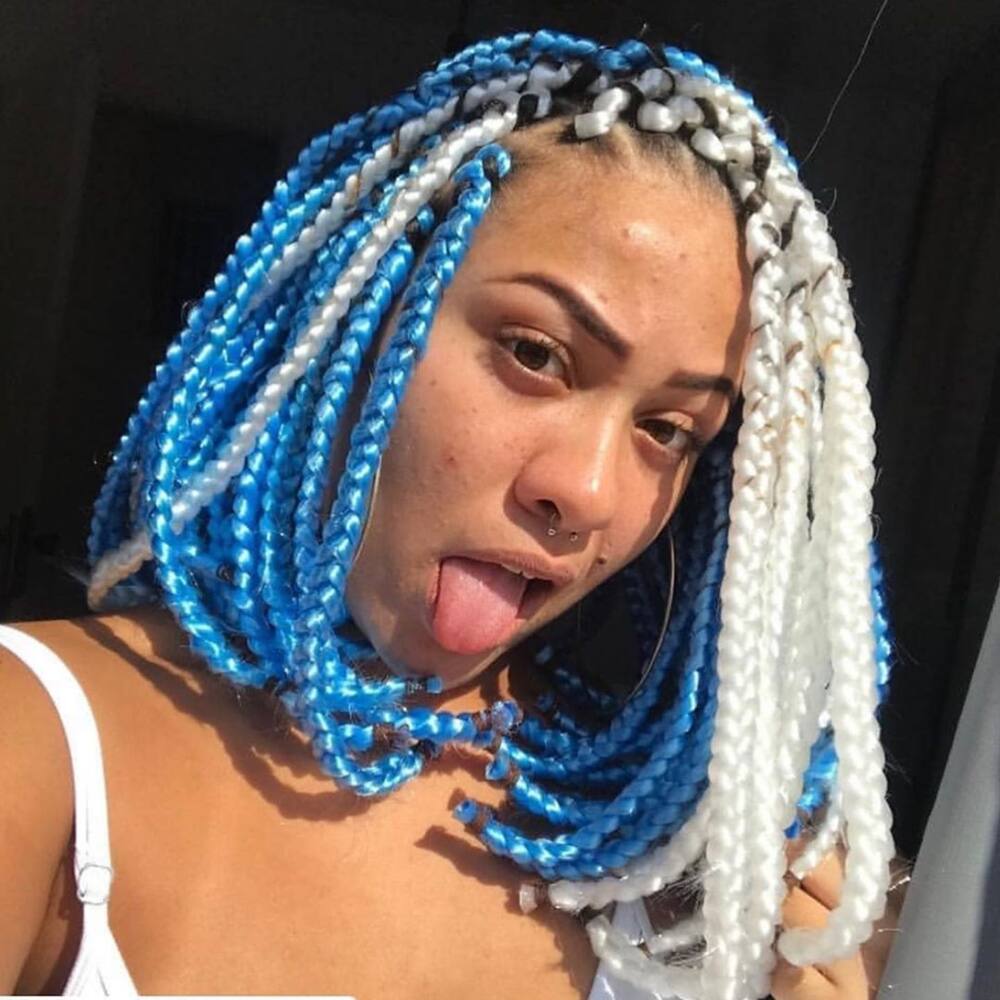 Think out of the box and go for these colourful braids that will surely turn heads.
5. Curly wig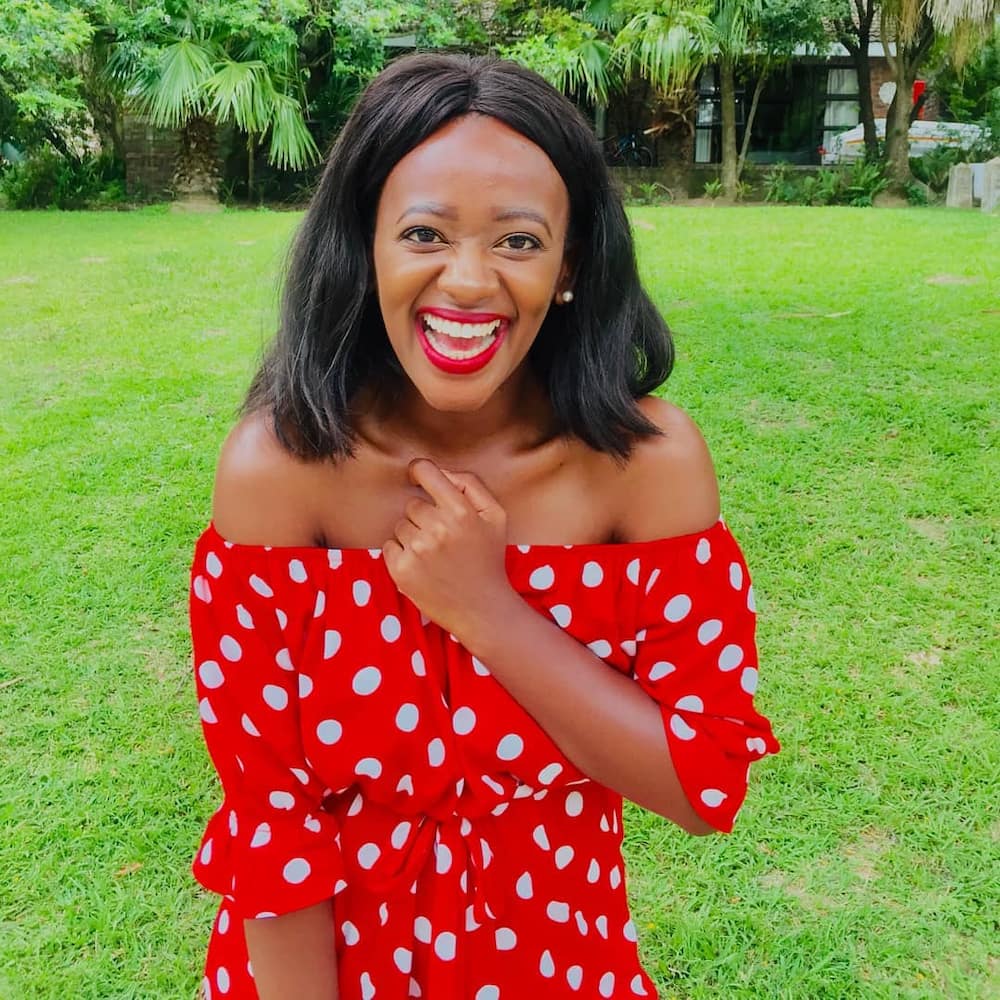 Take a break from styling your hair and opt for a wig that will also act as a protective style.
6. Feathered style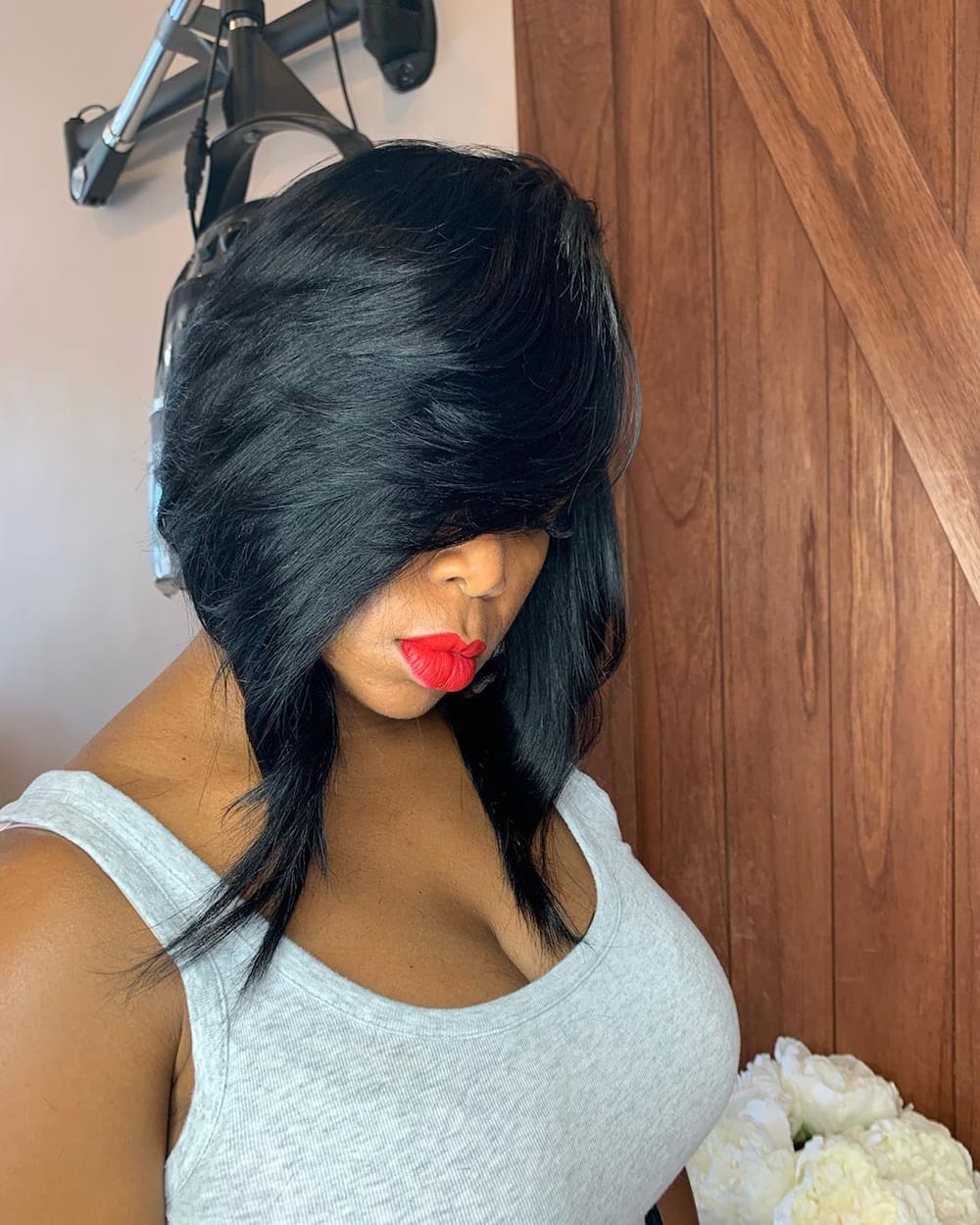 Short feathered bob hairstyles for black women like this one will never go out of style. Just get a good hairdresser, and you will be good to go.
7. Sleek style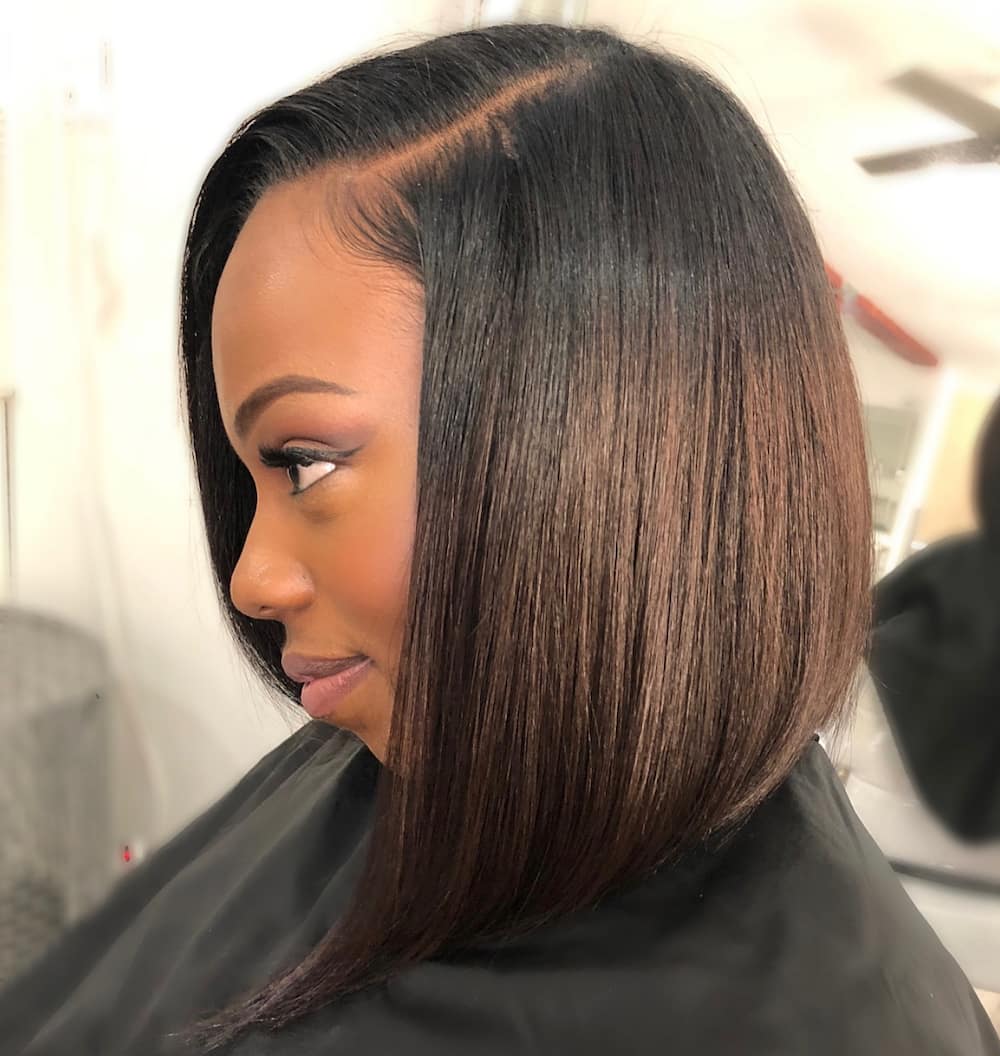 This one is among the most popular bob haircuts for black women. If you would like to cut your hair, why not to try such a hairdo?
8. Bob with cornrows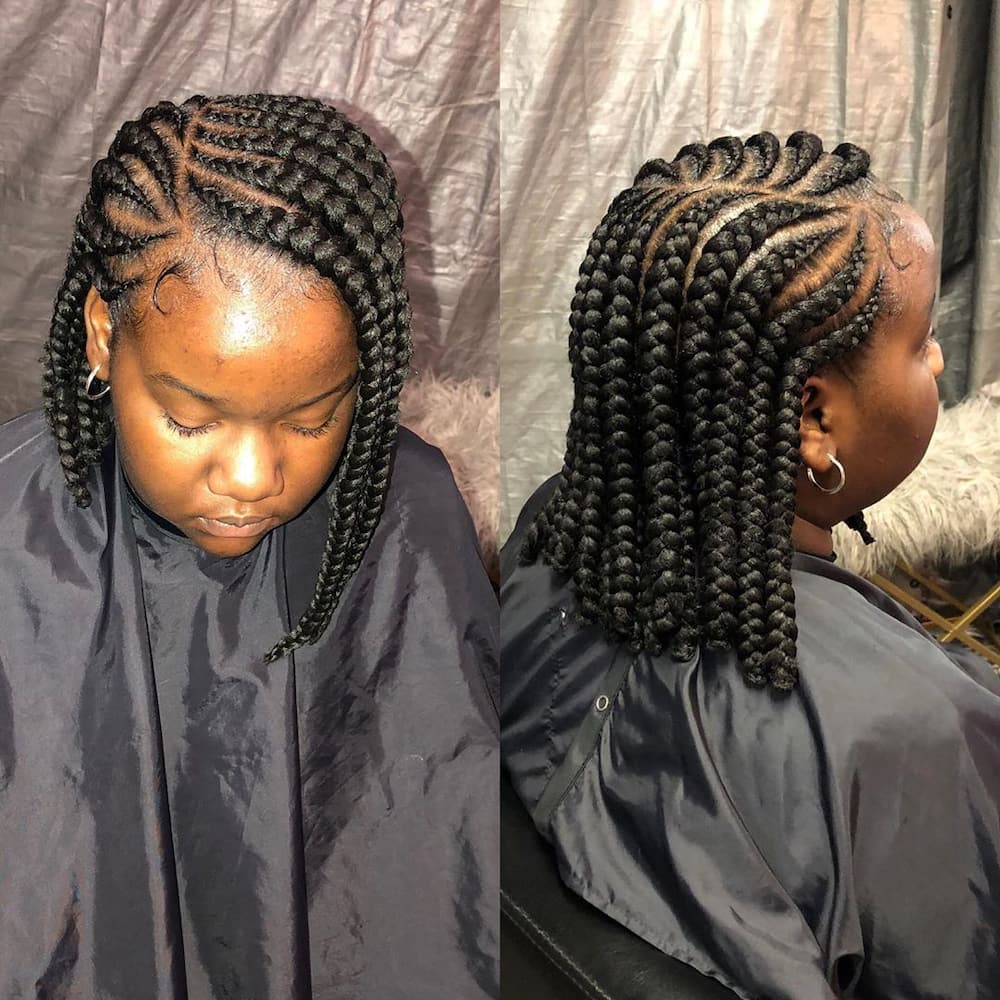 Such a protective style is ideal because you will not only look good, but you will also be protecting your hair from damage at the same time.
9. Mini braids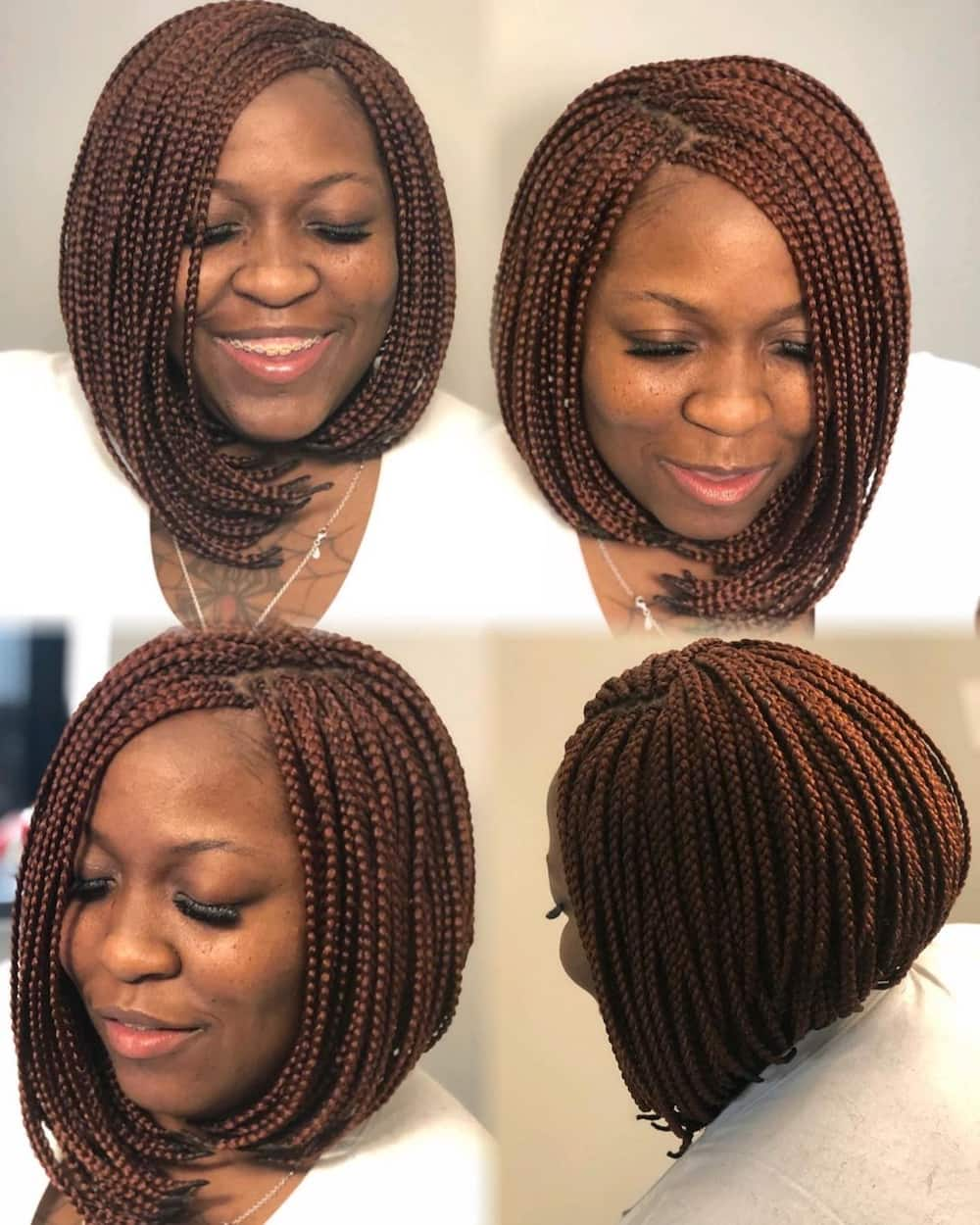 If you like mini braids, go for this cool style that is quite unique.
10. Purple braids with curly ends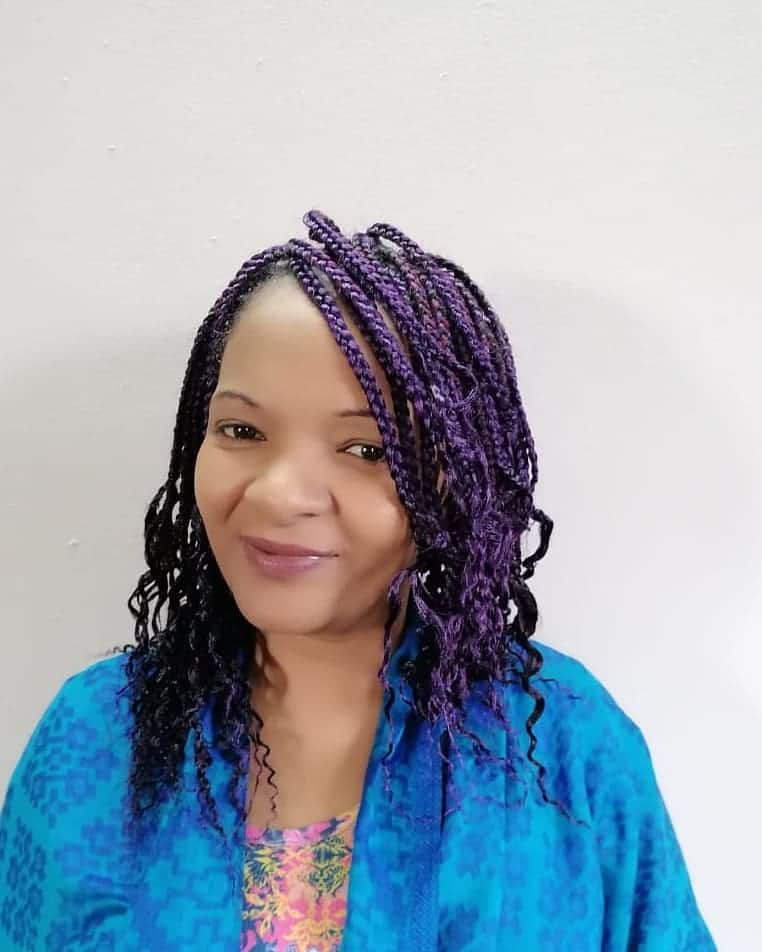 Add a touch of style to your braids by curling the ends.
11. Tight cornrows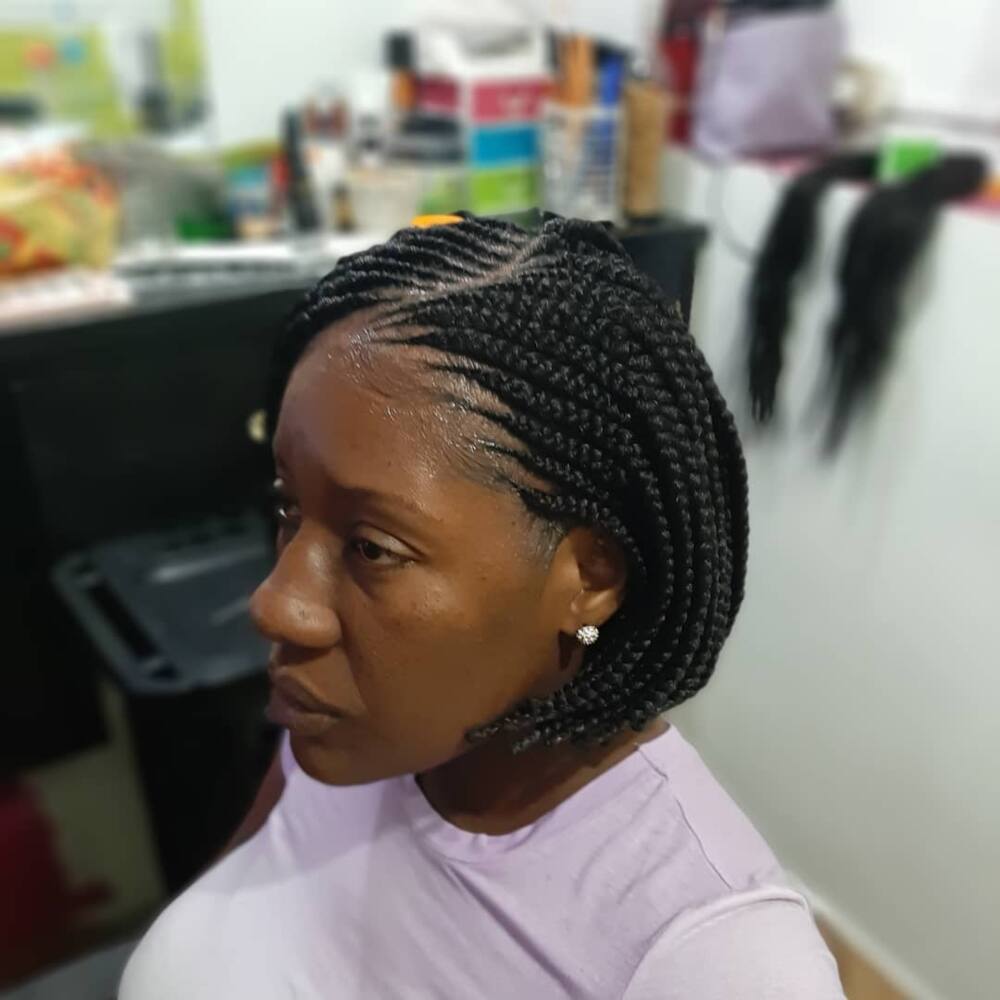 These cornrows combined with the bob hairdo are quite amazing.
12. Curly box braids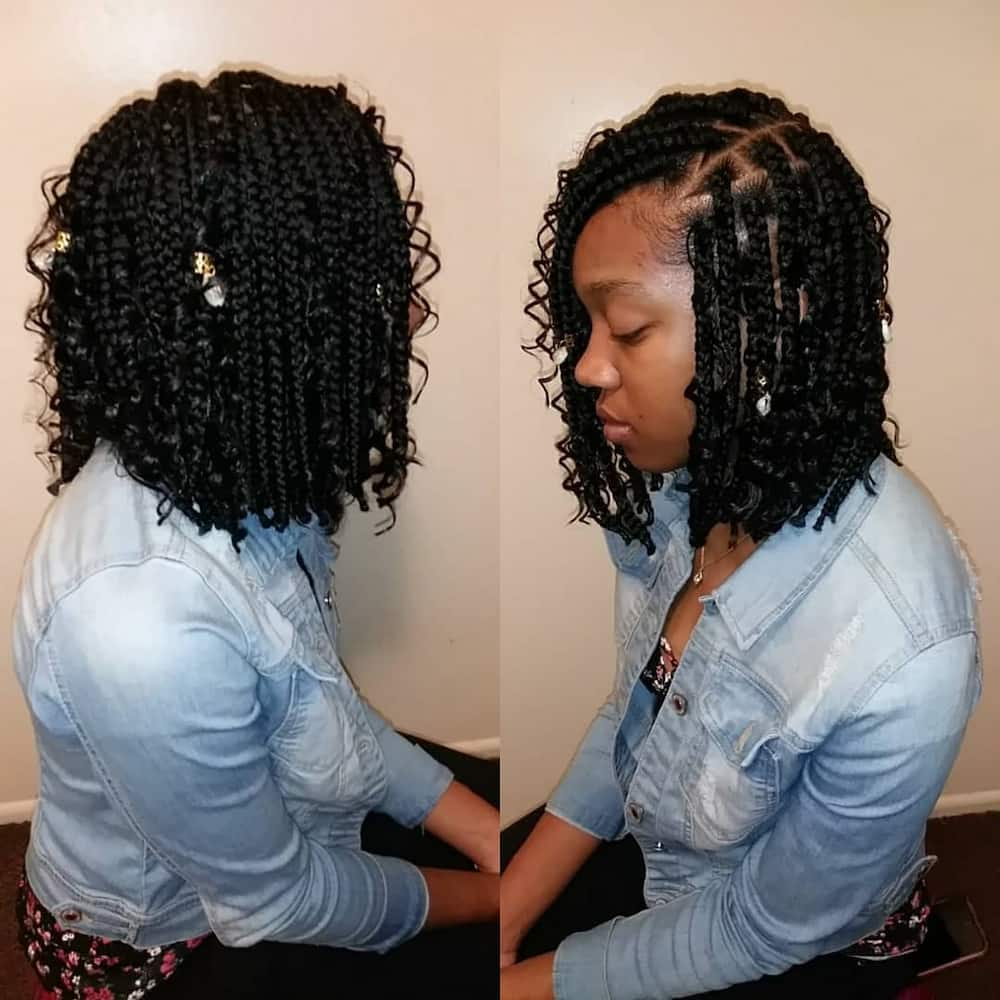 This hairdo gained popularity late last year, and it is making its way into 2020.
13. Very short braids with colourful beads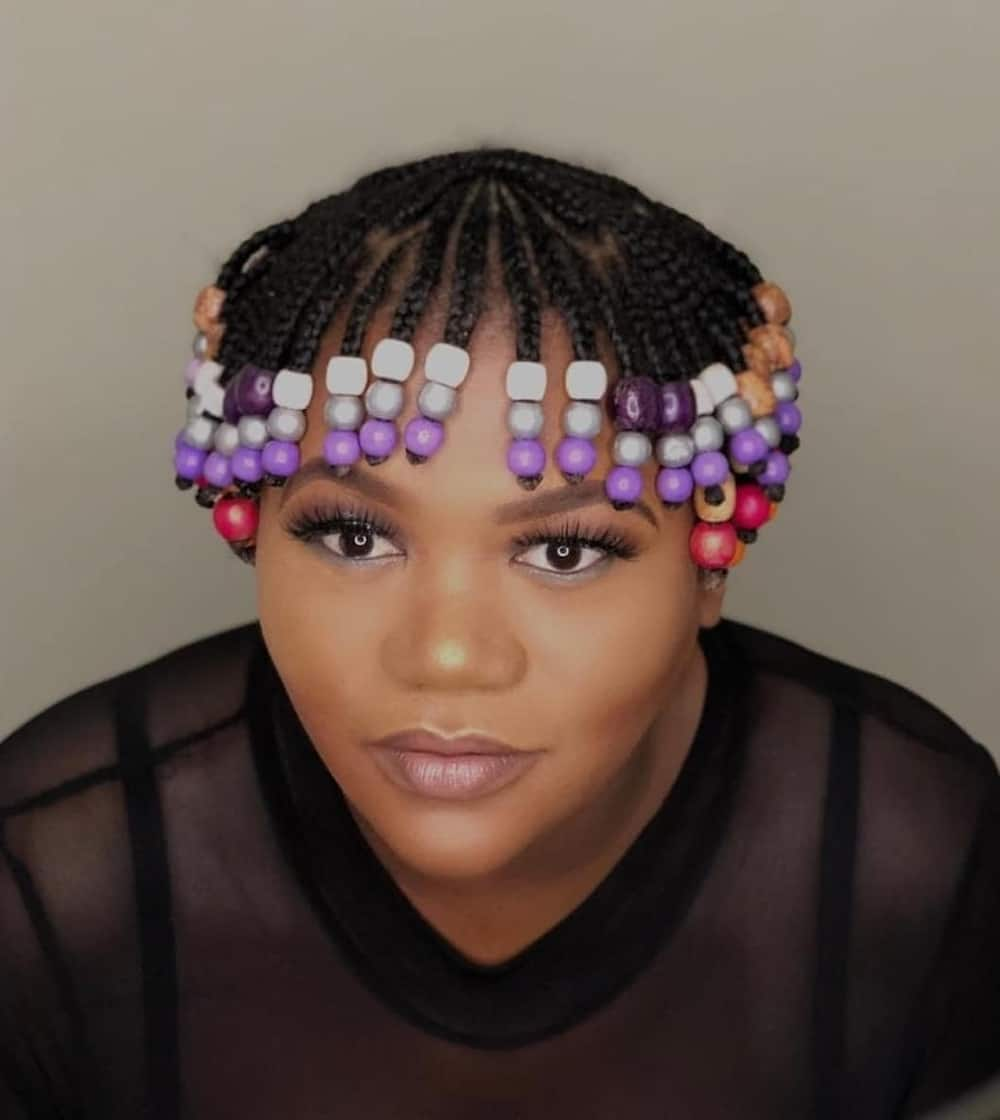 This style is quite playful. It will look great on someone with a round-shaped face.
14. Dual colour shiny braids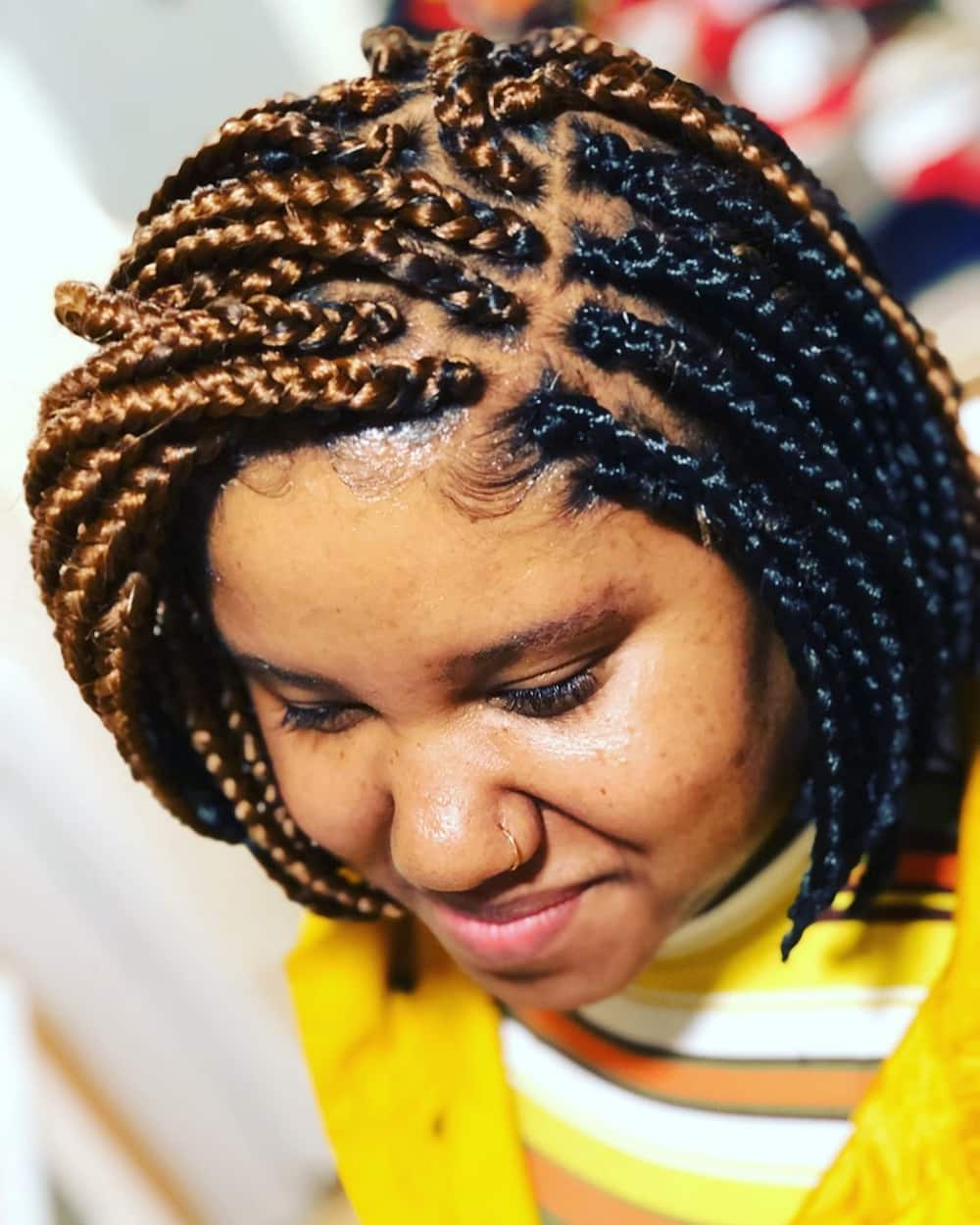 You do not have to plait black braids only, add a pop of colour and you will be good to go!
15. Wavy cornrows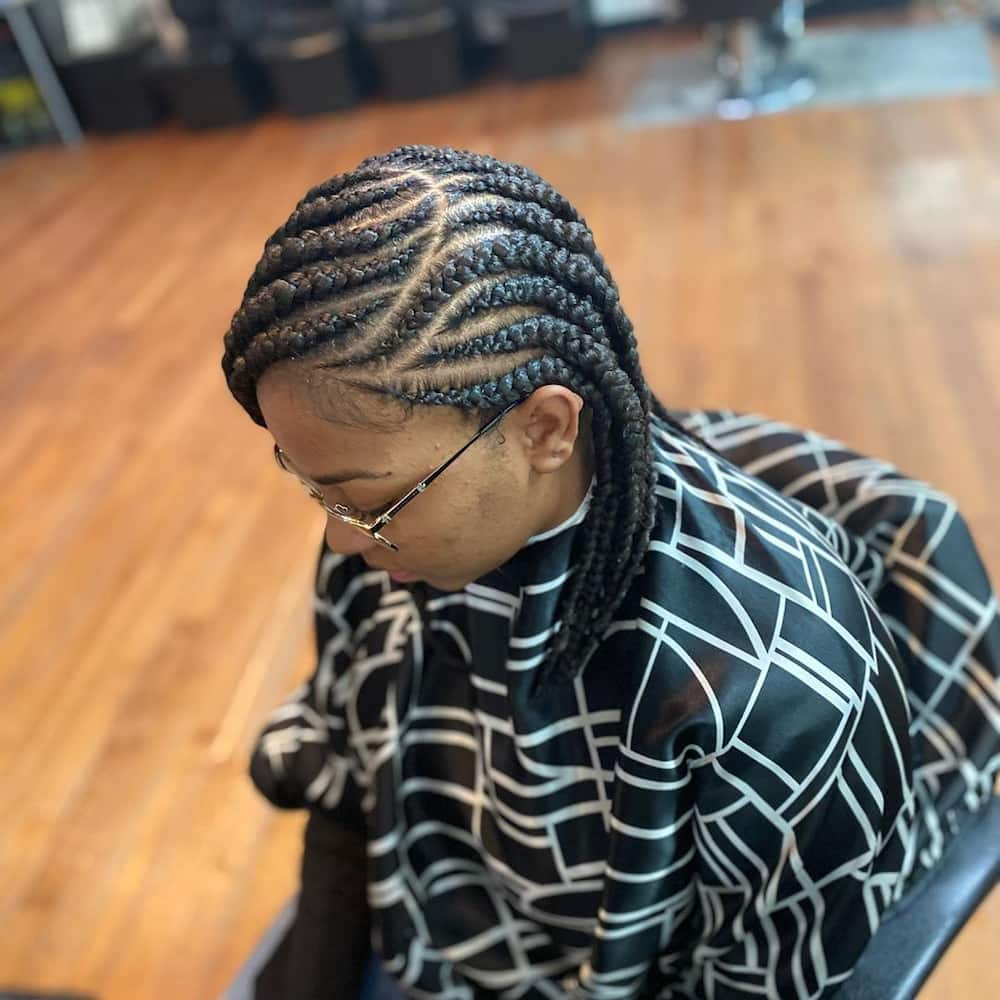 This simple yet good-looking style has many variations. You cannot go wrong with cornrows.
16. Spring twists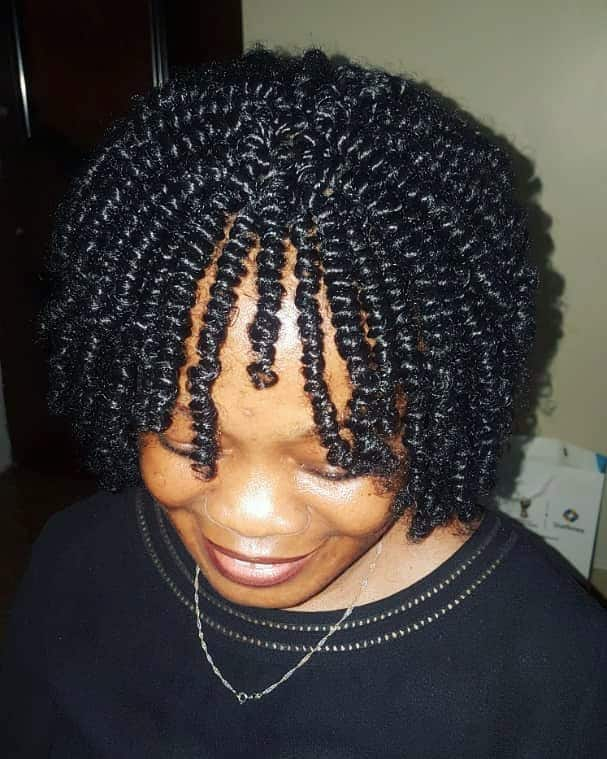 Spring twists are trending like crazy. They are light and, therefore, will not put so much stress on your scalp. You will love them.
17. Box braids held with rubber bands at the ends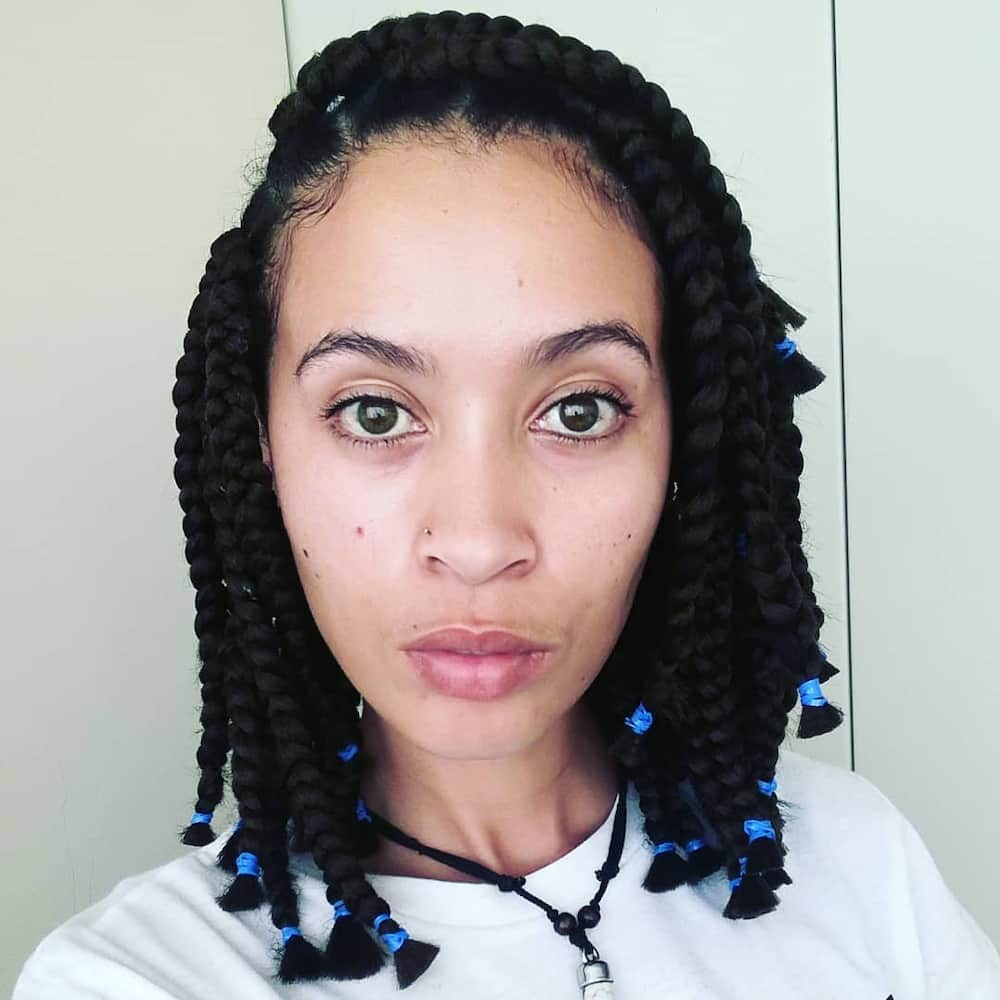 Try holding the ends with colourful rubber bands.
18. Asymmetrical bob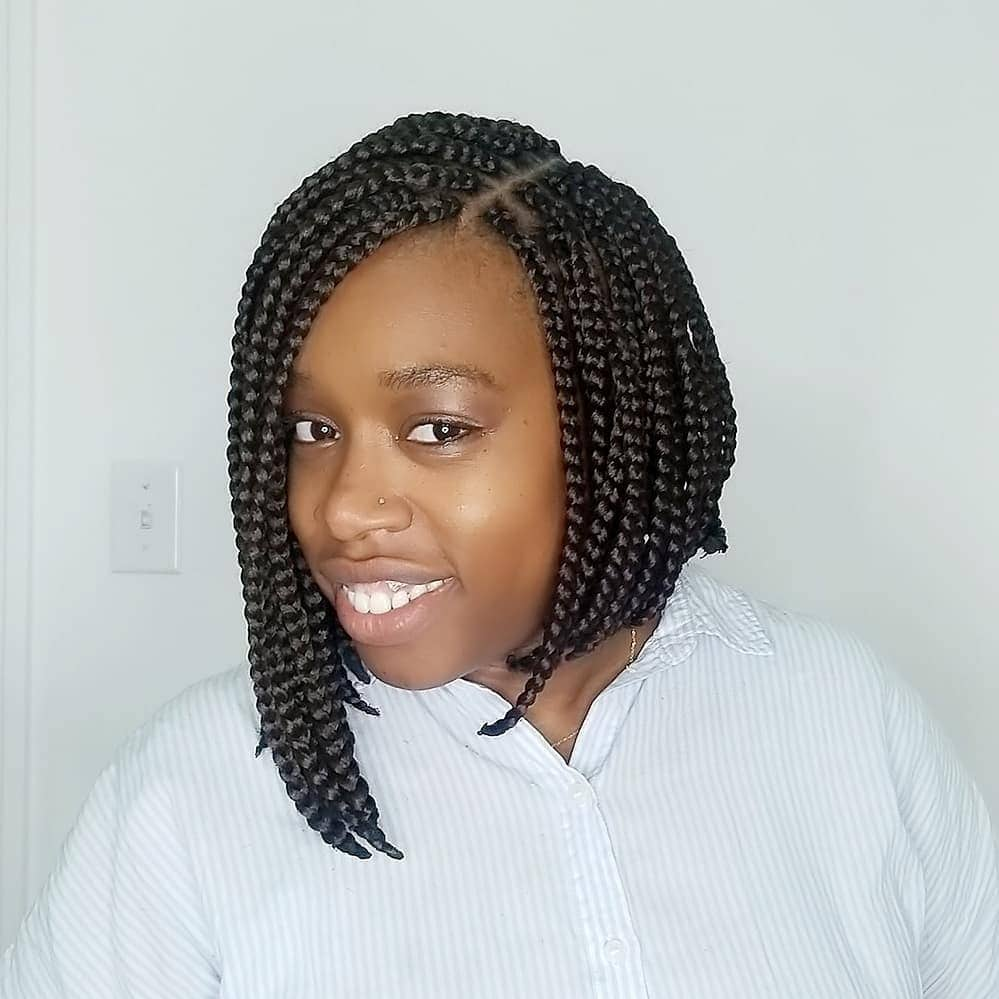 Try plaiting longer braids on one side of the head to achieve that flawless asymmetrical style guaranteed to turn heads.
19. Braids plus faux locs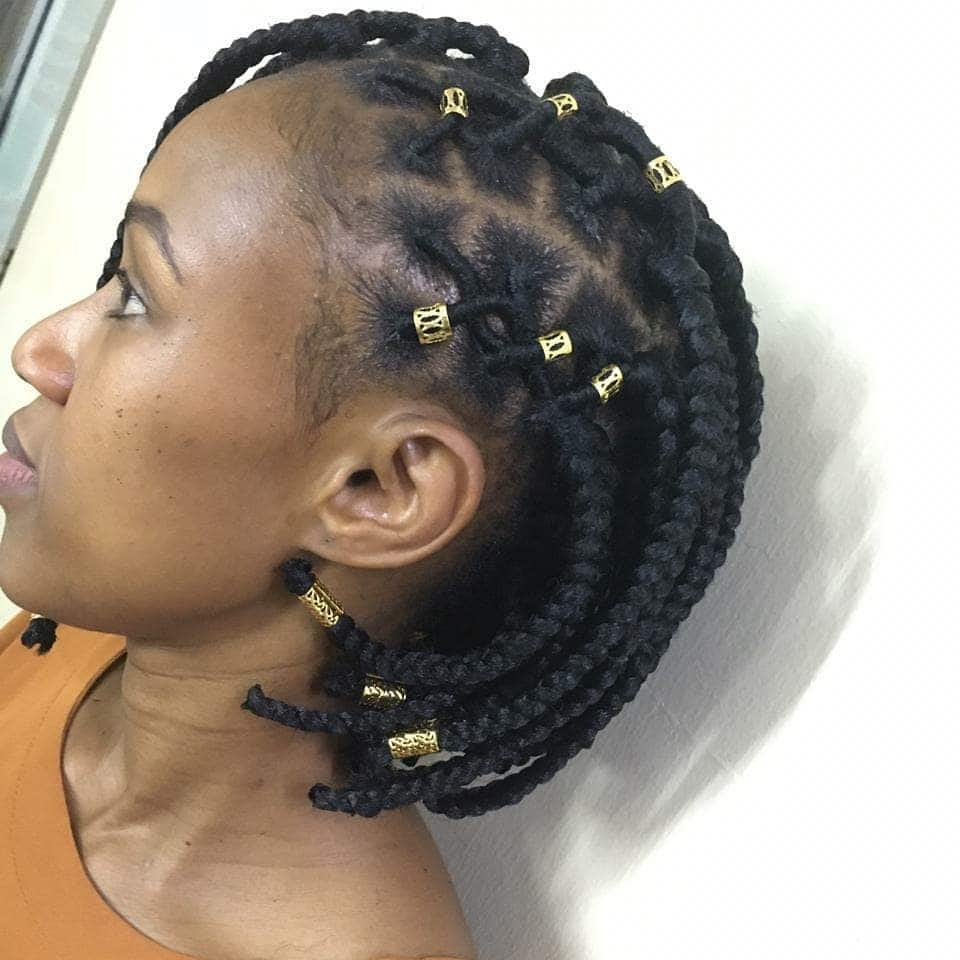 This one is quite unique because it combines faux locs and box braids, how clever!
20. Lace wig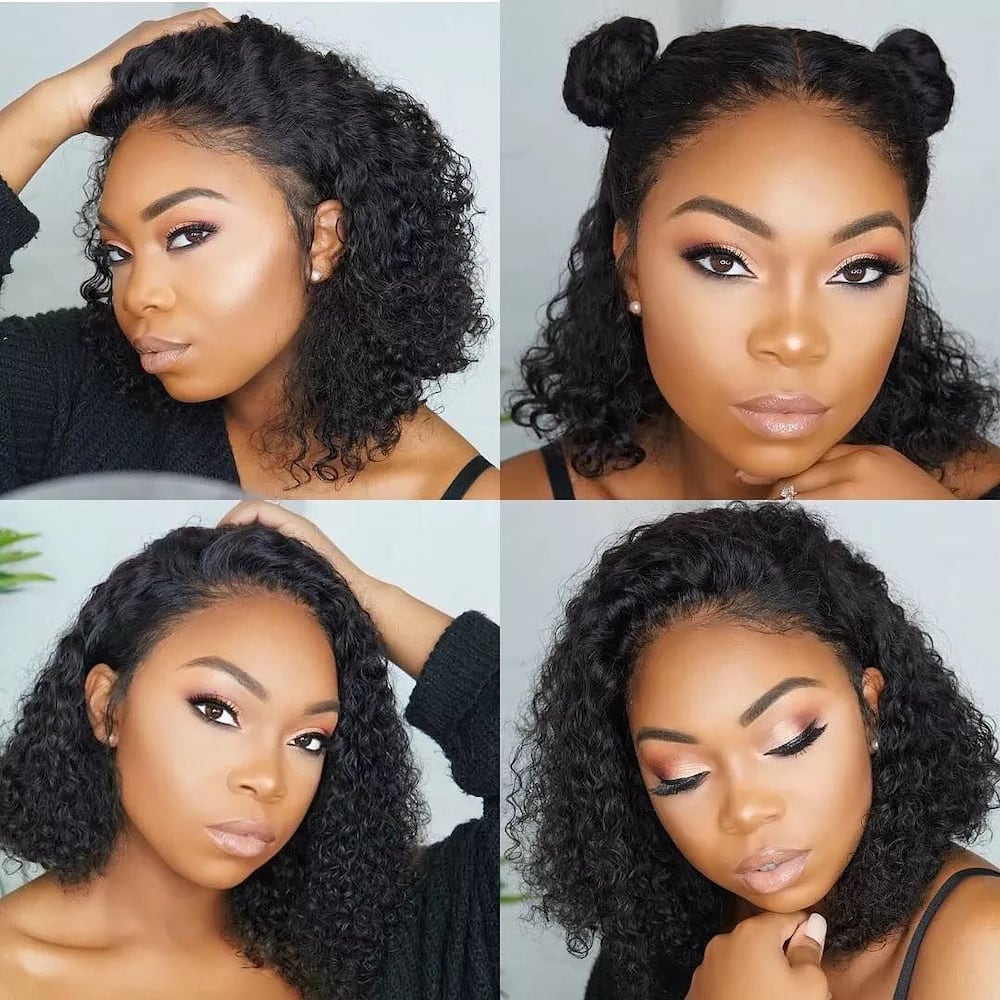 This one does not even look like a wig. It is amazing how flawless it looks.
READ ALSO: Beyoncé channels inner African queen with new braided hairstyle
21. Purple wig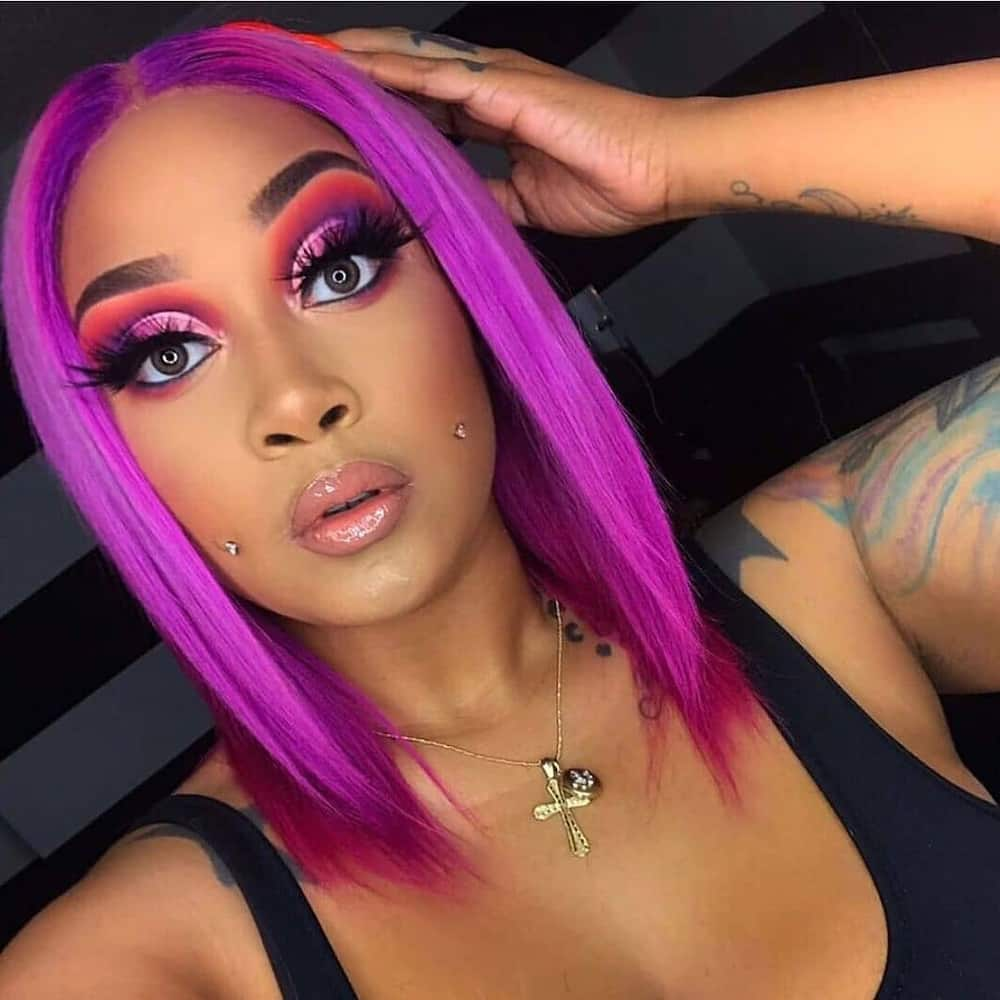 If you would like to emulate Nicki Minaj and her colourful hair, try going for colourful bob wigs like this one.
22. Wavy style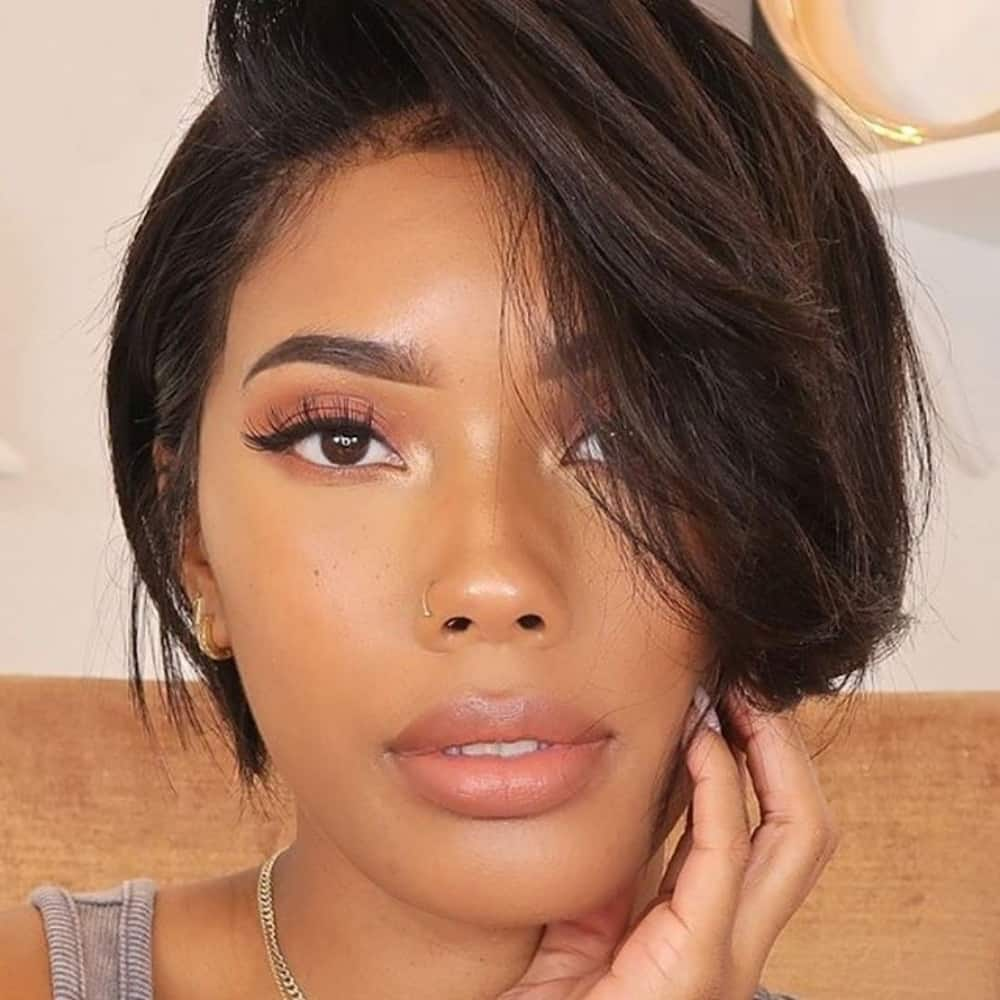 Are you looking for black hairstyles for medium hair? This type of hairdo is the way to go. It is sleek and fancy yet a bit playful.
23. Colourful styles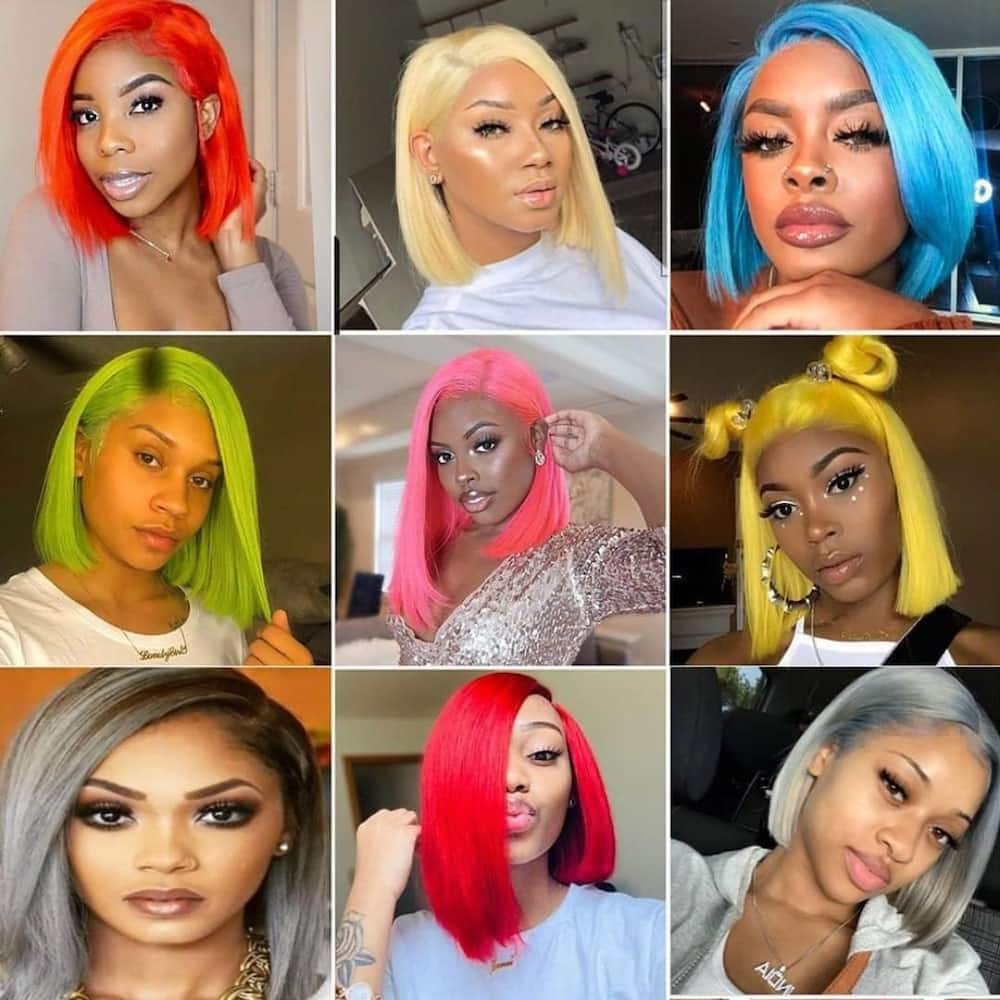 These African American bob hairstyles will work perfectly for those who are not afraid of dying their hair. If you are courageous enough, go for it! There are very many colours to choose from. Just make sure that the one you pick matches your skin tone.
24. Hairdo with a fringe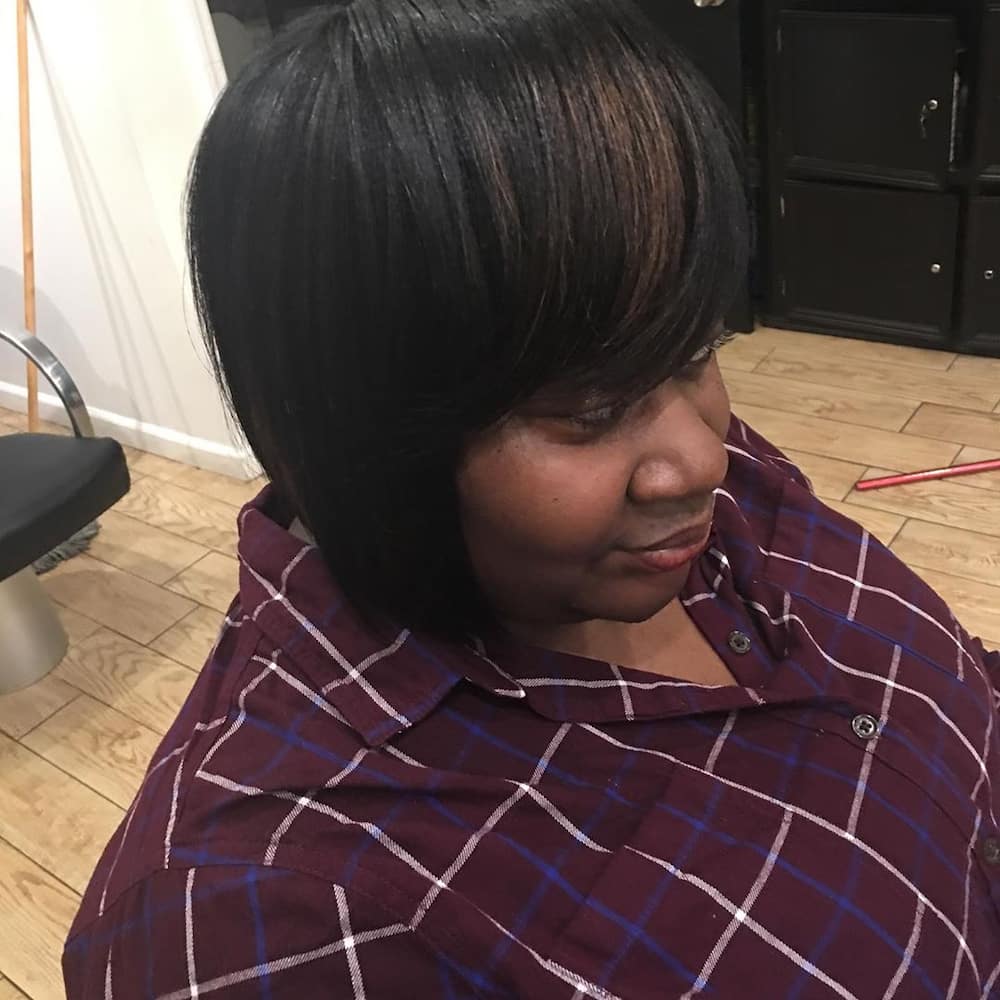 Women of colour can also rock fringes, as evidenced by this hairdo. You do not even have to cut your hair, just buy a fringe weave and you are good to go.
25. Blondes have more fun!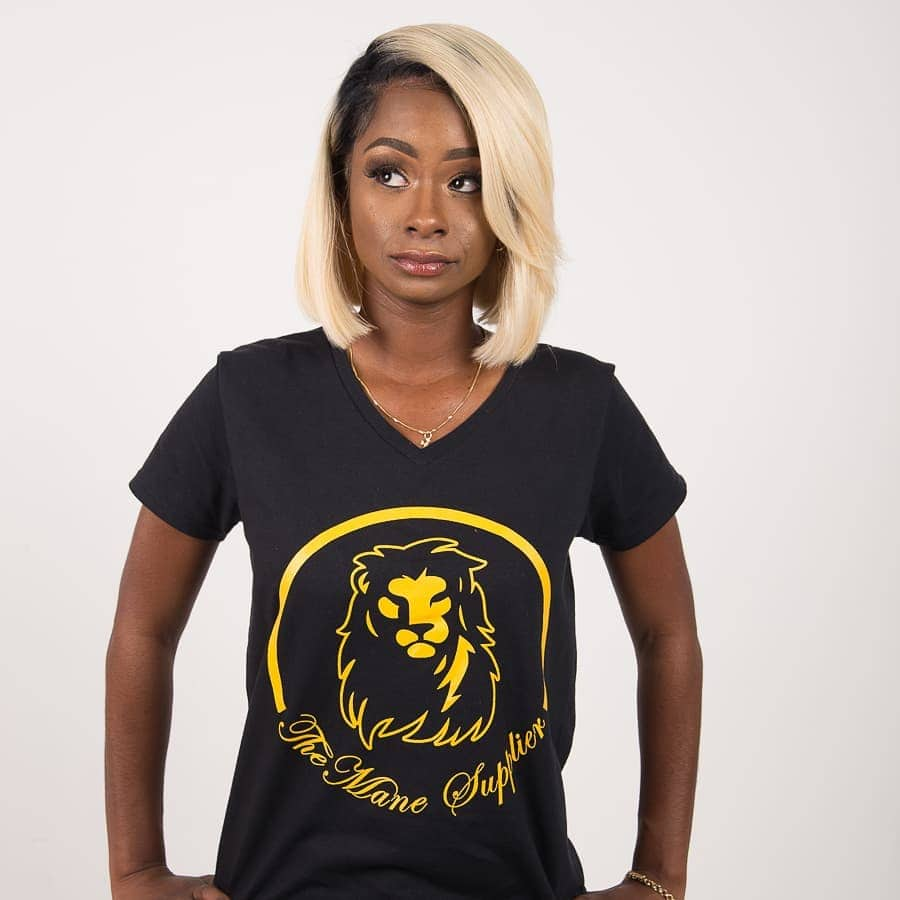 Blonde hair is definitely the way to go, agree? The good thing about this hairdo is that you can achieve it either by dying your hair, getting a blonde weave or even opting for a blonde wig. Quite versatile, right?
26. Ombre wig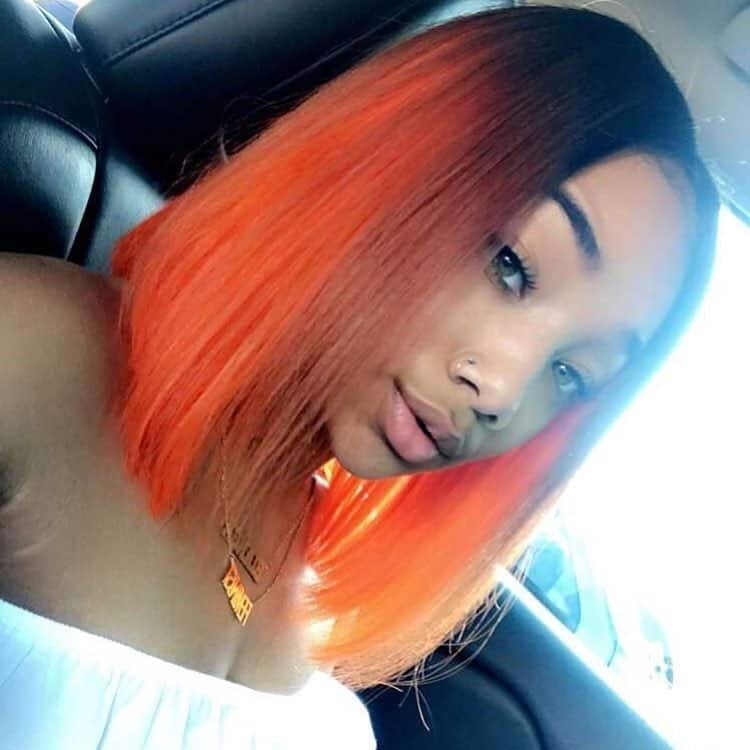 Do not shy away from experimenting with the ombre style. You do not have to go for the colour in the picture above. Ombre is the gradual blending of one colour hue to another, so you can use any colour you wish.
27. Wavy cut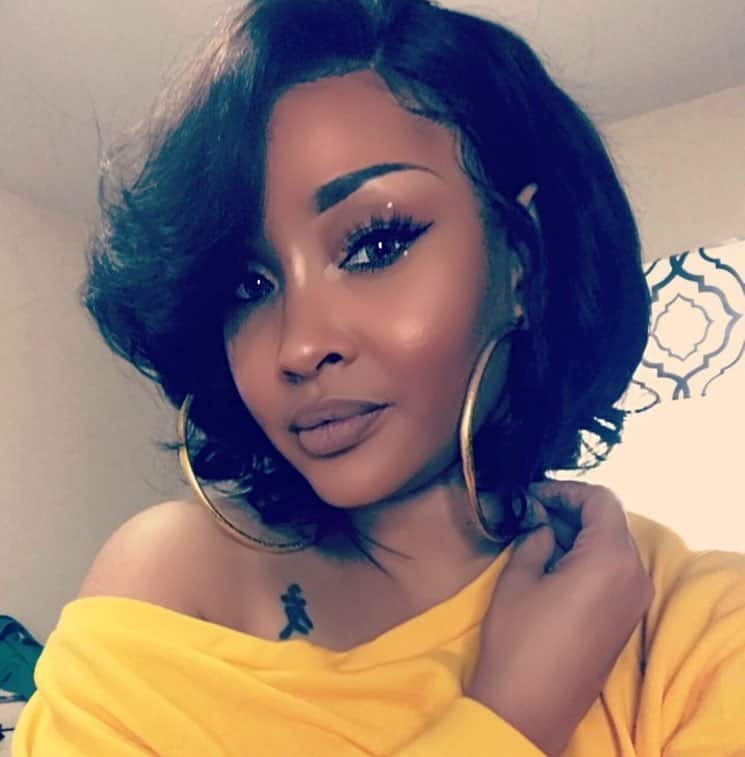 This one is quite extraordinary. Do not forget to lay those edges!
What are the different types of bobs?
There are very many varieties of this style that it is impossible to miss one that you will love. They range from asymmetrical to inverted, stacked, A-line, shoulder, broken, blended and textured, among many others.
The goodness of this hairdo is that it can be achieved with natural hair, texturized hair, braids, wigs, short bob weaves, and even locs. It is quite a versatile hairdo that you should try at least once in your lifetime.
What do you think of these short bob hairstyles for black women? Have you found one that you would like to rock this year? Start 2020 in style by getting an amazing hairdo like the ones in the photos above.
READ ALSO: 50 traditional dresses pictures in South Africa 2020
Source: Briefly News