If you are looking for a fiery pacer, then Kagiso Rabada is the right one to look out for. KG as many call him, came from a very humble background in the city of Johannesburg to become a force in the South African bowling team. The tall cricket player produces an exceptional line combined with excellent attacking skills. In a few years, he has established himself as a bowling icon at a young age.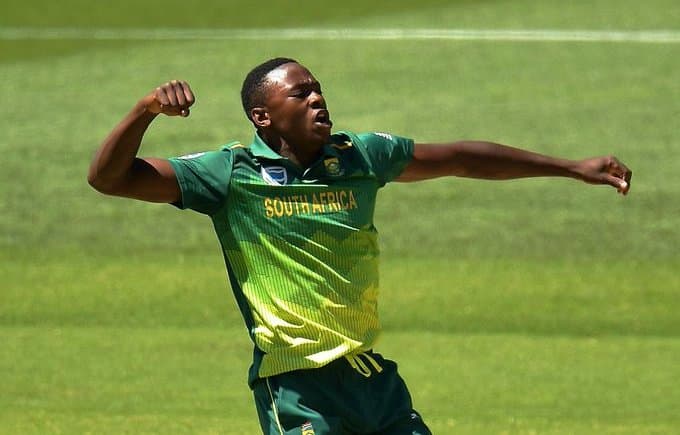 Kagiso was selected to play in the U19 World Cup in 2014. That outing gave him a significant push in his career. Since then, he has been riding on the wings of other great performances. One of his big moments was reaching 14 wickets in just five matches during the mega event. He has proved his worth in the team by bringing home many victories. In 2016, he did a fantastic job in the Test series against team England. There are exciting times in the life of the bowler worth looking at.
Kagiso profile summary
Full name: Kagiso Rabada
Nickname: KG
Date of birth: 25th of May, 1995
Birthplace: Johannesburg, South Africa
Age: 24 years old
Zodiac sign: Gemini
Profession: Cricket player
Nationality: South African
Religion: Christianity
Net worth: $4 million
Height: 6 feet and 3 inches
Weight: 86 kg
Parents: Mpho (father) and Florence (mother)
Siblings: Atlegang (brother)
Background information on Kagiso Rabada
KG Rabada was born in the year 1995 to the Rabadas. Kagiso Rabada parents raised him in Johannesburg, South Africa. His dad is a medical doctor, and his mum is a lawyer. Apart from that, Kagiso Rabada home language includes Sesotho, Sepedi, Setswana, and he speaks English as well. As a young man, the South African international cricket player went with his dad to distribute shoe gifts and clothes to children in the disadvantaged black zones in Johannesburg.
READ ALSO: Cricket: England vs South Africa 2nd one day international abandoned
In 2013, the bowler made his first-class debut and featured in a game for Gauteng towards the end of the same year. He is still famous for playing at Test and One Day International levels for South Africa. He equally plays for Lions on the domestic level. Rabada cricket journey has been great as he is breaking many records at a very young age.
He was named the best young player in the world by Wisden. KG is also regarded as one of the best bowlers in the world. Many of Kagiso South Africa outings ended in victory. One of the hallmarks of his career was in 2018 as he attained the height of top-ranked ODI and world top test bowler.
Kagiso was suspended for two Test matches after he had shoulder brush with Steve Smith, the Australian captain, in Port Elizabeth. This incident earned him three ICC demerit points. Kagiso Rabada hearing ended successfully as it was reduced to one demerit point eventually.
What is the age of Rabada?
The young bowler was born on the 25th of May, 1995. Based on this available information, Kagiso Rabada age will be 25 years by May 2020.
His body measurement
The talented cricket player stands tall at the height of 6 feet and 3 inches and has a bodyweight of 86kg.
Who is Kagiso Rabada wife?
There is no record of KG being married or in a relationship at the moment. But then, there have been concerns from fans on Kagiso Rabada Sho Madjozi relationship as they have been spotted together on several occasions on social media and the court. This has raised so many questions on the status of their relationship.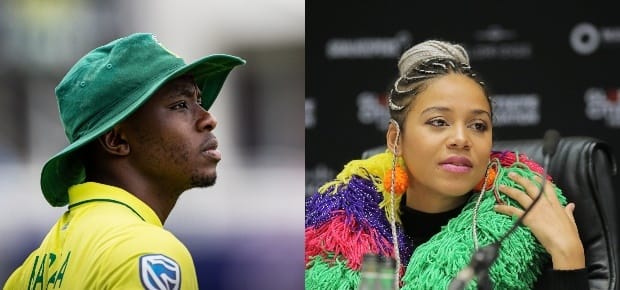 Kagiso referred to her as a friend when he was asked about his relationship with the singer. He further stated that they became friends on Instagram. She follows Kagiso Rabada Instagram and the duo has been exchanging messages for more than a year.
Where did Kagiso Rabada go to school?
Kagiso went to St. Stithians Boys College from where he graduated in 2013. The school is remarkable as it is the school Grant Elliot from New Zealand and Micheal Lumb from England attended.
READ ALSO: Proteas beat England in first test match by massive 107 runs
Kagiso Rabada statistics
Rabada age still comes as a shock to many because of his achievements in his line of profession. He has had great outings both in the international and domestic levels. He has also given his best bowling skills in his team more than expected. The skillful bowler featured in the Indian T20 League where he played for Delhi. In the year 2019, he made it to the second position in the list for most wickets of the season. His career stat is given below: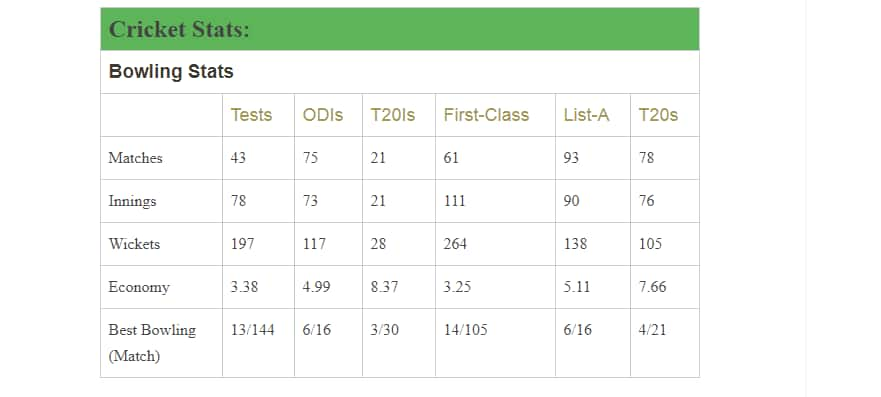 What is Kagiso Rabada car?
Kagiso has been the Nissan South Africa brand ambassador for some time. The firm recently gave him a car gift of a brand new sports car estimated at R700,000. It is a significant moment in his life as he told Sowetan that it was an upgrade for him, and he was grateful to the company for such a great gift.
Kagiso Rabada net worth
Rabada net worth is calculated based on his earnings from commercials, IPL salary, endorsement, and salary from the South African cricket board. It is estimated at 4 million US dollars. His primary source comes from playing cricket. So, Kagiso Rabada salary is $586,899.60 in 2020.
Kagiso Rabada has set the standard for the quickies, and the future appears very bright for him. Rabada news of great exploits makes it nearly impossible to overlook the cricket star whenever he is on the court. He has won the Most Fearsome Bowler tag after his hit of 6/25 against Australia. Rabada IPL performance has equally been spectacular.
READ ALSO: Smith has been confirmed as South Africa's first director of cricket