Best South African spaghetti bolognese
It is not unusual to find a food tourist who assumes that a flight to Italy, followed by a tour of the country's numerous restaurants, would avail him of in-depth knowledge of the Bolognese sauce. Although so many people believe that Bolognese originated from Bologna city, the traditional spaghetti Bolognese cannot be connected with a particular culture. It is enjoyed worldwide with slight changes in the recipes.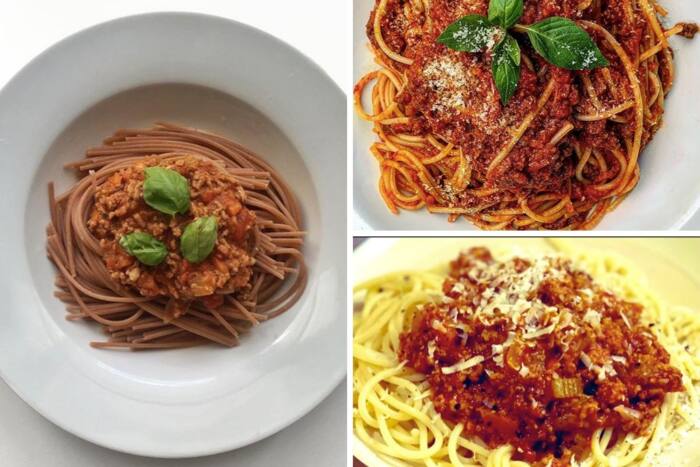 The spaghetti Bolognese resep is a combination of spaghetti and Bolognese sauce, and to prepare it, well-rounded knowledge of the spaghetti recipe as well as the Bolognese recipe is important. The meal is very healthy and enjoyable, and it is also not difficult to prepare once the ingredients are in order. It can also be flexible, depending on culture and eating habits. With that being said, here is how to make spaghetti Bolognese.
How do you make spag Bol from scratch?
The spaghetti Bolognese easy preparation is a function of the chef's culinary flexibility and may vary from culture to culture, but the recipe is similar to a large extent. The spaghetti Bolognese recipe is in series of cooking steps, and they are explained below.
1. Bolognese sauce recipe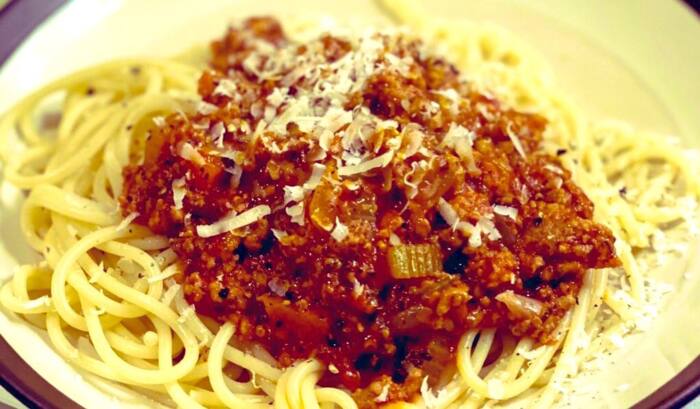 READ ALSO: Banting recipes on a budget
Ingredients
Olive oil (1 tablespoon)
Minced beef (200g)
1 diced onion
1 garlic clove
Grated carrots (50g)
Chopped tomatoes (400g)
Stocked beef (200ml)
Salt and black pepper
Preparation method
1. Add one tablespoon of olive oil into a large saucepan that has been heated over medium heat.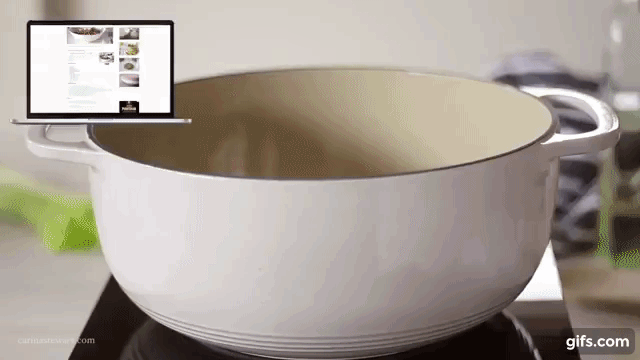 2. Add the beef mince, salt, and pepper. Allow it to cook at a moderate temperature until a dark brown colour is obtained.
3. Pour this into a clean bowl and set it aside.
4. Do not wash the saucepan.
5. Add another tablespoon of oil into the empty saucepan. Then add onions and salt. Leave it to cook until a delicate texture is achieved.
6. Pour in the chopped garlic and allow to cook for two minutes before adding the grated carrot.
7. Pour the cooked mince into the saucepan.
8. Finally, add the chopped tomatoes to the contents of the saucepan and mix very well.
9. Add the cube of stock beef and allow to steam for 45 minutes until a rich, thick gravy is gotten.
While that is going on, follow these steps on how to make spaghetti:
Let water be boiled in a large pot, depending on the quantity of spaghetti to be prepared.
Add salt to taste.
Then, add the spaghetti into the boiling water without breaking since it will soften and fit into the cooking pot.
Ensure that the spaghetti is stirred with a tong as it cooks to avoid a sticky situation.
Taste it to determine if chewable and then pour into a colander and allow it to drain properly.
Once you have finished, you are good to serve the sauced beef mince and spaghetti together.
2. Bolognese recipe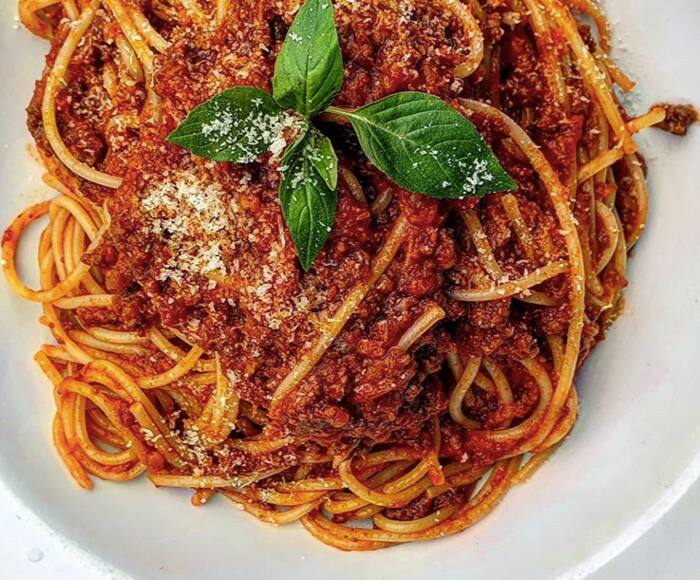 To prepare your favourite meal if you want to follow the classic Italian method, here are what you should note:
Ingredients
Olive oil (2 tablespoons)
1 big finely chopped onion
Ground beef (1 pound)
Dried oregano (1-2 tablespoons)
Pureed tomatoes (1 28-ounce can)
Minced garlic (3 cloves)
Tomato paste (2 tablespoons)
Fresh chopped parsley (1 handful)
Salt and pepper to taste
Spaghetti (½ pound)
Note: If you desire, you may choose to add grated Parmesan cheese or Pecorino Romano when serving.
Preparation procedure
In a large pan, heat the olive oil over medium heat.
Add the sauté and onion, and then allow to cook until you achieve a lightly golden colour (usually between two and three minutes).
Then, add the garlic while you allow it to fry for an extra minute.
Add the ground beef. Allow cooking until there is no trace of pink colour in the meat.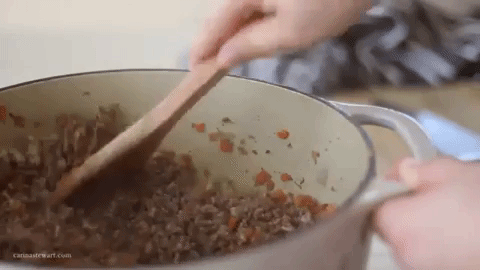 5. Add the tomato paste and oregano, and mix everything with the meat.
6. Once you add the parsley and tomatoes, give it time until it boils. Then, season with pepper and salt to taste.
7. After then, lower the heat and let it cook for like fifteen minutes (or longer if you want a deeper flavour).
8. While you do that, cook your spaghetti with hot water until it becomes chewable.
9. Remove from heat and drain.
10. Once everything is set, you can serve the spaghetti with the sauce on top.
READ ALSO: Easy Malva pudding recipe with ideal milk
How do you make Jamie Oliver spaghetti Bolognese?
Preparing a spaghetti Bolognese would require the following procedure:
Ingredients
Garlic (2 cloves)
1 big onion
Fresh rosemary (2 sprigs)
Dry-cured higher-welfare smoked streaky bacon (6 rashers)
Olive oil
Minced beef (500 grams)
Red wine (200 ml)
280 g jar of sun-dried tomatoes
400 g tin of plum tomatoes (2)
Dried spaghetti (500 grams)
Parmesan cheese
Virgin olive oil
Method of preparation
Let your oven maintain a temperature of about 180°C.
While that is on, wash, peel and chop the onion and garlic nicely. Do the same for the rosemary and the bacon.
Then, pour a splash of oil inside the saucepan, and place over moderate heat.
Add all of your chopped ingredients and cook for about five minutes while stirring occasionally.
Next is to add the minced beef. You can use the back of a spoon to break them apart while you cook for two to three minutes, or until it starts to brown.
Also, pour in the wine and allow to simmer.
Drain the sun-dried tomatoes and pour inside a food processor.
Once you have done that, beat to a paste. Then, add the tomatoes and transfer into the pan with the tomatoes.
Stir the whole mixture well, and make sure you break the plum tomatoes apart a little.
Cover with a lid and then place in the oven for an hour. Remove the lid and stir it after thirty minutes. If it looks a little dry at this stage, add a little water.
Ten minutes before the cooking time is up, cook the spaghetti in boiling salted water according to the instructions, and then follow these steps:
Drain the spaghetti and reserve a mugful of the cooking water.
Then, turn it into the pan with a few spoons of Bolognese, nicely grated Parmesan and a little of virgin olive oil.
Toss to coat the spaghetti, loosening with a splash of the cooking water if needed.
Divide the spaghetti into bowls and add a spoonful of Bolognese to each. Serve with a fine grating of Parmesan.
Note: It usually takes about 75 minutes to prepare this dish using the Jamie Oliver recipe.
What to add to Bolognese to make it tasty?
Apart from the major meaty ingredients and diced vegetables, the Bolognese can be made tastier by adding a small amount of red wine or vinegar of any kind. The white wine is also used in some cases as it is said to be good in giving the spaghetti Bolognese sauce its traditional taste.
What is the difference between Bolognese sauce and spaghetti sauce?
The Bolognese sauce describes a mixture of tomato and meat sauce cooked at low temperature for long minutes while the spaghetti sauce describes any sauce that can be added to cooked spaghetti. The Bolognese sauce can be used over a wide range of dishes depending on preferences.
Spaghetti Bolognese is a delightful meal with a rich and balanced source of required nutrition. One serving of the dish gives about 250 to 600 calories depending on individual nutritional requirements and eating habit.
READ ALSO:
The best fish pilchard recipes South Africa
Chocolate malva pudding recipe
Easy and best brownie recipe South Africa
Source: Briefly.co.za