Brinnette Seopela bio: age, child, married, best pictures, career, house, profile
Reality shows in the wake of the 21st century have been on the rise, as celebrities use the platform to connect to fans. The essence is to show their fans how they cope with their daily activities and challenges therein. The recent and trending show is Real Housewives of Johannesburg. Brinnette Seopela is among the elegant ladies on the cast. The cast is of seven renowned ladies married to wealthy gentlemen who sponsor their glamorous lifestyles.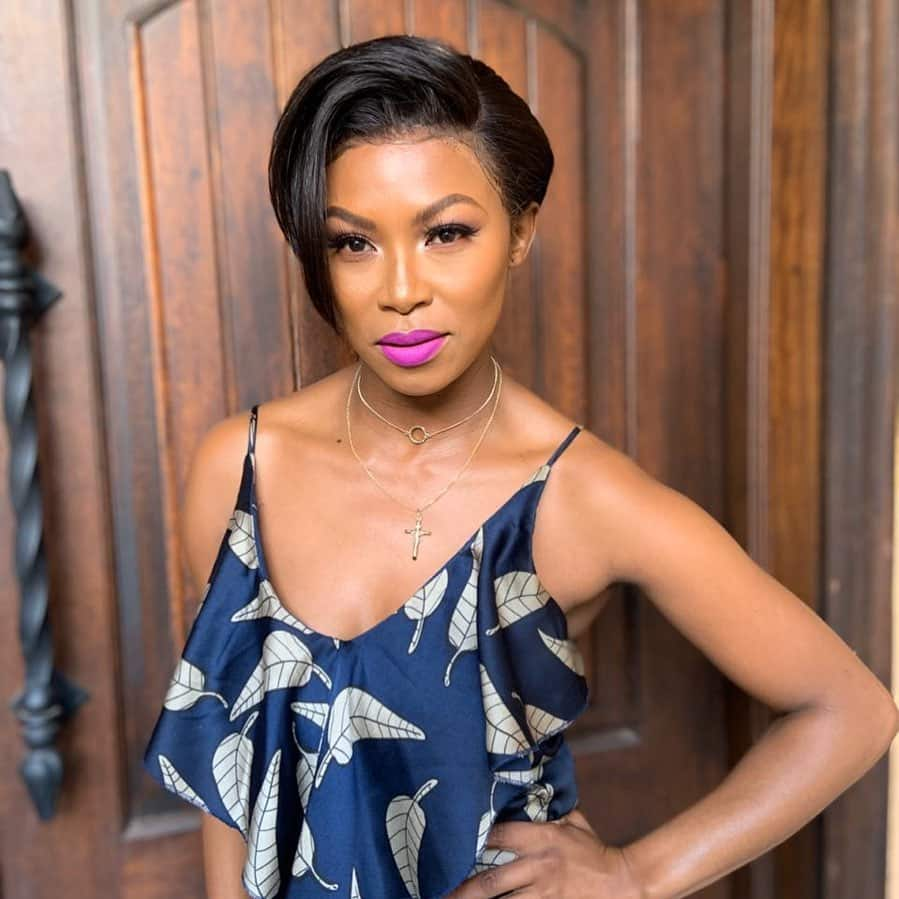 Brinnette Seopela is no stranger to these kinds of shows. She featured in Real Housewives of Johannesburg Season 1, where her performance baffled many. She became the star of the show as she gained more fans. In the return of Season 2, it was no question whether she would be in the cast. Her performance drew attention, as many wanted to get to know her.
Brinnette Seopela's profile summary
Full name: Brinnette Seopela
Date of birth: 16th October 1979
Age: 40 years
Gender: Female
Marital status: Divorced
Nationality: South African
Profession: Entrepreneur, Reality TV star
Famous for: RHOJ Housewives
Brinnette Seopela Instagram: @therealbrinnette
Twitter: @Brinny99
Brinnette Seopela biography
The RJOH actress was born on 16th October 1979 and will be turning 41 years come October 2020. She was raised as the only child, and her parents are loving and supportive of her.
Brinnette Seopela job and career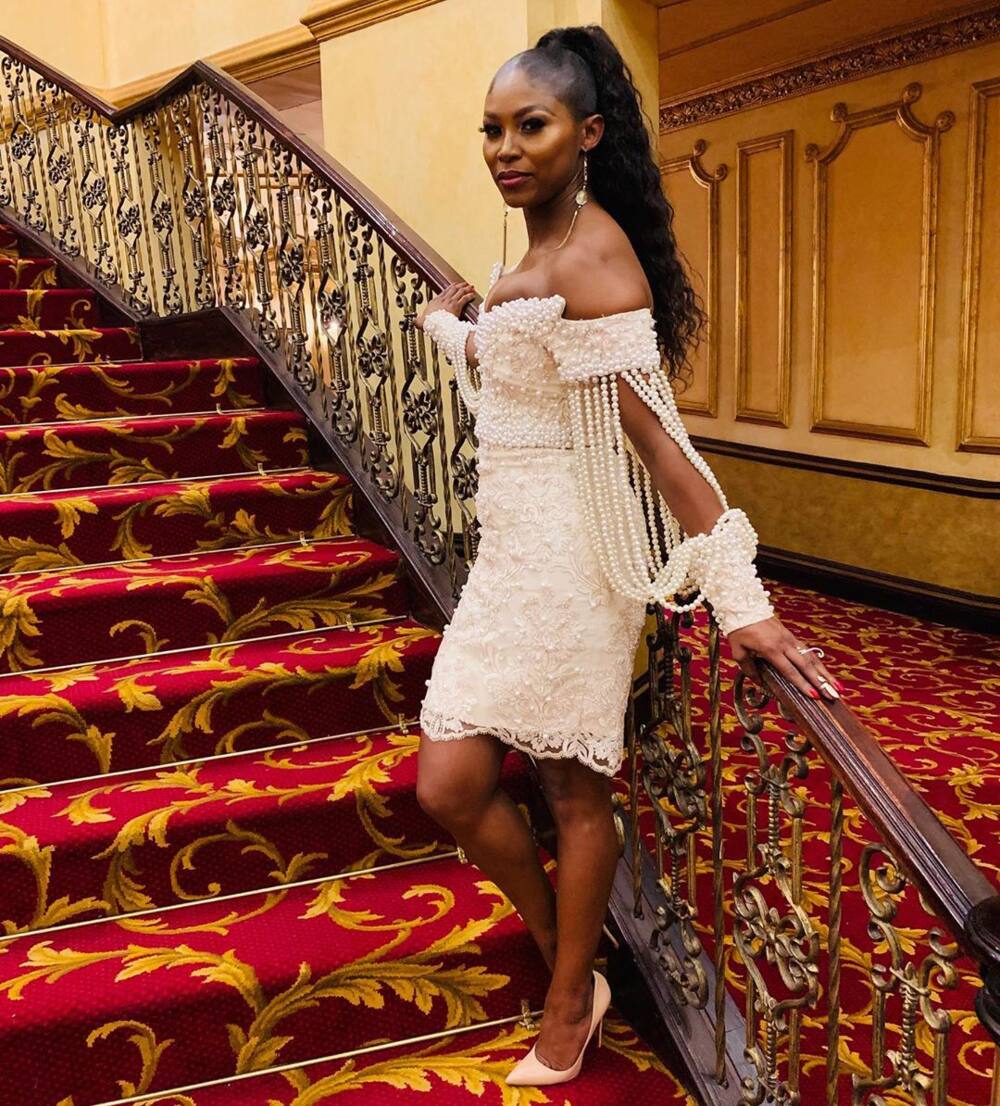 Brinnette is a beautiful businesswoman in South Africa. She has made tremendous amounts of wealth in the cosmetic industry. Ever since taking her role as one of the Real Housewives of Johannesburg cast, her influence has been growing. The limelight in RHOJ has enabled her to expand her fan base, who are excited about her.
She also owns a famous spa. Brinnette Seopela spa is in Rivonia, Johannesburg is known as Spa Aesthetique. The charming entrepreneur has a fantastic personality, which earned her an essential spot in reality television. The show is aired through the 1Magic documentary reality series.
READ ALSO: Real Housewives of Johannesburg's Brinnette admits to being very broody
Brinnette Seopela wedding
The couple in the very beginning was nothing but love birds. They met through social media and had a romantic affair. After 100 days of courtship, Themba Gezane proposed to the television personality. The wedding of Brinnette Seopela and Themba Gezane was spectacular. It had two themes, which made it more glamorous.
The first part was a traditional ceremony and then elaborated on a white wedding. The wedding had 300 visitors, including family and close friends of Brinnette Seopela and Themba Gezane. The wedding aired on RHOJ show, and indeed it was extravagant as one would think. The actress dressed up in two designer dresses for the wedding. Later, they went for a honeymoon in New York, United States of America.
The television personality marriage life
Brinnette Seopela married her husband, Themba Gezane. Who is Themba? Her then-husband is a chief sales director at Tsebo Solutions Group of companies. The marriage did not last long. After only five months in, they called it quits. It was reported that the talented woman suffered from domestic violence in the hands of Themba Gezane. The two were always in brawls and blaming each other for many things.
Even so, the couple was expecting their first child, and unfortunately, she miscarried. Brinnette Seopela has since not discussed the tragedy. It is clear that her misfortune still lingers in her heart quite heavily.
Brinnette Seopela child
Earlier, the South African popular television figure voiced her desire for a child. This came to light when she paid a visit to Micln Grace Studios at Bryanston, north of Johannesburg. She is turning 41 years, and time is not on her side. In her previous marriage, Brinnette Seopela was pregnant. Even so, she miscarried the child while on their honeymoon in New York. Recently, she expressed her frustrations suggesting to try Vitro fertilization (IVF) or even adopting. Moreover, she is the only child, and it would bring her joy to have a grandchild for her mother.
Furthermore, she is committed to having a child again. If this year does not see it through that she has a child, she will go for IVF, no doubt. If that does not work out too, she will have to adopt a week-old infant.
READ ALSO: The Real Housewives of Johannesburg cast: A-Z list with images
Brinnette Seopela post marriage
Currently, the warm and charming beauty entrepreneur is single and entirely focused on her business empire. She has embarked on the mission to help and mentor the younger women in society. Golfing is her new 'bae' as she rebuilds and reinvests in her businesses.
Furthermore, she is happy that the marriage ended and has no regrets. Despite being a hopeless romantic, she believes that true love still exists. Hopefully, in the future, her yearning will come to pass.
Brinnette Seopela pictures
Indeed, Seopela is an elegant and classy lady. She is an influencer and an icon to younger ladies across the African continent. Below are some of her best pics: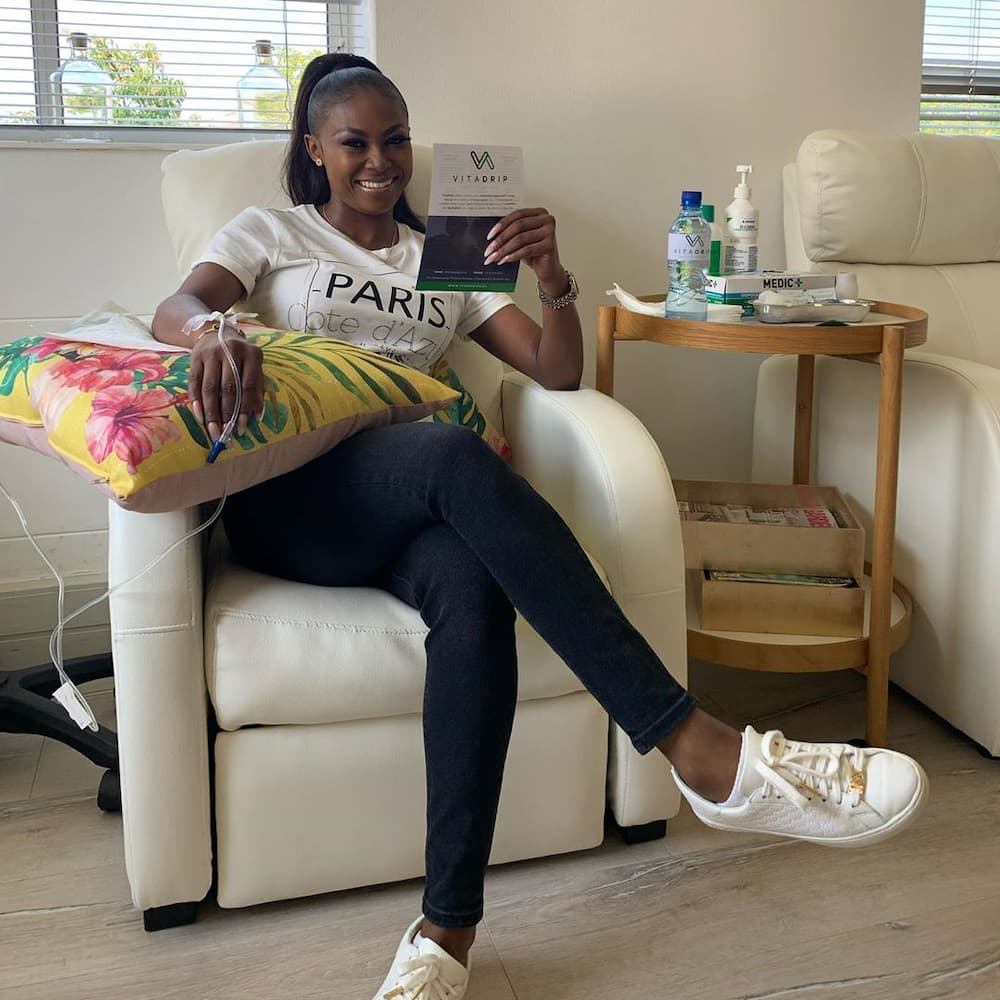 Brinnette Seopela is clearly using some of her cosmetic products.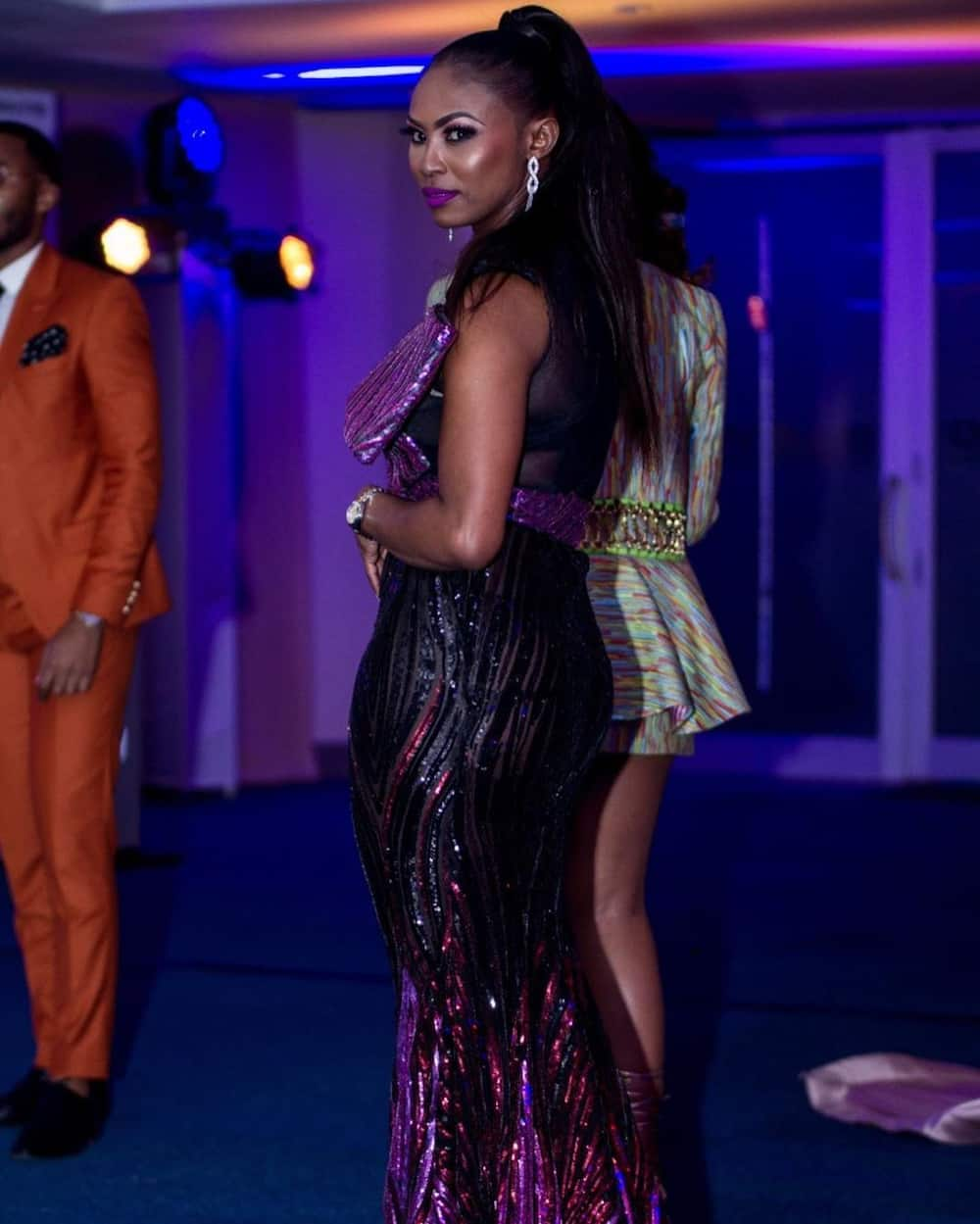 Brinnette Seopela looked glamorous in that red carpet event in Johannesburg. She wore a black-purple glimmering dinner dress.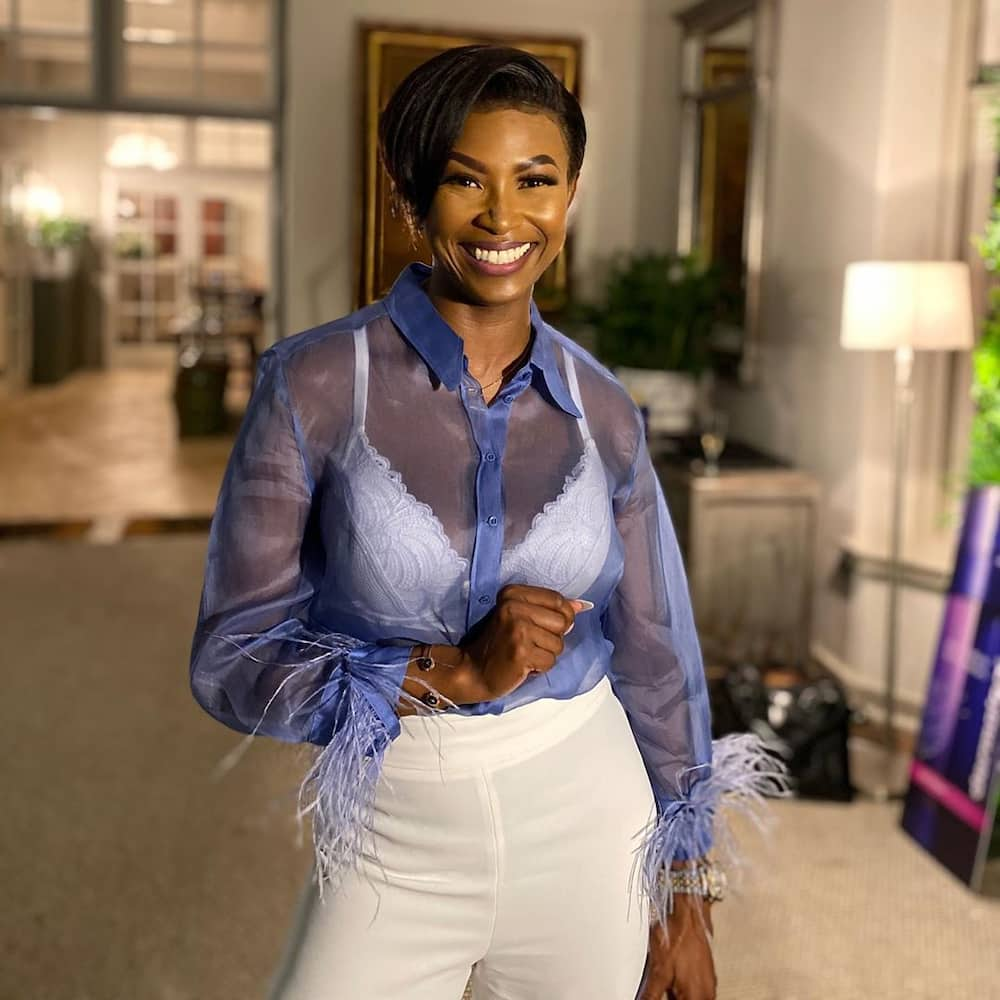 The Real Housewives actress is talking to a business associate, looking fabulous as always. She is dressed up in a sheer purple blouse and white formal trousers.
READ ALSO: Meet the stunning Brinnette Seopela from The Real Housewives of Jozi
Brinnette Seopela house
Before getting married to her ex-husband Themba Gezane, Brinnette Gezane lived in a luxurious apartment. Coincidentally, as the lease of the house was about to expire, Themba Gezane proposed. After that, she moved in with Themba Gezane and stayed as a couple.
It is true that Brinnette Seopela is among the Real Housewives of Johannesburg cast. Indeed, you need to watch RHOJ season 2 and see her doing what she does best, entertaining.
READ ALSO:
Meet Real Housewives of Jozi star, Naledi Willers
Enhle Mbali's legs steal the show in latest episode of 'Isibaya'
Kwa Mam'Mkhize's Tha is giving fans the spice they've been looking for
Source: Briefly News