Who is Rosamund Pike's husband? When one is dating or married to a celebrity, they instantly become renowned. The same applies to Robie Uniacke, the long time partner of Rosamund Pike. Robie is an English businessman and a mathematician researcher by profession.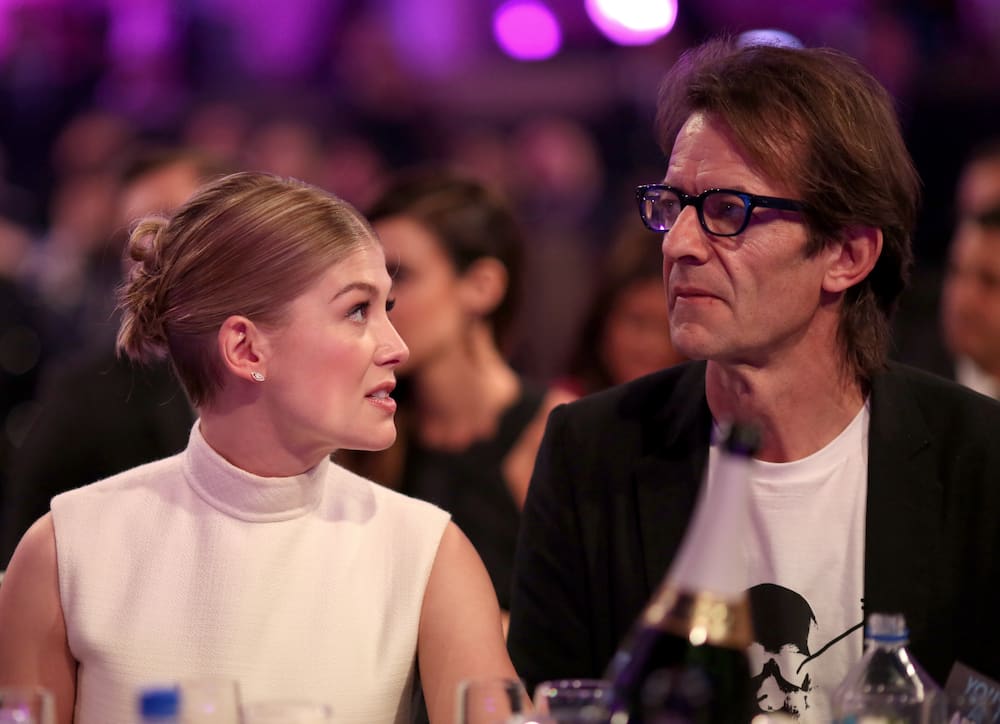 Rosamund Pike is a prominent actress who is well-known for her incredible performance playing the role of Amy Dunne in Gone Girl. The 2014 film made Pike a household name, and when she started receiving nominations and awards, all her fans became interested in her love life. Here are all details regarding Robie Uniacke, Rosamund Pike partner, that you ought to know.
Robie Uniacke profile summary
Full name: Robie Uniacke
Year of birth: 1961
Place of birth: England
Age: 59 years as of 2020
Nationality: British
Ethnicity: Caucasian
Religion: Christianity
Profession: Entrepreneur
Famous for: Being a long time partner of the actress Rosamund Pike
Robie Uniacke biography
Rosamund Pike's partner hails from the United Kingdom, where he was born in 1961 to his parents Robie David Corbett Uniacke and Jennifer Sally Cunningham. Robie Uniacke birthday date is not known. He was raised in Windsor, England, together with 3 siblings, Camilla Alexander, Caspar John, and Kate.
Education
Robie Uniacke young began showing interest in Mathematics at a young age as he could solve complex tasks faster than many kids his age. He pursued his high school education in Windsor and later joined Eton College, a private institution. Mr. Uniacke holds a bachelor's degree in Mathematics, which he was awarded upon completion of his studies in 1983. Besides, Rosamund Pike's partner is also a fluent Mandarin speaker who has influenced some of his kids to learn the language.
Robie Uniacke career
Robie Uniacke Mathematics journey has led him to be one of the leading mathematical researchers in the United Kingdom. He has a sharp and brilliant mind that has lifted his profession and made him earn handsomely.
Even though there are 4 different Robie Uniacke Linkedin accounts, the fact is that the Maths wiz worked in consultancy and finance firms, and as of 2008, he was managing three firms. He then established his IT consultancy business Pale Fire Ltd in 2010 where he doubled up as one of the directors. Nevertheless, the company filed for bankruptcy in 2016, but the entrepreneur has since recovered and is doing well.
Robie Uniacke height and weight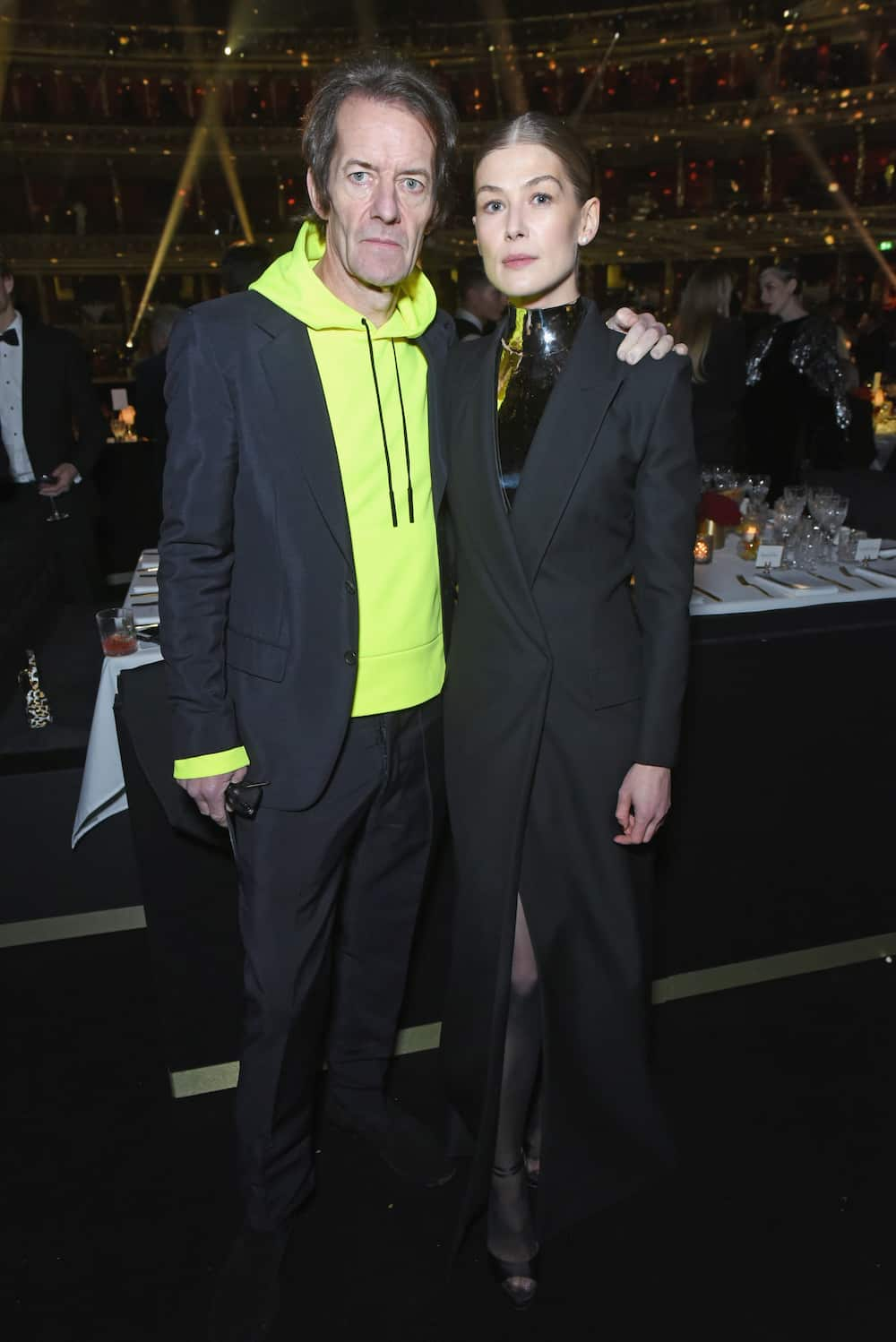 At his current age, Rosamund Pike's partner is weight cautious and partakes in various sporting activities with the actress. The results of his efforts are evident, considering that he is slim and tall with a height of approximately 5 feet 9 inches and weighs 65 kilos on average.
Besides, he also has a distinctive set of blue eyes, and his hair is dark in colour, which makes him very attractive to his current girlfriend.
Robie Uniacke past relationships
Mr. Uniacke has had a fair share of relationship struggles before crossing paths with his current lover. Prior to meeting Rosamund, Robbie was in two serious relationships. Interestingly, he married both women.
Robie Uniacke Emma Howard
In 1983, Robie said I do to Emma Bridget Howard, the late Earl Carlisle's daughter, who was 30 years old while Robie was 22 years old. The two are parents to Robie Jonjo Uniacke. Their relationship was full of misunderstandings, and in 1988, they officially divorced. Both parties were addicted to heroin and had to be rehabilitated.
Rose Batstone and Robie Uniacke
Following his split from Emma Howard, Robie did not give up on love. He met and married Rose Batstone, an interior designer, and they had three children, namely Hector, Olive, and Florence. Sadly, Robie's second marriage was short-lived as well.
Robie Uniacke and Rosamund
Robie and Rosamund began dating in 2009 and are still currently dating even though they are 18 years apart, with the businessman being older. The actress confesses how Uniacke is the most interesting individual she has ever met. According to her, the father of her kids keeps her in check as he is articulate and ruthless about the characters she takes on in her career. She admires him for his wit, intelligence, and irreverence.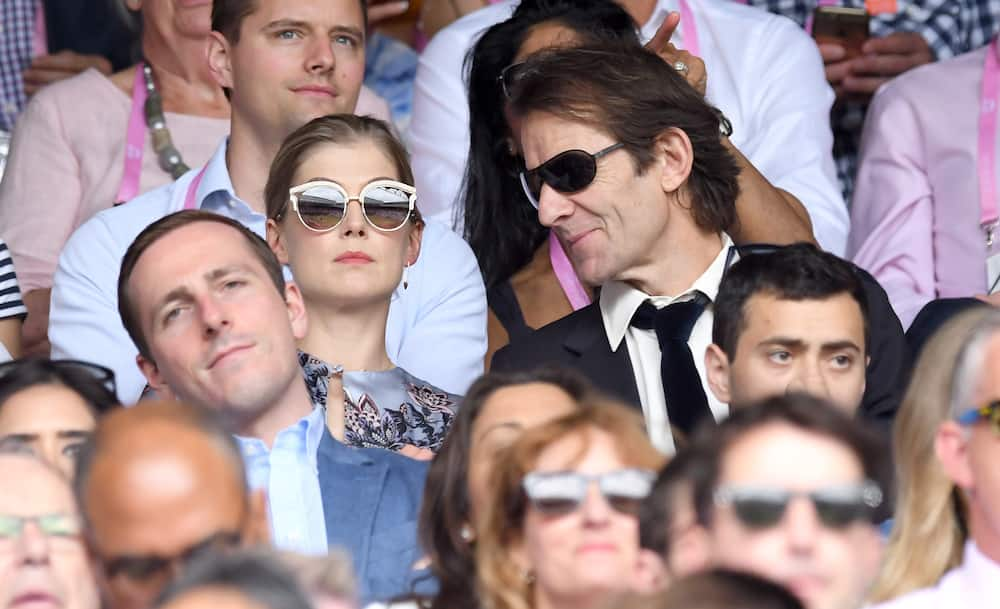 Does Rosamund Pike have a child?
Renowned actress Rosamund and her partner are parents to two adorable sons, Solo Uniacke and Atom Uniacke born in 2012 and 2014, respectively.
Prior to meeting Uniacke in 2009, Pike had also been in several unfortunate relationships. Previously, she dated Joe Wright, a film director, and the two separated over pre-wedding postcards. She was also in a two-year relationship with Simon Woods, an actor, who later confessed being gay.
Robie Uniacke net worth
Being an astute entrepreneur, a major chunk of Mr. Uniacke's wealth is from his businesses. His net worth is estimated at $1 million. How much is Rosamund Pike worth? Having been in the industry for more than 20 decades and having won more than 30 awards, it is evident that Rosamund Pike is a talented actress. Most of her wealth is from her acting jobs in the filming and television industries. Rosamund Pike net worth is roughly around $9 million.
After two failed marriage attempts from both parties, it is clear that Rosamund Pike and Robie Uniacke were truly meant for each other. Even without a marriage confirmation, the two are in a happy and fulfilling relationship raising their two kids.
READ ALSO: Sunetra Sastry bio: age, children, spouse, parents, religion, net worth, profile
Briefly.co.za published Sunetra Sastry bio. Sunetra is a British make-up artist famous for working on the legendary comedy show titled Black Adder. She is the ex-wife of the celebrated comedian and actor, Rowan Atkinson, popularly known as Mr. Bean.
Sunetra was born in England on 9th January 1957. Her father is Indian and her mother is English. Mr Beans ex-wife is of Hindu religion, and together they have two children.