Bodie Stroud bio: age, family, American Restoration, net worth
Bodie Stroud is a famous American television personality. He is famous for fabricating, building, and redesigning vehicles for over two decades. History Channel picked his Los Angeles-based antique restoration shop for the reboot series of American Restoration. Bodie has also been on the Rock My RV and Monster Garage reality shows. He has designed custom cars for celebrities like Tim Allen, Johnny Depp, Drea de Matteo, and Johnny Knoxville.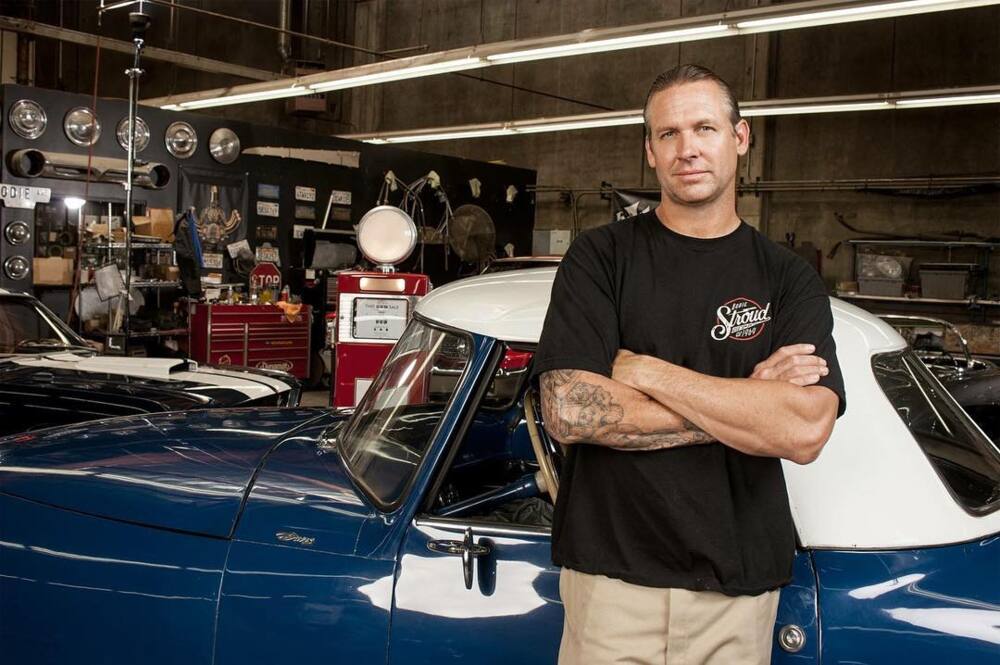 Rick Dale and his family started the American Restoration show in 2010 and shot six of its seven episodes in his Los Angeles-based shop. History Channel stopped the show in 2014, but it brought American Restoration back on screen in 2016 with new content and cast for the seventh episode. Five people, Bodie Stroud, Dale Walksler, Andy Bowman Jr., Steve Hale, and Bob Halliday, came with their restoration shops to replace Rick's restoration shop. The show was cancelled after the seventh episode.
Bodie Stroud profile summary
Full name: Bodie Stroud
Year of birth: 1970
Age: 51 years when 2021 ends
Career: Automobile custom designer
Nationality: American
Bodie Stroud biography
Bodie Stroud age was 45 years in 2015. He will be 51 years old when 2021 ends. Bodie was born in 1970 in Glendale, California, and he currently lives in Sun Valley, California suburb. He has light brown hair and blue eyes. How tall is Bodie Stroud? Bodie Stroud height is 1.81 m. Bodie Stroud height and weight enable him to work on big rigs, tractor-trailers, and medium to heavy-duty trucks.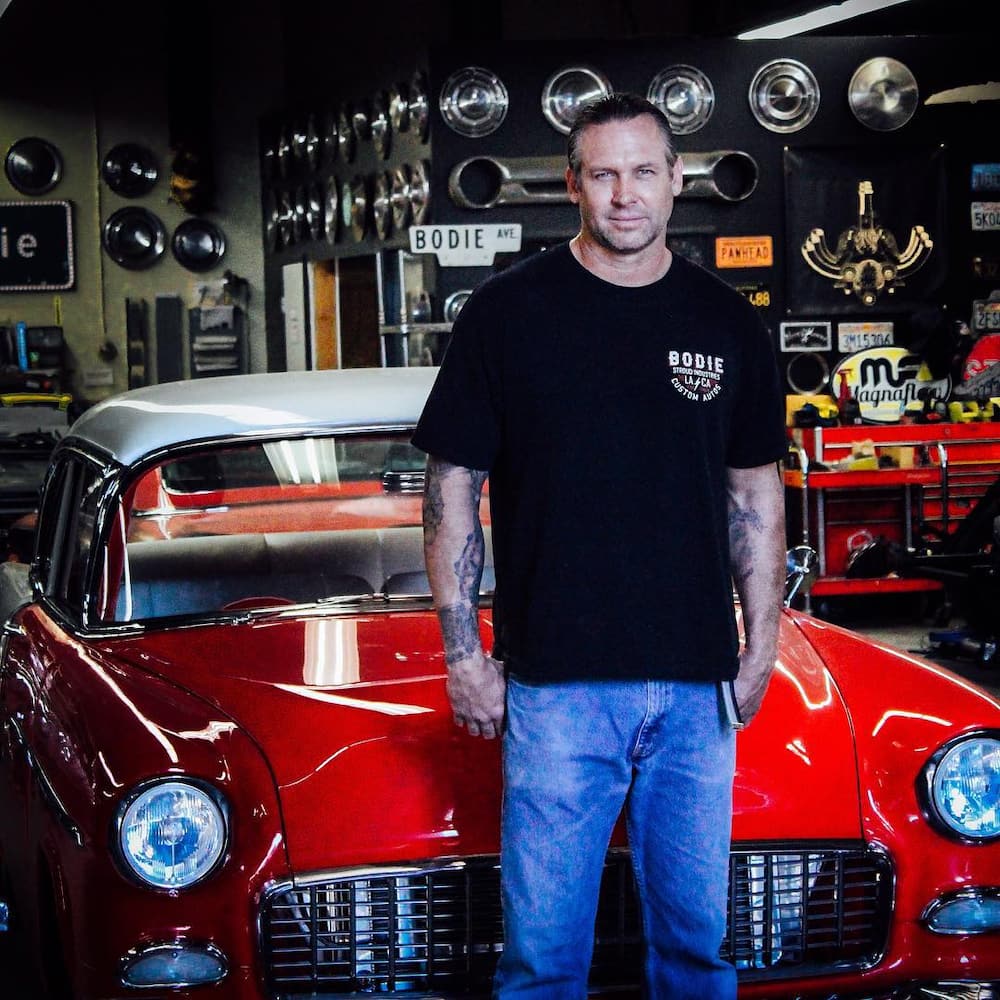 He rebuilt his first car at the age of 16 years with his friends. He was studying at Verdugo Hills High School in Tujunga, Los Angeles, California. They transformed an old 1961 VW 18-window Micro Bus for transportation around town and the beach over the weekends. He attended a renowned art centre in California called Pasadena for a year after graduating high school. The school taught him how to draw car designs he had in mind on paper.
Bodie Stroud's family
Is Bodie Stroud married? Most of his fans are curious about his love life, which is good because it shows that his art impacts souls. Bodie Stroud wife has three children with him, and his daughter is called Bleu.
Bodie Stroud's career achievements
In 2004, Bodie appeared on Discovery Channel's popular television show, Monster Garage, with Jesse James, a prominent builder and fabricator. The show inspired him to polish and share his artistic visions for cars and motorcycles. Being behind the camera marketed his art and skills to the extent that Hollywood elites noticed him and hired him to create automotive masterpieces.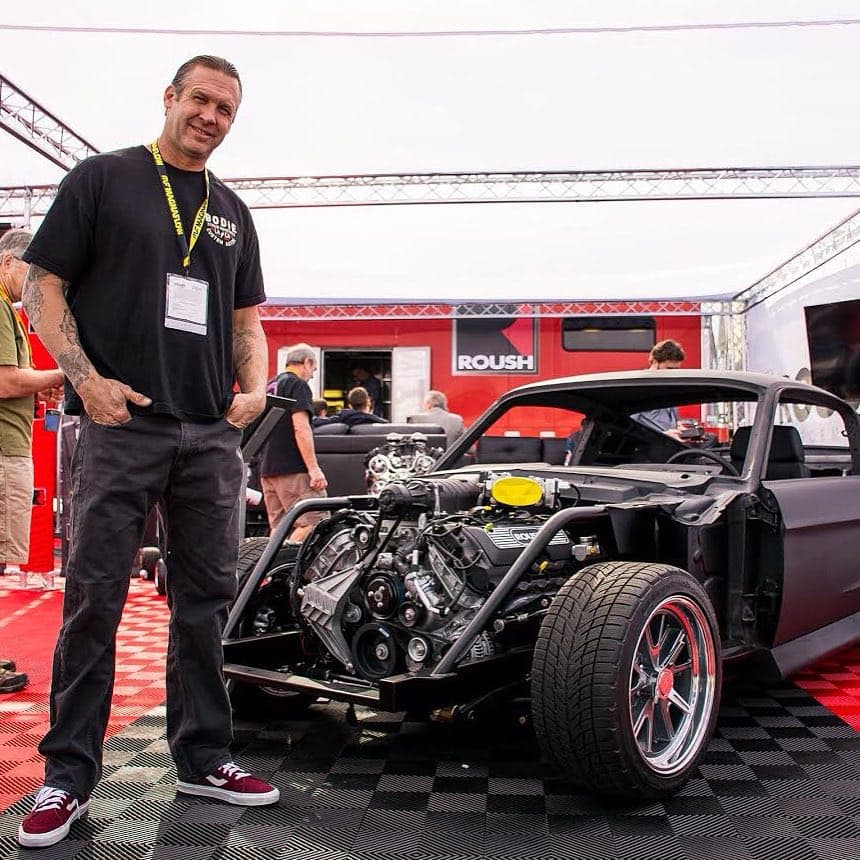 In 2009, he got the Ford Design award for creating a custom-made 1960 FORD Starliner car named The Scarliner. Bodie restored a vintage Lamborghini for the comedian Adam Carolla. The 2010 Bodie Stroud mustang was one of his famous projects.
The SEMA (Specialty Equipment Market Association) allowed the 1969 Ford Boss 494 Mustang to be on display in that year's convention. In the same year, Jay Leno made a documentary about it on Hot Rod TV and a podcast on Jay Leno's Garage podcast channel.
He worked beside the famous race car driver named Mario Andretti and the television show host and comedian Jay Leno because millions of people globally respected his ability of creating classic cars. In 2010, Marion Andretti's Holman & Moody McLaren M6B, one of the fastest cars globally, used a 494 cubic-inch V-8 engine. Bodie installed the engine into the sports vehicle, and it performed exceptionally well. Ford originally built the engine for Can=Am racing.
Bodie Stroud Restoration show star and his right-arm man, Mitchell, would take Americans back to history in each American Restoration scene by working on old car models, such as the 1950 Studebaker Commander, Volkswagen vans, and more. He hosted the Travel Channel's TV Show, Rock My RV, with Poison's Bret Michaels from 2013. On the show, the two created RVs for travellers.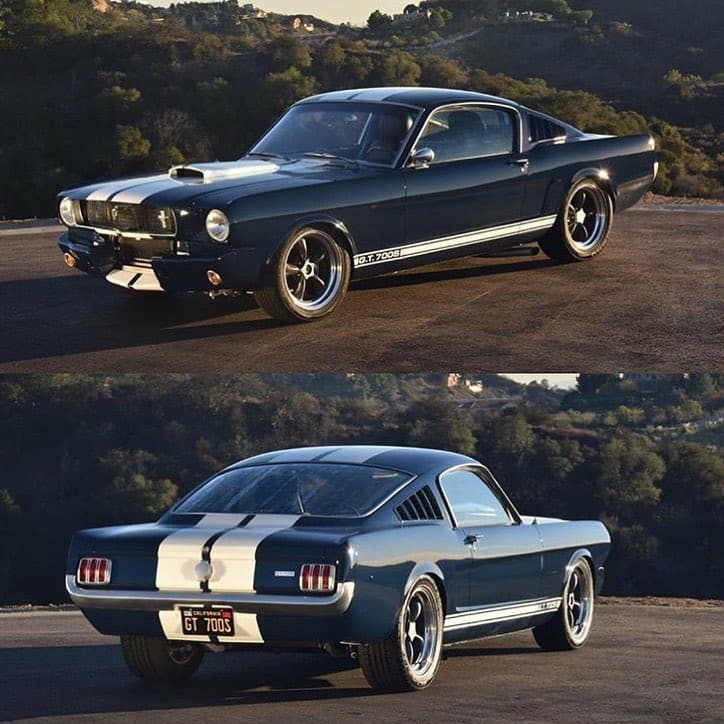 In June 2015, Classic Trucks magazine featured his X-100 Pick Up Truck. Motor Trend magazine and The Detroit News newspaper also featured the same car later. Bodie Stroud Industries EZ-Aline in Sun Valley, California, offered its clients customized auto parts and BSI 1956 "X-100" Pickup Trucks on order. Bodie Stroud net worth is above $2.5 Million.
Bodie Stroud is exceptionally good at what he does. Providing celebrities and influential public figures with classic custom-made cars requires a lot of skills. He makes a lot of money from a trade that has few skilled people in the entire US.
READ ALSO: The untold truth of the late Ruby McCollum
Briefly.co.za posted a rarely shared story about Ruby McCollum. It is one of the saddest racist stories you have ever read. Ruby killed a White doctor who raped her multiple times in her husband's absence and forced her to bear for him a child.
The law back then permitted White men to force married and single Black women into sexual acts and keep them as concubines.
Source: Briefly News