TikTok Video of Bajaj Qute Transporting Massive Sofa Leaves SA Howling: "Wonders Shall Never End"
The notorious Bajaj Qute was recently in the spotlight on social media again for all the wrong reasons
A driver of the Indian automobile was recorded on the Mzansi streets transporting a sofa that was way too big for its size
The TikTok video had people cracking jokes about the tiny yellow cars that are flooding roads and flipping over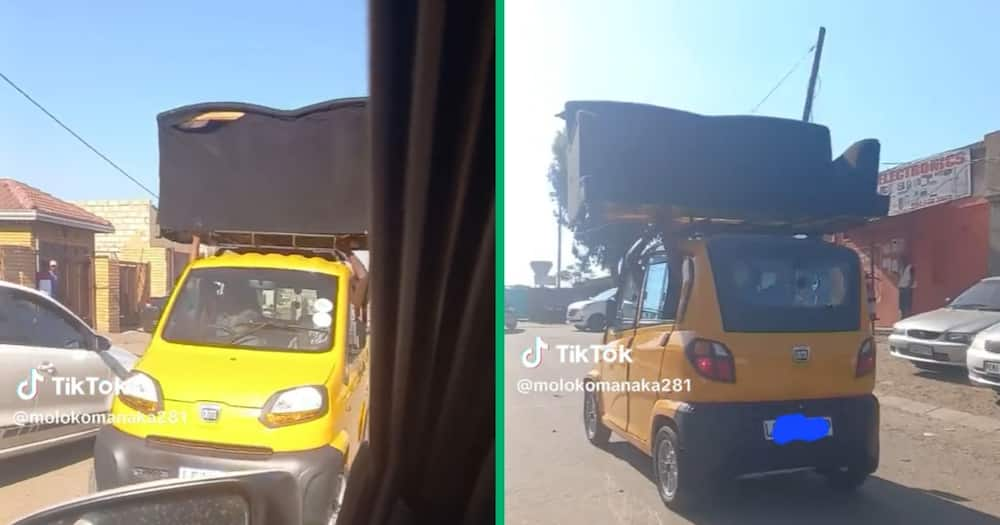 A Baja Qute vehicle recently stole the limelight on TikTok.
This petite yellow car turned into an internet sensation for transporting a massive sofa on its roof.
Bajaj Qute delivers furniture
As if that wasn't shocking enough, the passengers are seen in the video posted by @molokomanaka281 leaning out of the windows and holding onto the oversized furniture for dear life.
It was like a scene straight out of a bad movie, The Sofa and the Furious: Upholstered Drift.
Bajaj video spreads on TikTok
Who needs a moving truck when you have a Baja Qute and a fearless crew of adrenaline junkies willing to risk it all for the sake of their living room comfort? The furniture delivery video got an impressive 117,000 views and counting.
Watch the video below:
In true Mzansi fashion, the commentary brought out people's comedic sides at the expense of the pint-sized car.
Read some of the comments below"
@tlotloxx said:
"It's the way they're balancing it with their hands."
@popps.mash commented:
"The couch is wider than the car. "
@karabomjake posted:
"Dynamites come in small packages."
@thandilicious_ mentioned:
"I was waiting for: 'A few moments later'"
@sherifhoood added:
"As long you're living in South Africa trust me wonders shall never end."
@gradereadiness asked
"How hasn't Hollywood lent Mzansi some iMax Cameras yet?"
@thulanindlovu777 wrote:
"Does this car have a maximum load or this is the beginning of SABS maximum load tests?"
@penelope890506 commented:
"Definitely sure keko Thembisa. that place is full of jokes xem."
2 Johannesburg men catching ride on top Bajaj Qute cause a frenzy in Maboneng, TikTok video trends
In a similar article, Briefly News reported that a bright yellow Bajaj Qute car made an unusual sight as it transported passengers seated on its tiny roof.
The shocking scene was captured and posted on TikTok, leaving viewers stunned. As the car approached a petrol filling station, onlookers in the Maboneng area moved closer to the small car. People grabbed their phones to record the bizarre sight.
Source: Briefly News