'The Real Housewives of Durban' Star JoJo Robinson Flexes McLaren Supercar in Durban on TikTok
JoJo Robinson, a contestant on The Real Housewives of Durban, uploaded a major flex on TikTok recently
She was attending a local motoring show, showcasing Durban's fleet of luxury supercars
The actress was the centre of attraction and can be seen taking selfies with her fans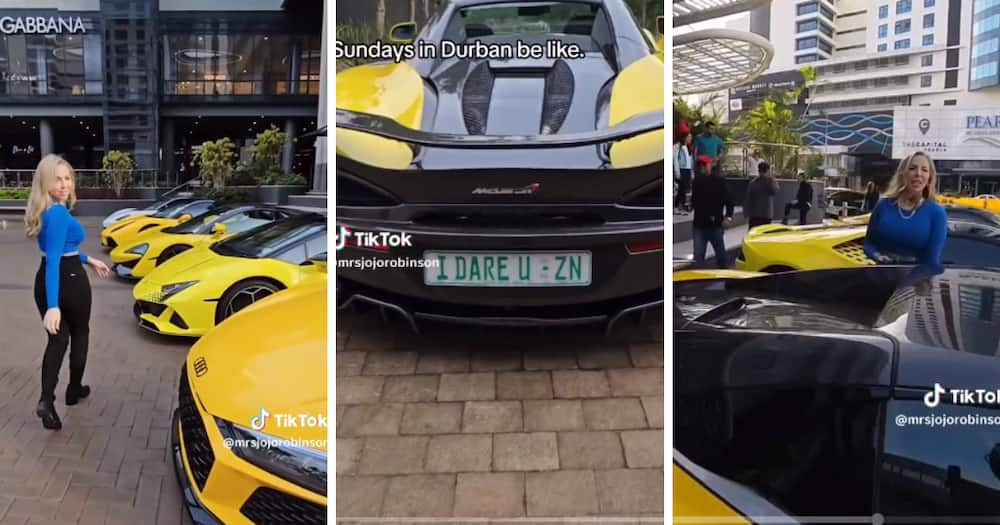 JoJo Robinson, the blonde bombshell on The Real Housewives of Durban, caused a stir online after uploading a video of herself riding in a convoy of McLaren supercars in Durban.
In the one-minute video, she starts by showing the custom number plate of the yellow supercar parked in her driveaway.
On the highway, she joined a convoy of other colourful supercars that included Ferraris, Lamborghinis and Porsches, which all congregated at Westwood Mall in Durban.
These expensive cars were on their way to be displayed at the first Saxony Supercar Sunday, a new motoring show hosted at the mall.
Watch the video:
TikTok fans react to JoJo Robinson from The Real Housewives of Durban flexing her McLaren
Her TikTok followers are stunned as the McLaren 570s is proof that JoJo is really living the life she portrays on the flashy reality show.
A day after uploading the flex to her account, @mrsjojorobinson, which has over 85K followers, it was viewed by over 100K and is receiving a lot of astonished and amusing comments.
@DércioManuel jokes:
"Zuma really made Durbanites rich."
@NombuleloMatomelaN looks up to her:
"When I grow up, I wanna be just like JoJo."
@phil68 is taking his shot on a married woman:
"Hi, I'd love to do a tarot read on you sometime."
@Lu MaNgidi knows who it is:
"It could only be JoJo."
@NokwandaNoxieMbatha wants a picture with her:
"May I meet you with my best picture self cause we are taking a picture, luv ya."
@user7225632102754 can't believe this is even Durban:
"Which Durban is this?"
@THE_GIRL_WITH_THE_ACCORD can't believe this is even SA:
"In what South Africa is this?"
Biography of JoJo Robinson from The Real Housewives of Durban
Briefly News previously profiled JoJo Robinson in detail, who joined the reality show to change negative stigmas towards tattoos as she's an artist herself.
The short bio also mentioned her husband, Calven Robinson, who is a former martial artist and one of the richest men in Durban.
Source: Briefly News