Multichoice Botswana: packages, prices, channel comparison for 2021
Botswana is among the 50 African countries that enjoy Pay TV services offered by Multichoice Group. Notably, the broadcasting company has been providing them with a wide range of top-notch content at reasonable prices. Usually, the prices of its packages vary depending on the number of channels. Generally, an in-depth analysis of Multichoice Botswana packages might come in handy if you plan to become a Multichoice subscriber.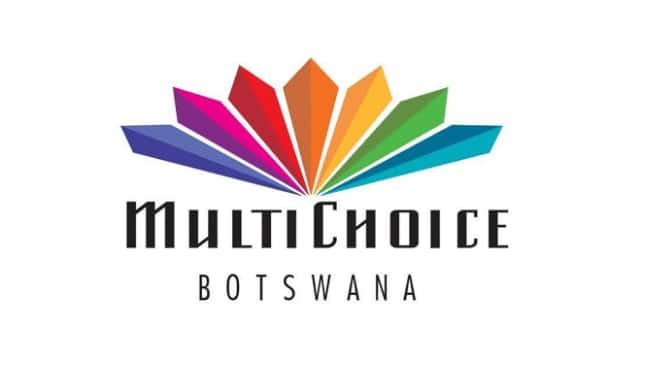 Over the past few years, satellite TV providers have tremendously transformed television content. Thanks to Multichoice Group, now TV lovers have the freedom of choosing what suits their viewing needs. Importantly, there is no need to break the bank to enjoy their services – they have a wide range of bouquets suitable for everyone.
Multichoice Botswana packages
Currently, there are seven DStv packages, including one add-on Indian package. How much are the DStv packages? The price of each bouquet varies based on the number of television stations available in them.
1. DStv Premium – BWP 680
Just as the name suggests, DStv Premium offers viewers premium channels only. As of 2021, subscribers can enjoy over 130 television stations. Subscribing to this bouquet gives you access to various entertainment channels, movies, novellas, sports, kids & teens, news & commerce, and music channels.
2. DStv Compact Plus – BWP 500
DStv Compact Plus is the second-highest package offered by Multichoice Botswana. It comes packed with lots of entertainment, sports, movies, and music channels. Currently, subscribers can enjoy viewing 110+ television stations. Interestingly, the package is available at BWP 500.
3. DStv Compact – BWP 345
How much is DStv Compact in Botswana? The bouquet goes at BWP 345 per month. This is, arguably, a favourite for many. Why? It is affordable and contains an average number of entertainment channels, with HD capability. One can also watch some of the top EPL matches on channels such as SuperSport.
4. Indian – BWP 345
The Indian bouquet gives its Botswana subscribers exclusive access to some of the best Indian entertainment channels. In addition, you get over 20 other channels, including the audio ones. However, the package does not have channels like Zee World, EVA +, and Telemundo. Currently, the bouquet is available at BWP 345.
5. DStv Family – BWP 220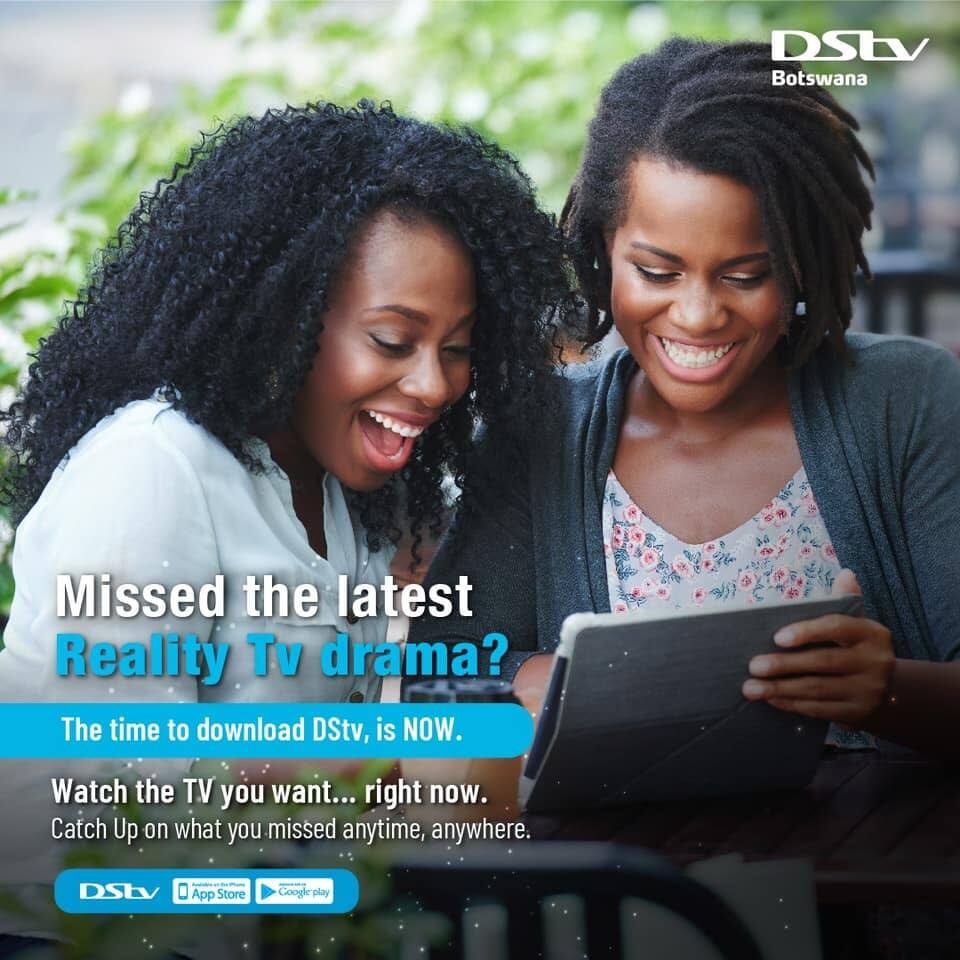 The Family package DStv channels come in handy for family viewing. Usually, it is ideal for kids because it contains clean and general exhibition content. It allows subscribers to watch 70 plus channels. The subscription fee for the bouquet is BWP 220.
6. Indian Add-on – BWP 155
This is a new product on Multichoice. With Indian Add-on, you get access to prime Indian entertainment only. It has over 20 Indian television stations. In addition to entertainment channels, you get Aljazeera for international news.
How much is the DStv Indian Add-on? Its subscription cost is slightly higher as compared to DStv Access. Currently, Botswana subscribers can get it at BWP 155.
7. DStv Access – BWP 100
DStv Access comes in handy for Novella fans. With this bouquet, you get access to top telenovela channels such as TeleMundo (118), Zee World HD (166), and EVA + (142). In addition, you get an additional of three other general entertainment channels, namely Mzansi Wethu HD (163), KykNet Lekker (148), and E! Entertainment HD (124).
DStv Botswana channels comparison
Are you still finding it challenging to decide on the right package that fits your budget? You can also have a look at the comparison of the packages below. This way, you know what suits you – without hurting your bank account, but at the same time satisfying your entertainment needs.
Premium Vs. Compact Plus
There is a difference of more than 20 channels between the two packages. Also, the Premium package is slightly expensive than the Compact Plus bouquet. Below are the channels that are on Premium and not available on Compact Plus: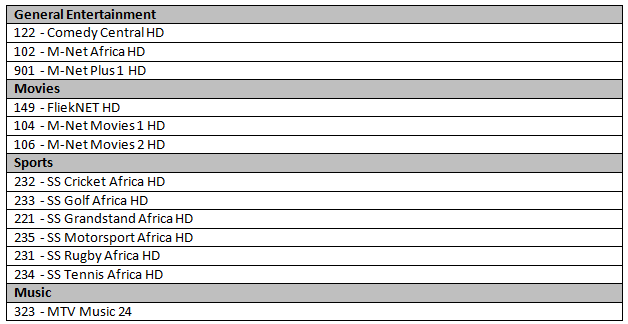 Compact Plus Vs. Compact
Mostly, these are among the most subscribed bouquets. Compact Plus, however, offers more entertainment channels than the Compact package – over 20 more channels. As a result, it is BWP 155 expensive than the Compact bouquet.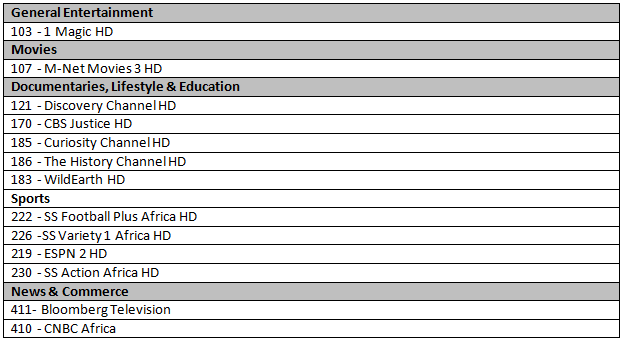 Compact Vs. Family
Like some bouquets, the difference between Compact and Family packages is the number of channels and subscription costs. DStv Compact has 20 plus more channels as compared to the Family bouquet. As a result, it is BWP 125 expensive. The 20 extra channels are as shown below: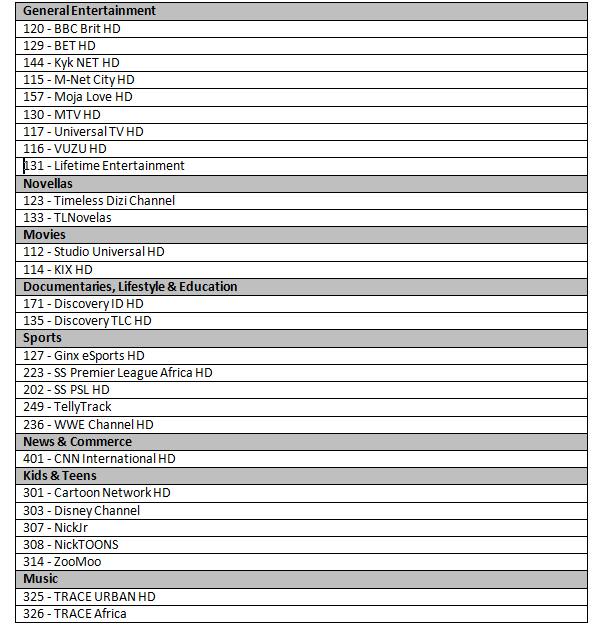 Family Vs. Access
If you are not that much into entertainment and sports, you may find these two packages interesting. However, the Family bouquet comes with more HD channels as compared to the Access one. For this reason, it is BWP 120 more expensive than Access.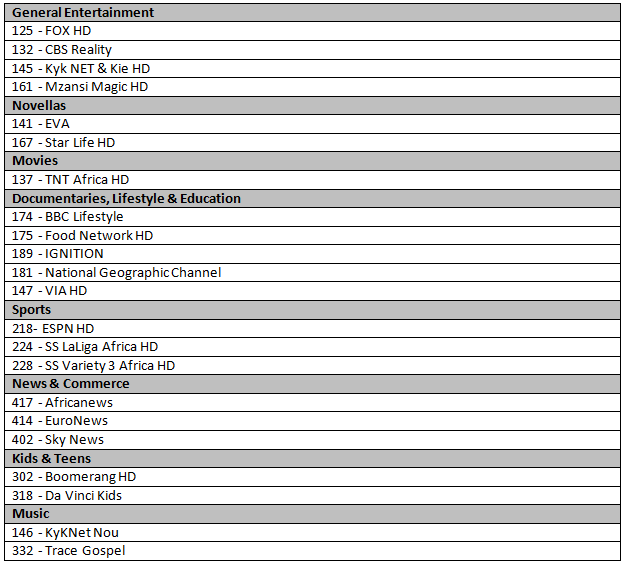 Access vs. Indian
Below are some of the channels not available on the Indian package: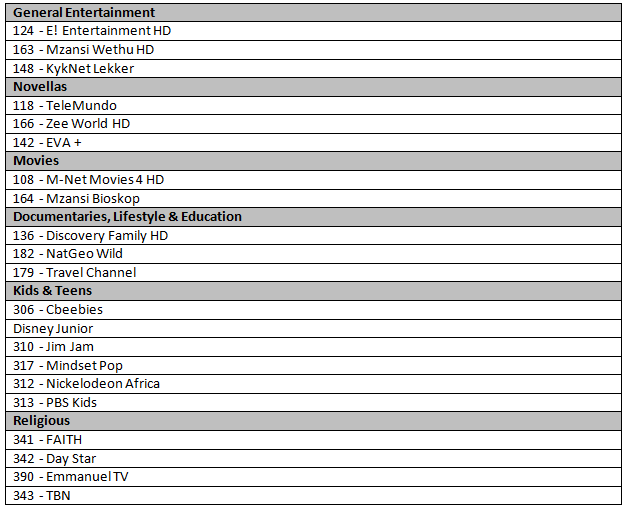 Do you love Indian soaps, music, and movies? If so, then these two packages are ideal for you. The Indian package comes with 30 more entertainment channels as compared to the Indian Add-on one. The majority of them are audio channels.
Indeed, Multichoice Botswana is the real deal for someone looking to upgrade their home entertainment. Importantly, it offers its subscribers a wide range of packages to choose from based on their entertainment needs. We hope that this guide will help you to make an informed decision.
DISCLAIMER: This article is intended for general informational purposes only and does not address individual circumstances. It is not a substitute for professional advice or help and should not be relied on for any decisions. Any action you take upon the information presented in this article is strictly at your own risk and responsibility!
READ ALSO: All Dstv packages, channels and prices comparison for 2021
Briefly.co.za shared an informative piece about DStv packages. It offers a wide range of incredible packages to suit the needs of every subscriber. Usually, the packages differ based on subscription costs. With DStv, you get the best value for your money. Its packages include DStv Access, DStv Family, DStv Compact, DStv Compact Plus, DStv Premium, EasyView, and DStv Indian.
Source: Briefly News