In a perfect world, every lady would have healthy hair that requires minimum attention. But since this is not our reality, we at times rely on hair extensions such as braids. Luckily, braiding hair helps to promote growth and protect it. To top it all, you can style this plaited extensions as much as you can. But, for some reason, ladies tend to wear the same style over and over again. Why do you think this is the case? As you ponder about this question, join us as we give you tips on how to style braids.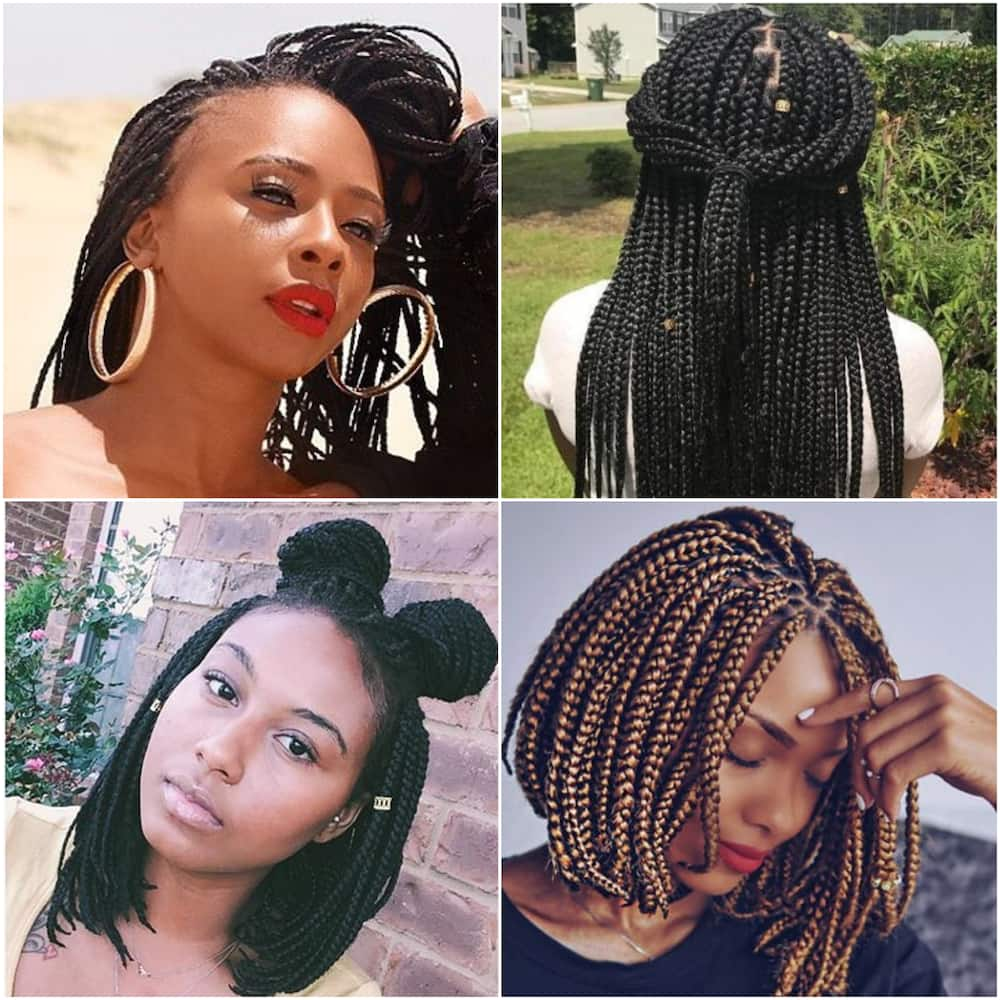 Braids are among the hairstyles that have stood the test of generational trends. Instead of going out of style, there have been improvements in the quality of braiding in the market. At the same time, ladies have a variety of braid types to select from. Today, all you have to do is to know how to style your braids perfectly.
How to style long braids
Long braids are ideal for ladies looking for a lengthy look. These hairdos can be as long as below your waist. The secret to hacking these long braid hairstyles is to make sure they are not bulky. Below are some styling ideas for these long and plaited hair extensions.
1. High ponytail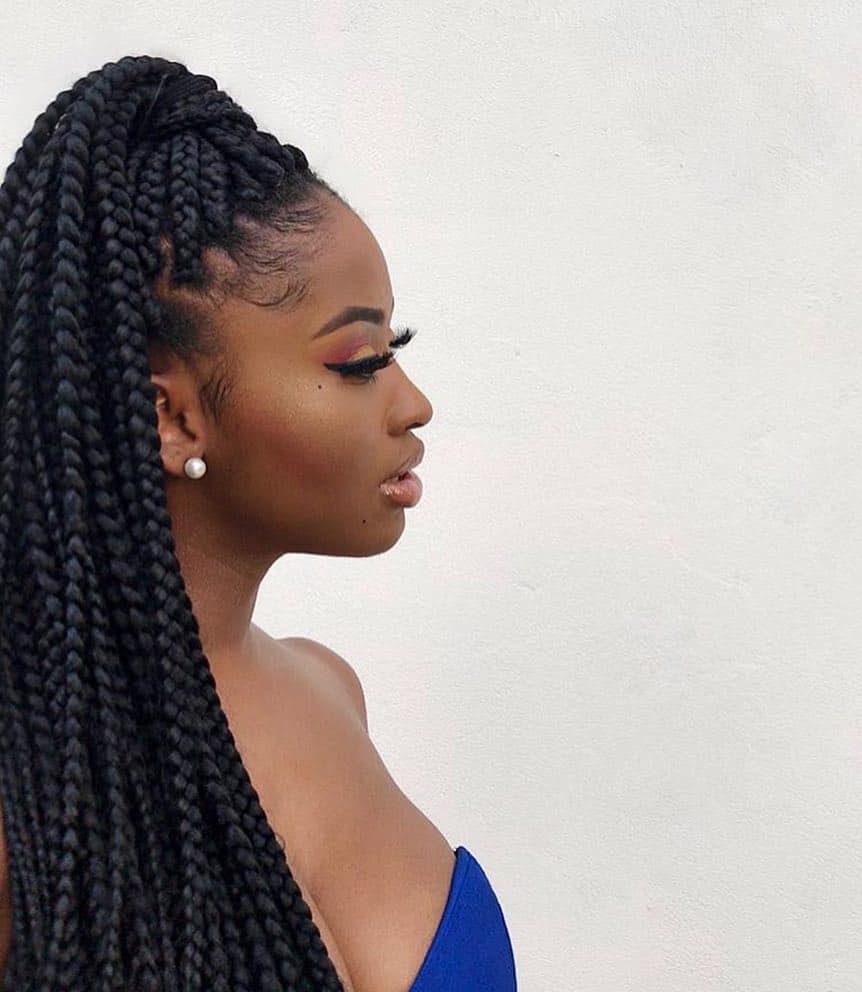 Ponytails are the easiest style to do all by yourself. However, for this hairstyle to flatter your face, you need to find the ideal ponytail for you. For round faces, a high ponytail will give you an elongated face look by bringing balance to the roundness of your face.
To achieve this look, let your plaited strands fall in front of your face. Then, tame the strands using a string and tighten it upwards, but if bulky, you can tame the plaited extension in parts.
Remind her that she is strong and courageous with this Fearless Tote Bag. This tote bag features a lovely floral design. It is made from the durable, fabric material woven out of cotton. The bag is perfect for daily use and errands like going to grocery stores, a beach, or even school. Get it for R270 now!
2. Braided crown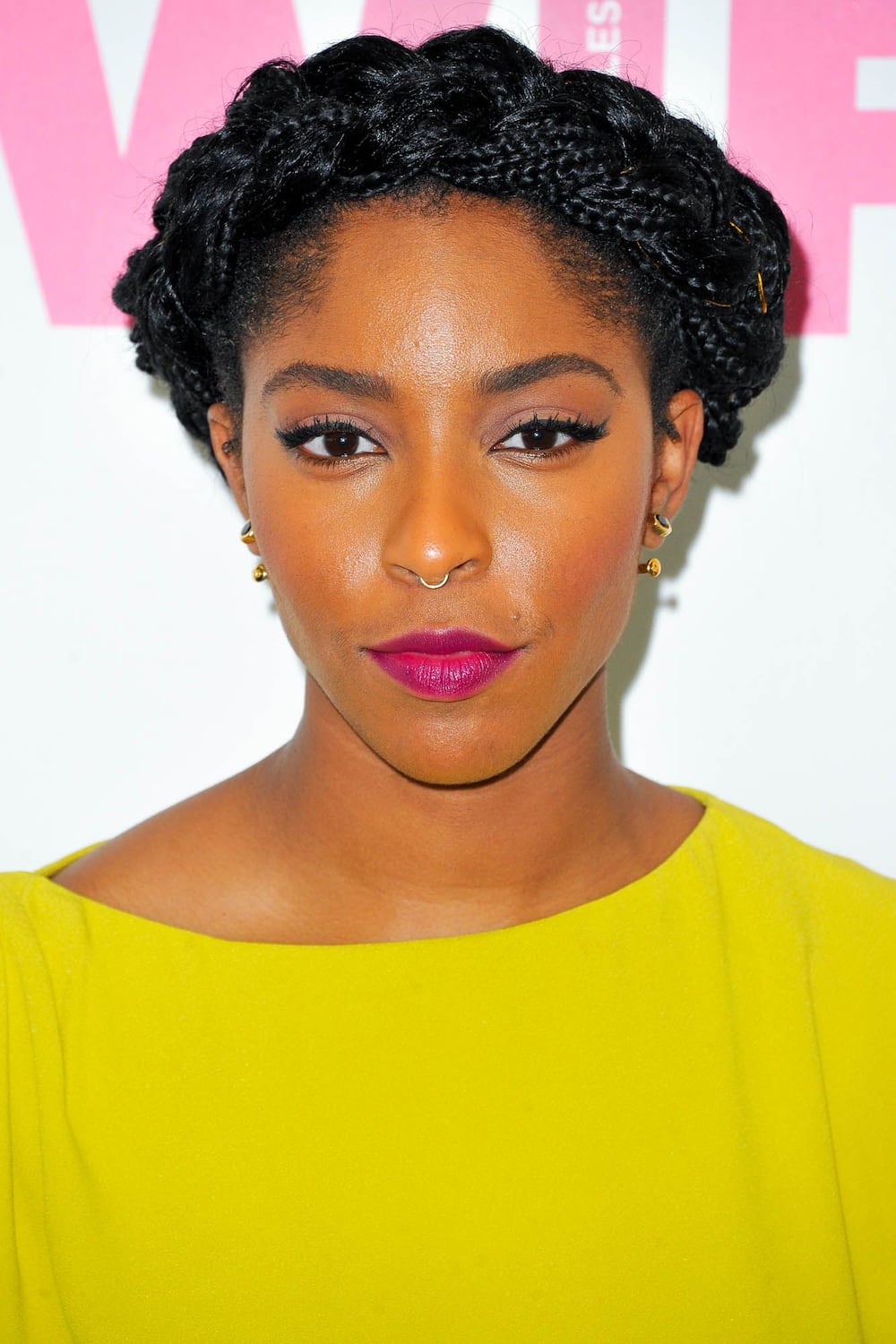 This plaited crown hairstyle will make you look like royalty. To get the look, let all of your plaited hair extension fall to one side preferably on your hand strength (right handed right, left-handed left side). Select four strands of the plaited strands at the hairline and hold two of them in each hand. Begin plaiting by twisting one section to the bottom and the other two strands to the top. Then, add a few plaited strands to the lower part. Continue the steps above to the end and secure it in a rope.
3. Laid back braids with a twist
When your plaited hair-extension is still shiny and new, holding them up in a ponytail or an updo can be painful. With the hairstyle above, you can let your plaited hair flow and still look classy. First, part strands in the middle using your fingers. Take a section of the plaited strands on your hand strength section and sweep them to the side. Part them on the other side in the middle horizontally, then select several strands from the front of your hand strength side and three others from the remaining side and rope them.
4. Chic side sweep
When you have under five minutes to make your hair, go for this look. You only need to push your plaited strands to the side using your fingers.
5. Chunky bun
The chunky bun looks excellent when your hairdo is bulky. To achieve the chunky bun style, bring all the braided hair to the front of your face. Use your hands to hold the plaited strands together and then secure them with a ribbon or a thread, but if too bulky, you can tame them in sections starting with the middle. Twist the ends of the plaited hair extension around the center and tuck them in a ribbon or thread.
READ ALSO: 30 nude colour nails ideas 2020
Come and get your Personalised Captured Moments Digitime Watch created by yourself for R675. Use your favourite photo to custom your watch and make your memories last forever. It is made with sensational stainless steel. Elevate your style with this smart and sophisticated, elegantly proportioned watch.
6. French braid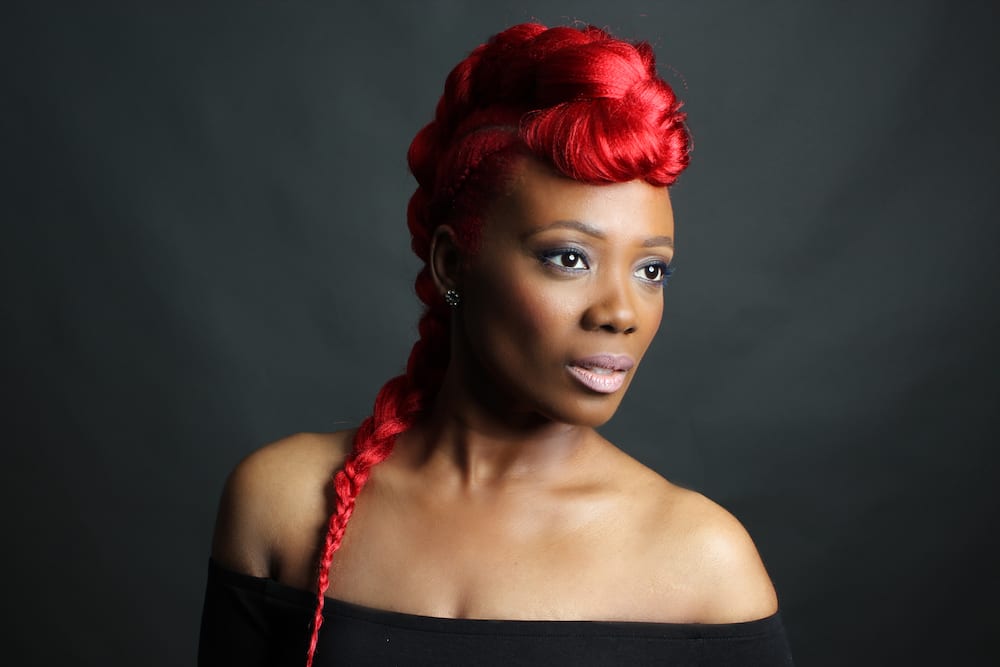 You can also tame your braided hair in one big braid. If you have plaited your hair into several single strands, start by selecting six strands at the top center of your head. Then, separate the braids into three pairs and use your fingers to part the remaining strands. Hold two pairs of the plaited hair in one hand and the remaining pair in the other hand. Cross the right pair of plaited hair strands over the center and the cross the left pair over the center. Repeat the step above with plaited strands on the right and the left side of your hair until you tuck in all your hair. For the subsequent strands, the number does not matter. But, the smaller numbers provide excellent results. Secure your braid with a nice hairband at the back, or you can use hairpins to style it perfectly for a firmer grip.
7. Loose front bun
Instead of your ponytail hanging behind, you can spice it up by making this fancy loose bun in the front. To achieve this look, simply hold all the plaited hair extension in the middle and then tie the front bun. You can choose to make the bun lie on either side of the head as you find comfortable.
8. Long strands with fringe
You can create a fringe by trimming your front strands to your preferred size. Then, use a candle to seal the ends of the plaited strands.
9. Headwrap/African print headgear
Headwraps and head-gears add an extra shine to plaited hair extensions more so when they are some weeks old. The best way to hack the head-gear look is to find a colour that complements your plaited hair. For example, if you have dark-coloured plaited strands, you can go for colourful headwraps.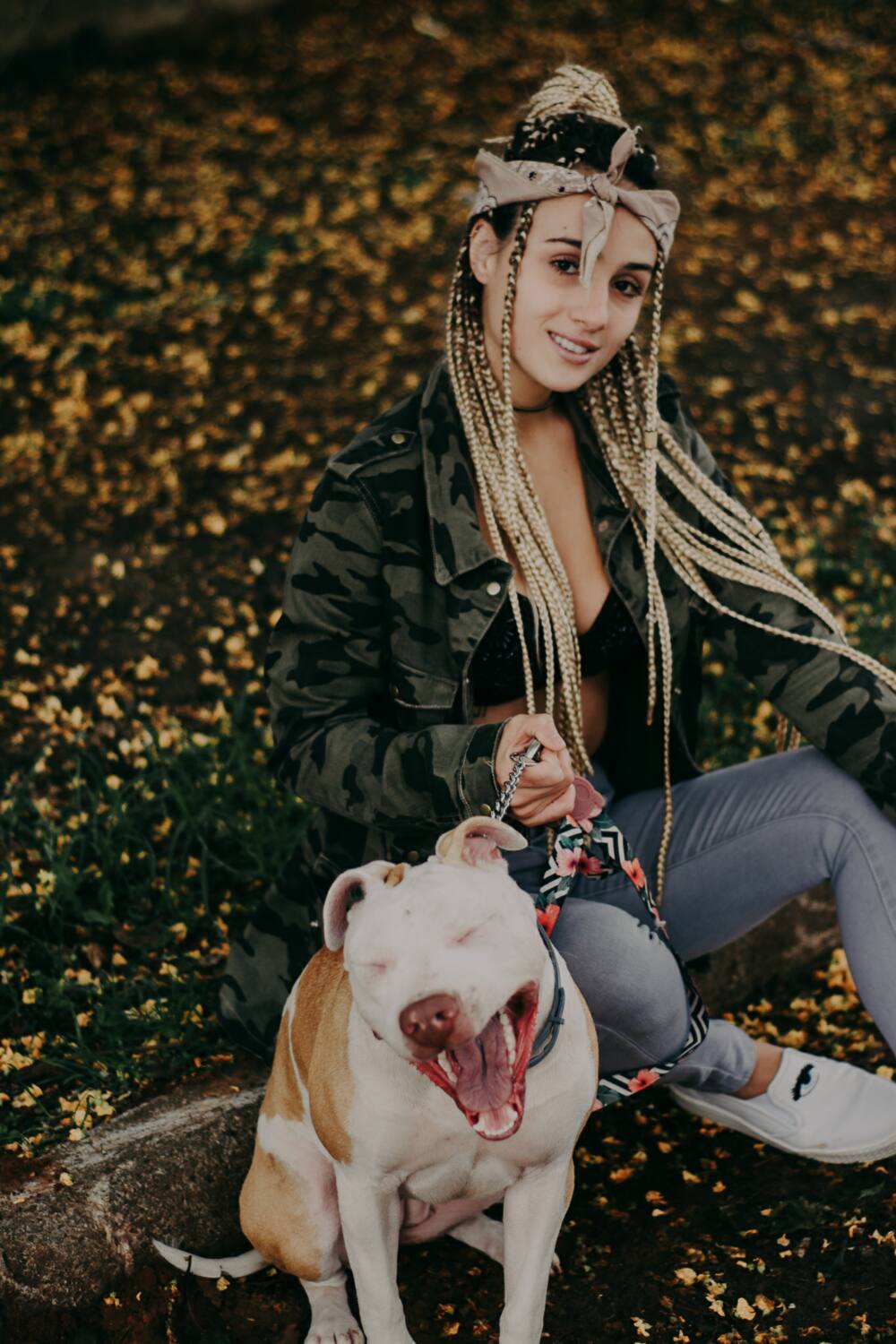 How to style short braids
Below are some of the trendy ways to style short plaited hair extensions.
1. Low bun
The low bun gives a classy and chic look. To achieve this look, take six strands from the middle of both sides and secure them using hair clips. Next, neatly join the strands at the back and secure them with hair clips.
2. Half up half down
To achieve this look, part your hair into two parts horizontally. Then, tame the front section in a bun.
3. Two top knot buns half updo
Part your plaited hair into two parts horizontally. Then, separate the front plaited strands into two using your fingers and hold them into two buns. This hairstyle is ideal for laid-back days.
READ ALSO: How to apply makeup step by step for beginners
Apart from styling, you can enhance your look by using colored braids or incorporating cornrows. With how to style braids tips above, you are a few practices away from being a pro.
DISCLAIMER: Please note that some of the links in the article are affiliate links and Briefly.co.za will earn a commission if you purchase through those links. However, we always choose only the best quality products that we use ourselves and recommend to our readers. The earnings we get from the affiliate marketing help us continue preparing useful and entertaining content, that our audience enjoys.
READ ALSO:
How to tie a doek step by step
Best Boity Thulo dresses
How to do eyebrows at home
Bonang Matheba casual style - best photos and looks
Source: Briefly News