Steve Hofmeyr has recently been topping the headlines of news for most media stations for not-so-good reasons. He has made a series of controversial statements that have caused him to be the talk of the town. The is so much about the artist and actor that you might be interested in knowing.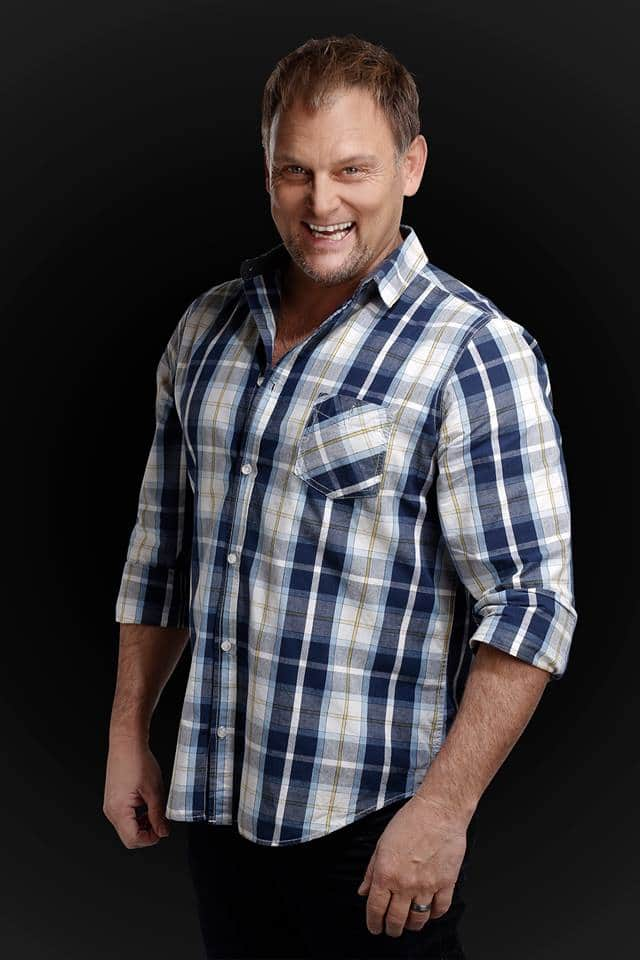 Steve Hofmeyr is not a new name in the country currently. He has been influential, especially through the controversial tweets that he has been putting up in his Twitter account. He has made posts that have insinuated that he is racist and every time he makes these remarks, they always land him in trouble. You might want to know why he has recently been on the headlines of news for the past few months;
Steve Hofmeyr biography
There is more to the man that has been the talk of the town for his controversial statements, that you might be interested in knowing. These are some of the details about him;
READ ALSO: The rise and fall of Steve Hofmeyr
How old is Steve Hofmeyr?
Steve Hofmeyr was born on 29th August 1964. His birthplace is Pretoria. As of date Steve Hofmeyr age is fifty-four.
Steve Hofmeyr family
Besides his flourishing career in music and acting, Steve Hoffmeyer is also a husband and a father. Thee are the details of his family;
Steve Hofmeyr wife
He married Natasha Sutherland, his wife and the mother of his children in 1998. Their marriage has yielded two children; Sebastian Steve Hofmeyr and Benjamin Hofmeyr. Steve and Natasha Sutherland later on separated in 2008 after being married for ten years.
In January 2014, Steve married Janine Hofmeyr. The two welcomed their bundle of joy; Romy-lee in 2017.
Other Steve Hofmeyr children whom he got out of wedlock are; Charissa whose mother is Chantelle Albertyn, Devon Hofmeyr, whose mother is Noline Fourie, and Armand Hofmeyr, whose mother is Ansie Moller.
Steve Hofmeyr career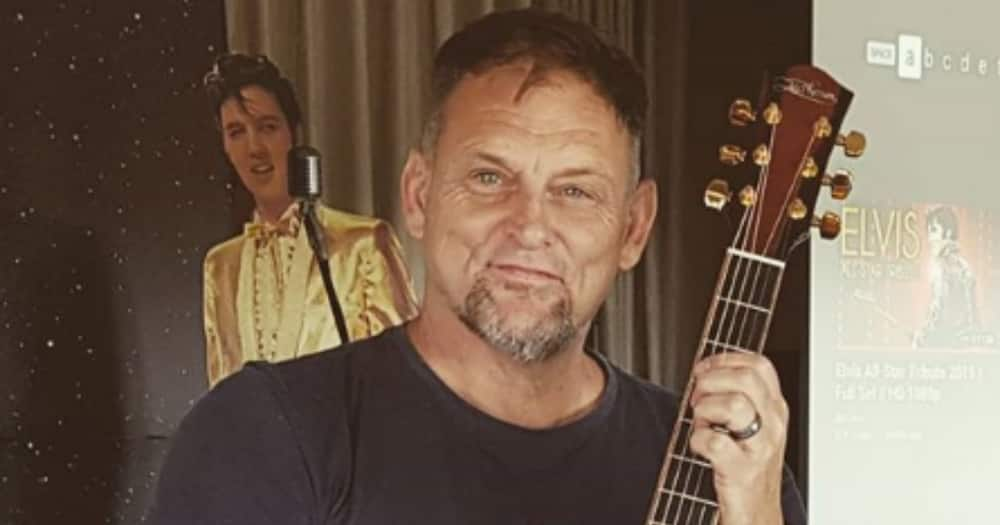 He attended Grey's College where he studied drama. After gaining enough expertise, he featured in the screens in the early '80s as an actor. He was a cast member of the Afrikaans drama show called Agter elke man. While in the show, his fame grew and by the time he was leaving, he had become a celebrity. He left the show to develop his music career. He established his career as a singer and a songwriter.
During his career in music and acting, these are the movies and songs that he has released;
Steve Hofmeyr movies
These are the movies that he has featured in;
Agter elke man in 1990.
A Case of Murder 2004.
Treurgrond 2015.
Besides starring in these movies, Steve Hofmeyer also appeared as a guest cast in Scandal, a TV drama show.
Steve Hofmeyr songs
These are some of the songs that the artist has done;
Waarmaker
Agter Elke Man
Die Bloubul
Sweet Caroline
Verstaan Mekaar
Kyk Hoe Lyk Ons Nou
Engele Om Ons
Deur Jou Vingers
Pampoen
Of the songs that the artist has done, Steve Hofmeyr pampoen was one of the best-performed songs. It earned him fame and increased the number of his fans.
Steve Hofmeyr meltdowns
Besides being famous because of his music, Hofmeyr has been famous for not-so-good reasons. He has made controversial statements that have seen him in the headlines of news on several occasions. These are some of the instances that he sounded controversial;
Is he racist?
In 2011, he released a controversial song. In the song, he used the term, 'kaffir' which was used in place of black people. He did not sound apologetic for that.
In 2014, he made another post on Steve Hofmeyr twitter alluding that he was racist. The post read; " Sorry to offend but in my books, Blacks were the architects of Apartheid. Go figure." The latter has had to suffer the consequences of his insensitive utterances. One of the moments that he has suffered was during this year's Afrikaans is Groot event.
During the event, one of his songs was among those that had been nominated. Because of the controversial statements that he had made earlier on, the sponsors of the event instructed that the songs be removed from the list of nominations or else, they would withdraw their sponsorship. One of the sponsors of the event was DSTV Multichoice.
In anger, Hofmeyr and some of his fellow musicians decided to boycott the event. His actions could only go too far because they caused DSTV Multichoice to give a directive not to air any of his content on any of their channels.
The directive from DSTV Multichoice caused a lot of controversy in the country, particularly from the Afrikaans. Most of them resolved to stop supporting DSTV. They withdrew their support from the company. Led by Hofmeyr, they shared pictures and videos of themselves crushing their DSTV decoders and satellite dishes.
Steve Hofmeyr twitter
Recently, the latter has made statements on his Twitter account that are likely to land him in trouble. On 18th June 2019, he tweeted; "Dear Phumzile van Damme and Zindzi Mandela, I'm a South African tax-paying citizen. Effectively, I AM your boss. You WILL jump when I say so and you WILL ask how high. And when you come to take our lives and land, you WILL die. Our contract is that simple. And don't you forget it."
Phumzile van Damme's tweet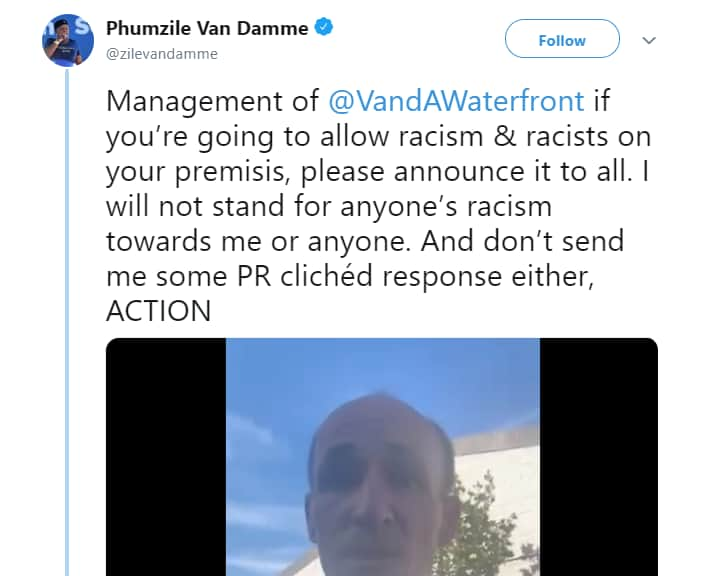 These remarks came after Phumzile van Damme who is the DA shadow minister of communication got involved in a situation that sounded racists. The latter took to Twitter to explain about her encounter with a white man who said to her; "Voet##k you black." Out of anger, Phumzile punched the man on his head. This incident drew many public reactions.
Zindzi Mandela's tweet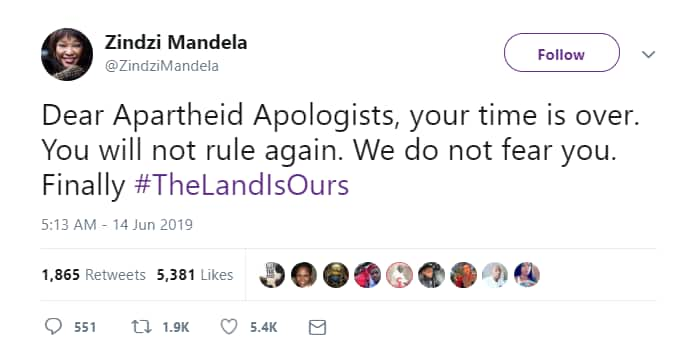 Zindzi Mandela, on the other hand, was caught the attention of Hofmeyr when she recently tweeted, "Dear Apartheid Apologists, your time is over. You will not rule again. We do not fear you. Finally #TheLandIsOurs."
Responding to the post that Zindzi Mandela had made about land, Hofmeyr tweeted; "when you come to take our lives and land, you will die". Little did he know that the tweet would earn him more than re-tweets and likes.
The comments that Hofmeyr made through his twitter post have stirred so much controversy in the country. The ruling party; ANC, has threatened to file charges against him. They claimed that he was racist. The ANC spokesperson commented on the issue saying; "hark back to the crude apartheid past are something that no South African should tolerate. This in our eyes demonstrates white arrogance and is a textbook example of white privilege, which must be nipped in the bud."
He went further to say, "Racists have no place in our democratic country," He then wrapped up the claims by saying that the ANC would file charges against Hofmeyr for making 'racist' and 'inhumane rants'.
Barely fifteen hours after making the remarks about filing charges on Hofmeyr for the claims that he made, the ANC announced that it has postponed the day of filing the charges from Thursday to Monday, and announced that it was not off the hook. The party announced that it would file the charges in Johannesburg because this is where the offices of the party are, and that way, it would be easy to monitor the progress of the case.
Steve Hofmeyr has displayed a side of himself that most people did not imagine existed. He is making remarks that no one would wish to hear, especially since South Africa is a democratic country and is still healing from the effects of apartheid rule.
READ ALSO: