Xolani Gwala biography: age, daughters, wife, ex wife, salary, 702 death and cause of death
For anyone to have a successful career in the media, they must be passionate about their job. They must also keep up with the trends because the audience often relates to personalities who are updated about the present-day times. Xolani Gwala is one of the South African media personalities who have been serving in the industry for at least two decades now. How does he remain relevant in such a dynamic industry?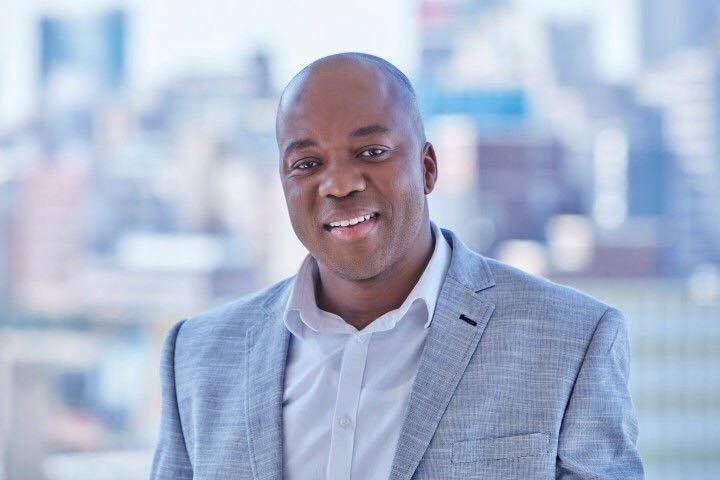 Xolani Gwala is a South African media personality who was born in 1975. His exact date of birth is yet to be confirmed, but the talented radio show host was born in Impendle, Kwa Zulu Natal Province. Impendle is a small town that is located about 60 kilometres from Pietermaritzburg. Gwala is a South African citizen who is now considered as an inspirational and influential local journalist. Xolani Gwala age is 44 years.
Xolani Gwala qualifications and family background
Xolani attended St. Marys Secondary School, where he completed his Grade 12 education. He went ahead to study a diploma in Public Relations Management or Media Studies at Natal Technikon, Durban, Kwa Zulu Natal, in 1993. He graduated with his diploma in 1995.
Xolani Gwala 702 is the eldest child in a family of five children. He, therefore, has four siblings. He has three brothers and one sister. Both his parents are alive and are happily married. As a young boy, the media personality did not dream of a career in media. Fate would lead him there anyway, and today, he loves and enjoys his work in the industry.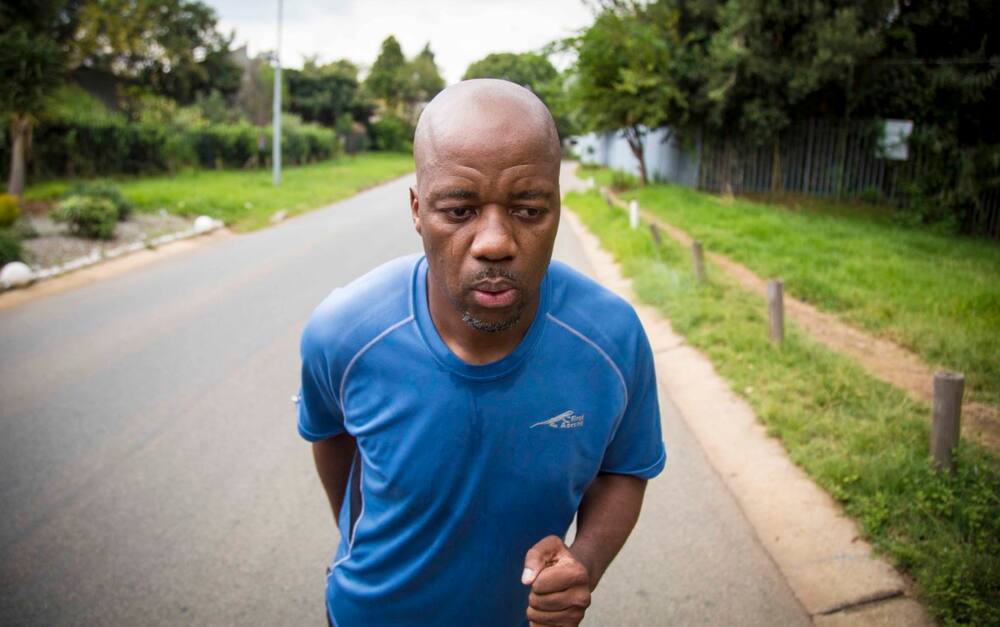 Career path
Xolani Gwala 702 has been in the media industry for at least two decades now. His career began while he was still a student at Natal Technikon, Durban, Kwa Zulu Natal. A year after graduation, he landed his first job in the media. He was employed as a newsreader at the Durban-based Ukhozi FM. After a while, he moved to P4 Radio which is also based in Durban.
READ ALSO: Dan Lok biography: age, wife, companies and net worth
Gwala is a firm believer in respect among colleagues and good work ethic. His hard work and work ethic earned him honour, respect, and recognition in the industry within a short period. As a result, more opportunities knocked at his door. He secured a new job as a reporter for Talk Radio 702 that is located in Johannesburg. The Xolani Gwala Show, one of the Radio 702 podcasts, explores local and international news and current affairs. The show airs at lunchtime.
At Talk Radio 702, the media personality is now ranked as a senior reporter, talk show host, and newsreader. In 2000, he secured another job with SABC Africa. At this new station, he became a talk show host of News Hour, on SABC 3. The show addressed all current affairs in the country. In 2008, he exited SABC Africa and joined 93.6 RAM FM, a Middle Eastern station. He joined as a news editor in the Palestinian territory station.
After working abroad for some time, the journalist came back and joined the local media once again. This was after the Ramallah-based station closed down. He joined SA FM as the host of PM Live and Asikhulume. He also became a co-host on other shows at SA FM. In his free time, he reads news and other current issues.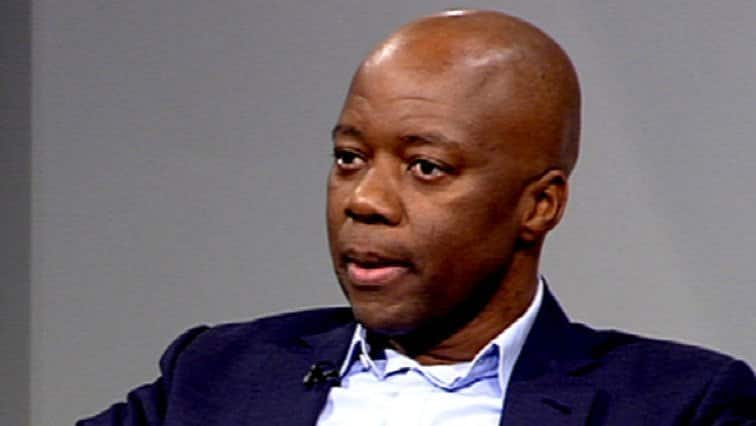 Awards and recognitions
Xolani is recognised as one of the best and most influential male media personalities in contemporary South Africa. The recognitions and awards that he has earned from his career include;
In 2004, he was nominated for the Best Male Programme Presenter award for his role in Asikhulume. The show was also nominated for Best Talk Show.
In 2009, he was recognised in the list of top 300 Young South African media workers by Mail and Guardian.
Asikhulume was recognised as second out of the top five talk shows in South Africa. It ranked 755th out of all the 2127 shows in the country. The show has over 1 million viewers.
His shows, Asikhulume and PM Live, were recognised at engaging and the best places to learn about politics and current affairs in South Africa and across the world.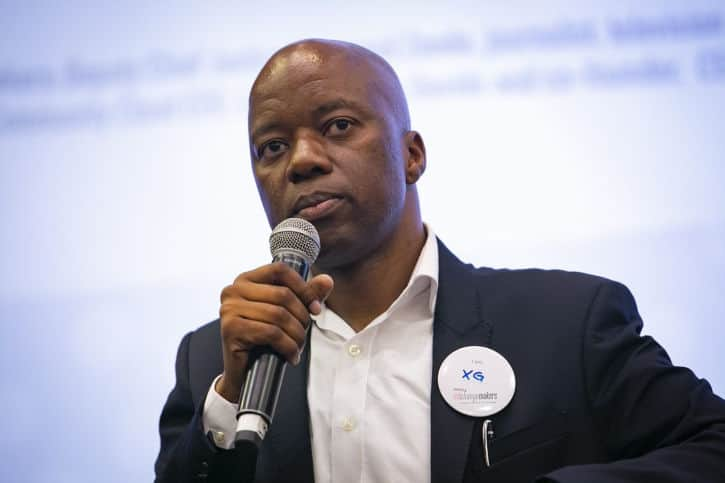 Marriage, income and fatherhood
Xolani is a married man. Former Miss South Africa, Peggy Sue Khumalo, is Xolani Gwala wife. The media personality proposed to the beauty queen and investment banker on his fortieth birthday. The proposal happened at his celebration party that was held in Impendle, Kwa Zulu Natal. Xolani Gwala Wife Peggy Sue Khumalo is now the Chief Executive Officer of Standard Bank South Africa Wealth Division. The presenter is also a proud father of the two adorable girls.
While it is alleged that the media personality has an ex-wife, not much is known about her. His monthly income is yet to be disclosed to the public.
Xolani Gwala cancer
In 2017, the journalist was diagnosed with cancer. In September 2017, he announced that he had been diagnosed with cancer of the colon. Before the diagnosis, he had a fever and was feeling ill. He was put on antibiotics but did not get better. His wife, Peggy Sue, suggested that he should seek further medical attention.
After conducting tests, the doctors discovered that he had cancer in the liver and traced it back to the colon. The disease was at an advanced stage, but the perfect health of his unaffected organs enabled him to get treatment immediately. Xolani Gwala oncologist has been observing him closely ever since the diagnosis was made.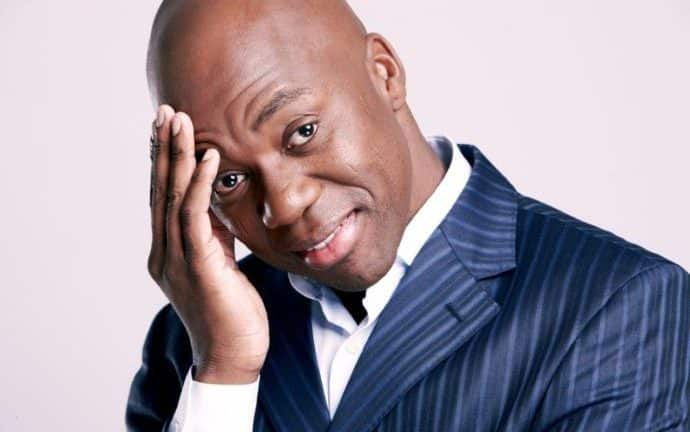 Soon after the diagnosis was made and he isolated for treatment, his fans noticed his absence. Why is Xolani Gwala not on 702? In 2017, he went off-air to seek treatment for colon cancer. He has since recovered and is back on the air. Contrary to the Xolani Gwala death rumours that surfaced in the media, the journalist is doing well. He has since resumed work and is doing his best to keep South Africa engaged and aware of current issues.
According to Xolani Gwala latest update, he is in remission from cancer. He credits the support from his wife, Peggy Sue, as the reason why he made it alive. He and his wife are also thankful to the medical team that took care of him, and for the overwhelming support they received from South Africans.
Xolani Gwala death
On Ist November 2019, Xolani Gwala succumbed to colon cancer. His death came months after there had been a gleam of hope for his cure. He had sought medication in Israel, and between February and June, he had been part of the world-first clinical trial that was held in Israel. He has been on treatment since then until his demise.
His wife came out to announce his death and stated that the miracle that they had hoped for did not materialise. In the statement she said,
We were hopeful, but always knew the gravity of the situation. From February to June this year, Xolani took part in a world-first clinical trial in Israel. His medical team has been amazing and we have enormous admiration for the work they are doing in advancing cancer treatment.
While the miracle did not materialise, these last few months have been precious, and we are eternally grateful that Xolani has been able to spend them with us as a family. This journey has made our family so much stronger and brought us ever closer together.
She penned off the message expressing how much she would miss her husband.
Reactions to Xolani Gwala death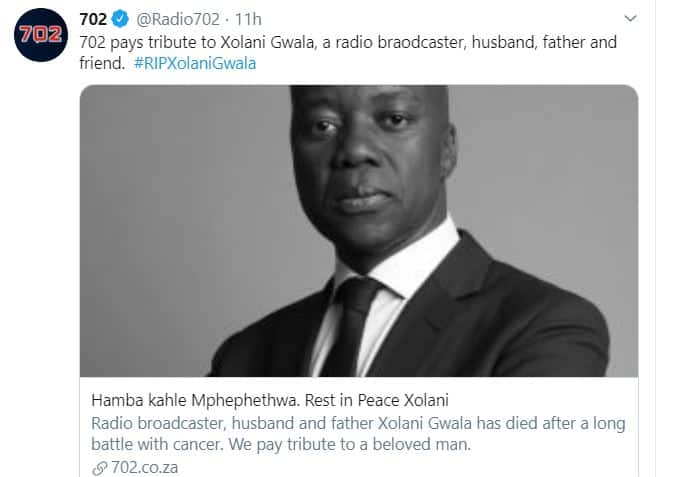 Fans, colleagues and friends have come out to condole with the deceased's family. They have expressed how much his death is a loss to the country. Radio 702 paid tribute to him for his service and how resilient he was to fight the monster.
Xolani Gwala is a top male media personality in South Africa. He is best known for articulating and exploring both political issues and current affairs. Although he was diagnosed with colon cancer and underwent treatment in 2017, he remains active and dedicated to his work and family. According to the latest Xolani Gwala update, the cancer is in remission, and he is thankful to have received plenty of support during his battle with the disease.
READ ALSO:
Die Antwoord biography: wiki, members, movie, breakup and net worth
AKA biography: age, real name, girlfriend, net worth, songs and latest news
Source: Briefly News