Among South African celebrities who have been bold enough to discuss their sexualities is Nomsa Buthelezi. The star actress summoned the courage and came out live eventually when she gave her fans a peek into her private life, and since then, there have been mixed feelings. And guess what? She has gained more fame in the process. As one of Mzansi lesbians, she took her relationship to another level when she and her lover eventually tied the knot.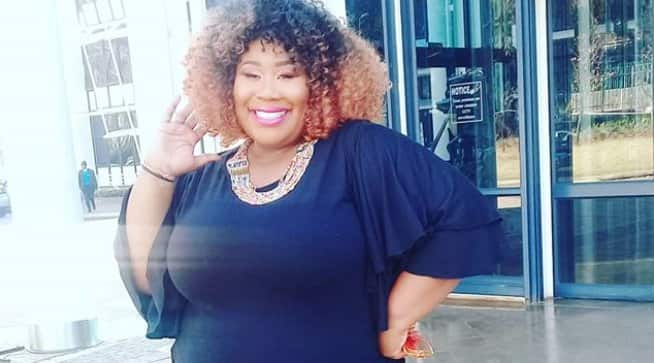 Nomsa Buthelezi is known for her experience in acting, which spans for close to two decades. She has featured on different national shows as well as on several local drama productions. Her open confession on being a lesbian for many years became a talk of the town and also went viral on social media before she eventually got married. Read more about her private and career life in the following paragraphs.
Nomsa Buthelezi biography
The South African actress Nomsa Buthelezi is best known for the role she played as Awelani in Muvhango, an SABC2 soap opera, as well as the host of Our Perfect Wedding, a Mzanzi Magic reality show. She has been a theatre actress for seventeen years, and after she shot a television advert for Absa, she decided to venture into television in 2007.
READ ALSO: Dan Patlansky biography: age, sister, wife, guitar, songs, and albums
Where was Nomsa Buthelezi born? She was born and raised in Alexandra. As a highly sought-after actress, she has played a role in a Vodacom "Summer Loving" commercial as a female Metro police officer that fell in love with a taxi driver between 2007 and 2008. Then, another opportunity to star as Thandi in the SABC1 sitcom Abo Mzala opened up for her in 2011 before, and in 2013, she landed the role of Dudu in Samsokolo, which happened to be a Mzansi Magic sitcom.
The following year again, in Check Coast, the Vuzu sitcom, she picked up another starring role. Nomsa Buthelezi is proud to have actress Linda Sebenzo as her mentor and prides in the support that she gets from her parents. While commenting on her success story at a time, she spoke about how her parents would give her R22 daily to travel to auditions.
Nomsa Buthelezi age
How old is Nomsa Buthelezi? The star-actress was given birth to on the 7th of April, 1982. Going by this means Buthelezi age is 37 years old at the moment.
Nomsa Buthelezi spouse
In 2013, Buthelezi lost her boyfriend by the name of Unathi Ndondzwana to stroke. After Ndondzwana complained of muscle pains on his left side, the next thing was a sudden collapse from his bedside and every effort to get him back to life after some time proved abortive. Since the death of Unathi, Nomsa thought it would be entirely out of this world for her to love again until she eventually found her girlfriend, Zandile Shezi.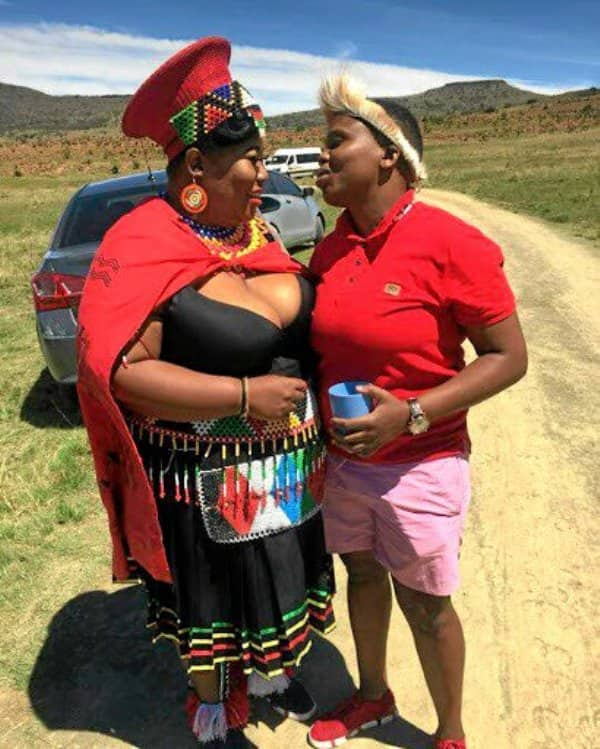 After she showed off her love in celebration of her birthday for the first time, she gained a lot of attention. In a cute caption that she put on Instagram about her, she wrote:
"Today I celebrate us... I celebrate our love and let mama universe keep us together. Happy birthday Zandile. I love you, my king is a woman".
While a lot of people were surprised about Nomsa Buthelezi husband being a woman, she confessed that she had been a lesbian for many years. However, because she dated a guy for once in her life, reclaiming her identity became a challenge for her. As soon as she got the love of her parents, not minding who she dated, she dared to move on with her relationship.
Is Nomsa Buthelezi married? The dream of many years came to pass eventually as both Nomsa and the love of her life had their traditional wedding celebration with friends and family in Alexandra, Johannesburg last weekend.
Nomsa Buthelezi wedding photos
It is so glaring that Buthelezi is one of the happiest women on earth as she finally tied the knot with her lover.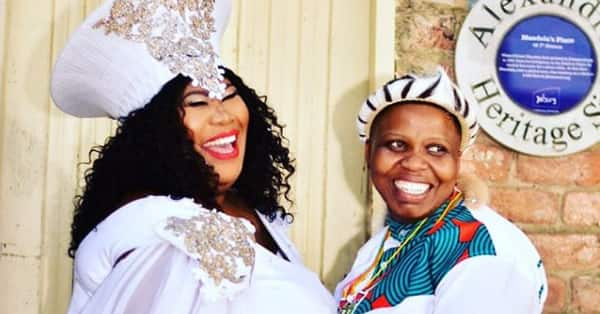 Below is another photo collage of the notable event.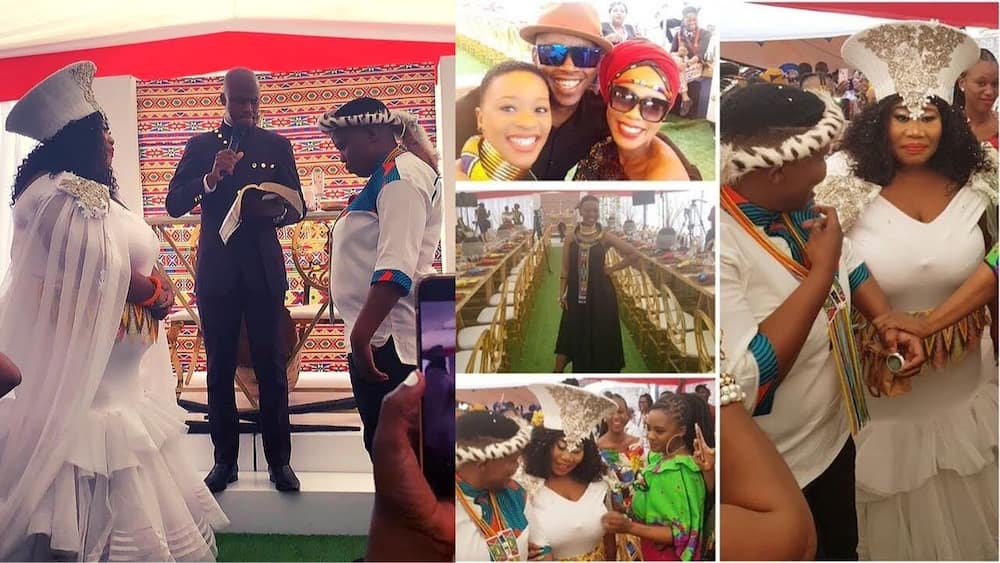 Nomsa Buthelezi TV shows and movie
The face of Nomsa Buthelezi, no doubt, is no longer new on big screens, especially to entertainment lovers. The reason is that she has featured in different television shows and drama series since she picked up a career in performing.
READ ALSO: Bongani Khumalo biography: age, measurements, Tottenham, interview, current team, stats, salary and net worth
Apart from starring in SABC1 sitcom Abo Mzala, the Vuzu sitcom Check Coast and Mzansi Magic sitcom Samsokolo, she has also played roles in other shows and movies which include the following:
Mzansi Magic soapie Isibaya as Ma Mnisi when it debuted in 2013.
Mzansi Magic prison drama Lockdown as delusional inmate Slender from 2017 to 2019.
On Our Perfect Wedding, Nomsa became a revolving door presenter, and in Season 7, she replaced Thembisa Mdoda in 2017.
She made her on-screen debut when she enlisted as a character on SABC1 soapie Generations: The Legacy on the 8th of August, 2019.
Co-host of e.tv's new show Fragrance Your Life.
Nomsa Buthelezi child
Nomsa is known to be the mother of two kids whose names are Olwethu and Lindi. One of the challenges that the children have had to face is that of their identification with their lesbian mother. And while commenting on this, Nomsa said:
"Sometimes I feel like I could go to school with them to protect them, but I have to leave them to experience this and learn to protect themselves".
Nomsa Buthelezi awards
Since she took up a career in acting, Buthelezi's professionalism has been greeted with an award which she got last year. She got the Golden Horn Award for Best Supporting Actress in a TV Comedy.
Nomsa Buthelezi Instagram
Our Perfect Wedding presenter Buthelezi enjoys a considerable number of followers on her official social media platforms. On her Instagram page, a platform where she shares intimate information about herself and what she does, she enjoys more than 63,900 followers.
Nomsa Buthelezi parents
The names of Nomsa's parents are Vezi (61) and Magdalene (60). At the time when she was still concealing her sexuality, Nomsa said her father had always suspected her to be a lesbian because of her actions. But on her part, she had no boldness to let the father know because the practice was not common at that time.
However, because her parents were waiting for her to come out plain, it became easy for her to share the information with them eventually. According to her, Nomsa's parents only cared about her "being in the right relationship with the right person". Consequently, welcoming Zandile into their family became an easy thing to do.
Nomsa Buthelezi has established herself as an icon in South Africa's entertainment industry. With her wealth of experience in facing the camera, she has been able to win the hearts of different entertainment lovers across the country. However, the recent disclosure of her sexuality, even though it was a shock to some of her fans, was seen as a bold step which she has received commendations for.
READ ALSO: Kamohelo Mokotjo biography: age, measurements, girlfriend, siblings, parents, stats, salary, car, and Instagram