Tito Mboweni age, children, song, education, qualifications, party, office and net worth
Tito Mboweni is the incumbent finance minister in the Republic of South Africa. Cool, collected, and simple are words that best describe the finance guru with a calm demeanour. His current position is not the first 'big-money' position he has ever held. He holds the record of the first black South African to hold the position of governor of the South African Reserve Bank.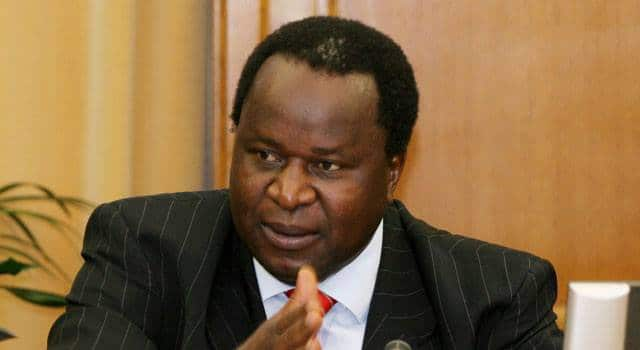 You might wonder how old is Tito Mboweni? Tito Titus Mboweni is a man who has seen enough to know what is best for South Africa. You have also seen him in his element and know very well that he is a man that keeps things simple. Recently, he has been trending online for wearing old shoes that appear worn out, yet good enough to be worn. Yes, this is the kind of simplicity Mboweni has.
This piece seeks to enlighten you about everything that you need to know about him, from his age to his qualifications. Read on to know more about your finance minister.
READ ALSO: Kamohelo Mokotjo biography: age, measurements, girlfriend, siblings, parents, stats, salary, car, and Instagram
Profile
Full name: Tito Titus Mboweni
Date of birth: 16th of March, 1959
Age: 60 years as of 2019
Place of birth: Tzaneen, Limpopo, South Africa
Nationality: South African
Gender: Male
Political party: African National Congress
Salary: R 3,800,000.00 (when serving as the governor of the reserve bank)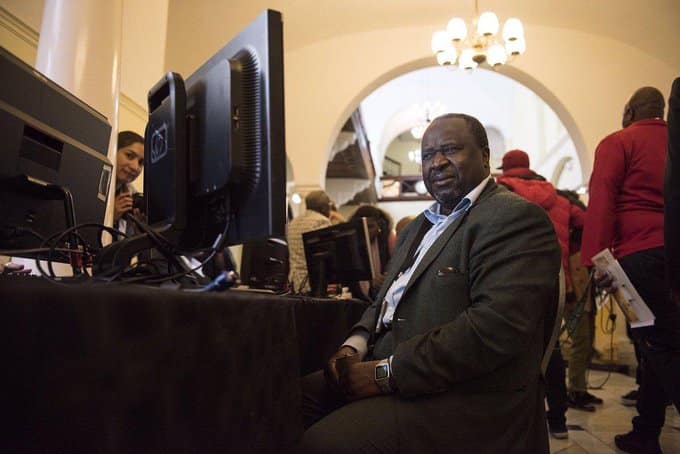 Tito Mboweni biography
Tito Mboweni is the youngest in his family. They were three. His parents raised them in Tzaneen in what was known as Transvall province at the time. Here was where he made most of his childhood memories.
Tito Mboweni age
Born on the 16th of March, 1959, Mboweni is aged 60 as of 2019.
Tito Mboweni education and qualifications
Tito is an educated man with a special skill on economics and finance, and that is why he has, on several occasions, been trusted with South Africa's big monies. He went to the University of the North for the years 1979 to 1980. Here, he studied an undergraduate course on Commerce, commonly known as B.Com. However, the young Tito did not finish his schooling while at the university as he had to leave South Africa and go into hiding in the year 1980. He went to exile in Lesotho.
He was, however, not sleeping while in exile. He joined the African National Congress (ANC), which is also South Africa's ruling party at the moment. He played the role of an activist for ANC in different ways. He was also studying Bachelor of Arts in Economics and Political Science at the National University of Lesotho. In 1985, he graduated with honours. His educational pursuit did not stop at that, because in 1988, the exiled South African got a masters degree in Development Economics at the University of East Anglia that is found in England.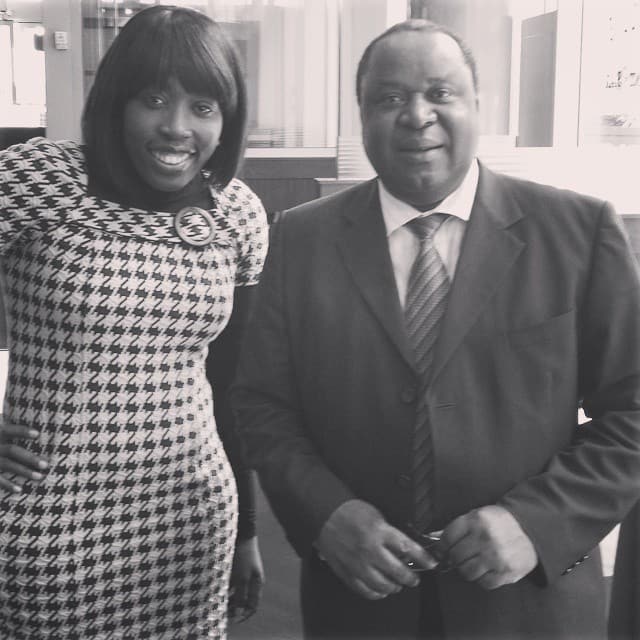 Children
Tito has three sons, but one of them, Tumelo Mboweni, is renown.
Tito Mboweni song
Tito is loved and respected in equal measure. This fact can not be emphasized more than how Cassper Nyovest did. The South African rapper happens to love and respect the simple money guy so much that he named a song after him. What more do you want to prove that this is love? Let me rephrase the question. Which South African politician is loved enough to be used as a title of a song other than Mboweni? The song is about money, and it is lit.
READ ALSO: Schalk Brits biography: age, measurements, wife, family, education, position, clubs, stats, salary, Instagram and net worth
Career
Tito has had a career both in the public and private sector. From 1994 to 1998, he was the minister of labour under president Mandela's government. Before his appointment into the ministerial position, he served as the Deputy Head of the Department of Economic Policy in the African National Congress. In addition to this, Tito also went on international and local forums on behalf of the ANC. He was also a member of the National Executive, National Working Committees, and the Chairperson of the National Executive Committee's Economic Transformation Committee.
When he was serving as the Labour minister, Mboweni came up with the post-Apartheid labour legislation that sought to protect the working South African.
In 1995, he became one of the World Economic Forums Global Leaders of Tomorrow.
Two years later, in 1997, he got appointed as the leader of ANC's Policy Department that was charged with the responsibility of controlling policy processes of ANC. He, however, offered his resignation letters to all the appointed and elective positions he had in the ANC when he got a job with the Reserve Bank of South Africa. This was in 1998 when he started as the advisor to the governor of the reserve bank.
In August of 1999, the money man became governor of the reserve bank of SA. He also received an award from the University of Natal in 2001. As if this is not all, he was elected Chancellor in the University of the North-West and was put in office as the Chancellor on the second month of the year 2002.
From 1 April 2002 to 31 March 2005, he was appointed as Professor Extraordinary in Economics by the University of Stellenbosch. Also, in 2015, Asia School of Business appointed the money man to its Board of Governors.
In 2009, Gill Marcus was appointed as the governor of the reserve bank, replacing Tito.
On October 9th, 2018, Mboweni was declared the Finance Minister by president Ramaphosa after the resignation of Nhlanhla Nene.
READ ALSO: Sam Holdings owner age, wife, parents, story, businesses, cars, house, Instagram and net worth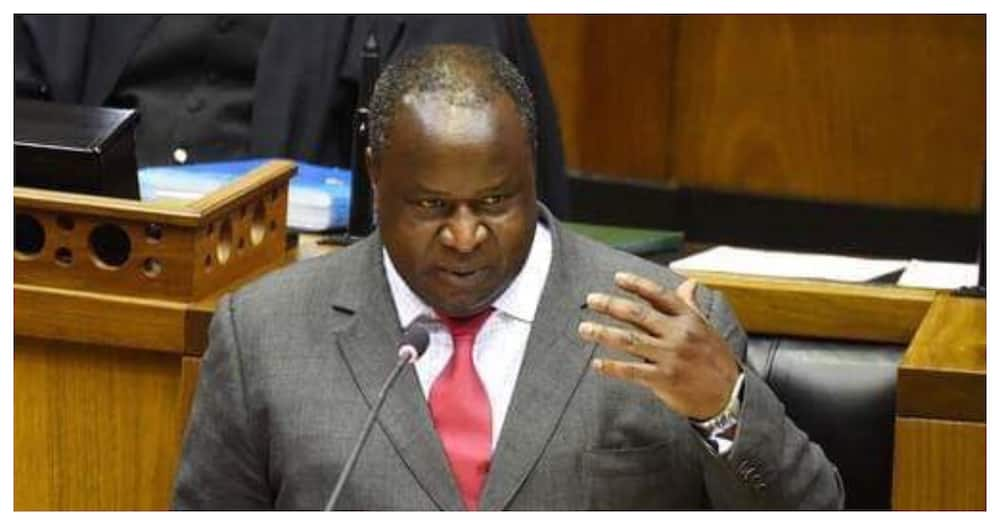 Tito Mboweni net worth and salary
Tito, like most rich men, has his net worth kept secret for all the right reasons. It can be argued that he is a fairly rich man, judging from his career track record. However, his salary, at one point, ranked among the topmost paid reserve bankers worldwide. At that time, the money man was being paid ZAR 3,800,000.00.
Tito's shoe game under fire
Pictures of Tito Mboweni's shoes surfaced online, from the ANC NEC meeting held at Luthuli House in Joburg, and South African netizen can not keep calm. South Africans noticed his 'dirty shoe' and could not just let it slide. Critiques of his choice in shoes said that the minister chose to wear those particular shoes as a publicity stunt, while his sympathizers defended him by saying that he probably wore the shoes because they were simply comfortable. I bet a man of his stature and responsibility should be excused when he makes a wardrobe mistake.
Like Nene Mboweni, Tito Mboweni was a pacesetter who led the way for his generation. He made a name for himself while serving his people to the best of his ability. History will remember him for all the right reasons. Currently, he is the man fixing South Africa's economic issues, and the population is behind him for only one reason; love. They believe in his skills and economic acumen. Long live Mboweni.
READ ALSO:
Clement Maosa biography: age, girlfriend, wedding, song, education, qualifications, car, house and Instagram
Thulani Serero biography: age, measurements, current team, stats, salary, and Instagram
Themba Zwane biography: age, measurements, wife, current team, stats, salary and Instagram
Source: Briefly News