Sizwe Nxasana age, children, wife, education, qualifications, job, salary, cars, house and contact details
Sizwe Errol Nxasana is one of the most successful South African accountants and business executives. He has served in several firms, acquiring a wealth of experience in corporate management. Several people look up to him in admiration for his success and impressive qualifications. So, how old is Sizwe Nxasana?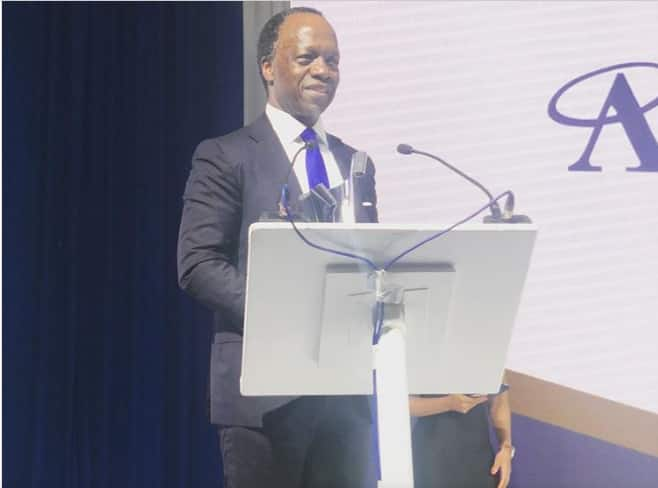 Sizwe Nxasana prides in his mastery of leadership skills, which have seen him rise steadily to his present-day rank in our fast-moving economy. He is famed across the country as a chartered accountant, having registered great successes in his executive and non-executive career. Professor Wiseman Nkuhlu inspired Sizwe to pursue CA (SA) instead of his earlier dream of enrolling at Fort Hare for a marketing degree.
READ ALSO: King Mswati age, children, wives, siblings, education, buys rolls royce, house and wealth
Sizwe Nxasana profile
Real names: Sizwe Errol Nxasana
Date of birth: 7th August 1957
Sizwe Nxasana age: 62 years
Place of birth: Lamontville, South Africa
Nationality: South African
Marital status: Married
Partner: Dr. Nobuhle Judy Dlamini (60 years old)
Profession: Financial professional, banker, and businessperson
Years active: 1976 to present
Famous for: Founder at Sizwe Nxasana Future Nation Schools and Chair at National Education Collaboration Trust and National Student Financial Aid Scheme.
Sizwe Nxasana Twitter: @SNxasana
Website: sizwegroup.co.za
Sizwe Nxasana biography
The 62 year-old Errol Nxasana holds a reputable legacy and is admired by most upcoming business persons. He is particularly successful for his in-depth understanding of finance, business, and banking.
Sizwe education and qualifications
Mr. Nxasana matriculated in Kwazulu-Natal's Mariannhill High School. He is a BCom graduate from the University of Fort Hare. He is also an ex-student at UNISA where he concentrated on the Bachelor of Accounting Science (Honors) degree. Similarly, he is down on record as among the first 10 South Africans to qualify as a Chartered Accountant.
Some of the higher learning institutions that have commended Sizwe's work with honorary doctorates include The University of Fort Hare (2004), the University of Johannesburg, the Durban University of Technology, and the Walter Sisulu University.
Sizwe Nxasana children
Having known Dr Judy Dlamini for about 45 years (they are high school sweet-hearts) and officially married for 35 years, Nxasana is a father of three. His only son, Sifiso, born on 22nd June 1984, died several years back. He has two daughters, 39 and 32 years old.
Their fallen brother, Sizwe Nxasana Jnr, remains in fresh memory. Sizwe Nxasana son passed away on 3rd February 2012. Sifiso Dlamini Nxasana (Wits BCom Hons 2008) was 28 years old at the time and died due to ill-health. Sifiso Learning Group was named in his honor. These schools offer quality and affordable education to all.
Career background
Mr. Errol, the CEO of FirstRand Limited, formerly worked as CEO at Telkom SA Limited from 1998-2005. He also worked at PricewaterhouseCoopers and Unilever and later established Sizwe & Co in Kwazulu Natal. Besides, he served at Absa as a national president between 1991 and 1994 and formerly served as chair at NSFA.
In 1996, he co-founded a national firm of accountants called Nkonki Sizwe Ntsaluba. The company later rebranded itself to become Sizwe Ntsaluba Gobodo. Sizwe served as a national managing director for a couple of years before becoming the chief executive officer at Telkom SA.
His demanding role at Telkom SA was highly expository, especially in organizational management. It is during his tenure that growth spiked at Telkom SA enabling the company to competitively list in both Johannesburg and New York-based stock exchange markets.
Sizwe has since held several other posts, helping him to nurture his entrepreneurial passion and skills. He firmly believes that executives should not exceed ten years of active service in any given firm.
Sizwe is a co-founder and chair at the National Education Collaboration Trust. In 2015, he was the chair at the National Student Financial Aid Scheme.
He is now an accomplished social entrepreneur with interest in education; it is for this reason that he founded Sifiso Learning Group with close interests in real estate, publishing, and Edtech.
Sizwe Africa IT group
Sizwe IT group is one of the best in the ICT value chain. The company ranks top for its robust innovations and commitment to meet immediate customer needs.
Sizwe Nxasana cars
Nxasana leads a quiet life packed with a tight schedule. He is, however, a car fanatic and an enthusiast of Mercedes cars.
"I have come to recognize the car, and particularly the Mercedes, as an art form, and I extract an enormous amount of pleasure from my cars. When I'm not doing that, I may be found reading on any one of my interests. Right now, that is books on entrepreneurship and innovation."
He also loves picking good reads in his Sandhurst house within the affluent Sandton suburb. Sizwe Nxasana house in Johannesburg's Illovo that is the headquarters of Sifiso Learning Group is cool and tranquil, perfectly decorated.
Sizwe Nxasana net worth
How much does Sizwe Nxasana earn? In 2016, Sizwe ranked in fourth place among the highest-paid South African chief executive officers taking home about R18.5m from FirstRand. The banker owns several startups and is an executive in different companies.
READ ALSO: Ruda Landman age, children, husband, book, Caret Blanche and Instagram
Sizwe Nxasana is a famed banker, business executive, and accountant with a deep founded passion in entrepreneurship. It is interesting how Sizwe has managed to strike a balance between his personal life and his busy office schedule. He is now famous for his longstanding experience as a corporate chair and executive.
READ ALSO:
Kaizer Chiefs logo, jerseys, sponsors, coaches, players, new signings, transfer rumours, website, salaries, facts and latest news 2019
Cindy Mahlangu age, spouse, siblings, parents, missing, stunning images, The Queen and Instagram
Michelle Botes age, children, husband, education, TV shows, movies, nominations and Instagram
Shado Twala age, children, husband, siblings, SAfm and Instagram
Brenda Ngxoli age, children, husband, The River, Rockville, nominations, awards and Instagram
Source: Briefly News