Mandisa Mashego age, children, husband, education, qualifications, photos, EFF and contact details
Mandisa Mashego is a prominent South African political figure, now a provincial leader of the Economic Freedom Fighters (EFF). She is no longer a new face in the South African political sphere, given her boldness and outspoken nature. She first rose to this influential rank in 2018, becoming the first female to ever serve in such a capacity. She is now the face of women in active politics with much to learn from her biography. Here is all about her.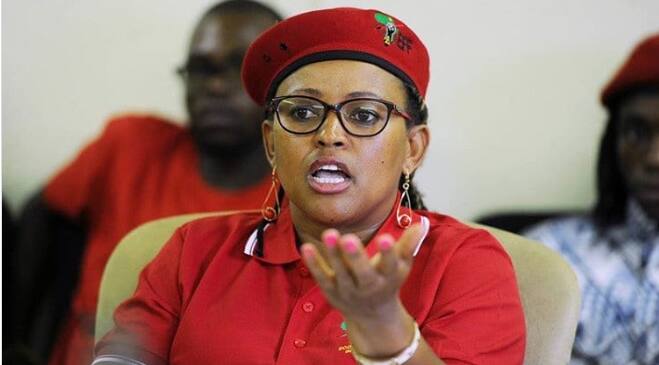 Mandisa seems to get it all right in politics, amassing several followers in the process. It is interesting how she has attracted a broad command of loyal followers within a year of her service as a big wig in EFF. Mandisa has such a good grasp of her roles and never fails in the manner of handling her recent outburst of publicity. Her name continues to grow beyond the party limits, even as this election year crawls out.
READ ALSO: Ruda Landman age, children, husband, book, Caret Blanche and Instagram
Mandisa Mashego profile
Real names: Mandisa Mashego
Year of birth: 1973
Place of birth: King Williams Town, Eastern Cape, South Africa
Nationality: South African
Mandisa Mashego age: 46 years
Profession: Politician (Gauteng chairperson for EFF)
Years active: 1990 to present
Marital status: Single
Mandisa Mashego children: 1
Famous for: First South African female to serve as a provincial leader
Mandisa Mashego Twitter: @MandisaMashego
Mandisa Mashego Facebook: @Mandisa Mashego
Mandisa Mashego biography
Mandisa has become a maiden name in the country and particularly among thousands of EFF followers. Besides her place in power, she is equally respected for her provocative nature as well as bravery when pointing her finger at political wrongdoings.
Early life
Mandisa Mashego spent a better part of her childhood in the village of Mayfern, Nelspruit, Mpumalanga, away from her birthplace in King Williams Town within the Eastern Cape. She received a modest upbringing amid apartheid struggles.
Besides her Witbank hometown, Mandisa lived in Westville, Durban, starting 2008, and Polokwane, Limpopo starting 2011.
Mandisa Mashego parents
Mandisa is a daughter to a mixed family, giving her a diverse race identity. Her Xhosa mother was equally accorded a mixed-race status for her light complexion. She recounts that her white father and black mother had difficulties mingling because it was a violation of apartheid policies at the time.
"My parents could never get married. We would travel to Eastern Cape and sneak onto first class where she would sit. But I had to cover my head, so I wouldn't be seen."
Mandisa takes after her father, who was equally a passionate man in politics and governance. She admits that he plays an influential role in her life.
"He was a man who beat up white men back in apartheid days. He taught me the art of defiance. I also had cousins and uncles, who were all involved in the Struggle. I was a teen handing out pamphlets at the forefront of protests. But my mom, who wasn't political, would drag me home."
According to her Twitter page, she is a sister to three, meaning that she has three siblings.
Mandisa Mashego education and qualifications
Mandisa is a firm believer in quality through education, as did his admiral Nelson Mandela. It is for this reason that she enrolled at the Durban University of Technology for B-Tech in Public Relations. She has also worked in the corporate field of public relations. Her long-held dream of completing a Master's degree in Business Administration is still valid.
Mandisa Mashego husband
There is not much information available about Mandisa's love life. To wrap it all, she is an independent woman who prefers to live life her way.
"I chose to be a single parent. I am still not married, and I never had more children simply because it's rough. My family and friends assisted with co-parenting my daughter."
Mandisa Mashego daughter
Mandisa became a mother in 1994. There is no doubt that her now 25-year-old daughter is the happiest part of her life.
Mandisa Mashego career
Mandisa has served under different offices, garnering a wealth of experience in her work. Some of the notable positions she has held before according to her Facebook page include the following.
2018 - present: EFF Caucus Leader GP Legislature at Economic Freedom Fighters Gauteng
March 2014 - May 2014: Manager Pricing and Propositions at Vodacom Business, Midrand, Gauteng
March 2013 - 2014: Manager Strategic Marketing at Telkom Business, Centurion, Gauteng
2008 - 2010: Corporate Affairs Manager at Transnet National Ports Authority, Durban, KwaZulu-Natal
2006 – 2008: Group Communications Manager at Numsa Investment Company, Johannesburg, Gauteng
2005 - 2006: KPM Project Manager, CRM and Internal Communications, Johannesburg, Gauteng
2003 – 2005: Manager, PR and Marketing at Kruger Mpumalanga International Airport, Nelspruit, Mpumalanga
2001 – 2003: Marketing and Communications Coordinator at Tourism Grading Council of South Africa, Johannesburg, Gauteng
2000 – 2001: Relationship Marketing Consultant at South African Airways, Johannesburg, Gauteng
1998 – 2001: PR Officer at Beeld, City Press, Rapport, Johannesburg, Gauteng
We can all agree that Mandisa Mashego CV is very rich and that she has a broad wealth of experience.
Mandisa Mashego EFF
Before joining EFF, Mandisa was a vocal ANC politician. She joined the group in 1990 through the ANC Youth League. Joining ANC had always been her dream from childhood. She credits Mandela for illuminating her career in politics. As her political course matured, Mandisa decided to join EFF because the movement shared in her beliefs.
"I left the ANC in 2012 because I felt they lost the plot, I was not going to get involved with any party again, but I was persuaded to especially take this position."
She has since demonstrated her loyalty to the party by dedicating herself to educating Gauteng residents about EFF and its political stand. Notably, it was her primary target to influence more than 1.5 million voters ahead of the 2019 elections.
The EFF leader is still youthful and has not aged a wink judging from the various eye-catching Mandisa Mashego pictures. She is always fighting for the place of women.
Mandisa Mashego contacts
Besides her social media accounts, EFF followers can now reach the Gauteng Provincial Legislature through a phone call.
Party: Economic Freedom Fighters (EFF)
Phone Number: 060 558 8307
Province: Gauteng
Constituency offices: Not linked to any office
READ ALSO: Francois Henning (Snotkop) age, real name, partner, sexual orientation, 7 de laan, songs, albums, record labels, awards and Instagram
Mandisa Mashego remains a proponent of good governance through educational and racial equality. The legislature is also passionate about women representation in corporate and political forums. Mandisa has singlehandedly built her name to become an emblem of EFF in South African politics, and we wish her all the best in her political journey.
READ ALSO:
Kabelo Mabalane age, children, wife, gym, bootcamp, becoming pastor, songs, album, music group and Instagram
Blade Nzimande age, children, wife, education, party, office, SACP, memes and contact details
Martin Bester age, wife, band, songs, albums, record label, secret sound video and Instagram
Lerato Mvelase age, children, husband, siblings, movies, pictures, song and Instagram
Andre de Ruyter age, children, wife, education, qualifications, Eskom, Salary and latest news
Source: Briefly.co.za