Who is Kgomotso Christopher's husband? Calvin Christopher and Kgomotso Christopher is a favourite couple not only for their expression of love but also for blending talents in the entertainment industry. Many fans look up to the lovebirds for inspiration owing to their much-publicized success. Having been married for over 15 years and blessed with two kids, Kgomotso and her husband are a true definition of couple goals.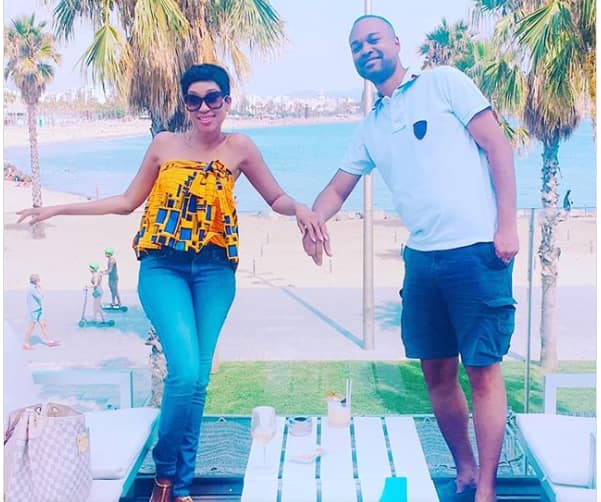 How old is Kgomotso Christopher? The actress is younger than you might think. Kgomotso Christopher age is 41, given that she was born on the 25th of March 1979. Several other fun facts remain untold about Calvin Christopher Kgomotso Christopher. Their celebrated union has mainly earned them unequaled attention with an equal measure of criticism. It is admirable how Kgomotso Christopher and husband have managed to outlive themselves in their careers as well as in their relationship.
Facts about Calvin Christopher and his wife Kgomotso Christopher
What are the most exciting facts about Calvin and his wife Gomotso Christopher? Here are some fun facts about the Christophers.
1. Calvin met Kgomotso during her first week at UCT fresher's bash
The Christophers met when Kgomotso was barely a week old at the University of Cape Town. The two proceeded to start a relationship that would withstand the test of time. After dating for a couple of years, Calvin and Kgomotso officially tied the knot in 2004.
READ ALSO: Zozibini Tunzi best-kept secrets: TOP 15 surprising and interesting facts!
2. Calvin and Kgomotso love spending quality time together
The couple and their children, Larona Lehakwe and Lesika Leatile, had a dream holiday in Paris. A picture from the holiday shared on Kgomotso Christopher Instagram page is proof enough that the two lovers enjoy spending time together. Similarly, Calvin is a responsible father considering that he flies back from Dubai frequently to be with his family.
3. Calvin and Kgomotso studied law
Kgomotso Christopher husband holds a Doctor of Law qualification from New York University. He is also a graduate of Princeton University, where he majored in International Relations and Affairs. On the other hand, Kgomotso is a graduate from UCT with a Bachelor of Arts in Law and Politics. As fate would have it, they are both passionate about different lines of specialties. Calvin works at Standard Bank as an executive director while Kgomotso is a renowned Mzansi actress and voice over artist.
4. They are happily married in a long-distance relationship
Many people fear long-distance relationships, but Calvin and Kgomotso do not mind the frequent gap between each other as long as their relationship is working.
My husband is an amazing dad, and when he's around, he makes sure he's completely involved.
The two are supportive of each other despite the challenges that are surrounding their relationship.
5. Kgomotso co-starred Scandal with her idol Jerry Mofokeng
Kgomotso, who is Yvonne from Scandal, started idolizing Jerry while she was still a young girl. Fate would later bring the two together.
When I was 17, I was walking from high school to the taxi rank and I bumped into a theatre giant across from the Joburg Theatre. I stopped him, opened my homework diary and asked him to autograph it. He wrote "Reach for the Stars"...his name was Ntate Jerry Mofokeng @jerrymofokeng38 , and tonight that girl is so privileged to be part of his invited guest list on his opening night for "Acceptance" @joburgtheatre. The Universe has brought us together again...@etvScandal #MyColleague #Blessed. #Humbled
6. Calvin works in Dubai while Kgomotso works in South Africa
Calvin and his wife work far apart, making frequent travels a part of their lives. Calvin has a busy career in Dubai, while Kgomotso works as an actress in SA. Besides Yvonne Scandal roles, Kgomotso has starred on several other TV series, among them the SABC2 sitcom Moferefere Lenyalong. She has equally appeared in several other theatre productions.
READ ALSO: Kgomotso Christopher bio: age, real name, daughter, family, Scandal, profile
7. Kgomotso Christopher is a lucky risk taker
The actress blindly left Isidingo's much-contested roles in pursuit of greater heights in the industry. Her wish for recognition of her talent was worthwhile in the end. She is always restless until she achieves her goals.
8. Calvin Christopher and Gomotso Christopher are both go-getters
The two are famous among their fans because of their strong founded personal attributes. Calvin did his best to nurture his relationship with Kgomotso during his time as an exchange student at UCT. Similarly, her humble background did not stop her from becoming an actress at college. Her career dreams did not stop her from testing the waters in the acting industry.
9. Kgomotso is fluent in 4 languages
Mrs. Christopher is a real beauty that prides her mastery of different languages, including English, isiZulu, Sesotho, and Afrikaans. Calvin must be openly proud of her brains.
10. Calvin's support has seen Kgomotso prosper in her acting career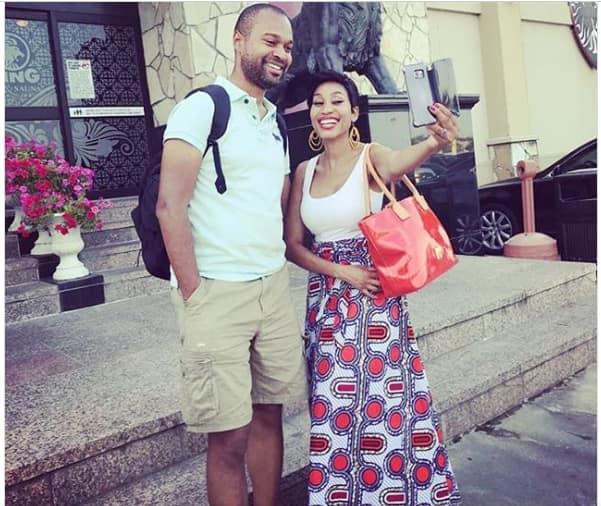 Becoming the first runners up in the DALRO National Acting competition propelled her acting career while still a student at Braamfontein. Kgomotso has since maintained her dream in acting, receiving immense support particularly from Calvin, who has always been supportive of her ambitions.
Where is Calvin Christopher from? With all the above details on the couple, it is important to note that Calvin Christopher is American. Where is Kgomotso born? The film actress and voice artist, on the other hand, is a South African born celebrity, and she grew up in Tembisa in East Rand.
READ ALSO: Fezile Mpela bio: age, wife, family, series, tv shows, profile
Calvin Christopher and Kgomotso Christopher are a lovely couple and role models to many of their fans. The two are not only admirable for their colourful looks but also for their commitment to build and maintain their relationship. We wish them all the best!
READ ALSO:
Who is Musa Mseleku wife, Makhumalo Mseleku?
Nikki Haley bio: husband, children, net worth, career, could she be Trump's running mate?
Who is Caster Semenya wife, Violet Raseboya?