Yolandi Visser bio: age, children, husband, tattoos, interview, profile, net worth
Yolandi Visser, real name Anri du Toit, is a talented South African rapper, actress, singer, and music video director. She is also a controversial pop-culture icon and lead singer in the Afrikaan's hip-house music group Die Antwoord.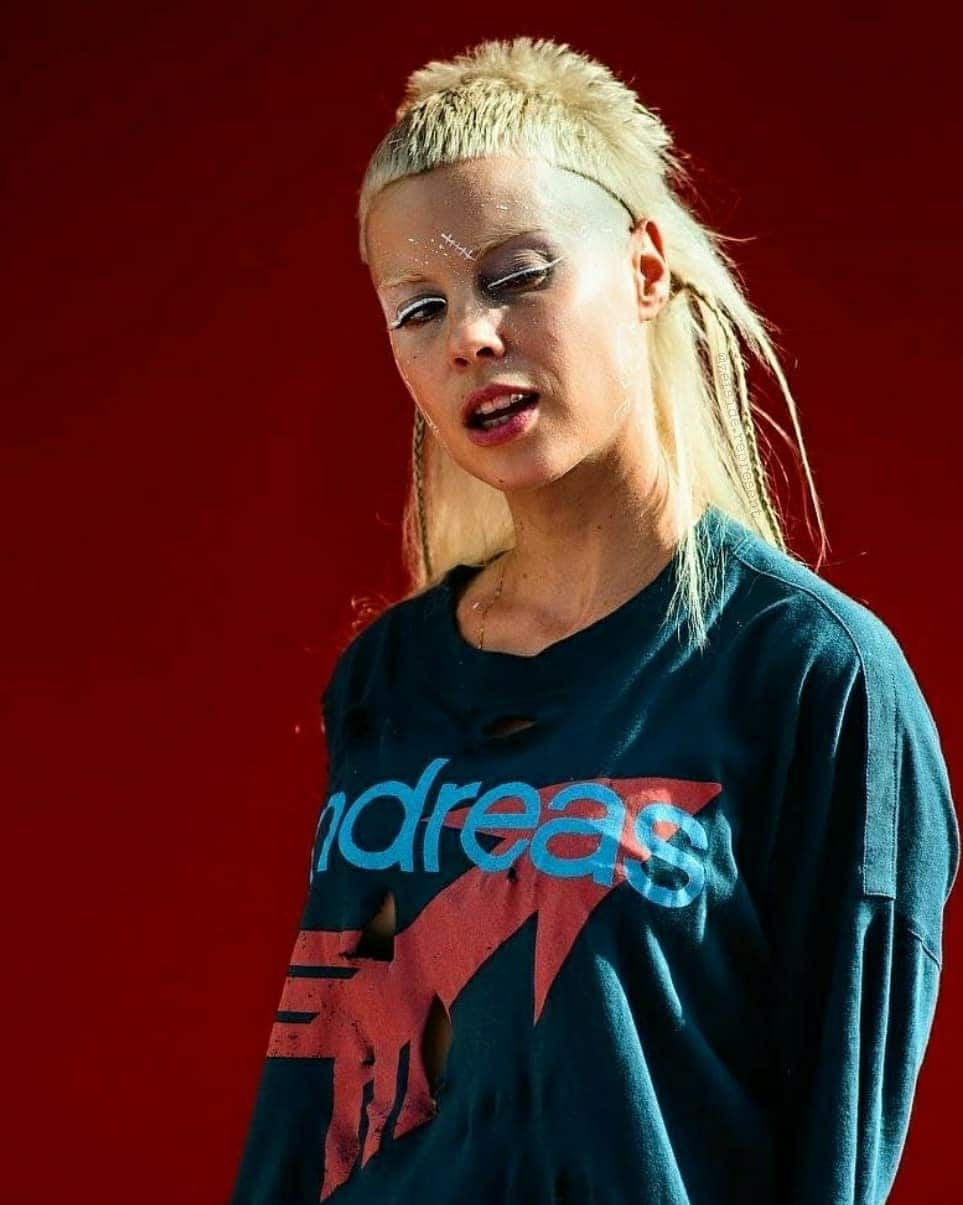 Known for her punk and gothic celebrity looks, Yolandi Visser's sweet vocal and rapping skills have earned her respect in the South African alternative hip-hop scenario. Coming from a tough childhood, Visser's love for music and fashion has transformed her life from an orphan to one of the most successful female rappers in Mzansi.
Yolandi Visser profile summary
Birth name: Anri du Toit
Date of birth: 1st December 1984
Age: 35 years
Place of birth: Port Alfred, South African
Nationality: South African
Profession: Rapper, singer, songwriter, actress, and music video director
Active years: 2002-present
Yolandi Visser bio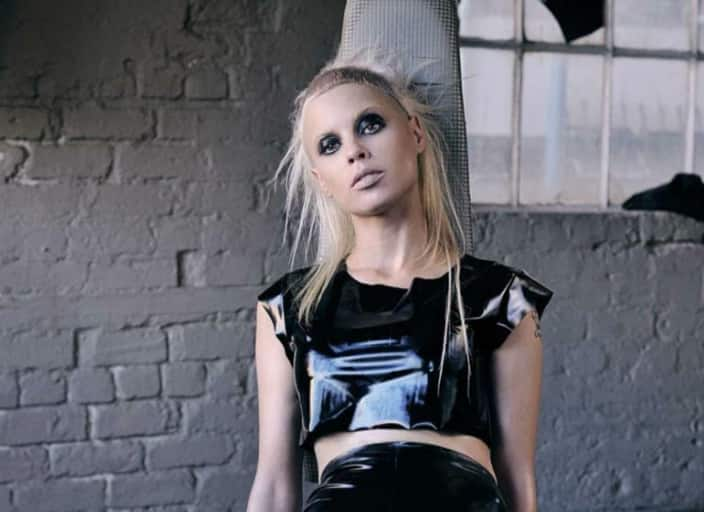 She was born on 1st December 1984 in Port Alfred, South Africa. Yolandi was raised in an adoptive family. Her real name is Anri du Toit, and her adoptive father was a priest by the name Ben du Toit. Growing up, Yolandi had an elder adoptive brother by the name Leon, who passed away in 2015.
What does Yolandi mean? Translated to English, her artistic name means "Violet purple flower."
She was enrolled at St. Dominic's Catholic School for Girls in Boksburg, Gauteng in the primary education level. At the age of 16, she joined the Lady Grey Arts Academy.
READ ALSO: Big Zulu bio: age, girlfriend, arrested, songs, album, profile
Body statistics
Yolandi Visser height is 5 feet and 2 inches and weighs 45 kg. She is known for her blond and edge shaved hair. In Yolandi Visser's interview with Dazed, she explained why she has a unique, faded hairstyle. Overall, Yolandi has a slim body shape with a beautiful face.
Relationship and love life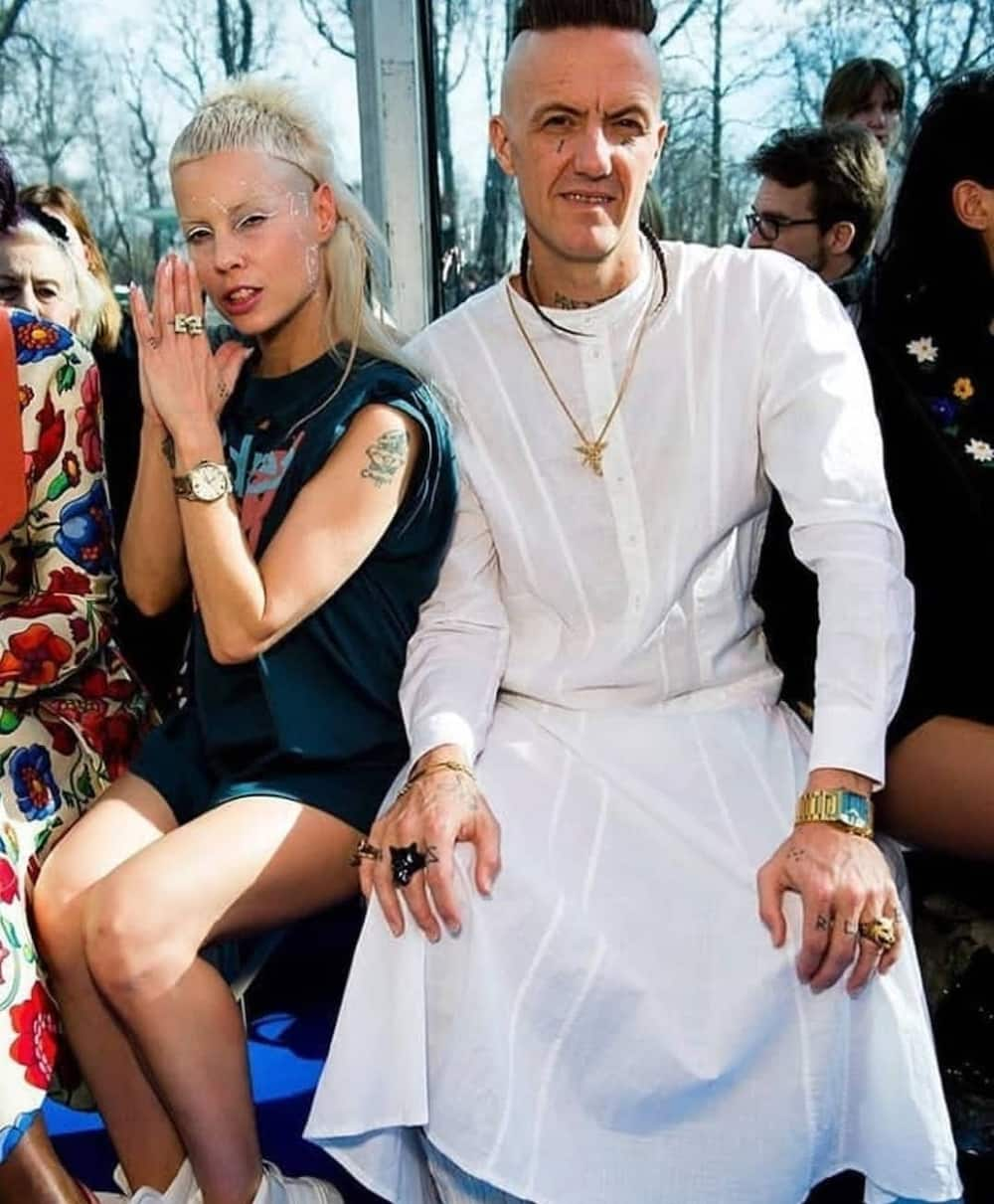 So, who is Yolandi Visser husband? Even though the female rapper, Visser, is not married, she had been dating her longtime boyfriend and bandmate 'Ninja,' real name Die Antwoord, who is associated with numerous controversial headlines. Before Ninja, she was dating DJ Muggs.
Are Ninja and Yolandi together? Even though they are in the same music band, the two broke up in 2013.
Yolandi Visser children
Apart from being a mainstream female rapper, she is also a mother. In 2005, she gave birth to her firstborn through her relationship with her then-boyfriend, Watkin Tudor Jones, aka Ninja.
Does she have a daughter? Well, Yolandi Visser daughter by birth is called Sixteen Jones. She has three other adopted kids: Tokkie and Meisie, adopted in 2010 and Jemile in 2015.
Yolandi Visser gothic photos and tattoos
Visser is not your average female rapper. She is known for her punk and gothic looks that define Die Antwoord's unique rap-rave hip-hop songs. You will get access to Yolandi Visser tattoos, her intriguing photos, and gothic looks by visiting her Instagram page.
Musical career
Her unique vocals caught the attention of the South African rapper and actor Watkin Tudor Jones, famous as Ninja. Ninja included the rapper in a music band titled The Constructus Corporation.
While in the band, she was nicknamed "Anica the Snuffling" and played a significant part as a vocalist and back up singer. Thanks to her contribution, The Constructus Corporation, she managed to successfully release their first album titled The Ziggurat in the year 2003.
Yolandi later joined Ninja's live hip-hop group by the name MaxNormal.Tv, releasing a 2007 EP Rap Made Easy. In 2008, the crew released their debut album Good Morning South Africa, with a related short film titled Goeie More Zuid Afrika.
What do you think about this Personalised Message Hard Drive? Well, you can grab it today to download your favorite Yolandi 's songs. Later, you can enjoy them when you are free from the comfort of your home. Also, the vendor allows you space where you can print a personalized message of your choice.
Yolandi Visser is currently a member of the Afrikaans rap-rave group named Die Antwoord. As one of the founder members, Die Antwoord consists of other rap artists like Ninja, HITEK5000 (producer), and Lil2Hood. In the crew, she goes by the name "¥o-Landi Vi$$er."
READ ALSO: Shane Eagle bio: age, nationality, girlfriend, awards, songs, albums, profile, net worth
Yolandi Visser songs and albums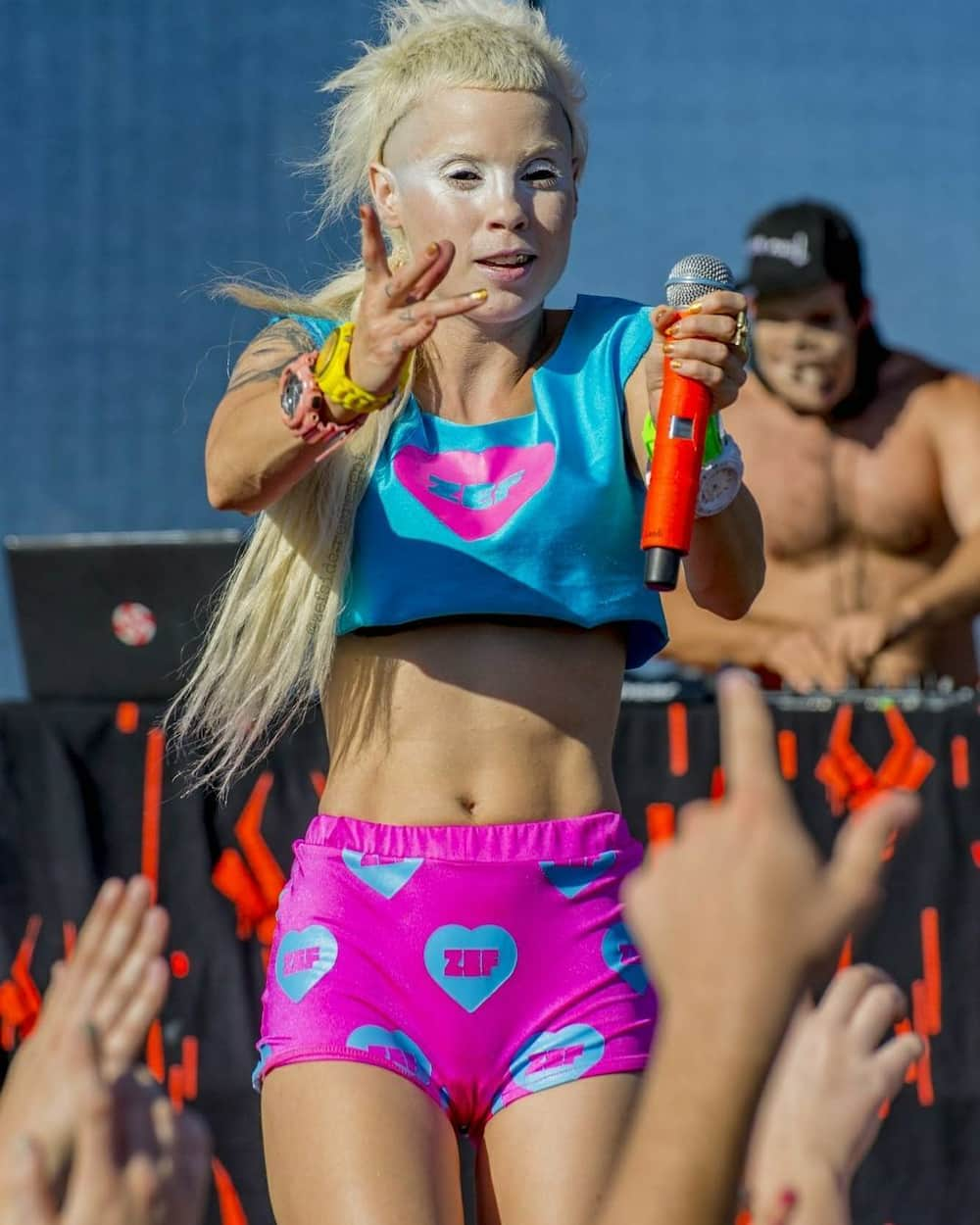 Below is a compilation of her musical band achievements.
In 2009, ¥o-Landi Vi$$er and her rave-rap group released their first hip-hop album '$O$.
The band signed under Interscope Records.
In 2014, they released their second album named Donker Mag, followed by Mount Ninji and da Nice Time Kid.
Some of their group's projects include TEN$ION (2012) and their latest The House of Zef, which they released in 2020.
Acting career
Thanks to her gothic and daring fashionista looks, she earned herself a self-styled character and role in the 2015 film Chappie by Neil Blomkamp. Apart from Yolandi Visser Chappie, she is featured in Goeie More Zuid Africa DVD (2008), Tokoloshe (2011), and Umshimi Wam (2011).
FAQs
They include:
Are Yolandi and Ninja still together?
Yolandi, stage name ¥o-Landi Vi$$er, is an ex-girlfriend to Watkin Tudor, nickname Ninja. The couple split up in 2013. However, they have a kid whose name is Sixteen Jones. At the moment, they are seeing different people.
What is the race of Yolandi?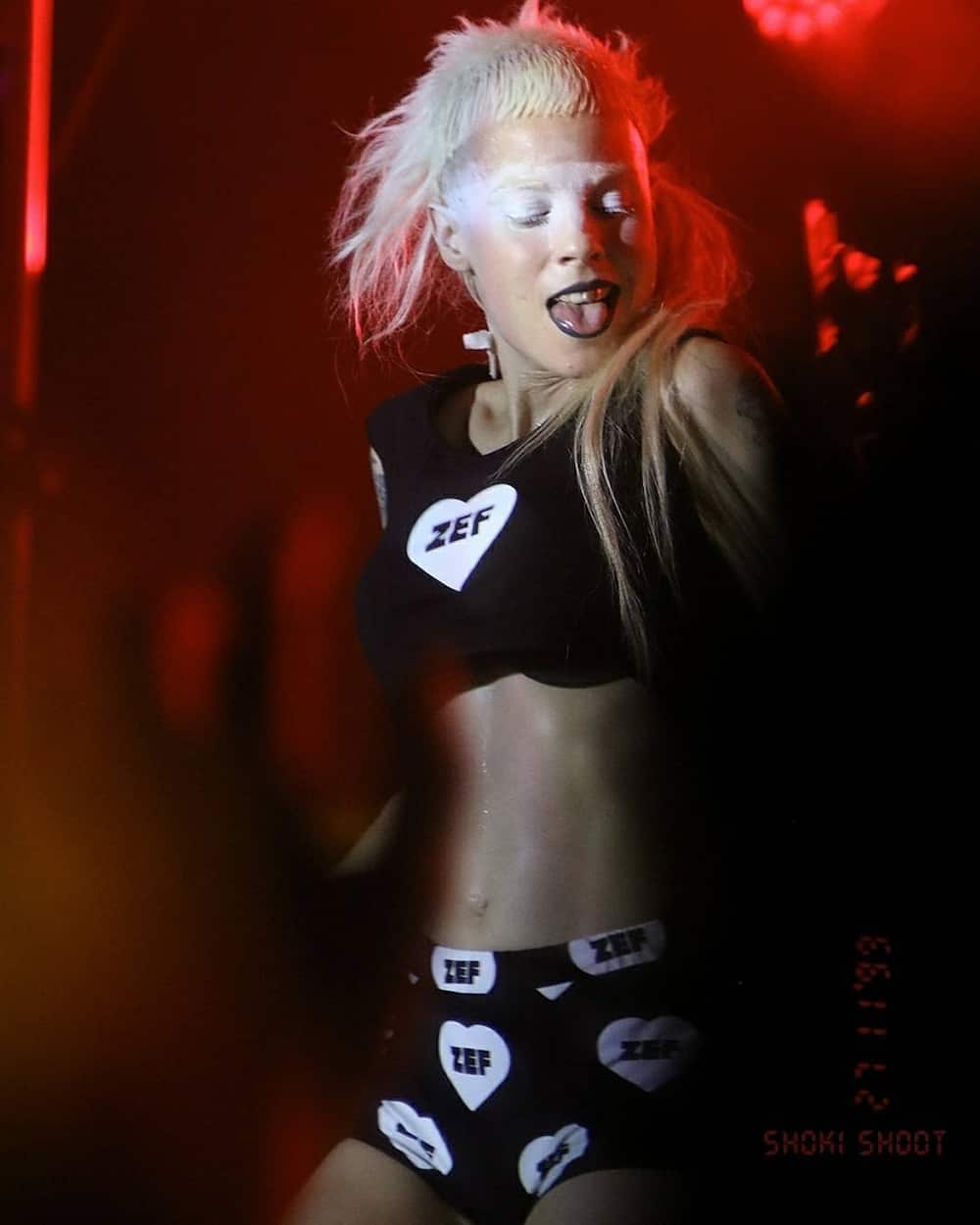 Yolandi Visser is a South African rapper, actor, and vocalist. She belongs to the African race of Afrikaans. She was born in Port Alfred and is known for her gothic white-girl looks closely associated with American rappers like Lady Gaga, among other rock bands.
What is Yolandi Visser Instagram?
As a fashionista and social media celebrity, Yolandi has millions of followers on her social media pages. Her Instagram handle is @prawn_star. She also has a shared account with bandmate Ninja. Its handle is @zefside.represent.
How much is Yolandi Visser worth?
According to Celebrity Net worth, the South African rapper Yolandi has amassed a net worth of $10 million. Her wealthiness is based on her role as a lead singer in the band Die Antwoord. The group has successful albums, singles, and live shows that make good money for her and for her bandmates.
Indeed, Yolandi Visser's musical journey demonstrates her strength by transforming her life from being an orphan to a female rap artist. As the current vocalist of her band Die Antwoord, the South African rapper continues to shine in her music and other endeavors.
DISCLAIMER: Please note that some of the links in the article are affiliate links and BRIEFLY.co.za will earn a commission if you purchase through those links. However, we always choose only the best quality products that we use ourselves and recommend to our readers. The earnings we get from the affiliate marketing help us continue preparing useful and entertaining content, that our audience enjoys.
READ ALSO:
Zamajobe bio: age, full name, spouse, songs, albums, facts
Bongani Fassie bio: age, Brenda Fassie, father, songs, net worth
Reason Rapper bio, age, real name, Lootlove, near death experience, songs, profile
Source: Briefly News