Who is Alfred Ntombela? Alfred Ntombela is a South African acting legend popular for his performances during his active career days. The actor grew famous because of his short stature, coupled with the almost hysterical Alfred Ntombela laugh. Some of his best-known films include Mama Jack and Sweet 'n' Short.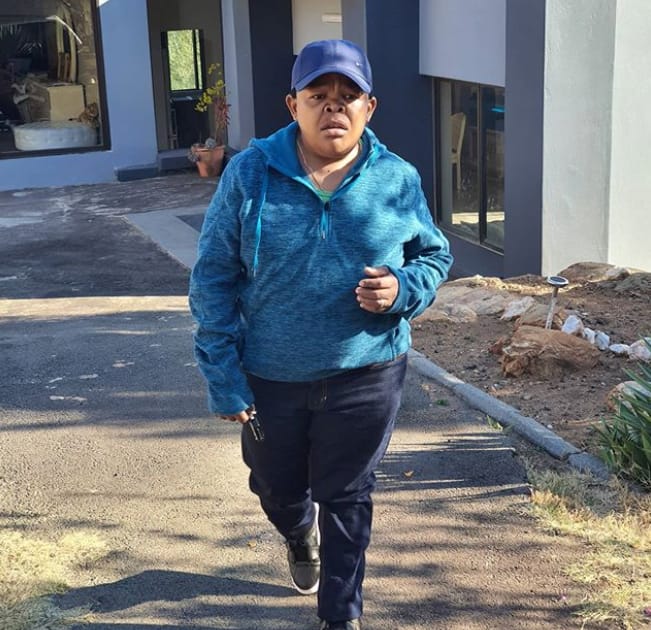 Also called "the guy with the laugh" or "Shorty," you cannot tell just how much the legend has endured in his struggle to the top. This is especially true when it comes to his childhood. Alfred is a classic case of how much the people of Mzansi and other parts of the world can endure and turn even the saddest of stories into joyful and inspirational ones.
Alfred Ntombela profile summary
Name: Alfred "Shorty" Ntombela
Date of birth: 3rd April 1972
Place of birth: Vosloorus, Ekhurhuleni, Gauteng, South Africa
Alfred Ntombela age: 48 years old as of 2020
Nationality: South African
Native language: Zulu
Alfred Ntombela Instagram: @alfredntombela
Facebook: @AlfredNtombelaAkaShorty
Twitter: @alfredntombela
Alfred Ntombela height: 3 feet 9 inches
Alfred Ntombela net worth: Between $1 million and $5 million
Relationship status: Married
Occupation: Comedian, director, producer, CEO of SCAP Twitter, and retired actor
Famous for: His work on the Leon Schuster and Alfred Ntombela comedies
READ ALSO: Thami Tsolekile bio: age, interview, Graeme smith, stats, twitter
Alfred Ntombela biography
Alfred did not have the best childhood. His mother, young and unemployed, left his father while she was pregnant with him. Mama Alfred left because the father was an albino, and she feared that society would shun her for getting a child with a white man.
In a sad turn of events, when Alfred was a few weeks old, the mother abandoned him to the care of her uncle's wife, who raised the newborn baby boy as her child. 3 years later, Alfred's father passed away before the boy had the chance to know him. Later on, he discovered that his father had other wives and that he had step-brothers.
Starting school was a problem for Shorty because his birth was never registered officially. Even his teachers at school had a problem letting him access education easily because they thought he was too young to learn in "big school." He proved them wrong because he answered all their questions.
Apart from his native language, he is fluent in Afrikaans and English.
Career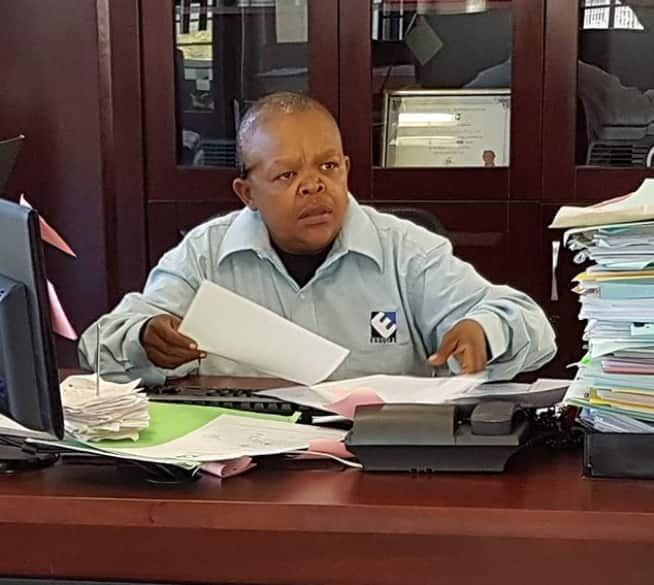 Growing up, Alfred lived a few blocks from the late actor Ken Gampu's house. Shorty expressed his desire for acting, which was a plea that fell kindly to Ken's ears, and he got him a job at Heyns Films in Halfway House. A short while later, Ken managed to secure a role for Alfred on the kid's show called Ikhaya Labantwana, which made him a hit for the five years the series ran in English and Zulu in the 80s.
Gampu heard that Mr Shucks was looking for an interesting child star. He informed Alfred, who showed up for the audition. Initially, Schuster was not impressed with Alfred's performance. However, at the end of the meeting, Schuster cracked a joke and was treated to the funny Alfred Ntombela laugh. The moment Schuster heard the laugh, his eyes lit up, and that started one of the lengthiest Alfred Ntombela relationships between the two.
Alfred Ntombela movies
His movies include:
2013 – Schuck! Your Country Needs You as Shorty
2012 – Mad Buddies as Minister Mda
2010 – Schuks Tshabalala's Survival Guide to South Africa as Shorty
2008 – Mr Bones 2: Back from the Past as Cop #1
2005 – Mama Jack as Shorty Dladla
2004 – Oh Shucks, I'm Gatvol! as Alf
2001 – Mr Bones as Kuvuki youth
1999 – Alec to the Rescue as Themba Ndlovu
1993 – Oh Shucks! Here Comes UNTAG (Kwagga Strikes Back) as Bambo
1991 – Sweet 'n Short as Alfred Short
1990 – African Express as Young Boy
1990 – Kwagga Strikes Back as Bambo
1988 – Diamonds High as Mascot (as Alfred)
Alfred Ntombela's diminutive height was an issue, although it worked in his favour at times in securing certain roles. Before meeting Leon, he was always afraid that he would not get an opportunity because of his height. However, after 28 years in the industry, Shorty announced his retirement from acting in 2018, and he will forever be remembered for the amazing roles he played.
READ ALSO: Franja Du Plessis bio: age, partner, parents, songs, movies, profile, net worth
Alfred Ntombela wife and children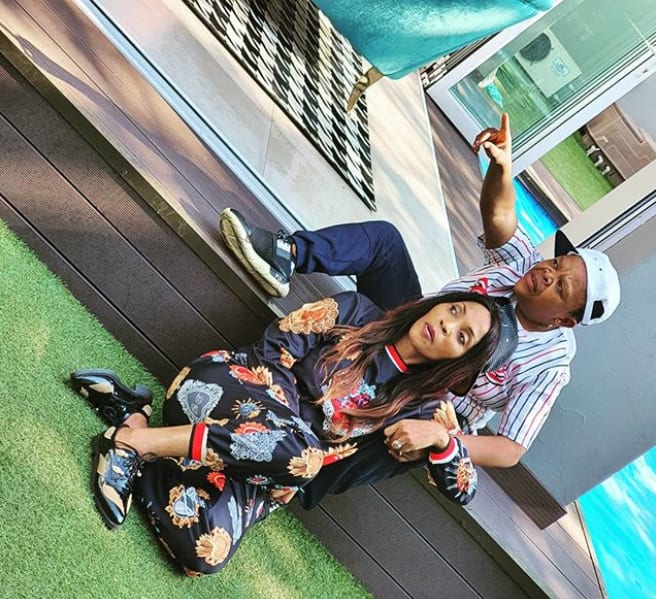 Is Alfred Ntombela married? Yes. Promise Malatji and Alfred Ntombela are married. Shorty has an older teenage son who lives with his mother, but from Alfred Ntombela Instagram, it is clear that the two have a close father-son relationship. He strives to give his kids the best in life because he feels like he is living his childhood through them.
There have been rumours of the actor dying, with Alfred Ntombela death cause being car accident in 2017. This led to the revelation that the suspect behind the bad joke was an ex-fiancee that he broke up with early in the year. The ex was bitter because the actor wanted back his labola and about R80,000 that he spent on her, and the child that he discovered was not his, after six years. Each month, Shorty was paying R2,800 for the upkeep.
It was also revealed that the ex-fiancee was living in Alfred Ntombela house that he purchased in Thokoza, Ekurhuleni, after moving to his other house in Krugersdorp, Mogale City, Gauteng. Some sources state that the actor has a daughter who is about 9 years old. However, during this death drama, the child in question was born in September 2011. Is it the same kid? Only the actor can confirm the total number of children that he has biologically fathered.
Alfred is a man with a taste of finer things in life, confirmed by Alfred Ntombela cars. In one of the photos on Instagram, he poses behind what looks like a classy BMW i8.
Latest news
In June, there were claims that Leon Schuster had done some things that were interpreted as racist. As a result, Showmax decided to remove all his shows. However, Alfred came to the defence of his friend by saying that Leon is not a racist. As proof, Alfred directed people to watch Leon's movies to see that the films are full of Africans.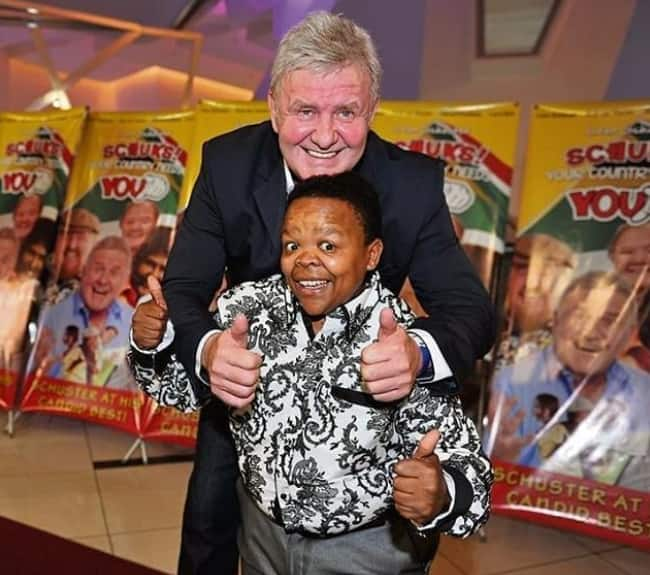 Alfred Ntombela is nothing short of a sensational inspiration to millions in the world. He came from the very bottom with his diminutive height and made it into our hearts with his amazing performances. We wish him the best in his endeavours.
READ ALSO: DaniLeigh: bio, age, dating, songs, Instagram, has she broken up with Dababy?
On Monday, Briefly.co.za published the life story of DaniLeigh. Born Danielle Leigh Curiel in Florida, USA, the singer is currently 25 years old. Apart from music, Danielle is a dancer, songwriter, and choreographer.
Some time back, there were speculations about DaniLeigh dating DaBaby. However, from the look of things, the singer is currently single. The star has made tremendous achievements in the music industry.
READ ALSO:
Nasty C girlfriend 2020
Bucy Radebe bio, age, husband, record label, discography, profile
Nozi Langa bio: age, boyfriend, parents, acting career, hairstyles, car, profile