Who owns Clicks Pharmacy?
Clicks Pharmacy is one of the leading retail companies in South Africa. The company has a range of products relating to health, beauty, and wellness, and it boasts of more than 570 in-store pharmacies. What other facts should you know about Clicks pharmacy profiles?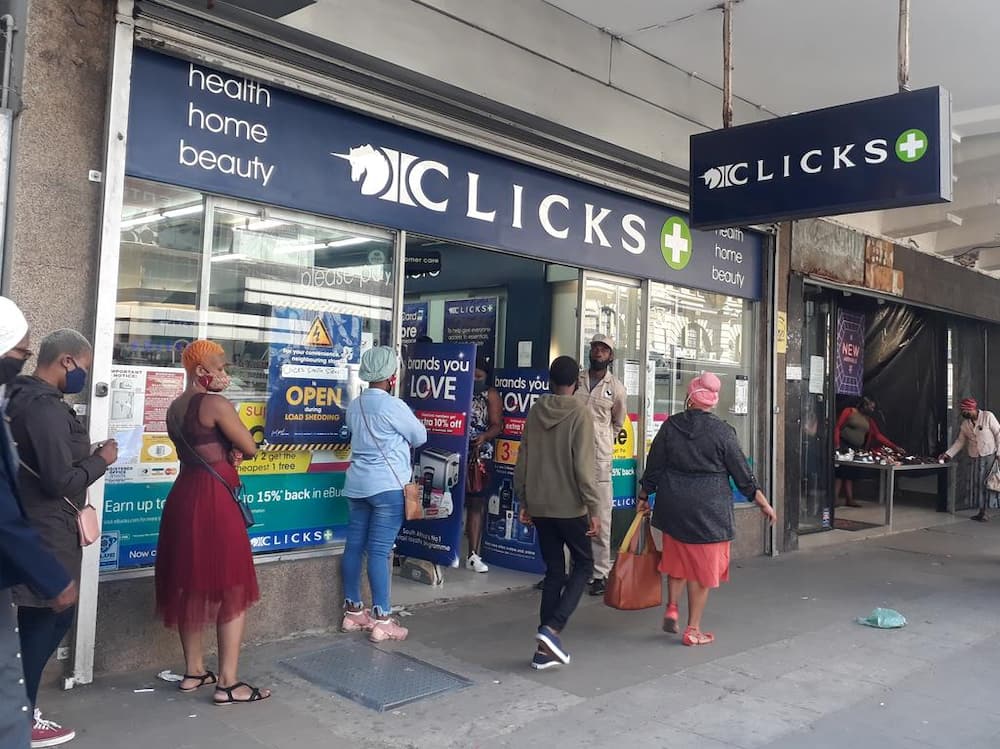 Clicks is one of the leading healthcare retail companies in South Africa. Listed in the Food and Drug Retailers sector on the Johannesburg Stock Exchange (JSE), the company has established itself as a provider of health, beauty, and wellness products since its establishment.
Who owns Clicks South Africa?
On the 6th of August, 1968, a visionary retailer known as Jack Goldin started the first store in Saint George's street in Cape Town. The plan was to run it as a drugstore, but due to the restrictive legislation on the operation of pharmacies in the country back then, the dream was not realised until after 35 years.
READ ALSO: Who owns Absa?
A significant shift was recorded in the company in 1979 when Clicks stores limited was listed on the Johannesburg Stock Exchange with a market capitalisation of R10 million. After things changed in regards to the restrictive legislation in the country in 2003, the first pharmacy was opened the following year. Since it started operations, the company has kept expanding while acquiring other properties in different places.
After the name of the company was changed to Clicks Group Limited in 2009 on the JSE, its listing was transferred to the Food and Drug Retailers sector. Currently, there are more than 700 Clicks pharmacy stores in Southern Africa, including Botswana, Namibia, Lesotho, and Eswatini. Presently, Clicks pharmacy headquarter is located in Cape Town.
As a group, Clicks operates several brands that are market-leading within the country and other neighbouring countries. A list of Clicks pharmacy subsidiaries includes the following:
The Link Investment Trust
Clicks Centurion (Proprietary) Limited
New Clicks South Africa (pty) Ltd
Flamborough Investments (Proprietary) Limited
Optimprops 93 (Proprietary) Limited
Some other companies that the Clicks indirectly own include the following:
Safeway (Namibia) (Proprietary) Limited
Price Attack Franchising (Proprietary) Limited
New Clicks Australia Services (Proprietary) Limited
Clicks Stores (Western Cape) (Proprietary) Limited
Safeway (Swaziland) (Proprietary) Limited
Clicks Stores (Lesotho) (Proprietary) Limited
Online shopping
With a passion for serving their customers most conveniently and making affordable health care available, Clicks pharmacy online store caters to the needs of customers so that from the convenience of their homes and offices, anyone can place an order from their secured website.
When you order for products online, clients can pay either with their credit or debit cards or make Electronic Funds Transfer through PayU EFT Pro. Once purchases are completed online, there are two ways to get the delivery, which can be through standard delivery or through the click-and-collect method.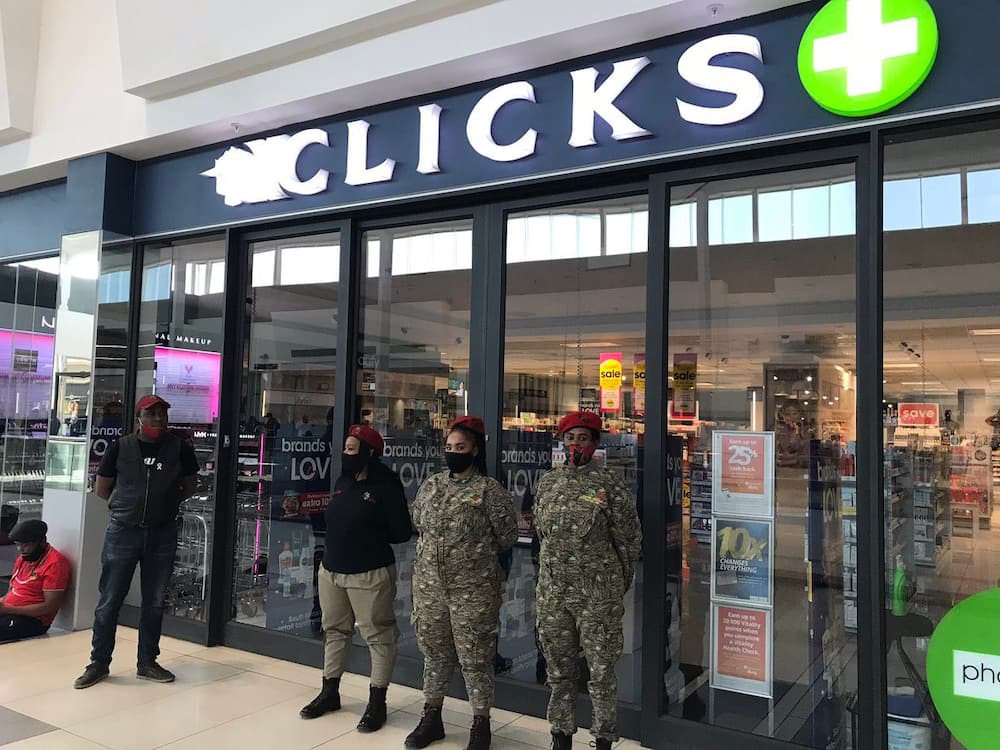 Clicks pharmacy products
There is a wide range of products that can be purchased from Clicks online or at any of their stores. There are beauty products, including skincare, makeup, hair, and fragrances, as well as electrical and home appliances.
Clicks pharmacy latest news 2020
There are a few things currently happening in the company that you should know about:
Clicks advert | Clicks pharmacy saga
The renowned retail company found itself at the centre of a public outcry over what is titled a racist advertisement campaign. In the TRESemmé campaign, a black person's natural hair was shown to be dry, damaged, and frizzy, while a white person's natural hair was shown to be normal.
Reacting to the advert, the Economic Freedom Fighters (EFF) leader Julius Malema noted that the message passed by the store was beyond an advert but a representation of anti-black racism that showed itself through the disparaging of black people. In the Clicks pharmacy EFF fight, the red berets implored that everyone responsible for the advert, among other things, should be fired.
READ ALSO: 10 Biggest IT companies in South Africa
However, Clicks pharmacy CEO Vikesh Ramsunder apologised for what the publication might have caused. In an apology posted on all its social media pages, the retail pharmacy company said:
We would like to issue an unequivocal apology. We have removed the images which go against everything we believe in. We do not condone racism and we are strong advocates of natural hair. We are deeply sorry and will put in place stricter measures on our website.
Career
If you have ever dreamed of working with the reputable organisation, currently, there are vacancies that you should explore on their site. But then, remember to register and have your Clicks pharmacy careers log in details to be able to apply.
Frequently asked questions
As a leading retailer in the country, several questions have been raised by people over the years. Here are some of them and the best answers proferred.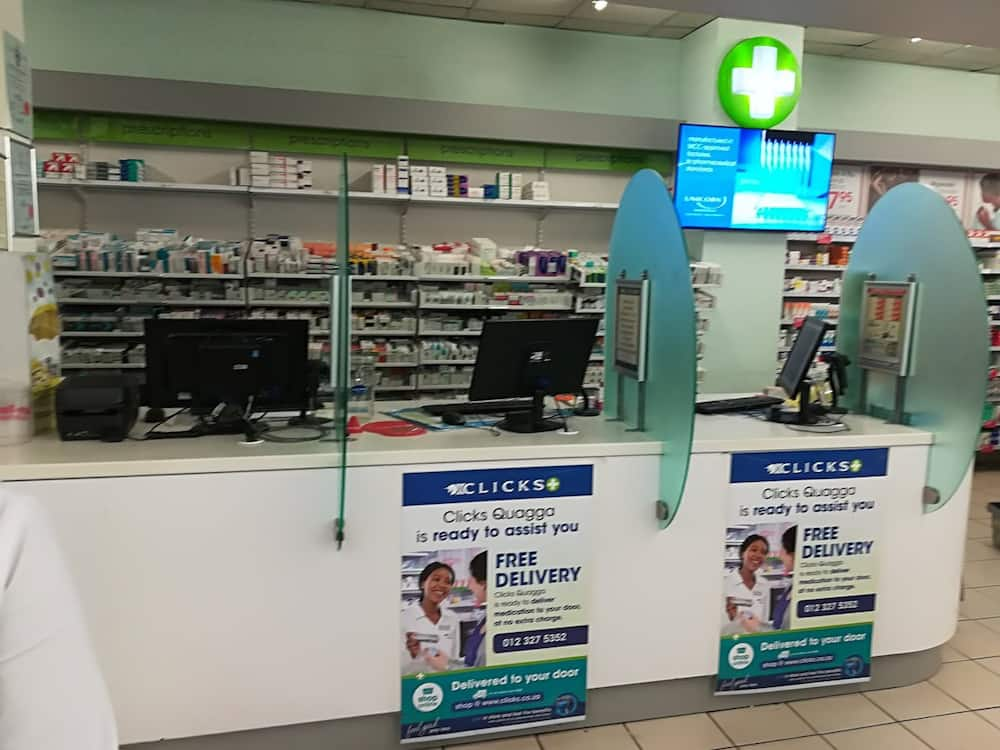 How does Clicks click and collect work?
Orders and payments are made online, and a customer collects the parcel at any of their stores. However, when you use the standard Clicks pharmacy delivery option, products are delivered through the courier to most postcodes within the country. By this, the products are delivered to the address provided by the customer except for P.O. box addresses.
How much is delivery for Clicks?
R15 is charged before parcels can be collected when you use the click and collect option. When the orders are more than R150, no collection fee is incurred. Besides, if you use the standard delivery, a flat delivery fee of R60 is charged. For orders that are more than R450, the delivery fee is free.
Who is the owner of Clicks?
Jack Goldin started the retail pharmacy company on the 6th of August, 1968.
What services does Clicks clinic offer?
The clinics offer mother and baby care, family planning, vaccinations, and preventative wellness services, including blood pressure testing, glucose and cholesterol screenings, and HIV testing and counselling.
Which courier company does Clicks use?
Pargo is a courier company that uses the retailer as a collection point for customers.
Clicks head office contact details
For further inquiries on the company, below are their contact details:
Physical address: Searle and Pontac Streets, PO Box 5142, Cape Town 8000, South Africa
Telephone: +27 21 460 1911
Website: clicks.co.za
NB: For details on Clicks pharmacy near me, simply use their store finder online to locate the nearest store to you.
Clicks pharmacy has come a long way by successfully establishing itself as a leading retail pharmacy company in the country. What started with a store several years ago has, amazingly, become a group of companies.
READ ALSO: Who owns NedBank?
How much do you also know about NedBank? Briefly.co.za shared information on how the financial institution started, the staff strength, and other vital details you must not miss.
READ ALSO:
Who owns Mamelodi Sundowns?
List of life insurance companies in South Africa
All you need to know about severance pay on retirement in South Africa
Source: Briefly News