40 stylish African traditional wedding dresses 2020 that turn heads
African traditional wedding dresses have unique elements that make the occasion stand out. The continent has diverse cultures that continue to gain recognition across the globe. Each traditional group makes attires from specific fabrics that have unique colours with conventional meanings.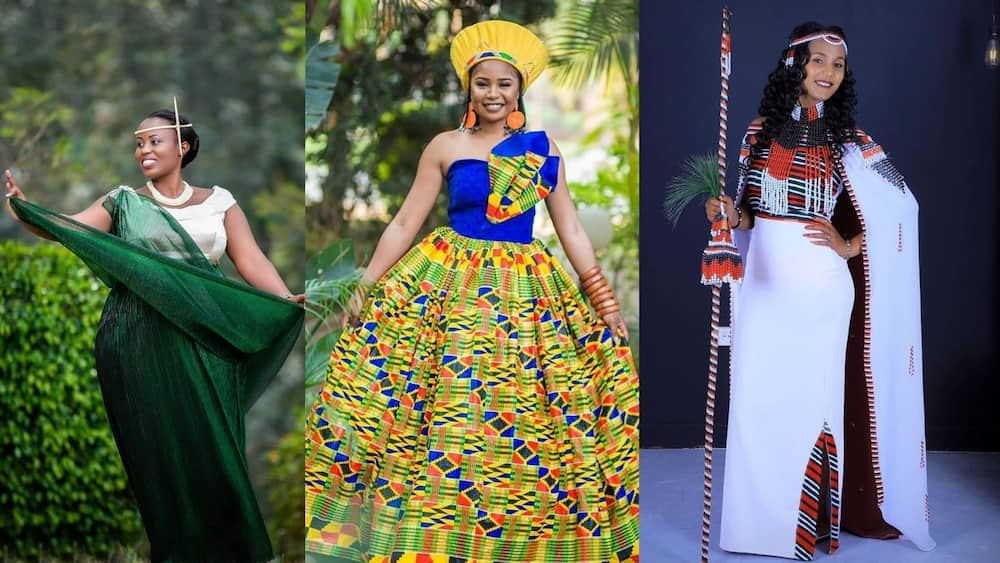 Most brides dream of having a perfect wedding, and in recent years, they have realized how memorable the big day will be if incorporated with cultural elements. African brides can take pride in their traditions. Below is a carefully selected list of trend-setting African traditional wedding dresses in 2020.
Africa traditional wedding dresses for the bride
The wedding is usually a big day for the bride. Recognizing one's culture on this big day makes the occasion memorable. How do you dress for a traditional wedding? Here is a collection of conventional marriage outfits for the bride from across the continent.
1. Kente conventional wedding dress from Ghana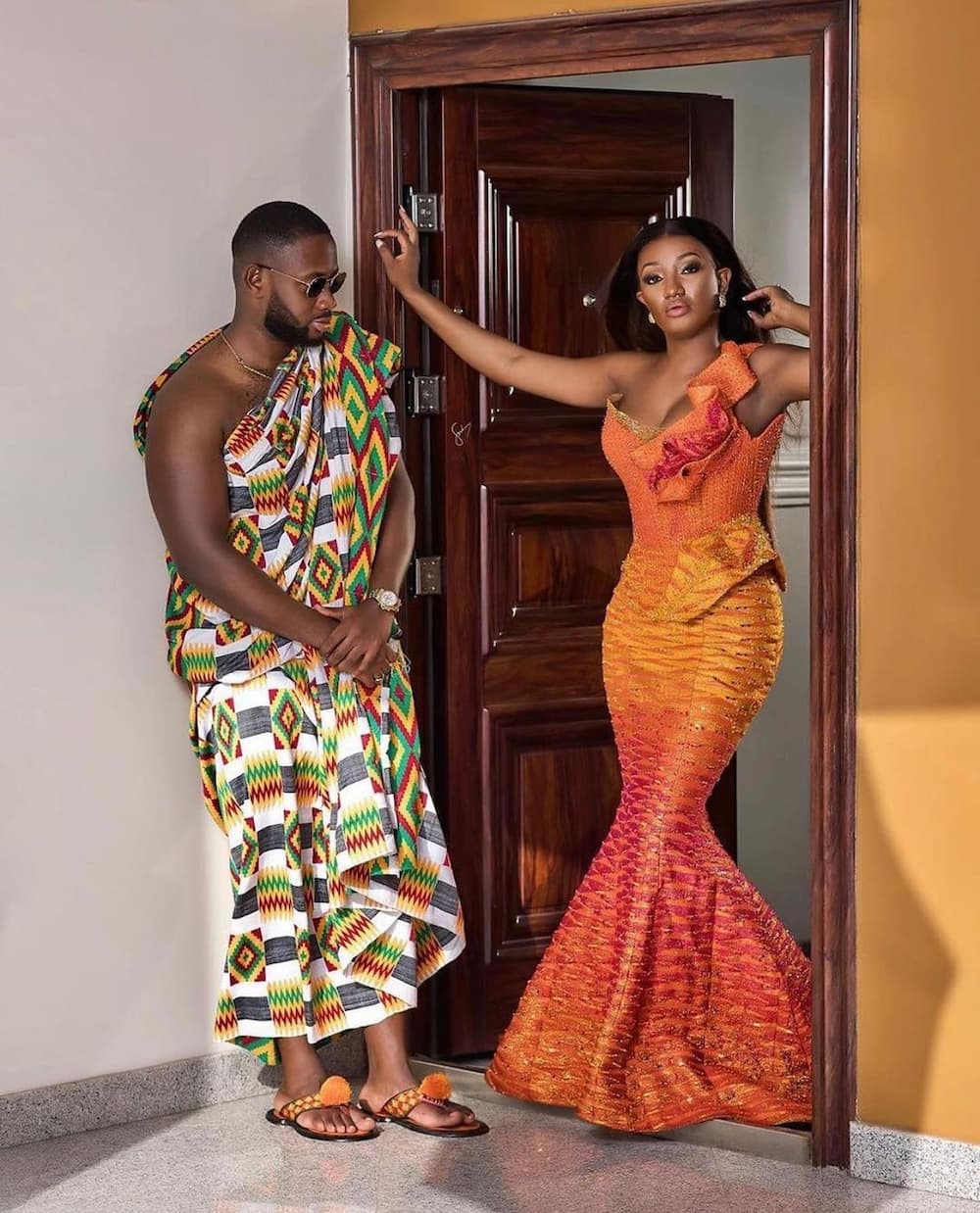 This western African country is known for its beautiful traditional outfits. A wedding cannot be complete if the bride is not wearing a kente inspired wedding dress. The style is still prevalent in 2020 with modern brides modifying the fabric to fit their taste.
2. Rwandese bridal dress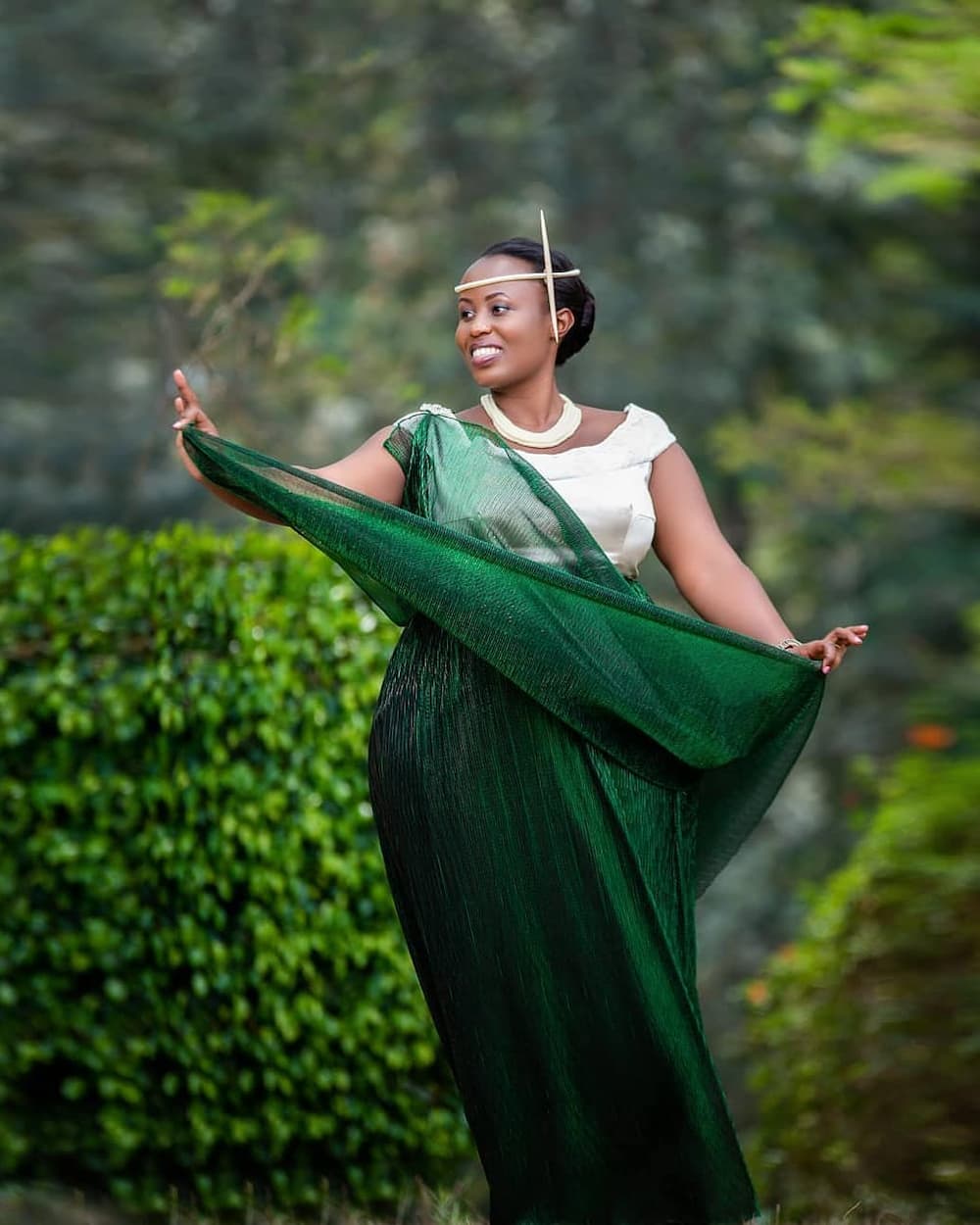 Brides in traditional Rwandan weddings wear imishanana inspired outfits. The attire is also common in Burundi and Uganda. The country's conventional nuptial celebrations are some of the most stunning in East Africa.
3. Congolese conventional bridal outfit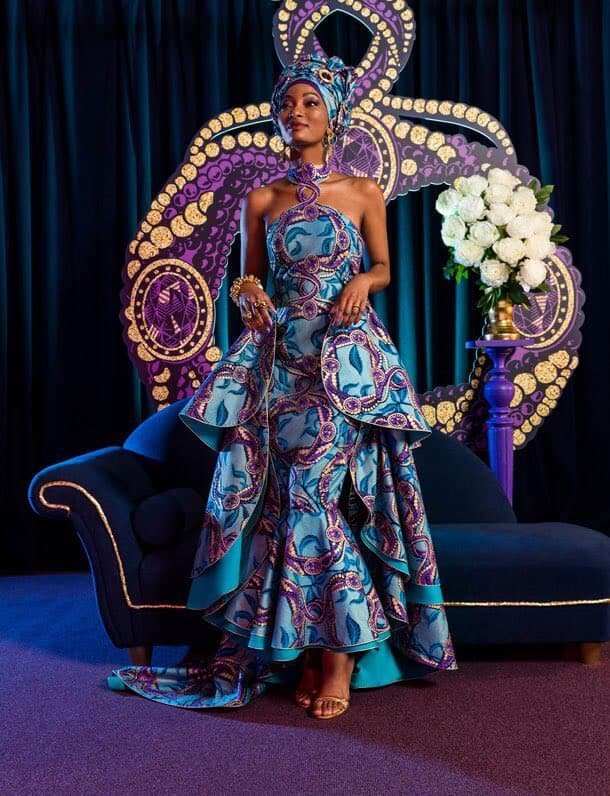 Bold and bright colours characterize Congolese bridal apparel. The stunning prints are made from Liputa fabric. The lady can have a full dress made from Liputa or kitenge material or blend with lace and other fabric.
4. Tswana outfit from Botswana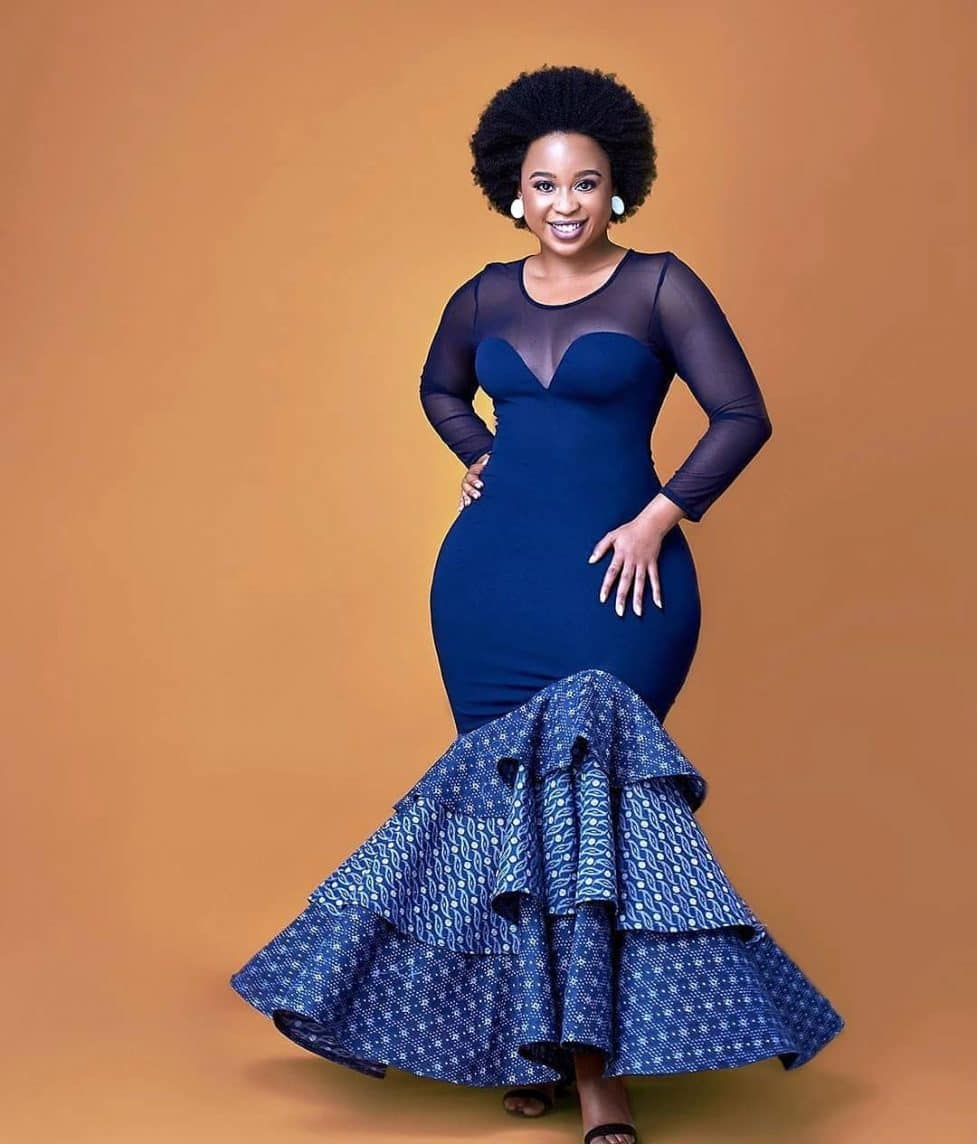 Have you attended a Tswana traditional wedding in 2020? If not, you are missing out on beautiful culture. In traditional Tswana weddings, the bride wears Shweshwe designs. In 2020, the bride can add twists to the dress to fit the occasion.
5. Tanzanian traditional marriage attire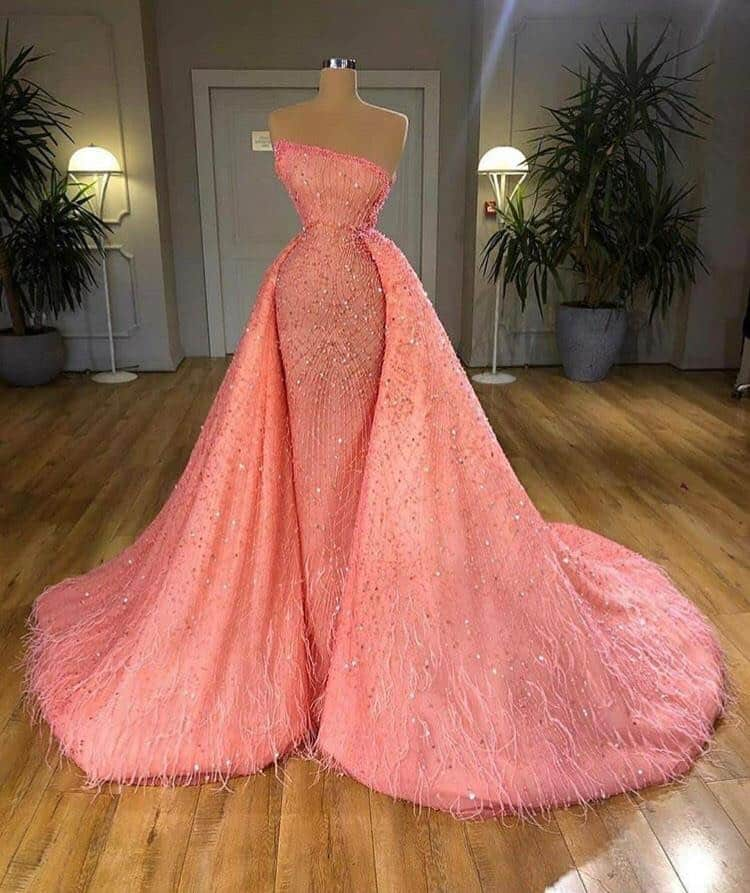 Bongo people are recognized worldwide for their Swahili culture. Muslim is also major religion in the country. The Muslim wedding attire has some features of Arab culture that make it look beautiful.
6. Yoruba attire from Nigeria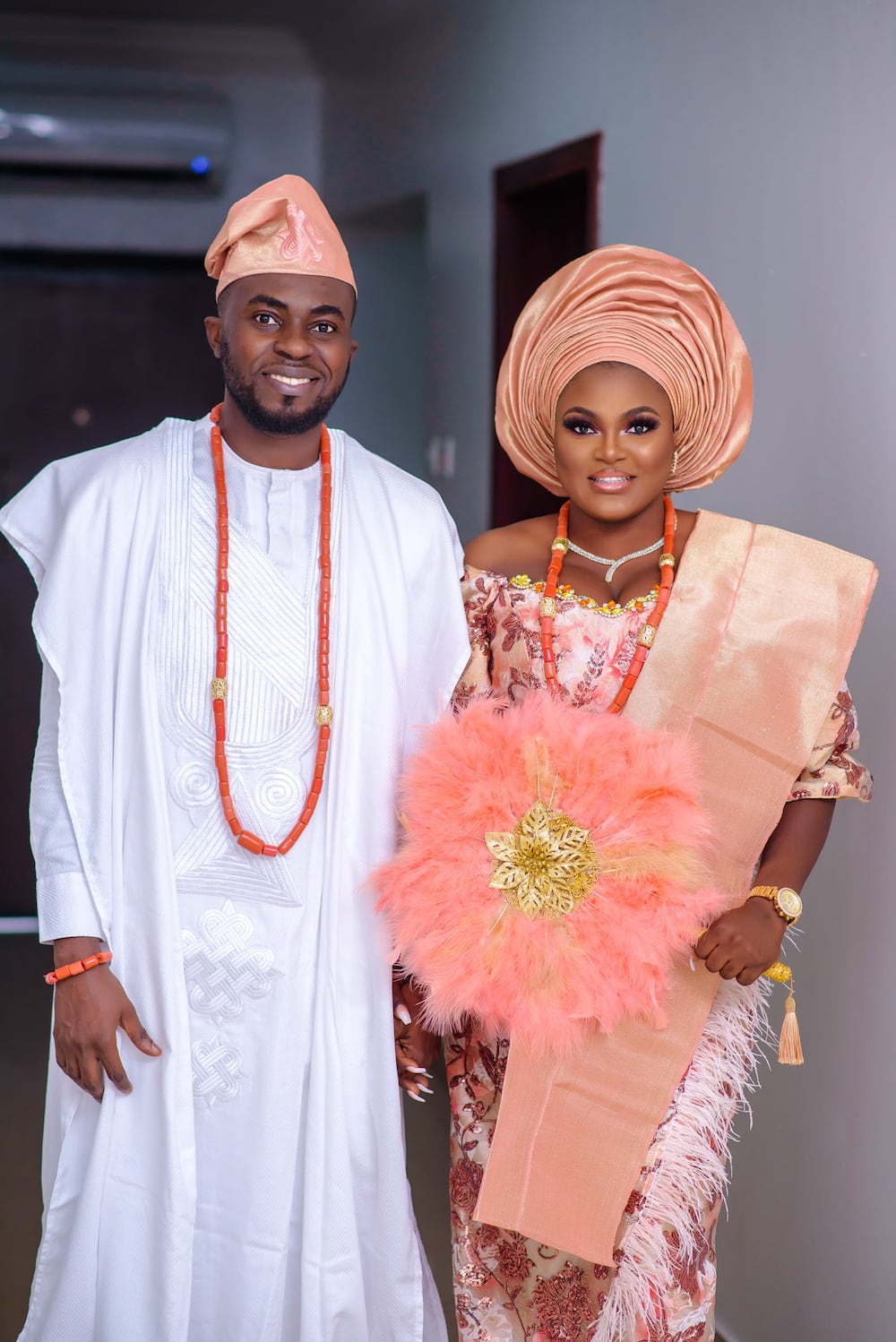 The Yoruba wedding apparel is made from Aso-Oke fabric. It comes in three primary colours, namely rich maroon, navy blue, and very light brown with stripes of cream. You can also choose the embroidery lace. The bride can also customize the colour and design to suit the wedding's theme.
7. Igbo outfit from Nigeria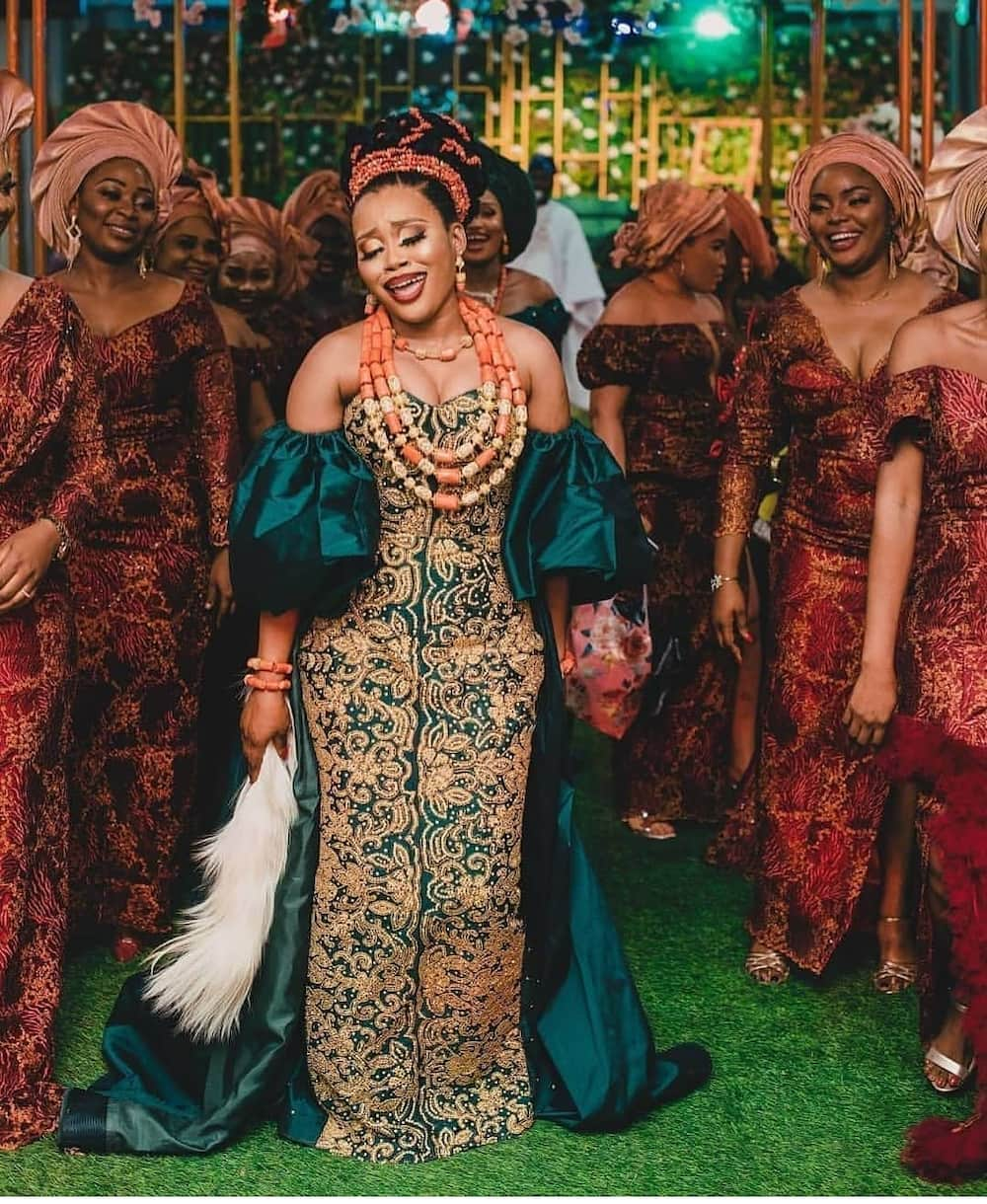 The Igbo people are located in South-East Nigeria. The igbankwu, a traditional Igbo wedding, is a colourful ceremony where the bride wears a blouse and a wrapper or dress. The outfit is made from various materials including silk, machine print, George, lace, or damask. The ensemble is accessorized with orange coral beads around the neck, ivory wristbands, and ankle bracelets.
8. Venda designs from South Africa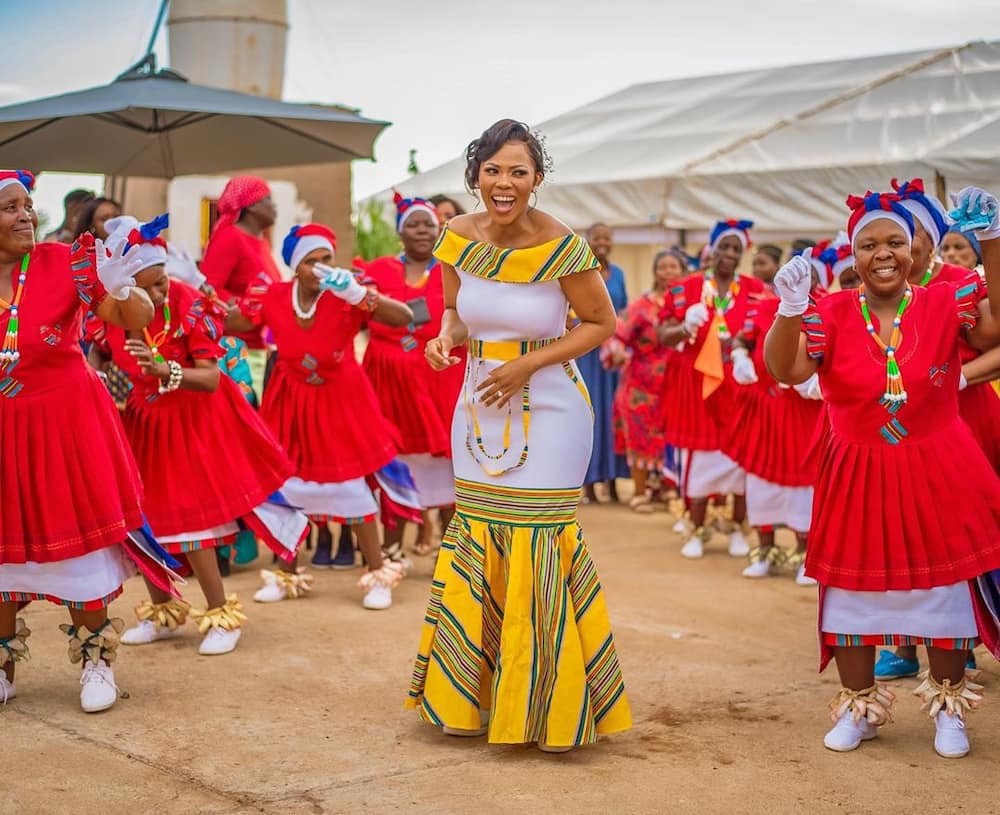 This beautiful outfit has remained a significant part of Venda culture for a long time. The traditional design has colourful fabric with different stripes, including green, red, turquoise, blue, orange, and yellow. The bride can have the apparel modified but still retain a touch of Venda.
9. Ndebele marriage dresses from South Africa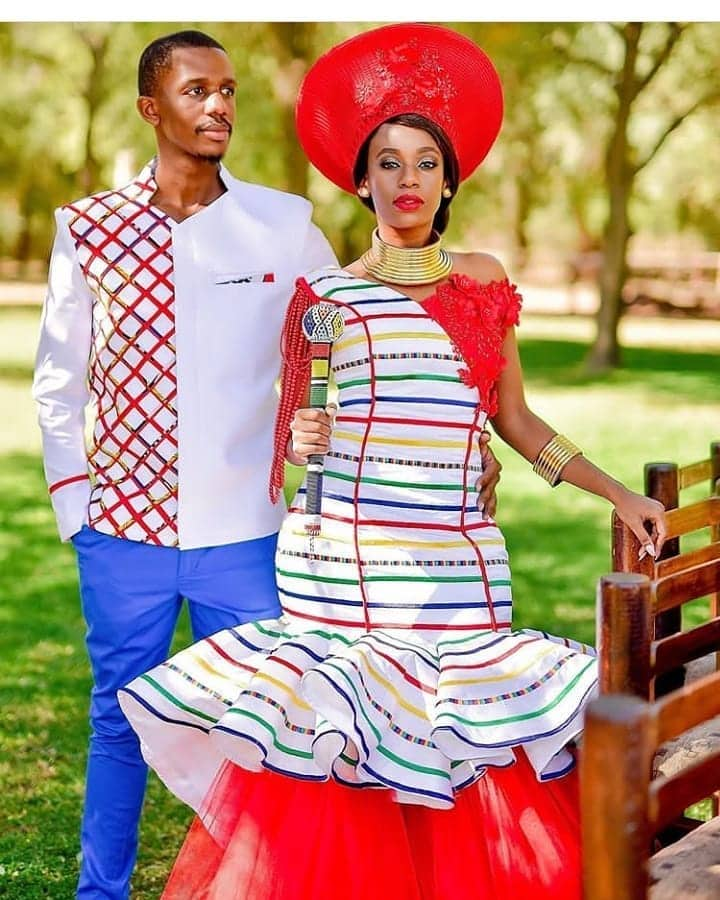 Modern brides have made beautiful modifications of the gorgeous Ndebele conventional fabric print. You can also blend the design with matching or neutral colours. The outcome is always lovely and vibrant. The Ndebele fabric is also common in Zimbabwe.
10. Pedi dresses from South Africa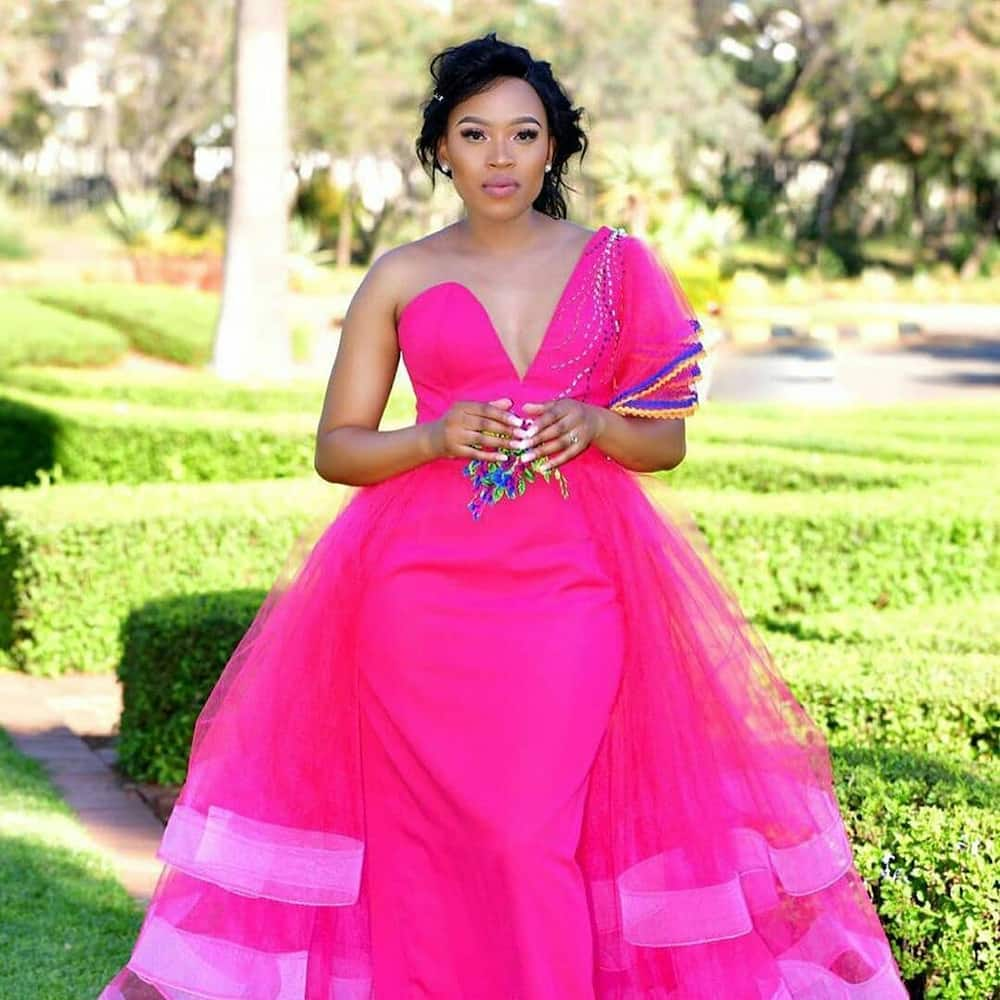 Pedi outfits have a mixture of yellow, blue, orange, red, and turquoise colours. Sepedi brides always look stunning in these outfits. In 21st century weddings, brides have the freedom to modify the dress to fit their taste but still maintain the rich tradition.
11. Xhosa attire from South Africa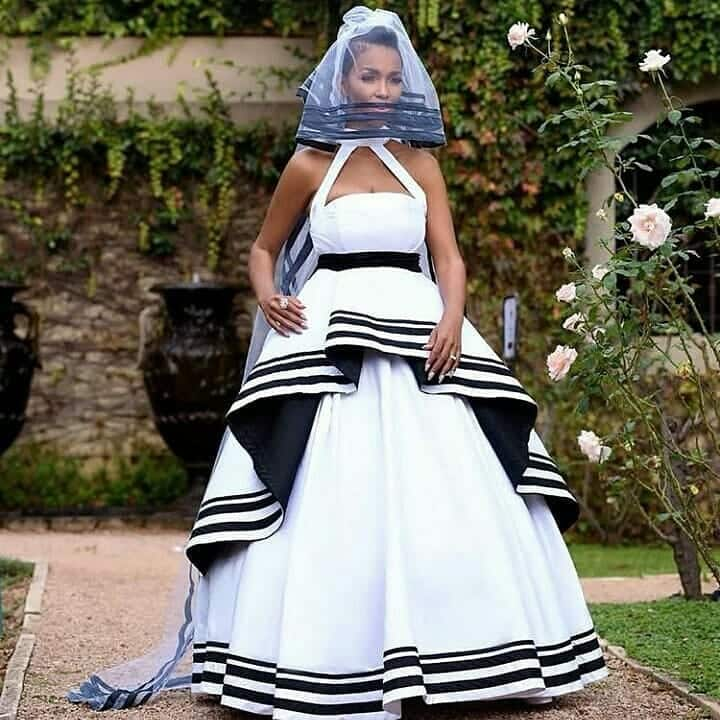 Umbaco marriage attires come in different styles and colours. An isiXhosa traditional wedding is not complete without a bride and a groom wearing matching outfits. The style is also elegant and sophisticated with black and white stripes.
12. Zulu marriage outfit from South Africa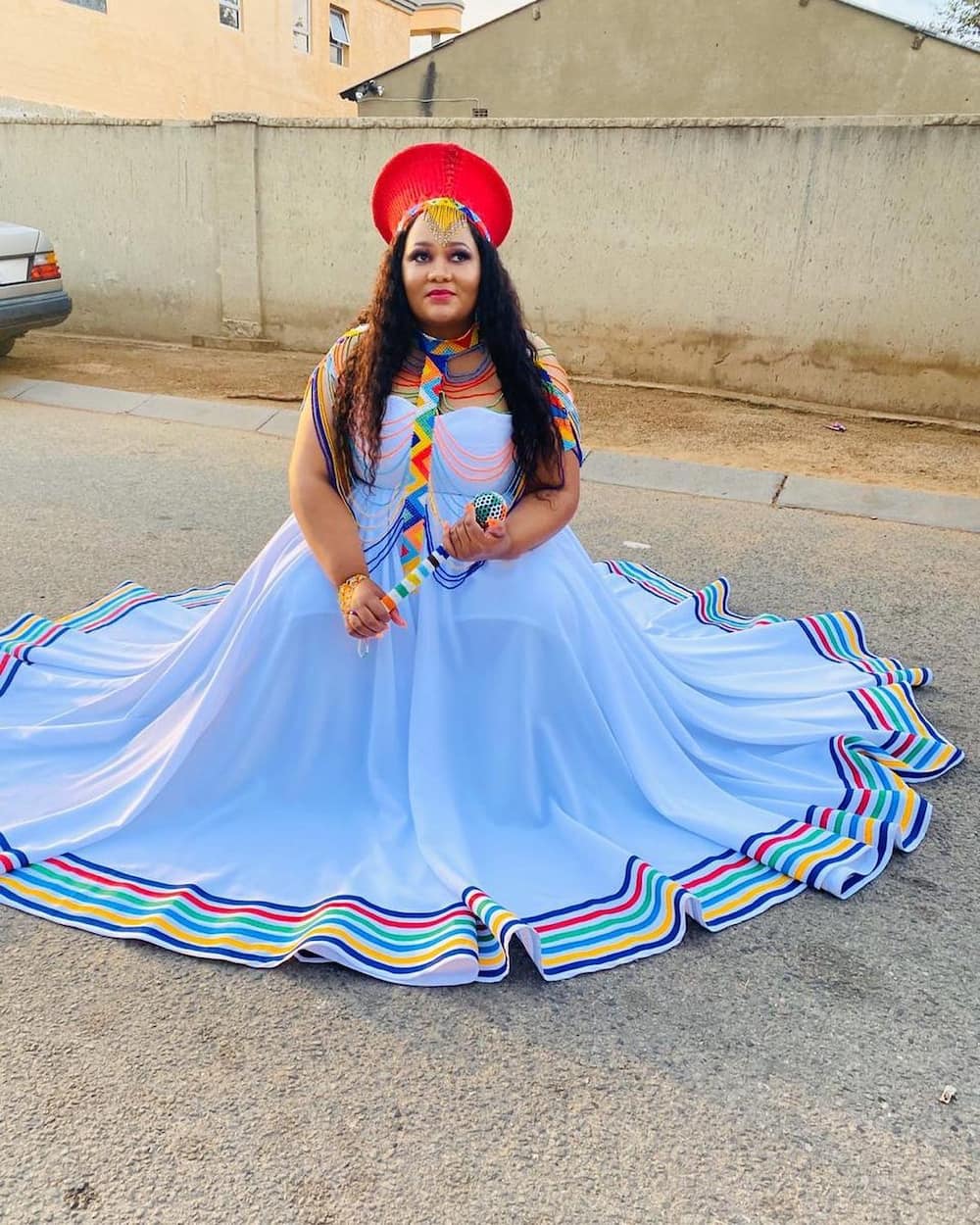 A traditional Zulu wedding is not complete if a bride does not have the Umabo, Ischolo, and beads. These features are crucial symbols to Zulu cultural heritage and should be present even in modern weddings.
13. Tsonga bridal outfit from South Africa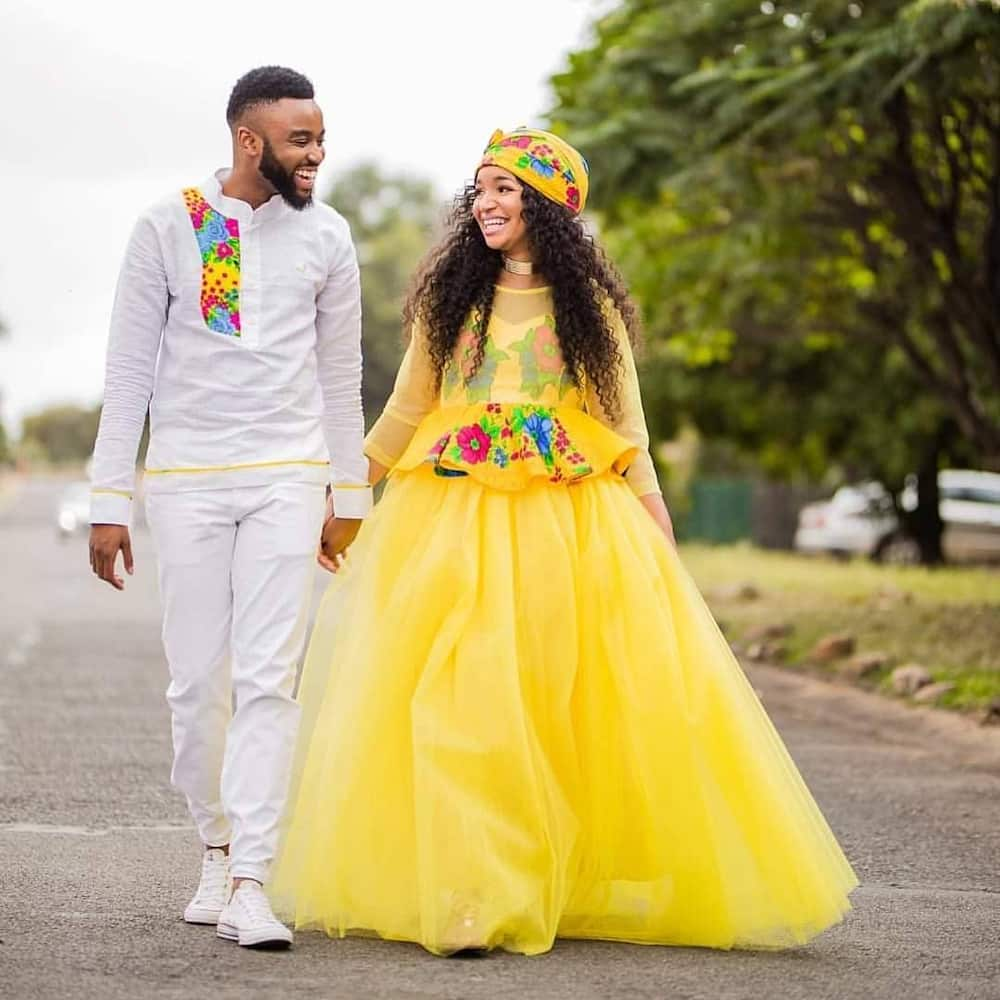 If you are looking for the most colourful traditional wedding dress in South Africa, the Tsonga dress is a perfect choice. It is characterized by fascinating flower details which can be customized in varying prints and designs. You can also blend it with various colours.
14. Sotho marriage attire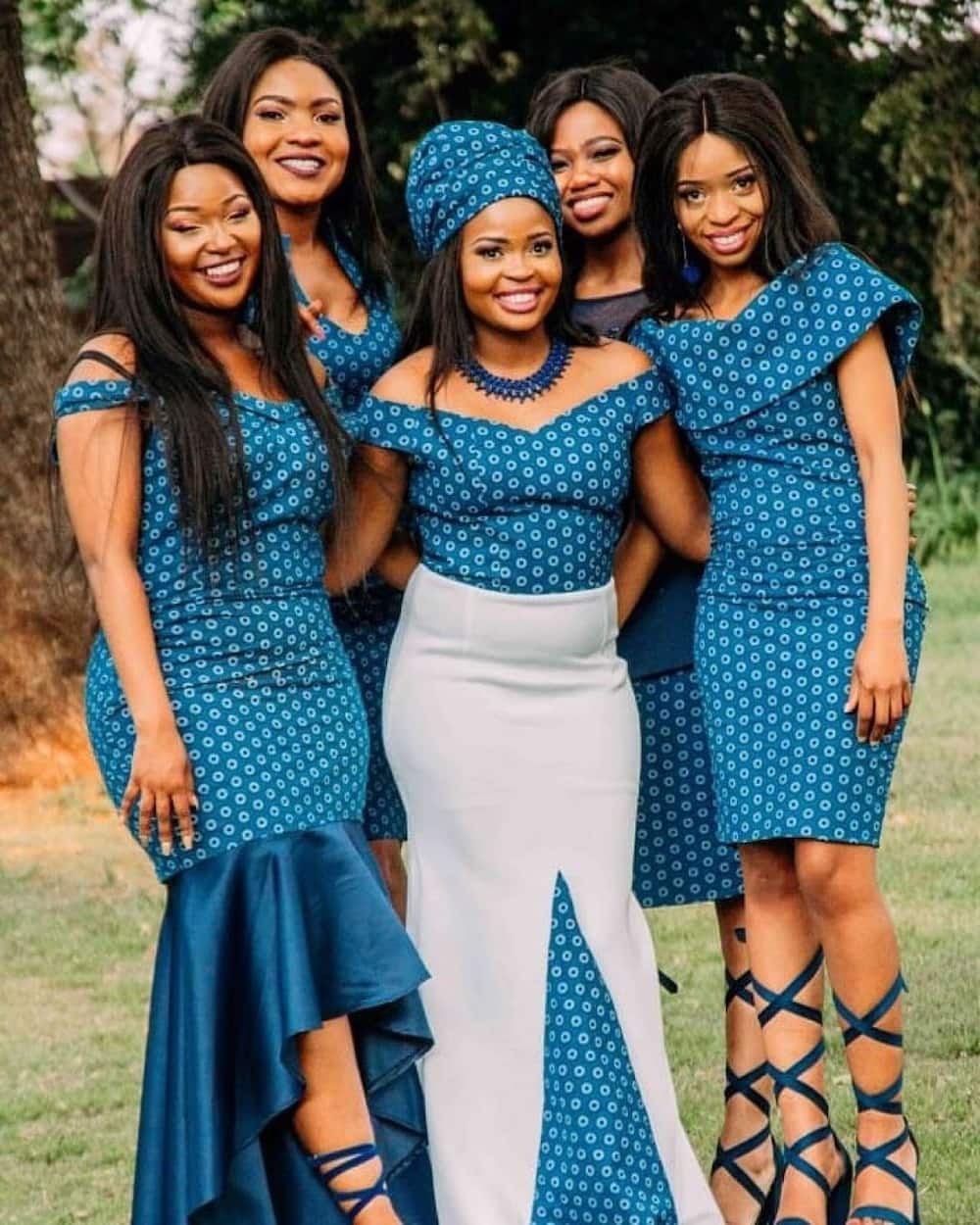 The Shweshwe design is popular among the Sotho people, and the majority of them live in South Africa. The fabric can be found in red, blue, and brown prints. The bride can modify the fabric in any design she likes.
15. Swazi marriage outfit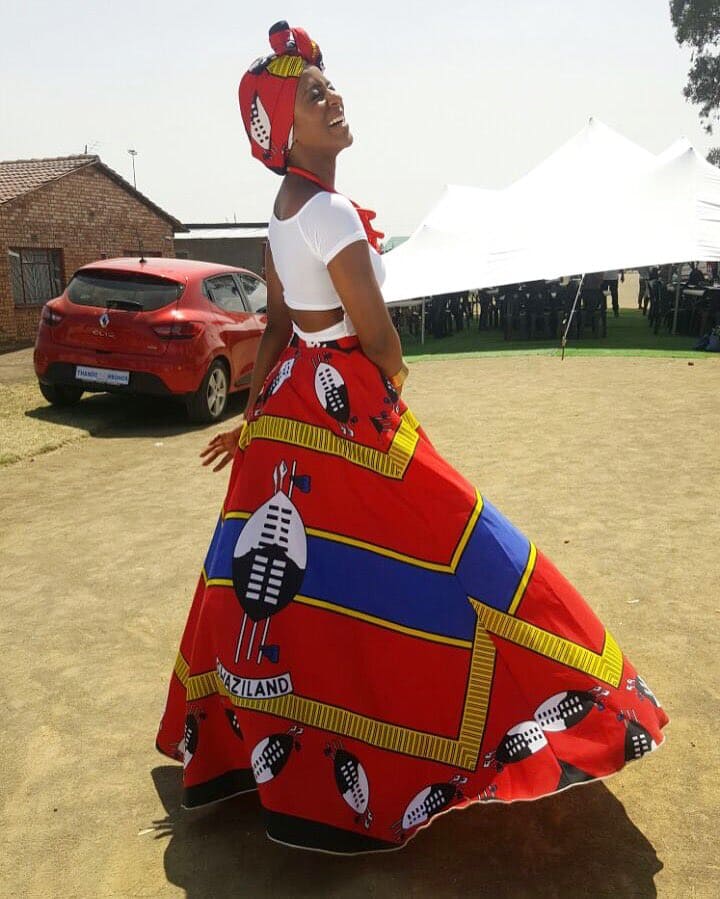 Swazi traditional wedding designs are also widely worn by brides on their big day. The prints can be blended with a mixture of plain matching colours, cotton, satin, and tule. The dress will look amazing with a touch of both modern and Swazi culture.
16. Kikuyu traditional bridal dress from Kenya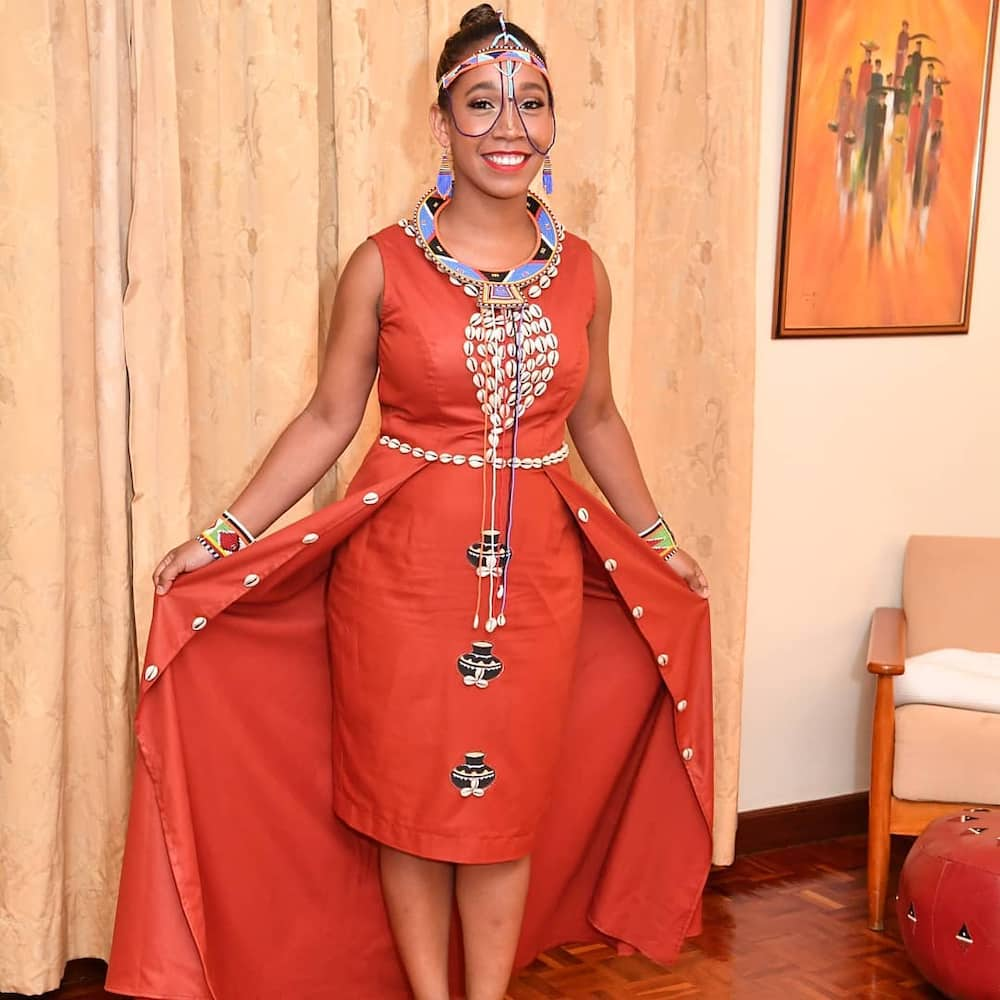 The Kikuyu brides from central Kenya wear golden or brown lessos. The outfit is decorated with beads. In modern traditional Kikuyu marriages, the bridal apparel can be made from kitenge or Ankara which make the outfit more stylish.
17. Maasai outfit from Kenya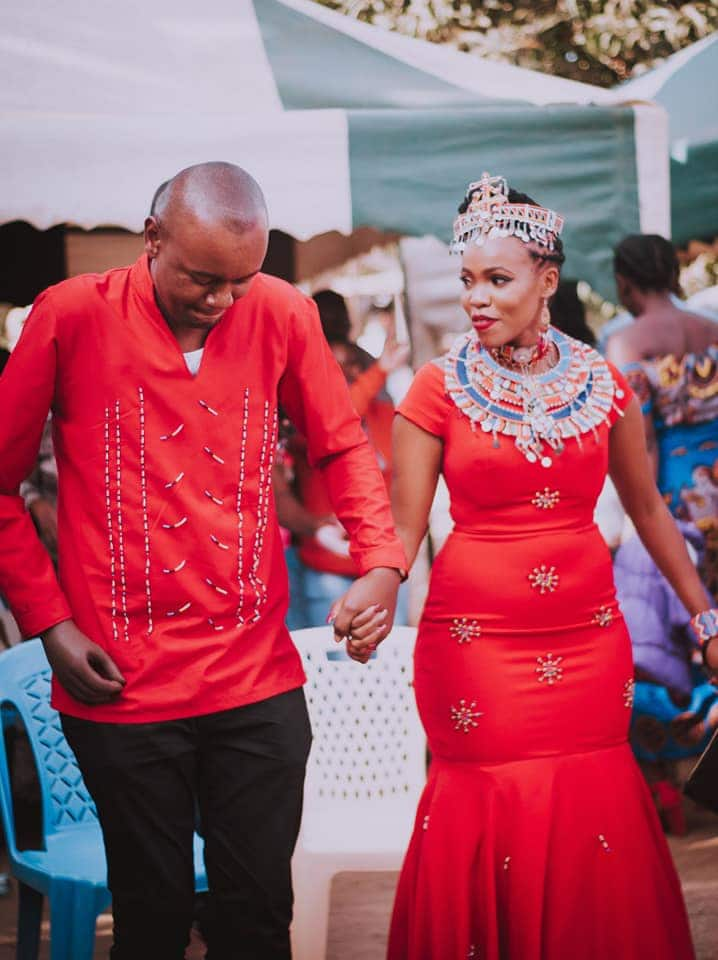 Maasai is one of the most celebrated cultures in Kenya and Tanzania. The conventional Maasai attire is bright-coloured with red as the main colour. In modern traditional weddings, brides usually modify the outfit and accessorize with the culture's colourful beaded necklace.
18. Mijikenda bridal wear from Kenya
Mijikenda people have also continued to embrace their beautiful culture. In today's marriage ceremonies, brides wear a dress made from mixed colours of leso fabric.
19. Oromo marriage attire from Ethiopia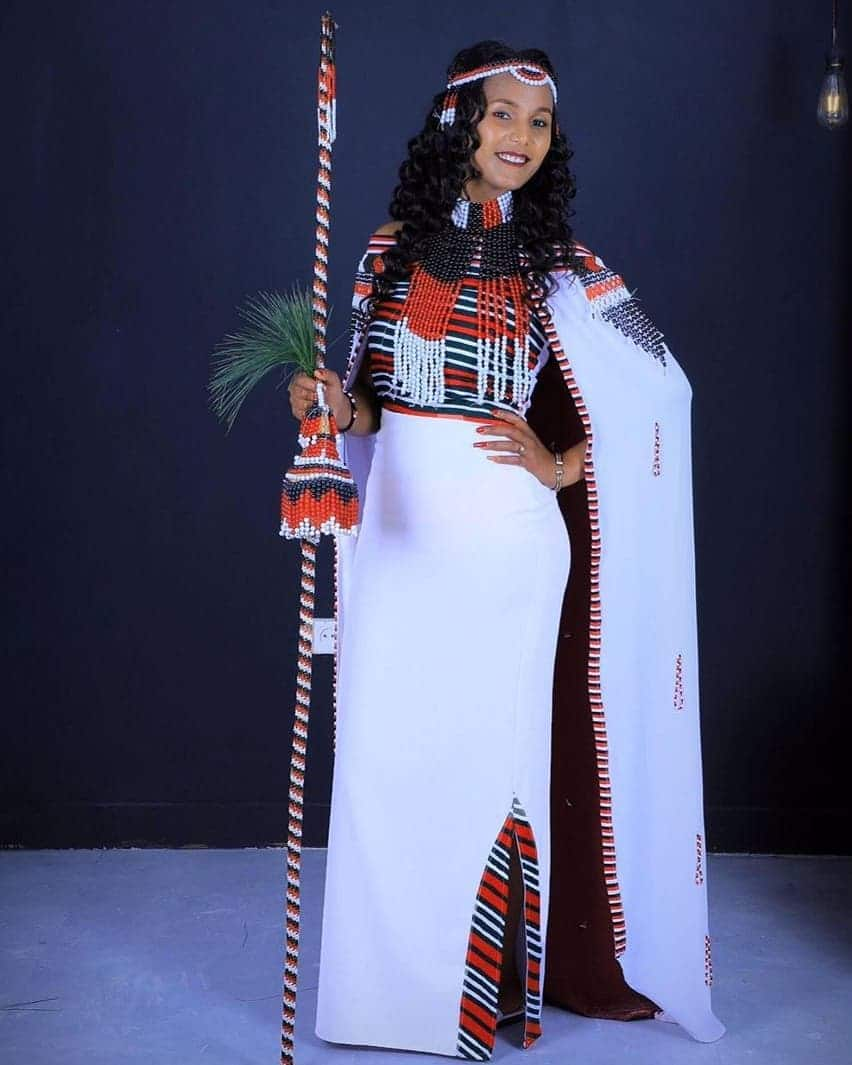 The Ethiopian conventional Oromo attire has never failed to turn heads. The beautiful clothing can be made from Ankara or cotton fabric.
20. Habesha marriage outfit from Ethiopia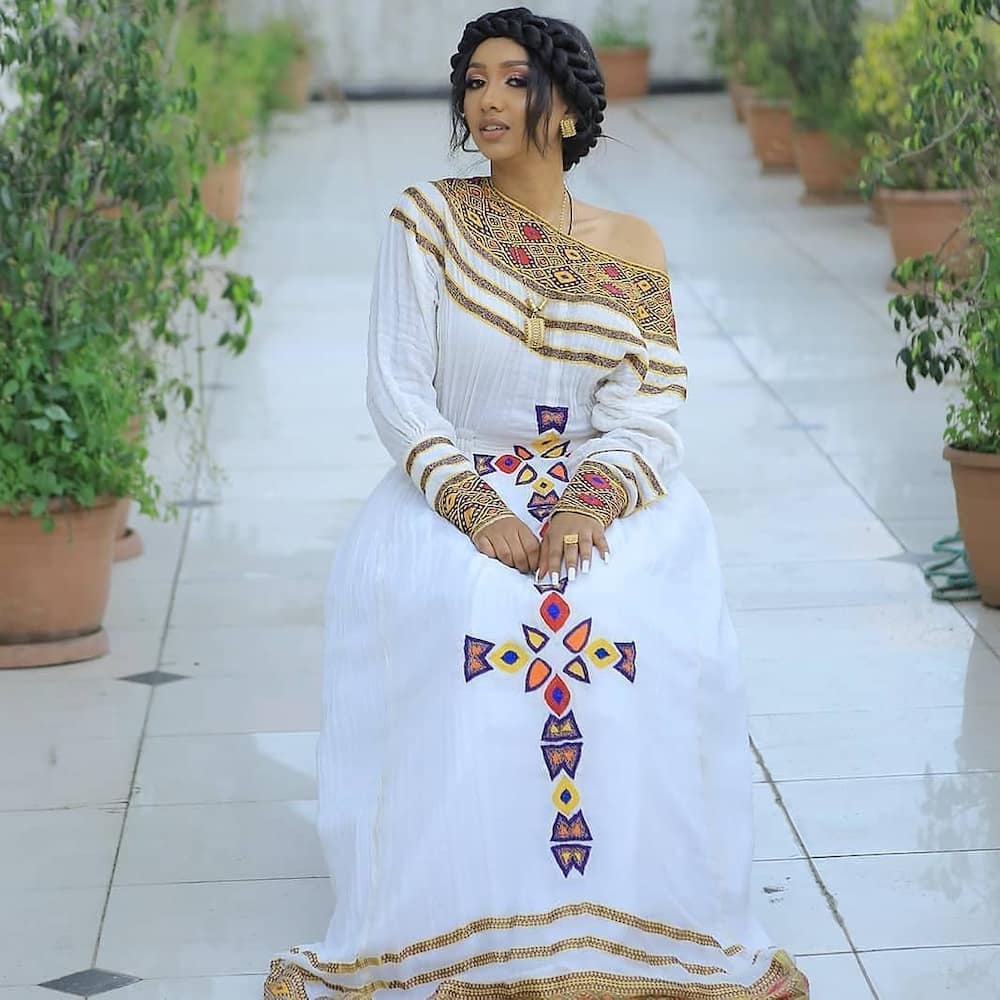 Habesha brides, who are located in Ethiopia and Eritrea, wear the Habesha Kemis attire on the big day. The cloth is hand-woven white cotton made from Shemma. They are among the most beautiful traditional wedding dresses in the continent.
21. Shona outfit from Zimbabwe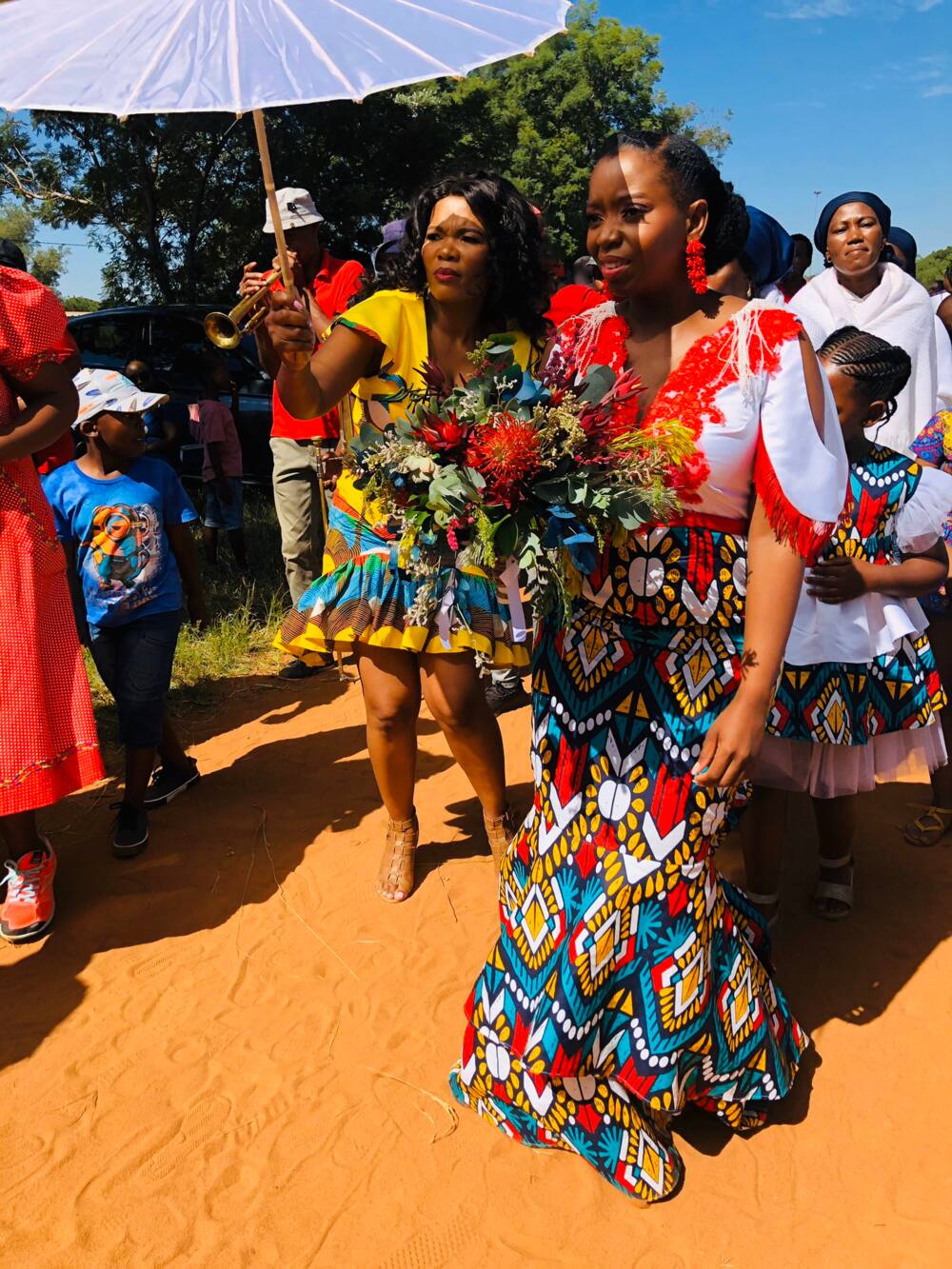 Zimbabweans culture is deeply rooted among the people. Tradition is incorporated in every significant event. In traditional weddings, the bride's dress is made from the Shona Ankara fabric.
22. Senegalese wedding dress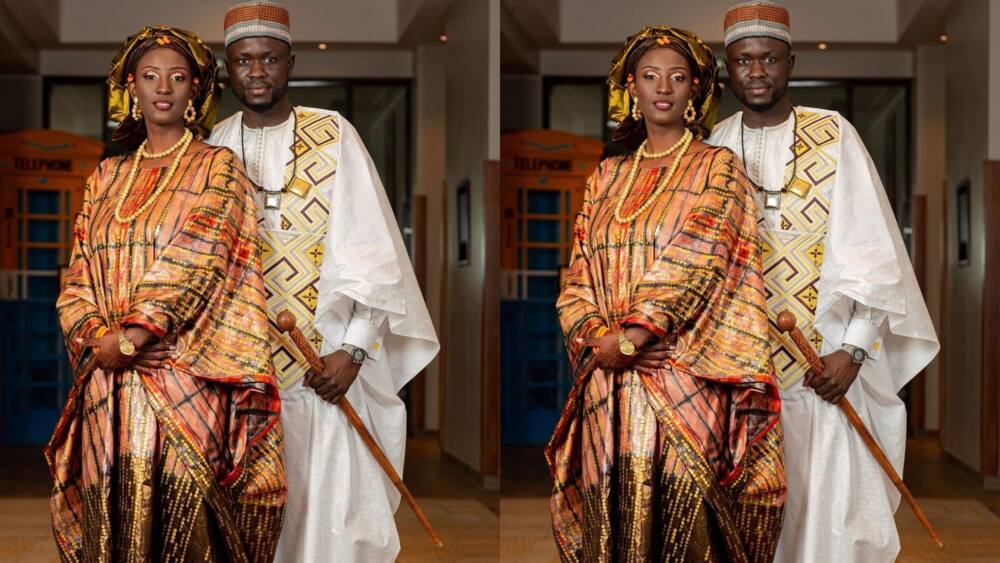 Boubou is the traditional clothing of the Senegalese people. The garment is made from wax fabric, cotton, or Bazin, and it has unique embroidery. In modern weddings, brides can add modern style twists that will fit their taste.
23. Cameroon traditional wedding dress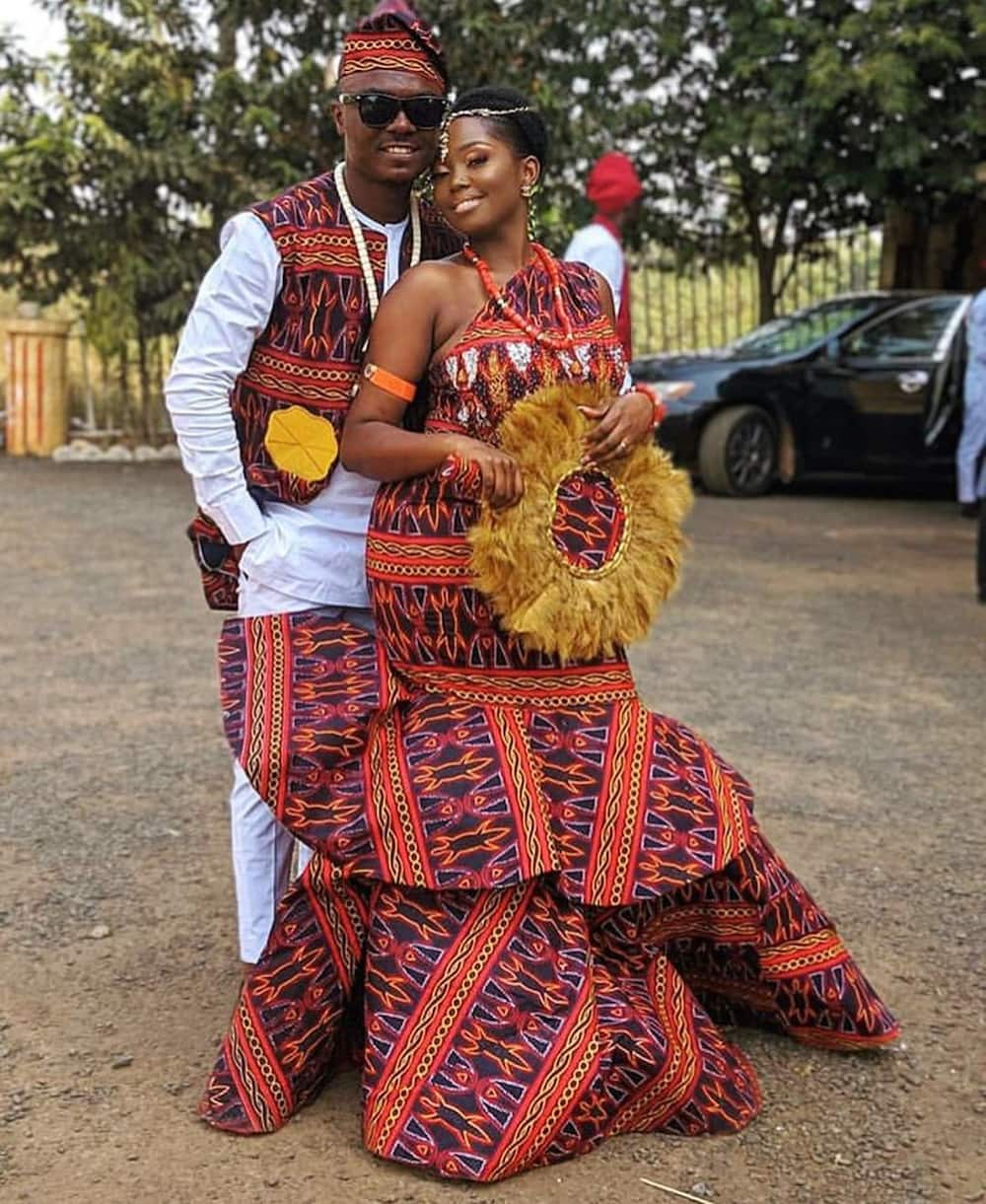 Toghu or Atoghu is the most popular traditional outfit in Cameroon. The fabric is beautifully embroidered with extraordinary colours. In 2020, brides from Cameroon have embraced their culture, and it is gorgeous.
24. Ugandan traditional wedding dress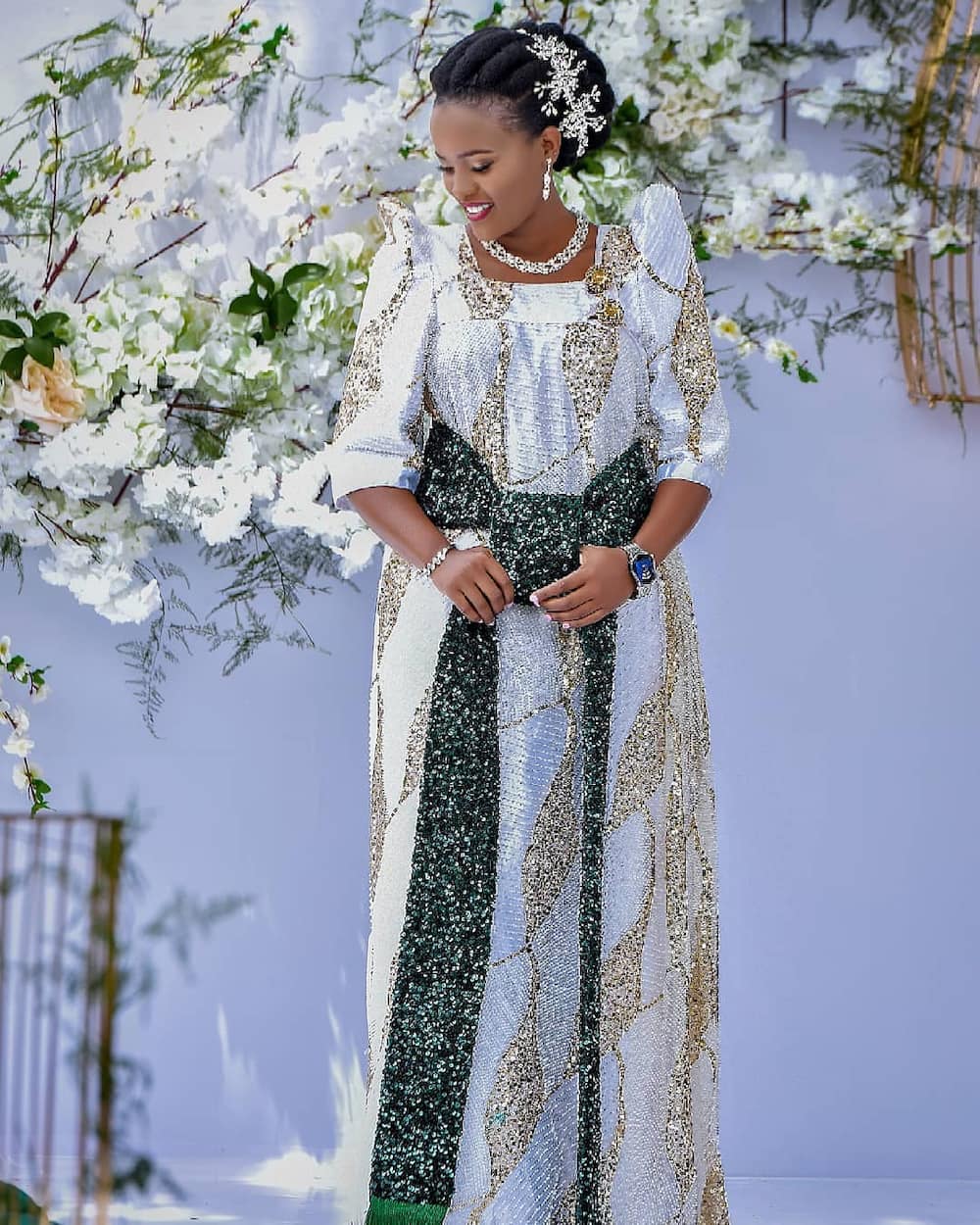 Ugandan brides rock in colourful floor-length outfits called busuuti or gomesi. The outfit is particularly common among the Busoga and Buganda ladies. The colourful dresses, which have puffed sleeves and a square neckline, can be made from silk, cotton, or linen fabric.
25. Zambian traditional wedding dress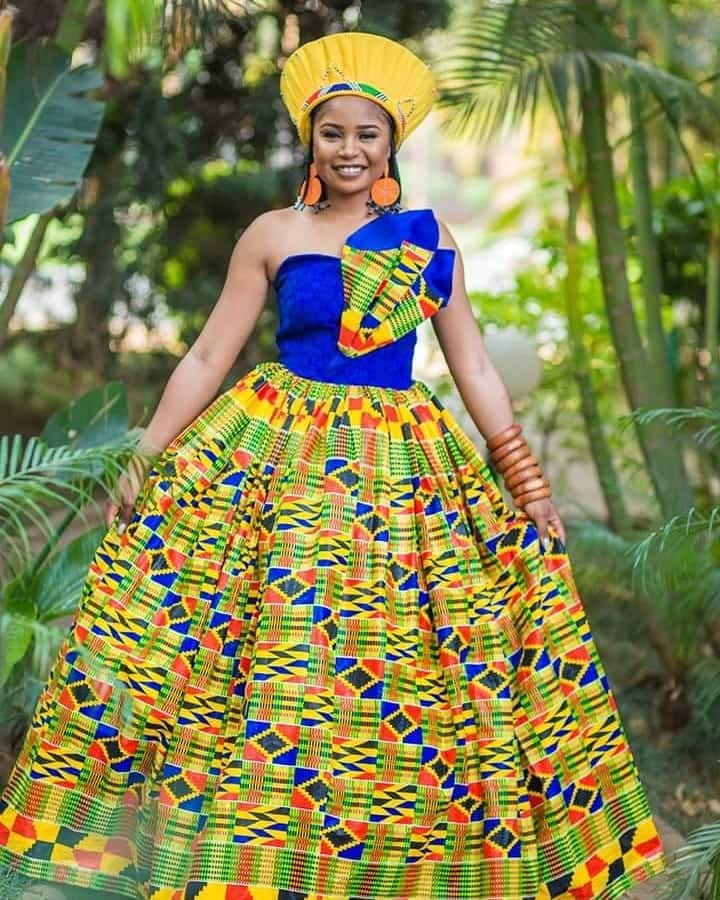 The people of Zambia have deeply rooted traditions. The chitenge outfit is an essential fashion detail in Zambian weddings. Brides can mix the chitenge with other types of fabric to get an amazing modern look.
Traditional wedding dresses for bridesmaids
A wedding is not complete without gorgeous bridesmaids. The outfit chosen for them is equally important as it adds flavour to the event. Here is a look at breathtaking traditional outfits for bridesmaids in 2020.
26. Rwandese bridesmaids attire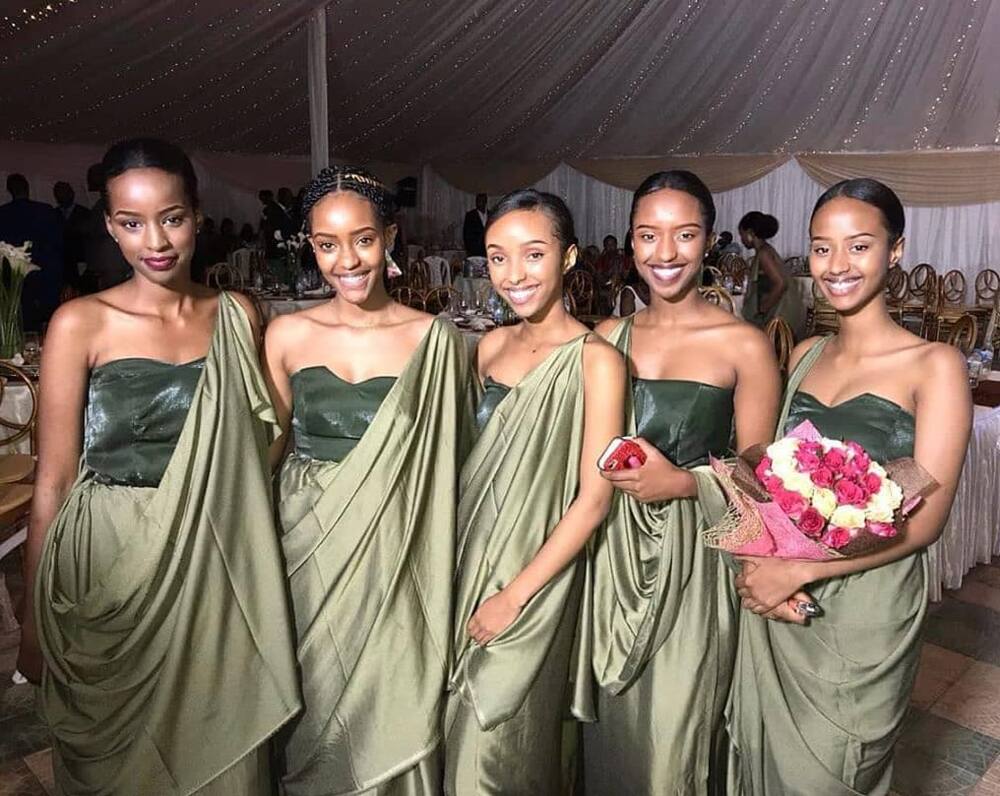 Rwanda's beautiful culture is usually seen at traditional marriage ceremonies. The bridesmaids wear imishanana inspired outfits. The choice of attire may be similar to that worn by the bride or slightly different.
27. Nigerian bridesmaids attire
You have not seen class in African traditions if you are yet to witness the colourful Nigerian traditional marriages. Nigerian bridesmaids from the different communities, especially the Yoruba and Igbo, wear stylish conventional outfits. The Yoruba Aso-Oke fabric is one of the best in 2020.
28. Kenyan traditional bridesmaids attire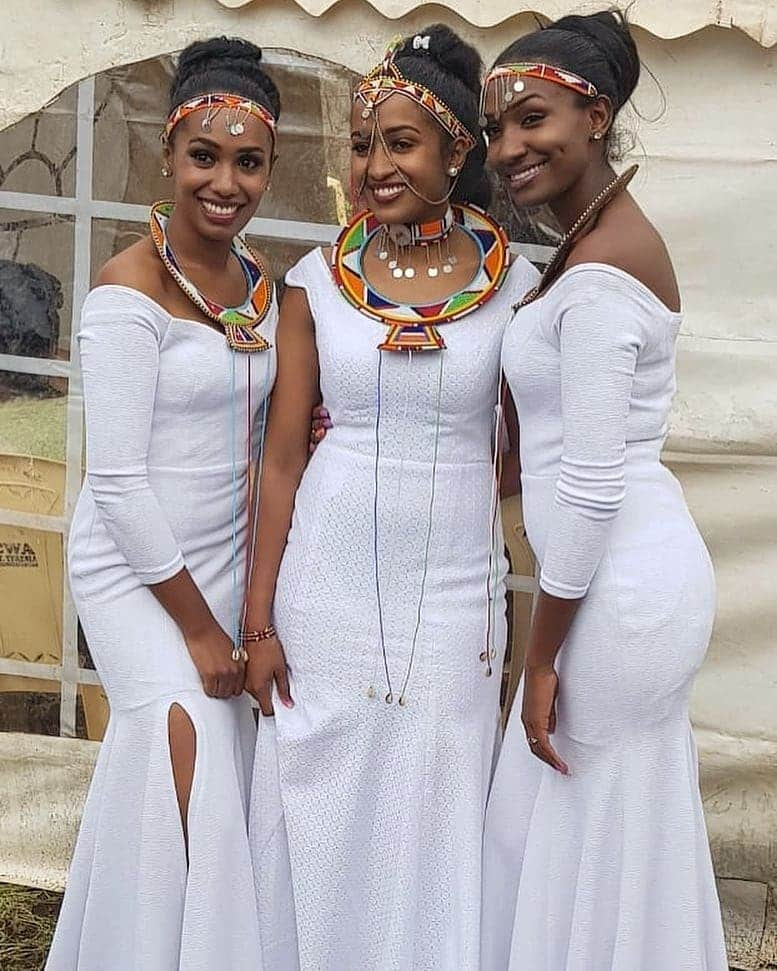 Kikuyu and Maasai traditional weddings are the most recognized in Kenya. The Maasai's put on the red or white fabric while the Kikuyu bridesmaids rock in gold dresses. Leso material is also common. Bridesmaids also put on traditional accessories.
29. Zulu bridesmaids South Africa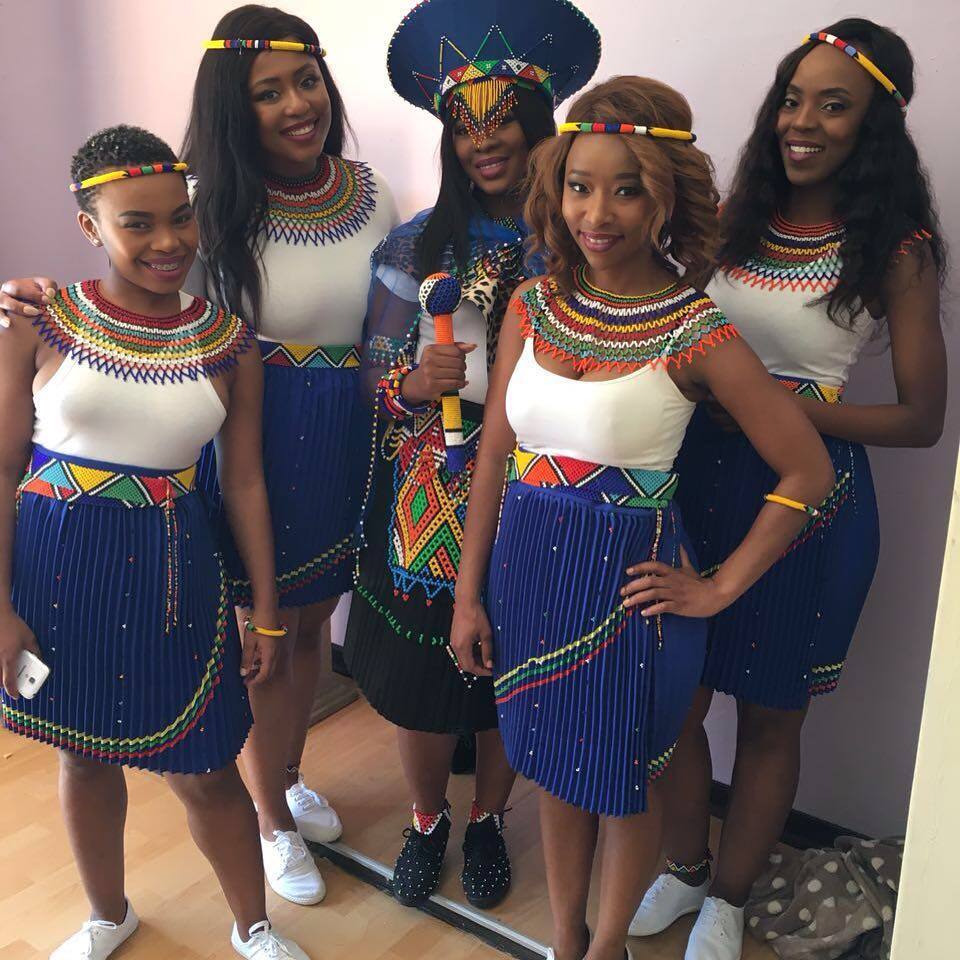 Zulu's iconic traditional ensemble is one of the most colourful in South Africa. Bridesmaids wear colourful dresses that light-up the event. There are numerous amazing bridesmaids dresses in 2020 that celebrate the beautiful culture.
30. Venda bridesmaids South Africa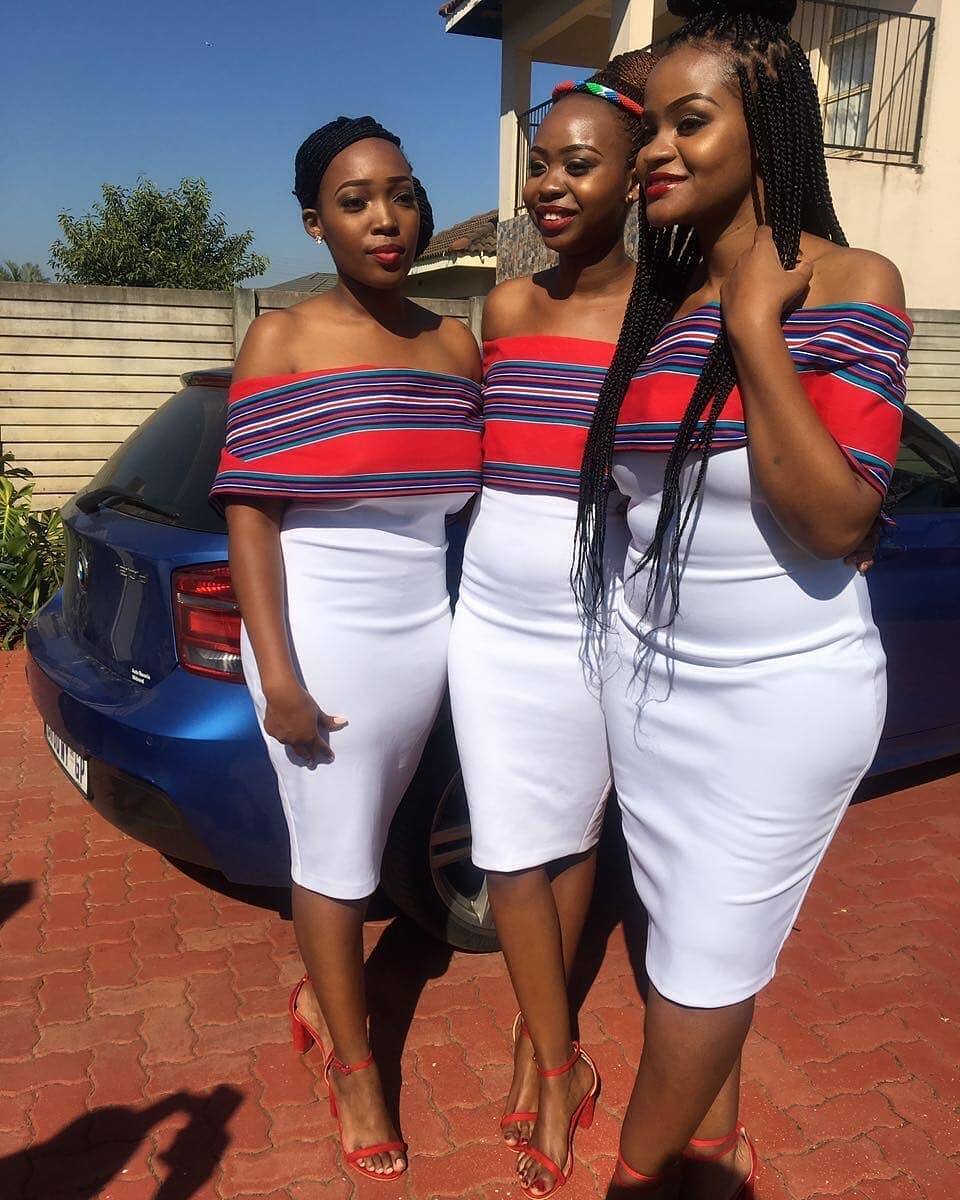 South Africa is one of Africa's most diversified countries in terms of culture because of the different tribes, including the Venda. Traditional bridesmaids' dresses are embroidered with colourful stripes. The outcome is always amazing.
31. Xhosa bridesmaids South Africa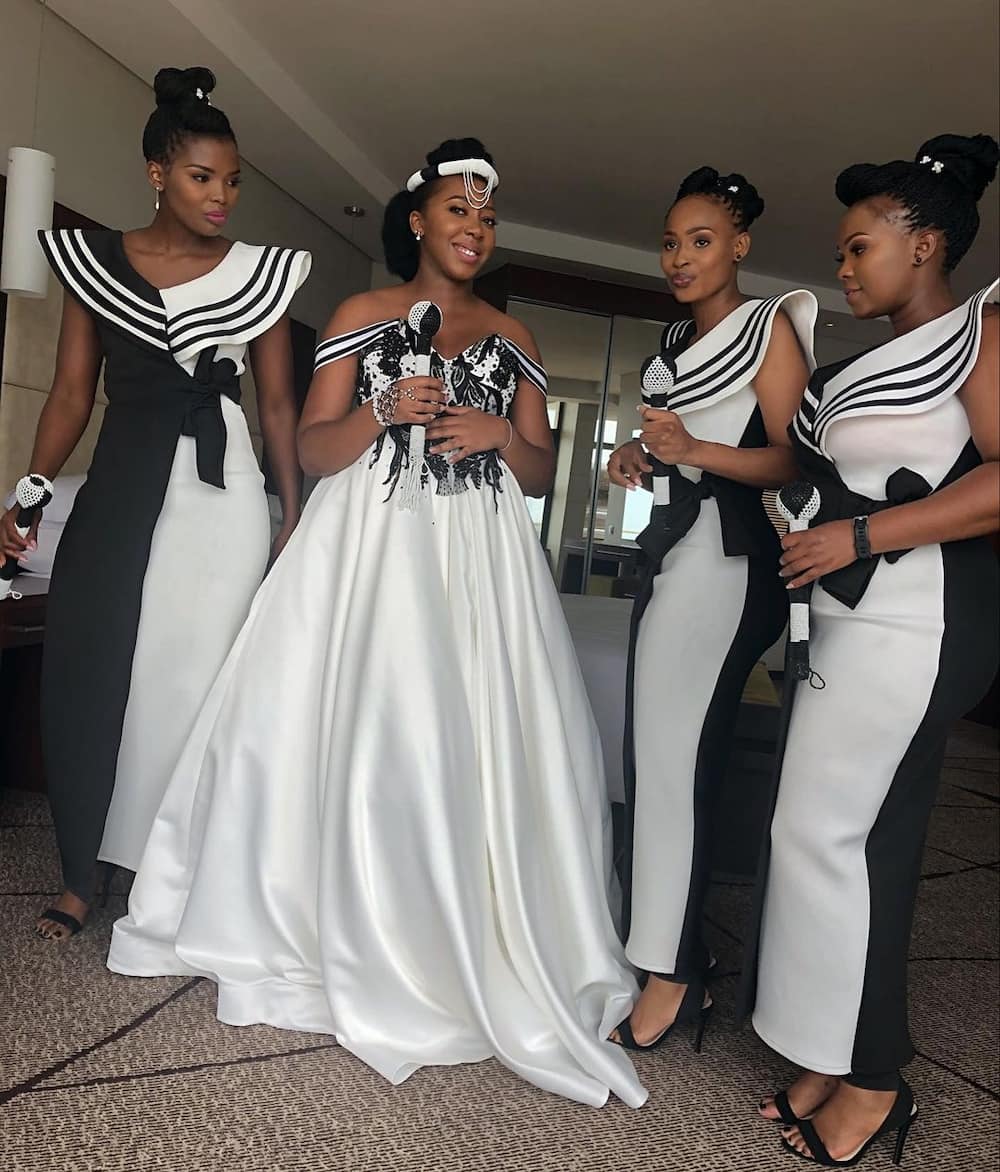 The Xhosa people are known for their beautiful culture. The bridesmaids look fantastic in the white and black-stripped dresses. The colour combination makes the outfit elegant and sophisticated.
32. Tsonga bridesmaids South Africa
The sophisticated flower detail is an important aspect of Tsonga bridesmaids ensemble. The dress colour choice depends on the bride's taste and the wedding theme.
33. Cameroon bridesmaids dresses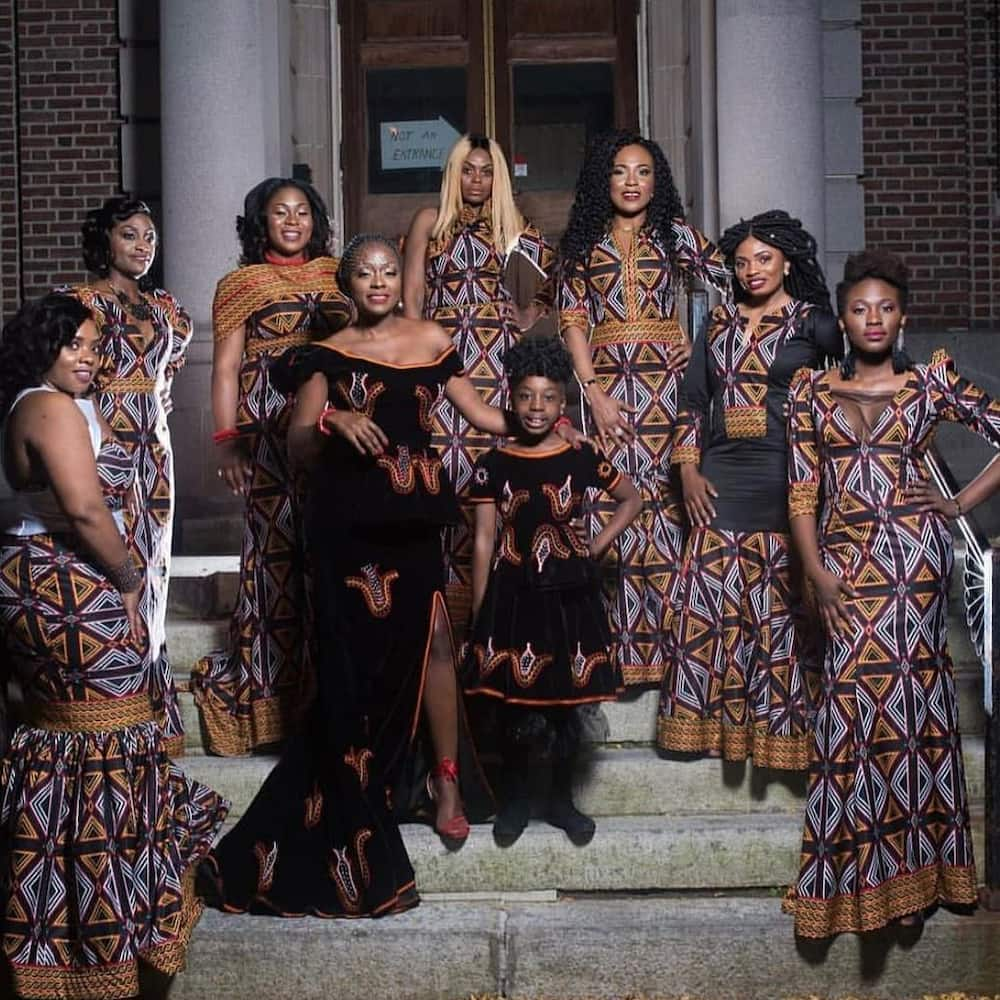 Cameroonian weddings are a beautiful and colourful event. The bridesmaids rock in Toghu inspired outfits. For an amazing look, the attire is designed to fit every lady.
34. Habesha bridesmaids dresses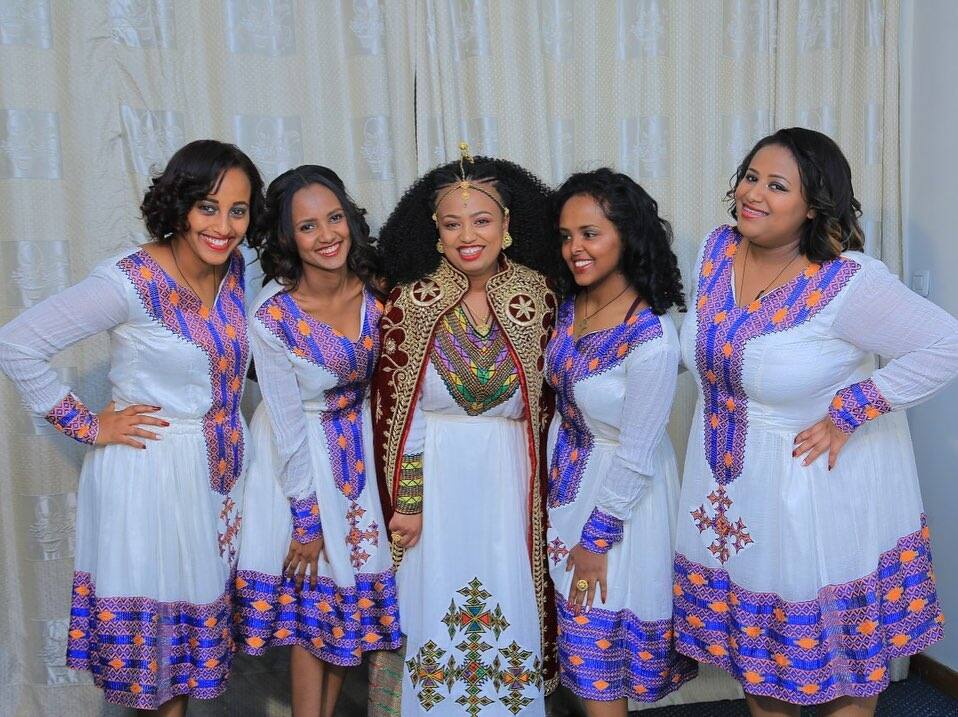 Habesha Kemis made from Shemma fabric characterizes bridesmaids ensemble in these Eastern Africa countries. The white-cotton outfits are beautifully embroidered to reflect the Habesha culture.
35. Ghanaian Kente bridesmaids dresses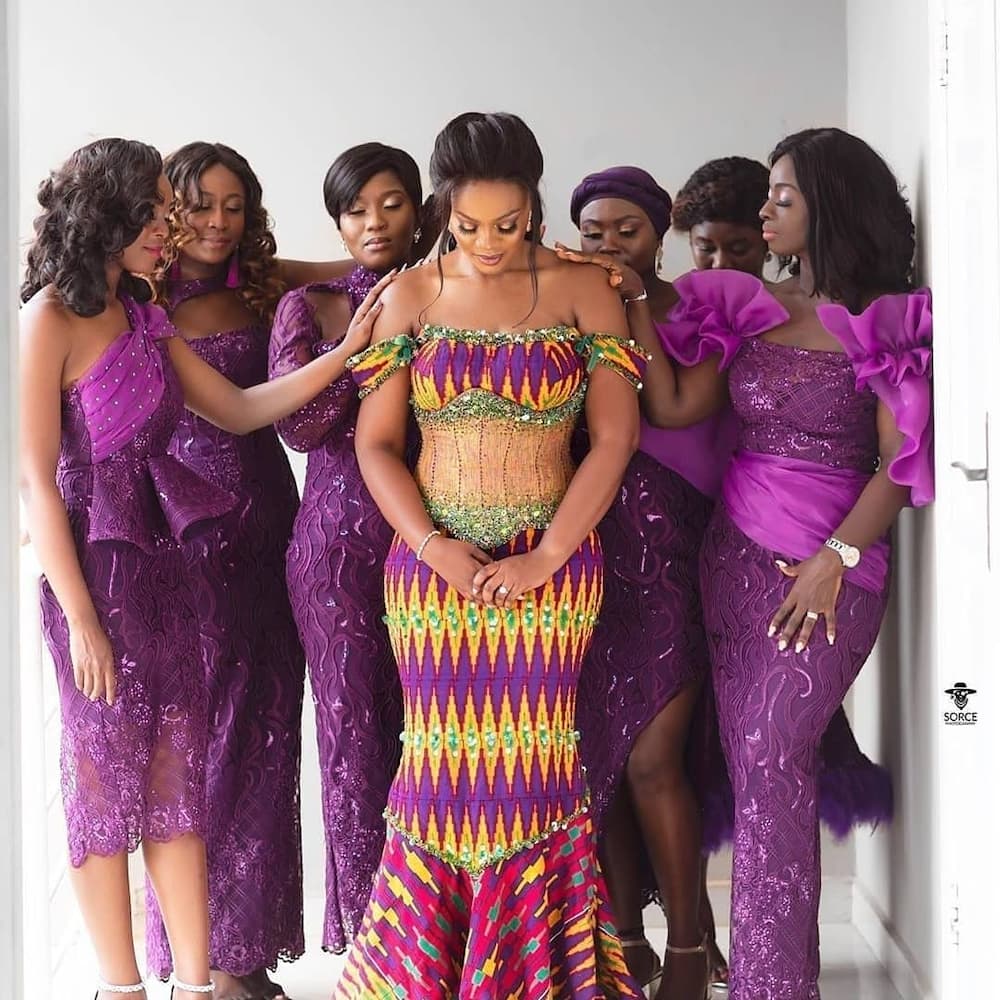 Ghanaian brides wear Kente themed apparel. The fabric makes the dresses unique across West Africa. Brides and their maids in other countries in the region have also embraced the design.
36. Botswana bridesmaids attire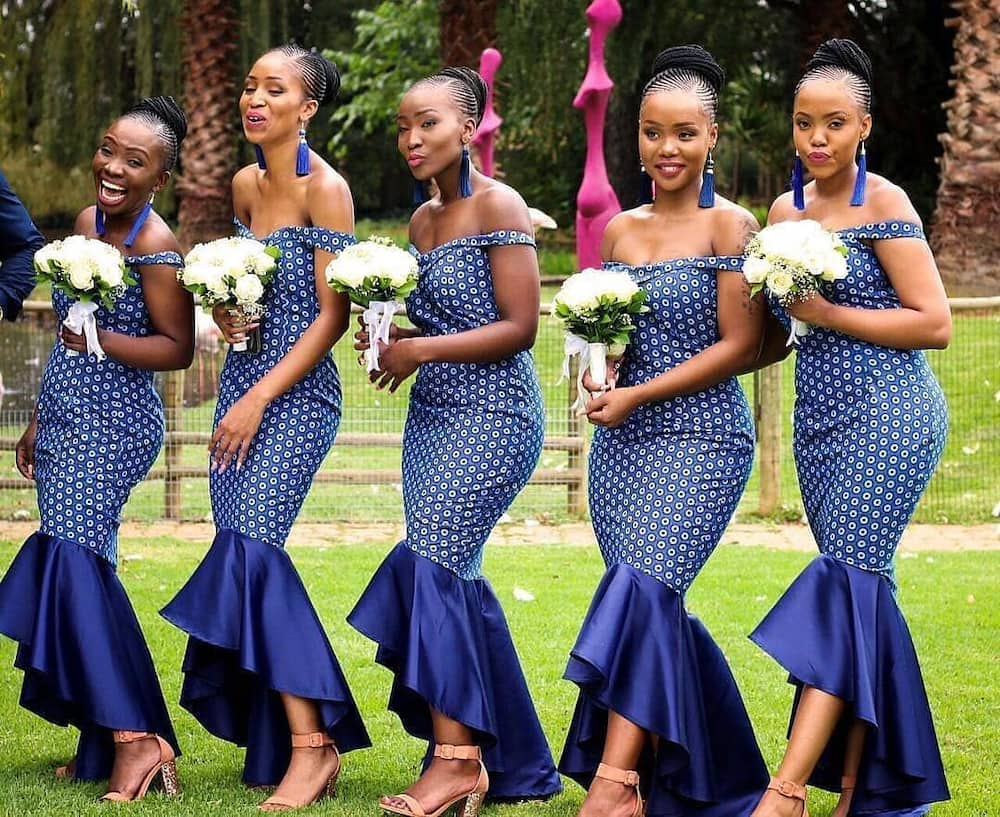 The Shweshwe design is common in Southern African countries. Botswana has also assimilated the design in their culture. A wedding can never go wrong with beautifully designed Shweshwe outfits for the gorgeous bridesmaids.
37. Zimbabwe bridesmaids attire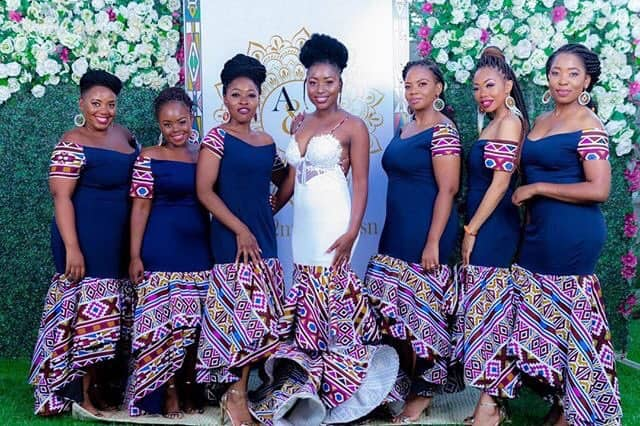 Bridesmaids in Zimbabwe wear dresses made from the Shona Ankara fabric. They have some of the most decent and also beautiful African dresses. The distinct embroidery can be blended with various matching colours.
38. Ugandan bridesmaids dresses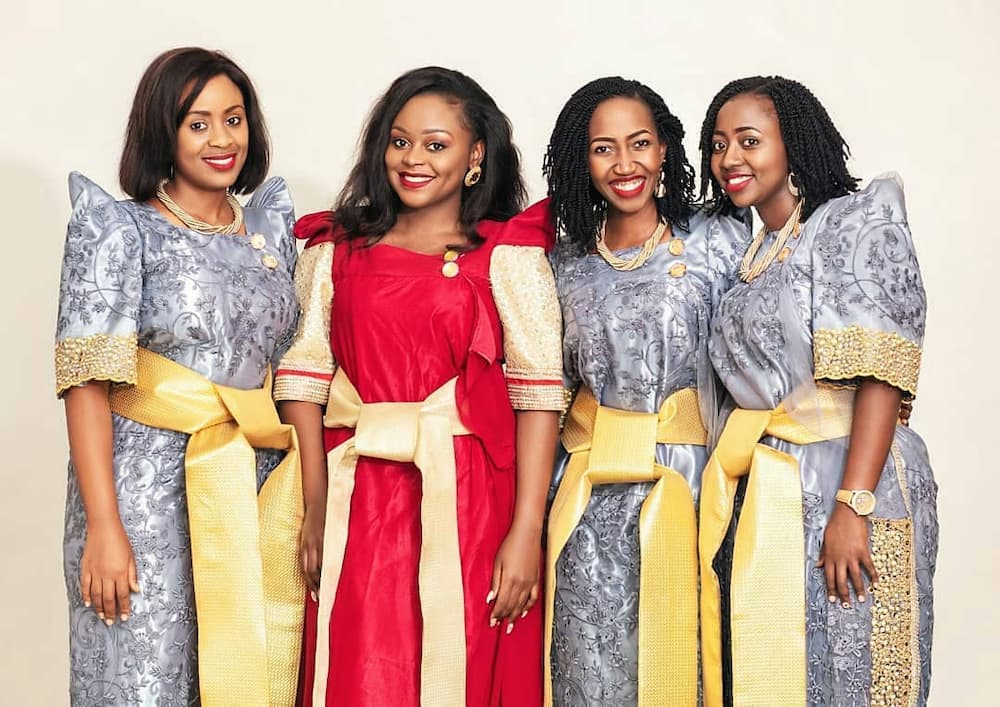 A Ugandan wedding is not seen as traditional if the bridesmaids have not worn gomesi apparel. They are an essential aspect that cannot be overlooked. The colour choice can vary but the design should be gomesi.
39. Congolese bridesmaids dresses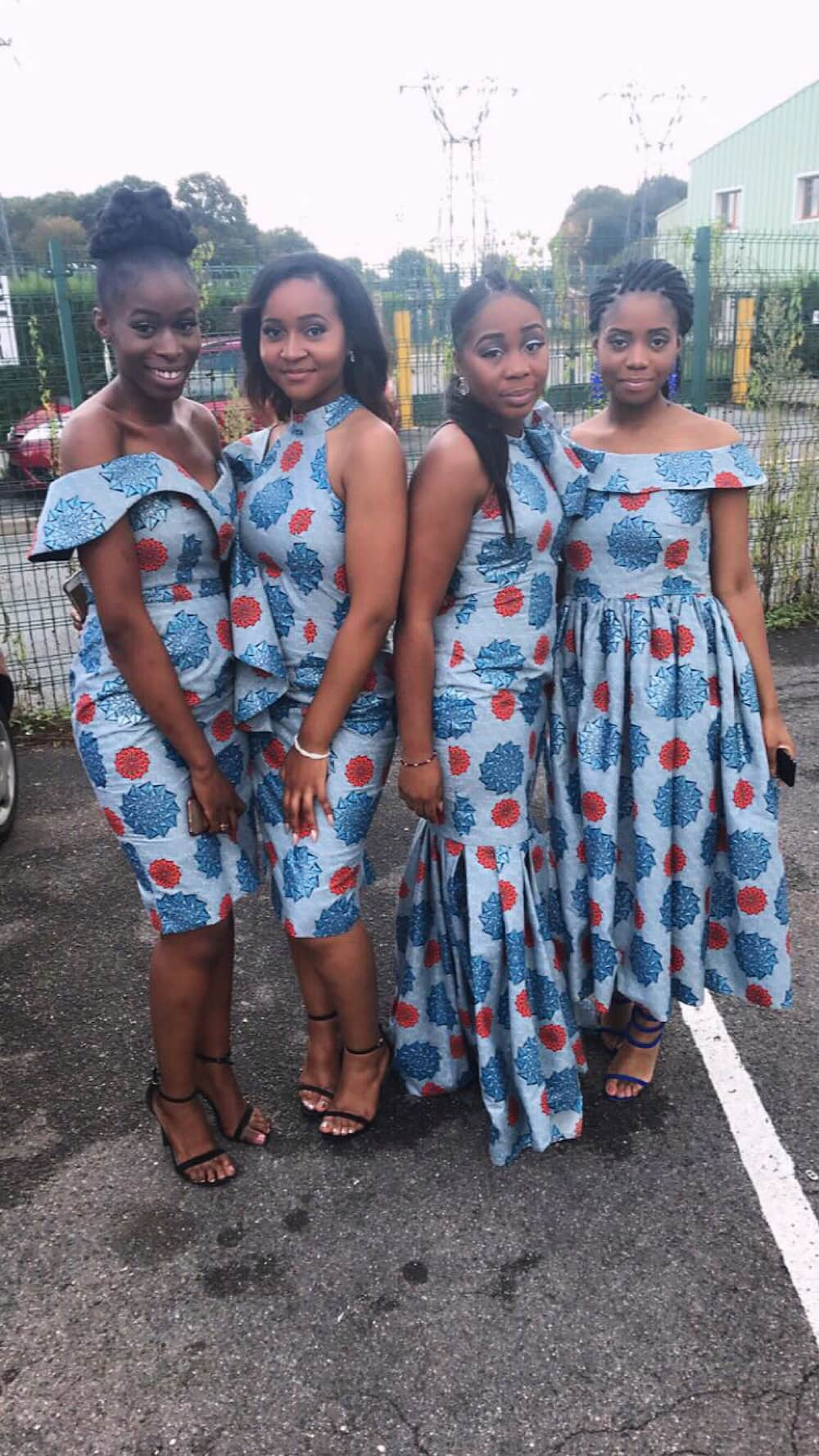 Congolese bridesmaids ensemble is made from Liputa or Kitenge materials. They are usually characterized by bold and bright colours. Congolese weddings are lit because of the choice of colours.
40. Ndebele bridesmaids dresses South Africa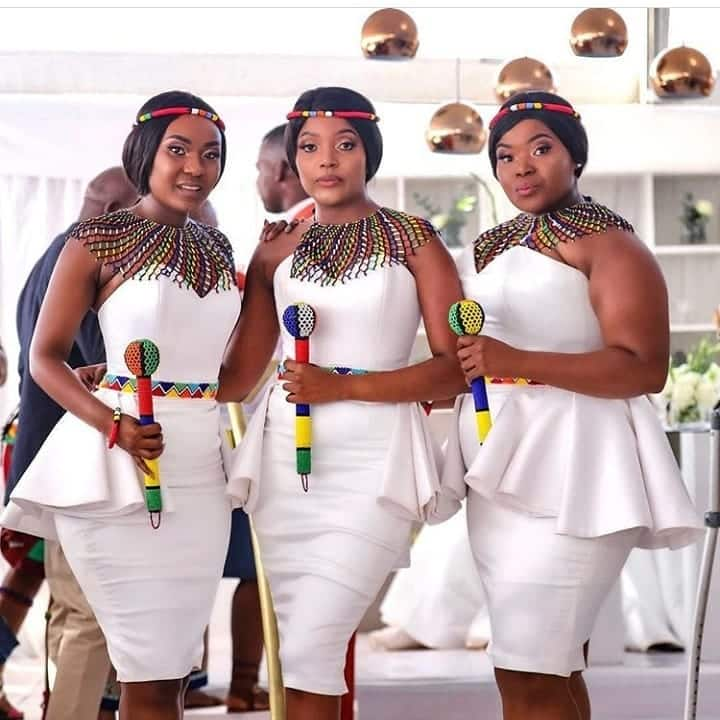 South Africa is a beautiful country because of the many beautiful traditions among the people. Bridesmaids in Ndebele traditional weddings wear outfits with the culture's iconic features. As an aspiring bride, having a Ndebele themed dress for your dream wedding is a fantastic idea.
What do brides wear under their wedding dresses?
The bride puts on undergarments that suit the design of the wedding gown worn. Strapless corset bra is worn for strapless dresses, very adhesive sticky bras for backless dresses, fit and flare garments to give your butt a boost, and a slip or hoop if you are wearing a ball gown. It is essential that the undergarments chosen are the perfect fit and design before you consider fashion.
How do I find the perfect African maternity wedding dress?
The choice of a maternity wedding ensemble depends on whether you want to conceal or expose the baby bump. You should also look for an outfit that will be easy to walk in. Find the best designer to make the perfect fit.
What do you wear to an African traditional wedding?
The choice of outfit to wear depends on the couple's tradition. Africa has extensive and diverse cultures, and the traditional customs vary depending on religion, ethnic group, nation and region. All the traditions have distinct features that make them unique and also beautiful.
What wedding dress looks best on plus size?
It is the bride's dream to look her best on the wedding day. As a plus-size bride, you need apparel that has a flattering design and if possible, asymmetrical features. The best designs include the A-Line, ball gowns, outfits with a drop waist, gowns with a high-low hem, corsets, mermaid, and trumpet designs.
Who wore the 12 million dollar wedding dress?
The 12 million dollar gown was designed in 2006 by jeweller Martin Katz and designer Renee Strauss. They made it from the finest silk and incorporated 150 carats of diamonds. Nobody is yet to purchase it.
Brides across African countries continue to appreciate the beauty offered by traditional wedding dresses. Tradition makes the ceremony lively and worth remembering. It also helps break away from the white wedding norm, which has little diversity to offer on the big day.
READ ALSO: Top 20 wedding venues in South Africa 2020
Your wedding day is a once-in-a-lifetime event, therefore, you have to ensure every detail is attended to. Having the perfect wedding venue is an aspect that should never be overlooked. You have to choose a setting that fits your taste as well as your budget.
Briefly.co.za highlighted top 20 spectacular sites where you can hold your marriage ceremony in Mzansi. The country is blessed with beautiful venues across its various towns and beaches.
Source: Briefly News