Ernie Els bio: age, children, wife, education, restaurant, career, net worth
The name Ernie Els is synonymous with golf in South Africa. He is one of the best if not the best golf player in the country. This former world number 1 player has broken several barriers in the sport and is still giving other golfers heat when playing. Find out what brought him the most trouble when he was at the peak of his career and what life-changing event brought meaning back into his life.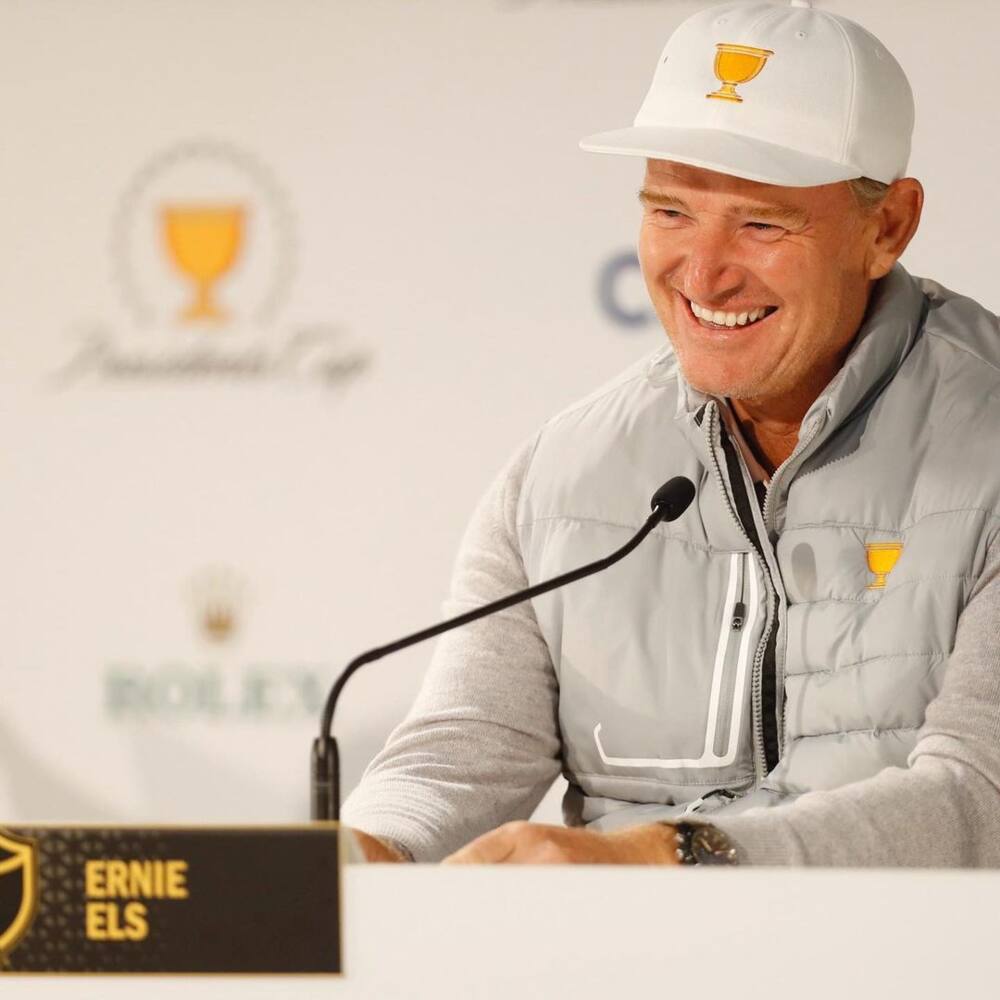 Ernie Els has triumphed in tournaments all around the world, beating some of the most decorated golfers, until he became one of them in 2014. His story is not an uncommon one; he found what he excelled at and ran with it. His biography is inspirational and is detailed below.
Ernie Els profile
Full name: Theodore Ernest Els
Born: 17th October 1969
Ernie Els age: 51 years
Place of birth: Johannesburg, South Africa
Ernie Els height: 6 ft 3 in (1.91 m)
Weight: 210 lb (95 kg; 15 st)
Nationality: South African
Residence: Wentworth, England, UK; George, Western Cape, South Africa; Palm Beach Gardens, Florida, USA
Ernie Els nicknames: The Big Easy, Ernie
Spouse: Liezl (m. 1998)
Children: 2
Early life and early career
The prominent golfer grew up in Lambton, Germiston, South Africa. He started a sporty kid playing rugby, tennis, golf, soccer, and cricket and even winning the Eastern Transvaal Junior Championship as a junior tennis player.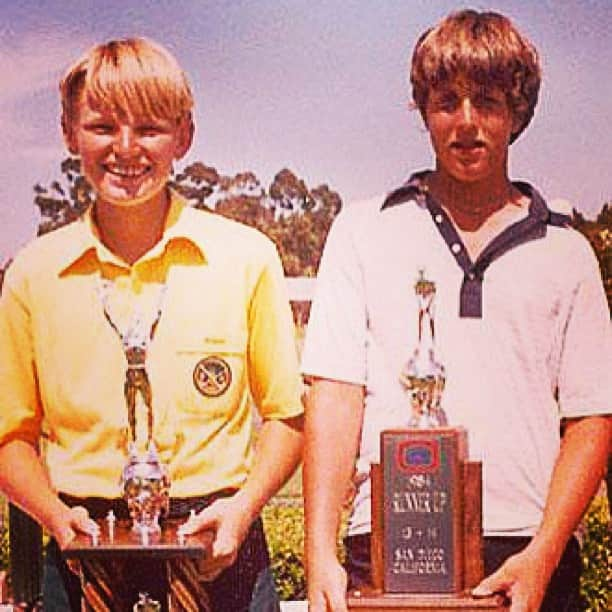 When he was 8 years old, he took an interest in golf. His father, a trucking executive at the Germiston Golf Course, taught the young golfer how to play, and soon after, he was much more skilled than his dad and older brother. By the time Ernie was 14, he was a scratch handicap. His skill was undeniable, and it was around this time that he decided to focus on golf.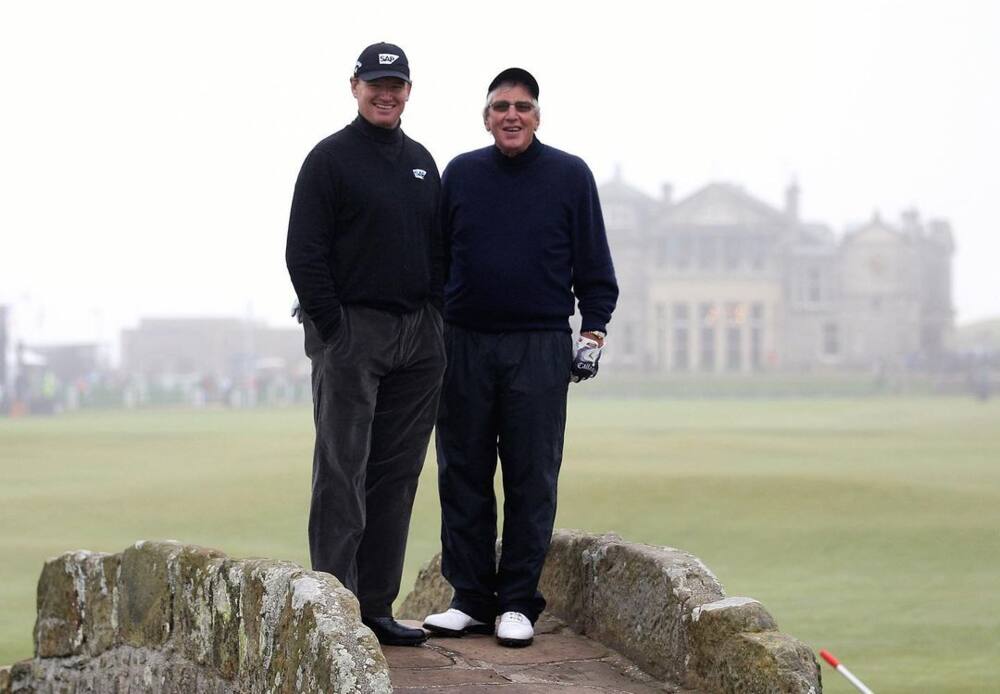 He was just 16 when he competed against professional golfers, but his first major win came in 1984 when he won the Junior World Golf Championship. At 17, he was breaking world records being the youngest person ever to win the South African Amateur Championship.
Personal life
Ernie Els wife, Liezl, and the golfer tied the knot in 1998 and have been together ever since. Ernie Els children are Samantha and Ben.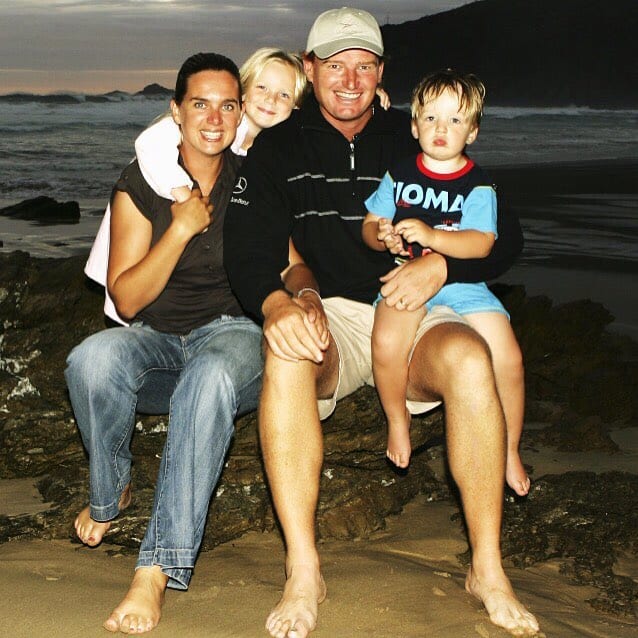 After the birth of his son Ben, in 2002, the pro golfer had some issues that he had not disclosed to the public. Despite all the success he was having in the field, he was struggling to be a good father to Ben, his autistic son.
His son was slow to develop, and soon a diagnosis that the boy was autistic changed their lives forever. In 2008, they decided to go public with their son's neurodevelopmental disorder. Soon after, Ben's parents launched the Els for Autism Foundation to raise money and awareness for the study of autism.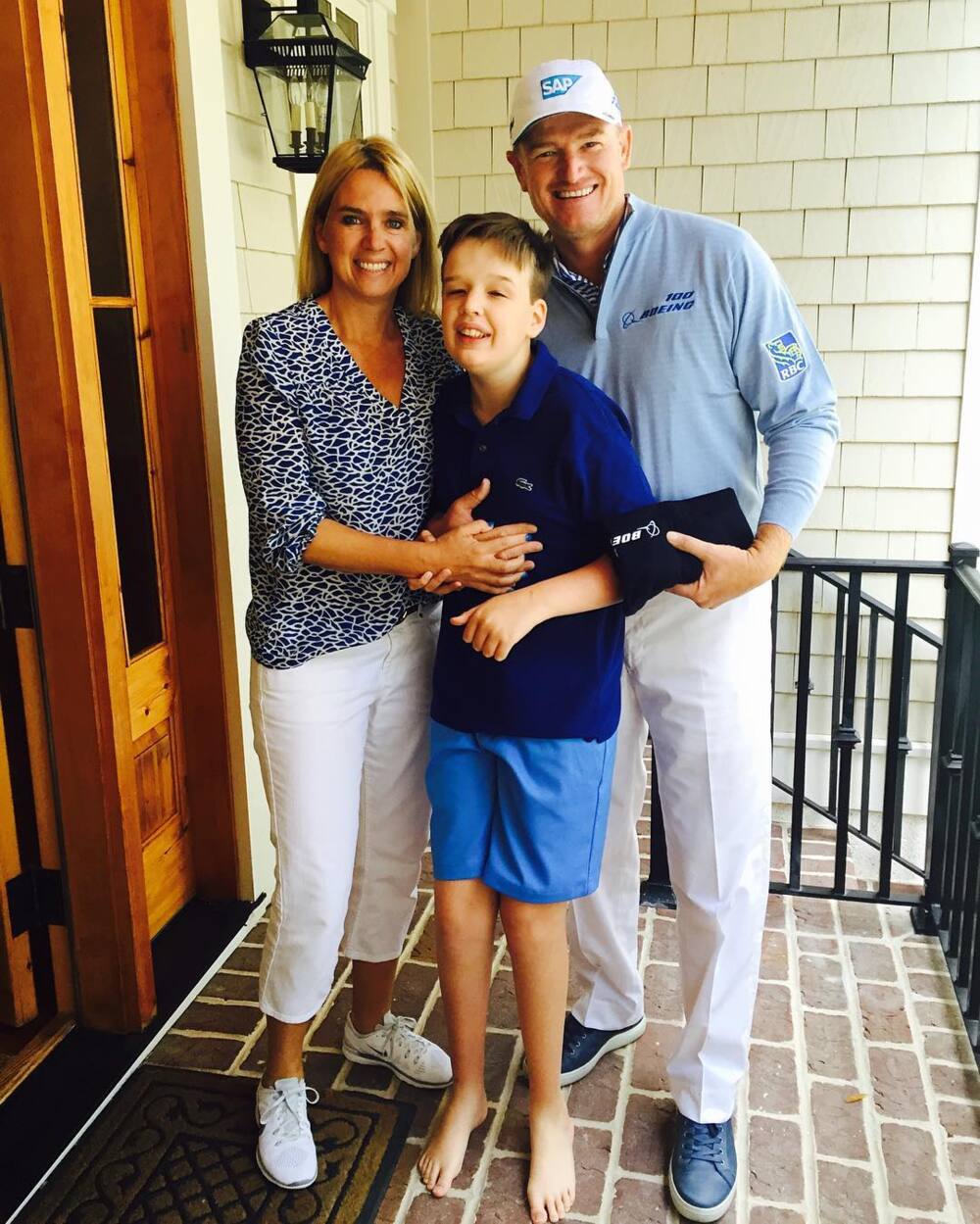 That same year, 2008, the couple was overwhelmed with their son's condition and decided to move to Jupiter, Florida, from their home in London, to open the Els Centre of Excellence. The idea was to open a place where all children in the autism spectrum could thrive and be nurtured. It took 8 years to build and was opened in August 2015.
When I'm around my boy or talking to my boy, I change. I just go into his world. I'm kind of at peace because I'm listening to my boy being himself.
Ernie Els career
Ernie has had a long and successful career. He has played golf for over 50 years now, and he has an impressive rap sheet in the sport. His passion is solely golf; even his side hustles involve the sport in some way.
Professional Golf career
In 1989, he won the South African Amateur Stroke Play Championship. Soon after, he turned pro and showed his prowess at the game as a very young golfer. For example, in 1992, he won 6 out of the 8 events in the Sunshine Tour in South Africa. That same year, he became the first player ever to win South Africa's Open as well as the PGA.
No player in history has ever won 3 straight World Match Play Championships until Els in 1996 at Wentworth in the one-on-one tournament.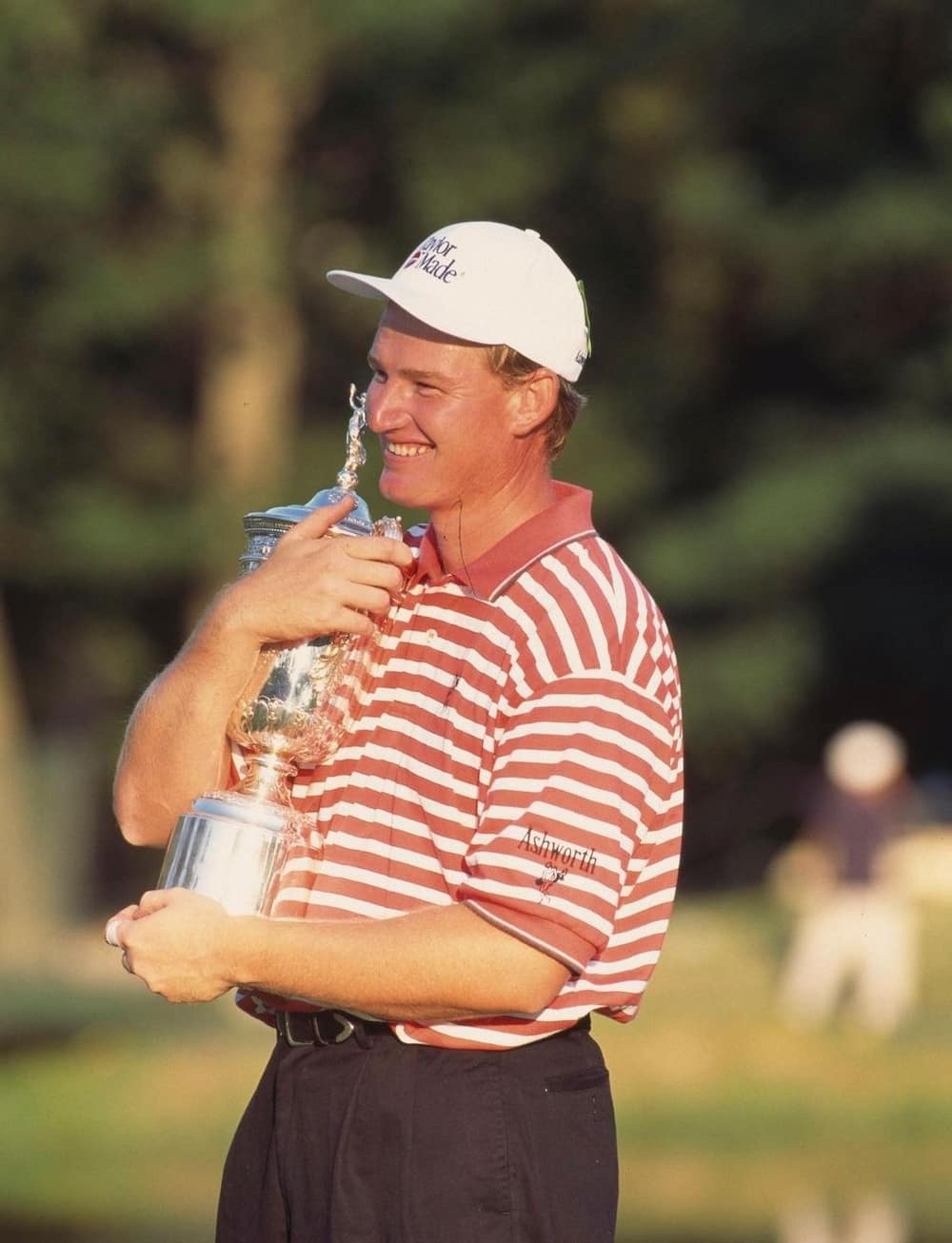 His career was one of setting goals and eliminating competition worldwide. To date, the renowned golfer has over 72 professional career victories and still counting. Out of these, 2 are World Championships, 4 are major championships, and 7 are World Matchplay titles.
Ernie was 40 years old when he was inducted into the Hall of Fame, and by this time, he had 65 career titles to his name.
Business endeavours
Despite him being very successful in golf, Els has several business interests away from the field, but that still encompass golf course design and hospitality. These businesses include The Els Club Collection, Els Club Estates and Big Easy Winebar and Grill (Ernie Els restaurant), Els Iced Coffee, Els Performance Golf Academy, and an award-winning wine portfolio by Ernie Els Wines, among other things that he is involved in.
Frequently asked questions
Ernie Els career has spanned a long time. He has been in the limelight since he first began playing at tournaments back when he was 13. We answer all the frequently asked questions about the pro-golfer here.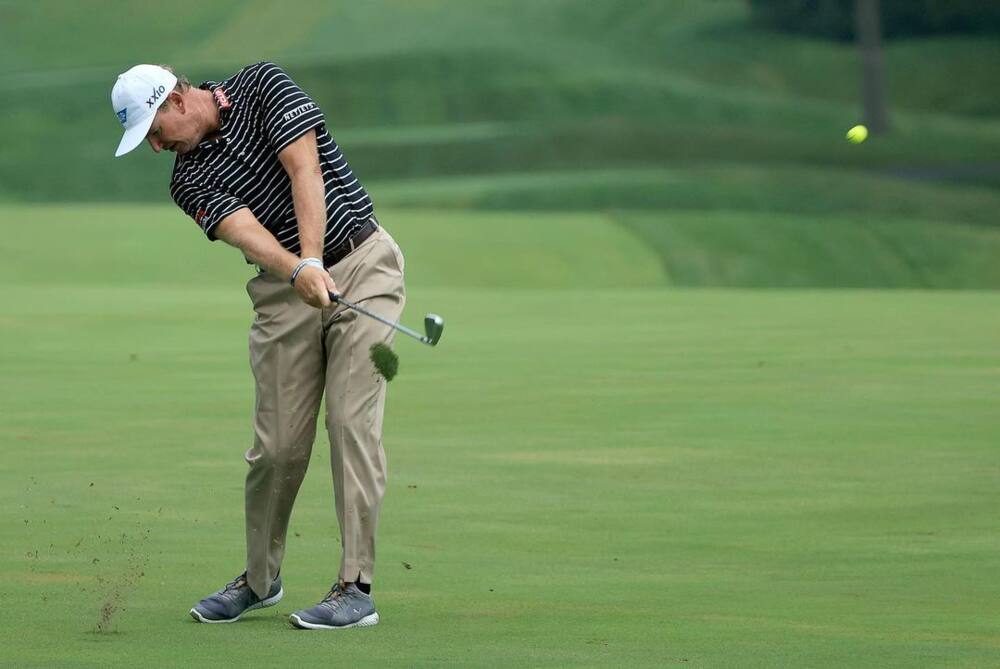 How much is Ernie Els worth?
Ernie Els net worth 2020, according to Forbes, is a whopping $19.5 million. He is undeniably one of the most decorated golfers of all time; we can attribute this to his flawlessly executed Ernie Els swing. Most of his money, however, is used for good and charitable causes.
Where does Ernie Els live?
He has homes all over the continent. He mainly resides in Wentworth, England. He also stays at George in the Western Cape, South Africa, or Palm Beach Gardens in Florida, USA.
Has Ernie Els won a major?
Ernie has won the major 4 times in his career. He won one in his early career, back in 1994 at the U.S Open, then in 1997 at Congressional, and 2002 at Muirfield. His most recent win is 2012 at Royal Lytham & St Annes.
Did Ernie Els win a Masters?
Despite his groundbreaking wins and records, the skilled golfer has never won the Masters. To this day, he hates that it is a win that has evaded him over the years.
Ernie Els is an inspiration to young golfers who wish to be where he is one day, to all fathers getting to understand their autistic children, and everyone in the world who loves helping those in need.
READ ALSO: Louis Oosthuizen bio: age, wife, family, farm, ranking, career earnings, singing, profile
Briefly.co.za posted a biography on Louis Oosthuizen. He is another South African professional golfer who has made his country proud, just like Ernie. He is famously known as the winner of the 2010 Open Championship.
He is a living legend in the field because of his skills, which have earned him lots of fans. You can get to know more interesting things about the player, and what defines his career.
Source: Briefly News