Shebeshxt Hits Concert-Goer With Bottle, His Fans Defend Live Video: "He Is a Changed Man"
Limpopo rapper Shebeshxt has shockingly assaulted a concert-goer during a performance
The Dilo Tse Massive hitmaker was seen arguing with a patron while on stage, then throwing a bottle at them during the heated moment
Social media users were appalled by the poster, accusing him of tarnishing his reputation and claiming that the video was old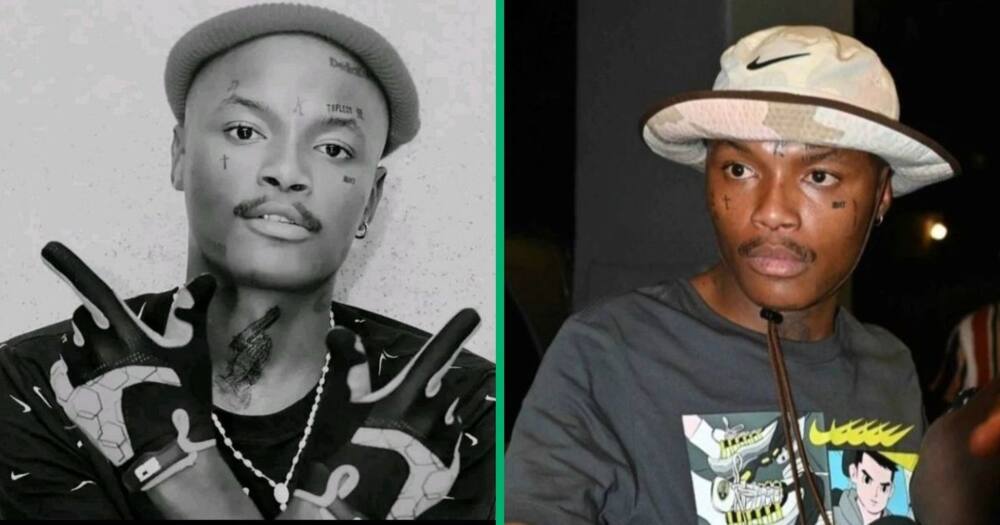 Amapiano hitmaker from Limpopo Shebeshxt, whose real name is Lehlogonolo Chauke, cannot escape trouble.
He is currently trending for hitting a fan with a bottle on the head a few weeks after his release from jail.
Shebeshxt assaulting fan video trends online
Malome Shebe was seen in a live video having a heated altercation with a patron at Sosha Sishanyama during a performance. In a split second, he is seen violently throwing a bottle at that person.
The video was shared by a Twitter user @MeshackBevhula and captioned it:
"Whilst we're celebrating the launch of his career, he's busy hitting fans with bottles....ShebeShxt."
Check out the shocking video below:
Netizens drag Meshack for posting "old video"
Netizens were enraged by the allegedly old clip, saying the video of him assaulting the patron was old. Here are some of the comments:
@abmmbyz said:
"Posting an old video to tarnish someone's image is just evil."
@MarvinKZA agreed:
"You are evil, you have an awful and cold heart."
@ThatoEmmanuel4 added:
"Old video, we already moved past this one. Resurfaced with his old court cases early this year!"
@FaSechaba asked:
"So you trying to ruin his image with an old video?"
@Monare99 advocated:
"He is a changed man. Let's post recent videos."
@Tshepotmos reminded him:
"Meshack we do not destroy other people as an Author you should be building not destroying. Remember where you come from?"
Nasty C assaults fan during Zambia leg of African Throne Tour
In a related Briefly News story, Nasty C surprised people when he punched and kicked a fan who bypassed security barriers to give him a hug on stage.
The Ivysons defended the rapper, saying he was triggered by AKA's death, who was blindsided by his attacker when he was massacred outside a Durban restaurant in February.
Source: Briefly News