John Steenhuisen Says President Cyril Ramaphosa Is a "Political Swindler" Who Fooled the Country
Democratic Alliance John Steenhuisen has accused President Cyril Ramaphosa of deceiving the country
Steenhuisen compared Ramaphosa's tenure to former President Jacob Zuma's administration and says South Africans are far worse now
Some South Africans say they cannot rally behind Steenhuisen's message, while others say they agree with the DA leader
CAPE TOWN - Democratic Alliance leader John Steenhuisn has accused President Cyril Ramaphosa of tricking the country into believing he is a competent leader.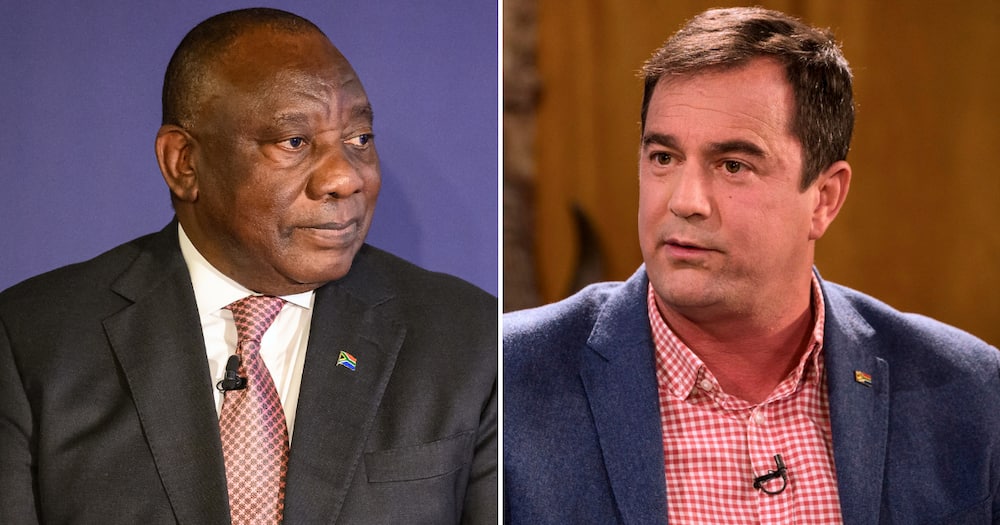 Steenhuisen launched his scathing attack on Ramaphosa during his Presidential Burget Vote on Wednesday, 31 May.
John Steenhuisen says President Cyril Ramaphosa's 'Thuma mina' speeches were deceitful
Steenhuisen accused the president of being a "political swindler" and deceitful because he has not been able to fulfil the promises he made in his "new dawn" and "Thuma mina" speeches, reports TimesLIVE.
PAY ATTENTION: Click "See First" under the "Following" tab to see Briefly News on your News Feed!
He added that Ramaphosa's speeches were a deceitful campaign to present him as a competent leader when he was not.
"To be fair, it worked like a charm. Millions of South Africans put their faith in Ramaphosa. However, four years later, the president has broken every single one of the promises he made in his inaugural speech," said Steenhuisen.
John Steenhuisen says South Africans are worse off under Ramaphosa's administration than Zuma's
On his Twitter page, Steenhuisen shared a clip of his speech in Parliament, where he told MPs that South Africans are worse off under Ramaphosa's administration than Jacob Zuma's tenure.
"Life in South Africa today is far worse for everyone than it was at the height of the Zuma years. The truth Mr President is that you fooled the people of South Africa into believing that you can take our country to better days," said Steenhuisen.
Steenhusien added that Ramaphosa is a "confident trickster" who milked South Africa to become a billionaire and will leave the country bleeding once he is done.
The DA leader said people have started to realise Ramaphosa's deception and have lost confidence in the ANC leader.
South Africans react to John Steenhuisen taking jabs at President Cyril Ramaphosa
@TMbuzi said:
"Wena futhi? You were praising him for his leadership skills during covid. That time we were busy telling you he's killing the economy."
@sascru said:
"Rich coming from someone sabotaging SA to foreign nations. Sies!"
@dinozuco said:
"I'm not saying I disagree with you, but when are you going to realise that you can't build yourself up by simply bringing others down?"
@sakhi_dlamini said:
"Yet you are actively protecting him from being pursued by institutions that seek to hold him accountable. Funny politics."
@RMngwevu said:
"If John is still a leader during the 2024 elections, the DA will drop even less than PA. John was willing to work hand in hand with Cyril and now is saying Cyril is far worse than Zuma's lowest point."
@ak05_ said:
"Unfortunately, Zuma was corruption we didn't know. Ramaphosa is corruption, we do know, but its a lack of teeth from our independent investigators. They cannot root out corruption."
South Africans accuse DA leader John Steenhuisen of treason for telling USA that SA sold weapons to Russia
Briefly News previously reported that Democratic Alliance leader John Steenhuisen has rubbed many South African the wrong way after an explosive interview with a US broadcaster.
Steenhuisen told CNN and its billions of views that his party had suspected that SA sold weapons to Russia for its war in Ukraine for the past year and a half.
Steenhuisen's comments piggyback US ambassador Reuben Brigety's accusation that South African weapons were loaded on the Russian ship Lady R when it was docked in Simon's Town in December 2022.
PAY ATTENTION: Сheck out news that is picked exactly for YOU ➡️ click on "Recommended for you" and enjoy!
Source: Briefly News