IEC Registration Weekend: Julius Malema Challenges Idea of Youth Voter Apathy
Economic Freedom Fighters (EFF) leader Julius Malema disputed claims of the youth's disinterest in politics
Malema stated that young people are keen on making their voices heard and urged them to register to vote
Netizens weighed in on their stance as the Independent Electoral Commission (IEC) endeavours to increase registered voters during the weekend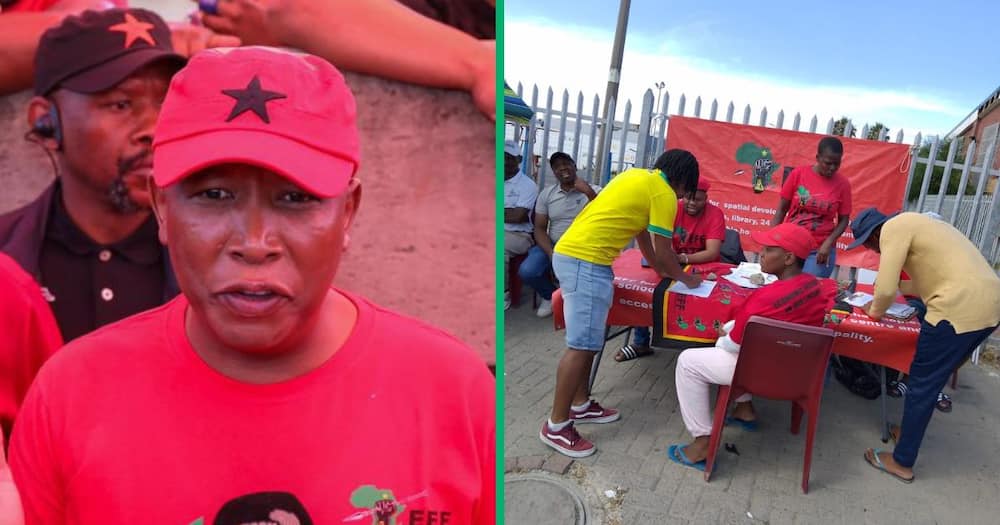 JOHANNESBURG - Economic Freedom Fighters (EFF) leader Julius Malema is taking a stand against the perceived notion of voter apathy among South Africa's youth.
During a visit to Hitekani Primary School in Soweto, Malema aimed to dispel this perception as part of the EFF's drive to encourage eligible voters to register.
Exercise the right to vote
This initiative coincides with the Independent Electoral Commission's (IEC) efforts to boost registered voters during the registration weekend.
Despite data from the IEC indicating that only 280 000 people in the 18 to 19 age group are registered to vote, Malema said the youth are determined to exercise their right to vote, reported SABCNews.
Call for youth to register to vote
Addressing the youth directly, Malema encouraged them to participate in the democratic process by registering to vote. He highlighted that the EFF attracts young people who are not only active but also socially aware of the challenges and issues in society.
Mzansi reacts to Malema's words
See a few comments below:
Gabie Kleintjies said:
"Democracy is destroying the people of South Africa. Killing us with politricks, making people believe in a tool of enslavement and politicians."
Michael Johnson posted:
"No political party has convinced me enough to have confidence in the elections."
Zayn Zanele mentioned:
"I would rather sleep than vote. Good luck to ANC next year anyway."
Murwa Maremane posted:
"We aren't voting, bru."
Afroh Andile commented:
"Always targeting people you think will vote for you."
Julius Malema calls for clean election campaign
In another article, Briefly News reported that EFF leader Julius Malema has called on party members to uphold a clean election campaign, steering clear of violence and insults.
His statement follows a recent viral video showing EFF councillors in eThekwini involved in a physical altercation with council security guards.
Source: Briefly News